Tinder is extremely popular these days. It is a convenient tool which has enticed a lot of millennials from all around the world. But can you imagine that Tinder could be a source of entertainment? Take a closer look and you will come across Tinder bios that are at the next level, like literally. Not only are these profiles/bios funnily and smartly written, but there is also no way you will swipe left to choose them as your date. Swipe right if you like them, and swipe left if they do not make the cut.
1. Victoria's Secret Is Out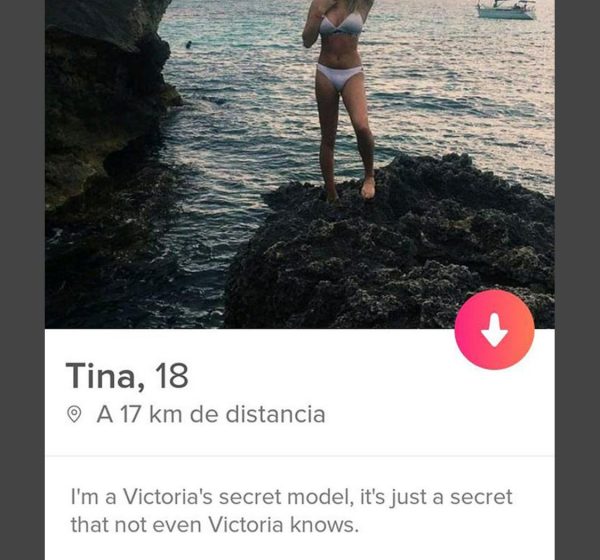 This woman is a Victoria's Secret model. Sh…it's supposed to be a secret, so even Victoria isn't aware of that. This joke might have been told a million times before, but even now its pure gold. But this woman knows to have a good laugh.
2. Never Take HER Out On A Date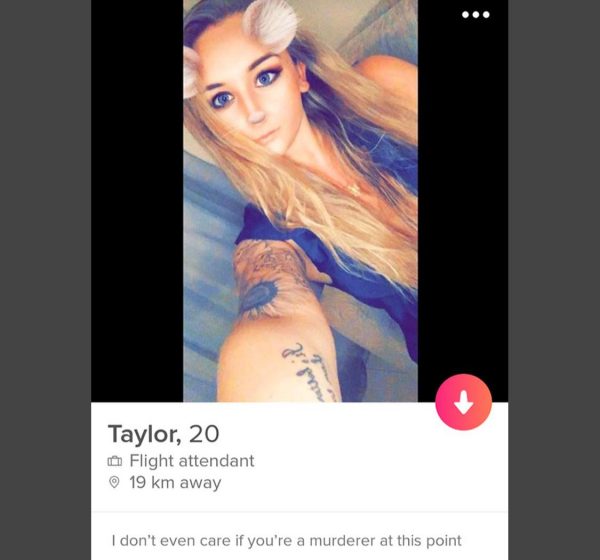 This girl is so desperate to have a date at this point, she doesn't care if he is a murderer or not. Certainly, she has lost her mind and needs to be avoided. But one wonders what circumstances compelled her to do so. Is it that difficult to find a decent partner these days or is someone plain unlucky?
3. We Don't Want A Mama's Boy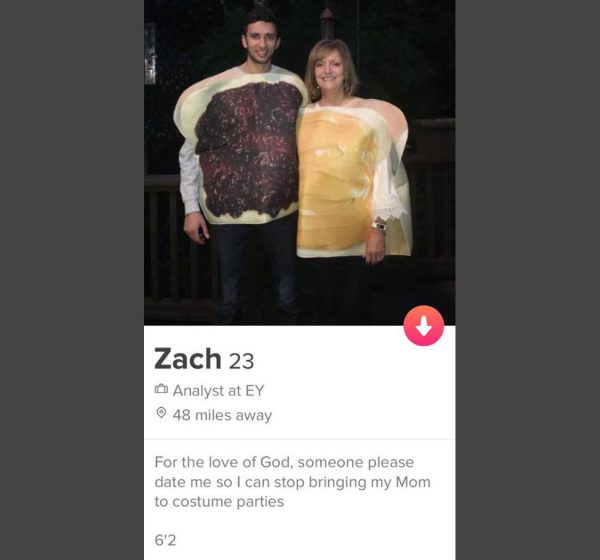 He does look cute but he is out and out a Mama's boy. We would have swiped left but had to choose right for the obvious reasons. Moreover, nobody would want to commit the ultimate sin of separating this dynamic duo. Such chemistry, really!
4. Guy's A Racist Because He's Still Not White Enough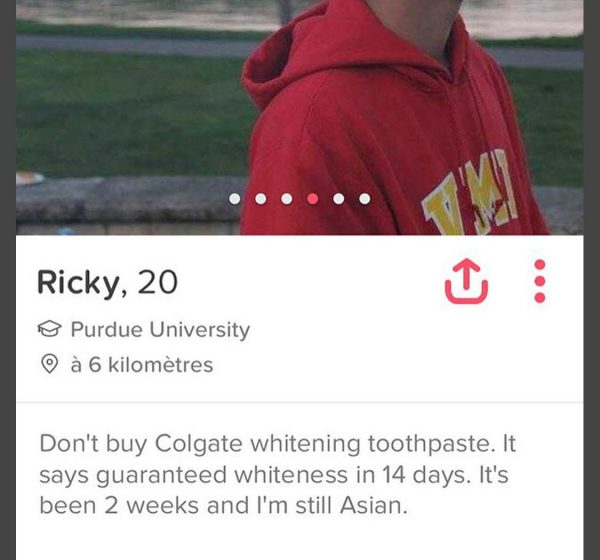 This man here decided to make fun of himself because he's a brown-skinned Asian. It seems that he has faced a lot of common stereotypes. So he smears himself with whitening toothpaste, in hopes of his face becoming pearly white. But Colgate doesn't guarantee to lighten the skin tone.
5. He's Humble And Nice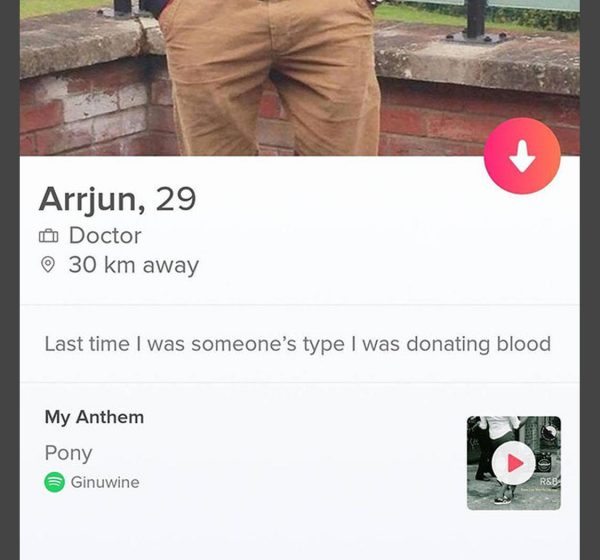 He's described his good deeds. Obviously, he helps people by donating blood. We didn't want to know this medical fact, but he claims that this is the only way he's been a girl's preference. What? This fact is weird, to say the least.
6. Getting Lawless With The Law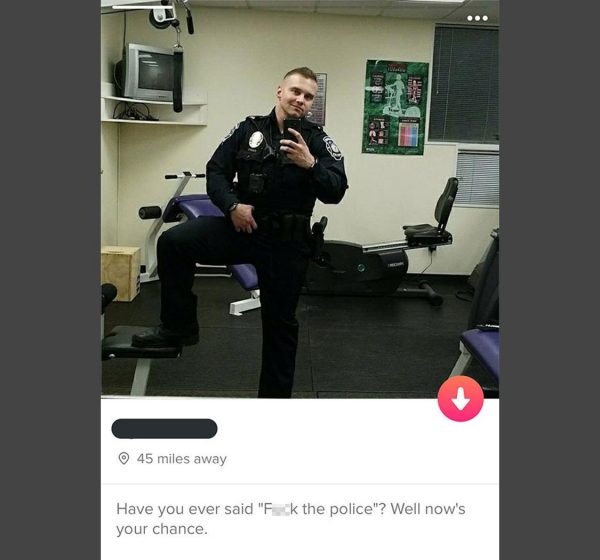 Aren't police officers charming? But you know what, nobody wants to mess around with the law. Despite our own genuine interest, we would have to swipe right. You don't want to get on the wrong side of the law if you know what I mean.
7. Good To Know That You Are Healthy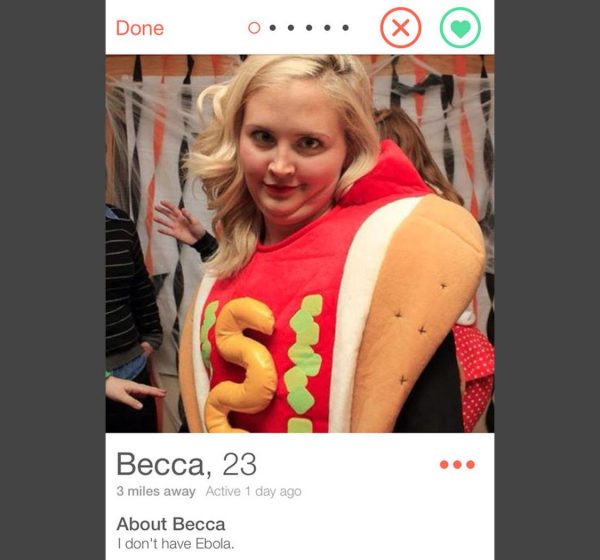 Tinder bios have a lot of information that you might consider as important and necessary. It is also proof of how twisted some people's minds are. Becca here thought that it was important for you to know that she doesn't have Ebola. Who in their right minds would want to know whether a girl is infected with a disease? Becca needs some counseling sessions from a psychologist.
8. This Tinder Bio Is Candid About Her Privacy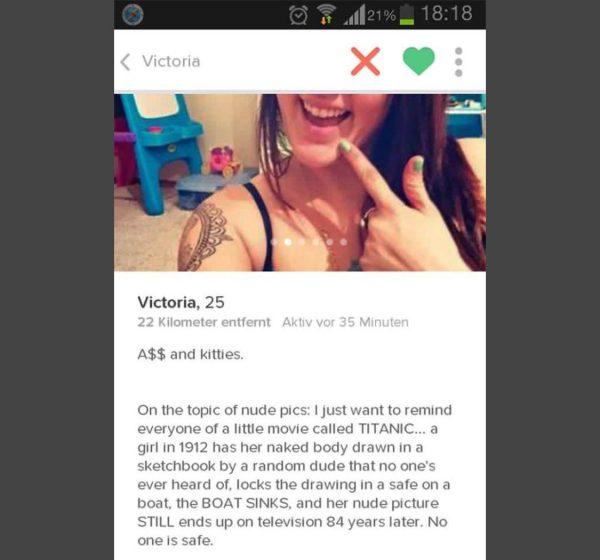 Victoria won't send you her pics. Why? Well, she learned that her privacy might be breached by drawing out inference from "Titanic". She doesn't want to make the same mistakes that Rose, the protagonist, had made. After all, who would want their nude pictures to be displayed on TV when you are 80?
9. This Woman Is A Psycho In The Making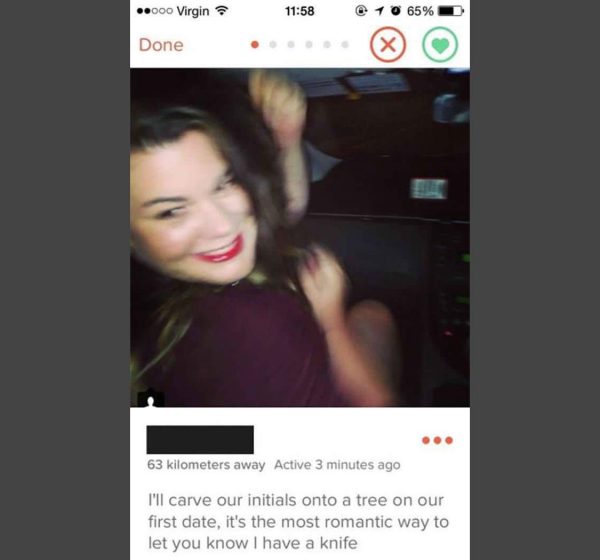 Guys are wary of the girls who are armed. All in the name of security, people. You know how it is these days. This girl here manages to be sweet and sharp at the same time and hints that she is armed with a knife, and finds the most romantic way to do that. Prepare yourself to get a stab wound in your stomach. Somehow, I don't have a good feeling about this date.
10. Taco Tuesday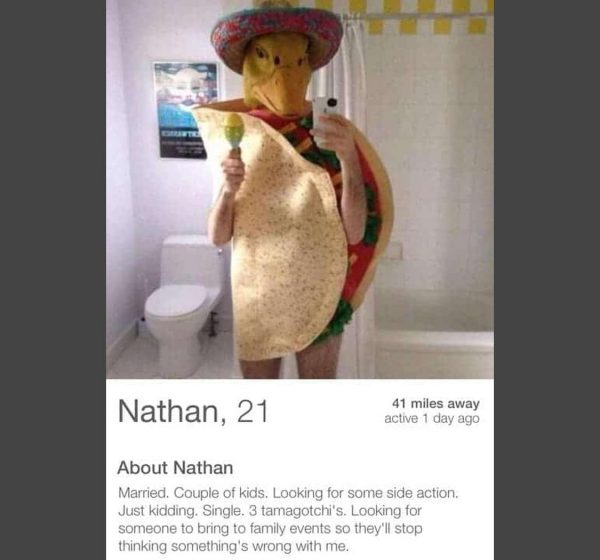 Love tacos, do you? Especially when you are hungry, it is difficult to left swipe a guy who's dressed up like a taco. All jokes aside, this man seems to have mental demons and there's no way that girls would accept him as a date.
11. You Get It As It Is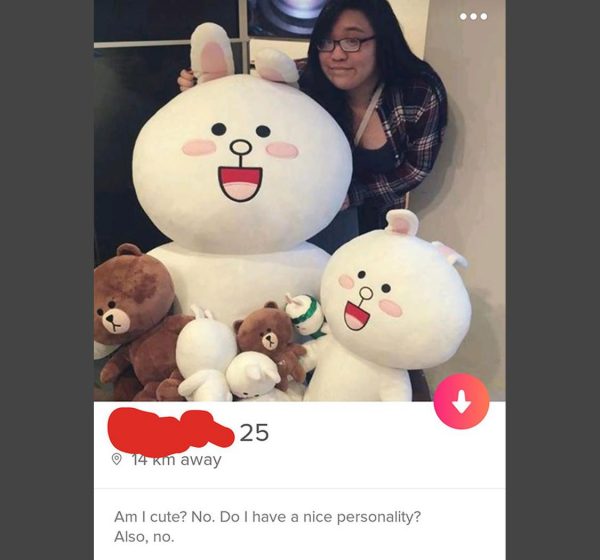 Well, to be honest, she is no way near cute. She is a truthful girl with an amiable personality. She may not be hot, and she may not have a ravishing figure, but she's definitely a good-natured person. She doesn't pretend and if you ask us, then this one is a right swipe because she's original and one in a billion.
12. Annoying But Cute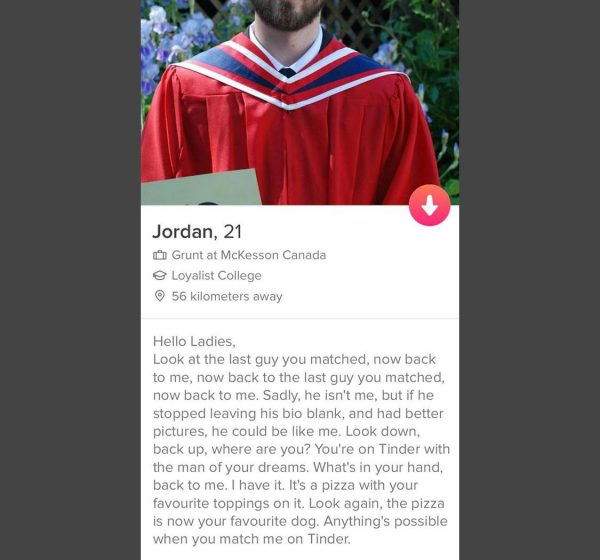 This guy is the perfect dating material. He has everything you need, right from your favorite pizza toppings to a puppy. He even promises that he will fulfill your wishes. He's worth swiping right but something tells me he's a bit vain. But if you have got the goods, wouldn't you like to flaunt it?
13. Job Or Date?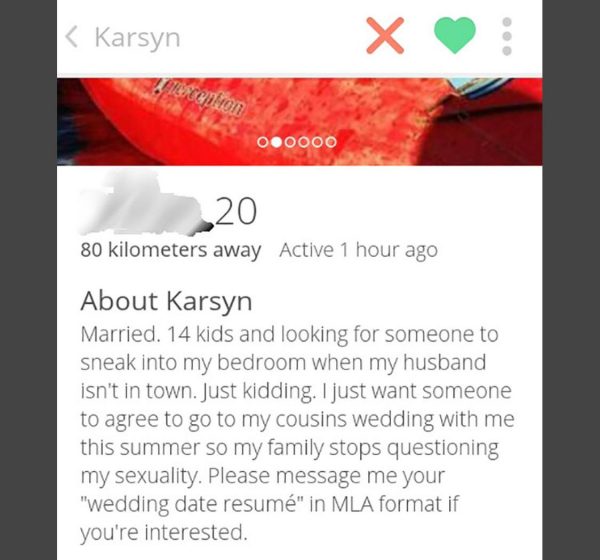 This tinder date requires a resume. Wait, are we applying for a job? In this case, you feel so unlucky about the whole deal. But how would you deal with Kasryn's situation? Give her a reality check maybe. But something tells me she's not going to find true love, but an employee. But love is crazy and has a different meaning for everybody.
14. With Arms Or Without Arms?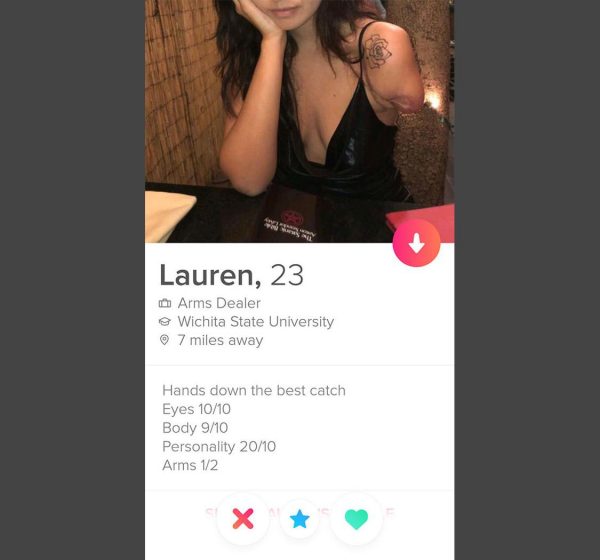 Lauren is not afraid to make fun of herself.  She knows she has a disability but has no qualms about it. She appreciates what she has and loves to live life. Such positive people make the best companions. They are selfless and kind. Surely, this is a right swipe, because we like her a lot.
15. He's Old But Pure Gold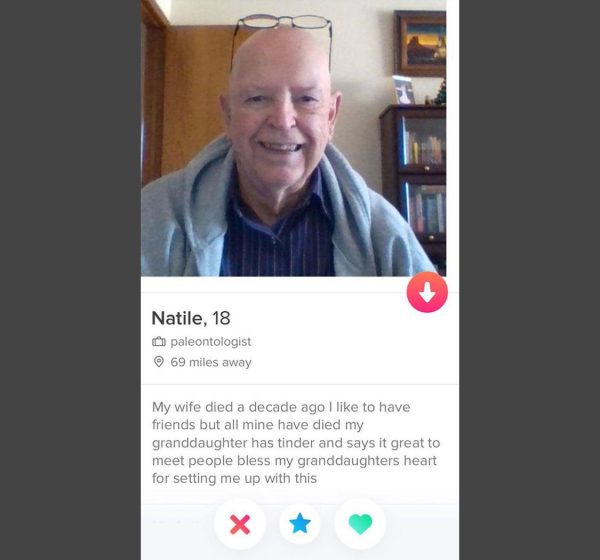 Tinder is not limited to young people only. This adorable grandpa wants to tinker around with the dating app. Egged on by his granddaughter who simply can't stop talking about it, he decided to give it a shot. We love him, to say the least.
16. She's A Bad Girl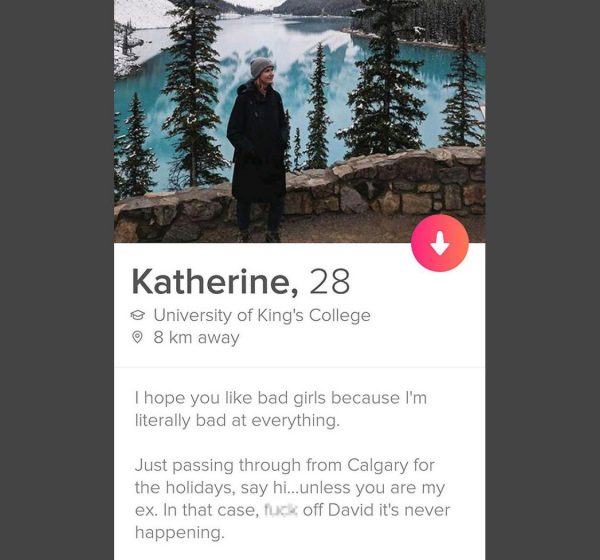 All of us like bad girls, because the good ones can be quite boring. Katherine used this opportunity to see if there were some cute guys nearby. She hates some David because he has been a bad ex.
17. If Your Heart Knows What It Wants, Then?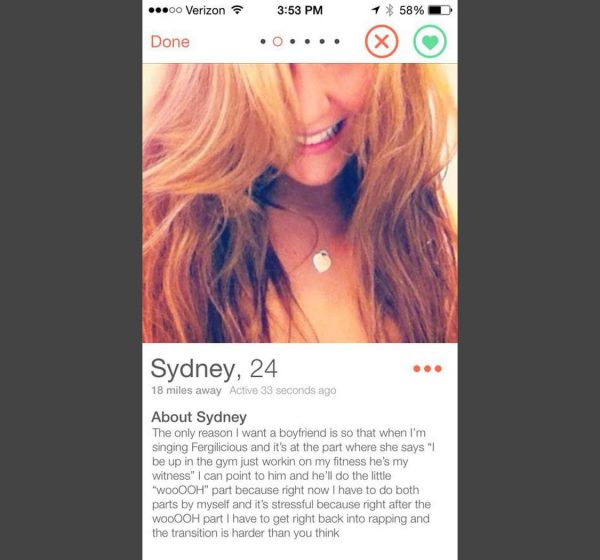 When you sing a song, you need a partner. Sydney has trouble finding one for herself. That is why she decided to be on Tinder. Somehow, everybody can relate to her pain, because she seems to be a lovely girl. Just swipe right and send her a "Hi" and sing a song with her, if you can.
18. Clumsiest Of All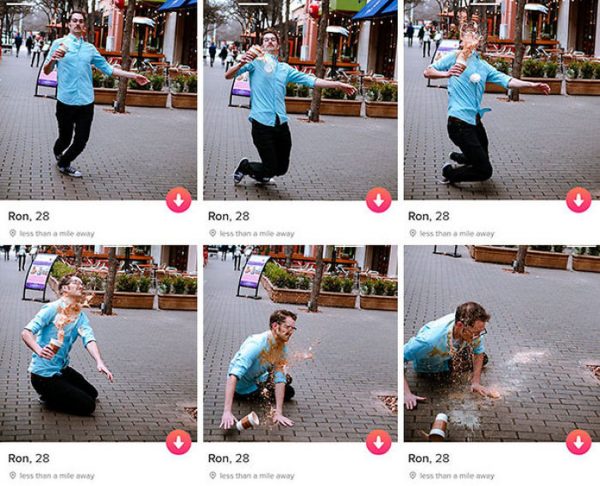 If you people thought that only you were clumsy, then just have a look at this Tinder Bio. This is Ron and he knows how to mess things up, big time. Many people try to put their best foot forward on social apps, but Ron posts his blunders. He is a nice guy for sure.
19. Think of the kids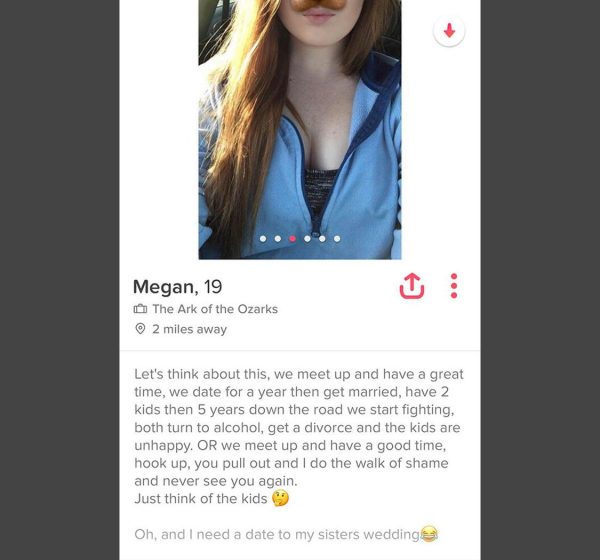 Here is another girl who needs a one-time date for her sister's wedding. What? Are boys some sort of commodities? Isn't there any true love left in this world? Everybody wants a convenient arm candy. But hey, you will find a lot of materialistic consumerism on social apps these days.
20. Legs Longer Means Longer Fun Time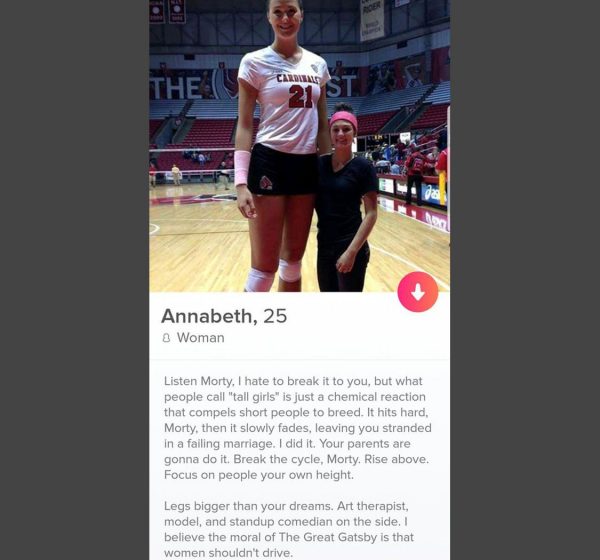 Tall girls are always the best. I mean how many tall girls do you come across every day?  They are quite handy as well. Needless to say, they will be good at sports, so you can play around with them.  She can even grab things from top shelves. However, Annabeth is an exceptional case because she is around 6'6".
21. A Future Politician In The Making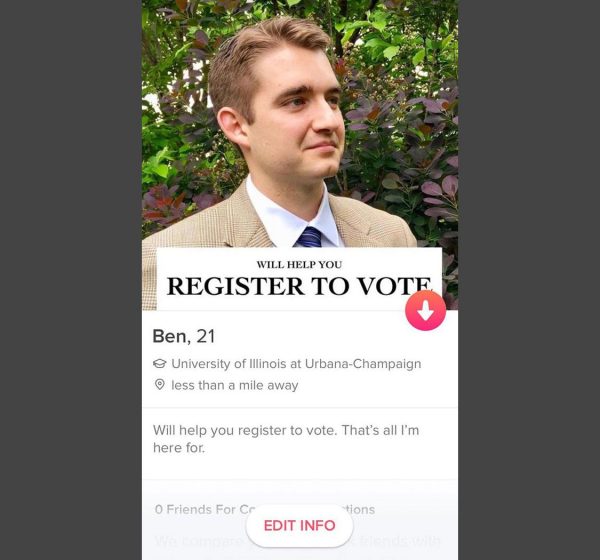 Electoral College seems to find its way everywhere, even on Tinder. So, here is this guy is on Tinder, who has some political aspirations about love. If you like him, then all you have to do is just register to vote. But with all the politics involved in it, is he worth swiping right? Your pick.
22. The Heights Of Self-Confidence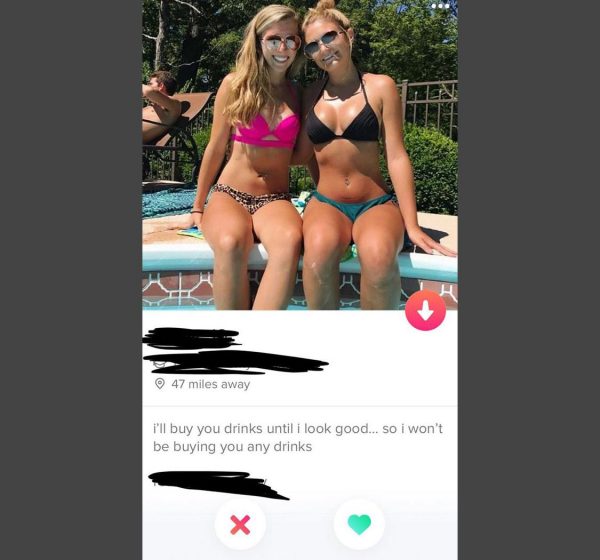 Everybody is aware of the myth, a girl or guy looks better after having a couple of beers. You won't need any drinks with this babe here. She is attractive as hell and she knows it for sure. A cocky chick is a big turn off, but we have to appreciate her confidence and self-awareness.
23. This Girl Has Ample Assets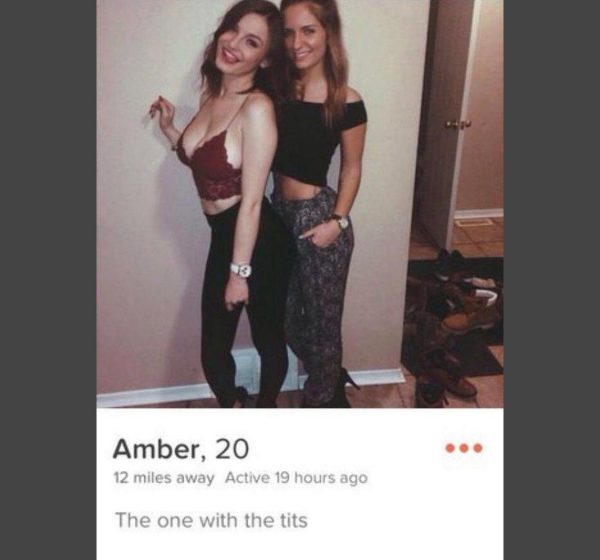 The bust of a woman might be a very attractive feature for many men. She is boasting about it. Here she is seen posing with a friend.  But one thought crosses the mind for sure. How is the friend in this photo feeling about her profile description? She will not appreciate what is written in her friend's Tinder bio. Amber may be funny, but she's definitely not nice.
24. Now, We Didn't See That Coming, For Sure
One can never get tired of good puns, especially if a cute girl has made it. Even more appreciative is the person who knows how to make the best out of sad situations. This girl in the picture cannot see, yet she brings a smile on your face with her joke on herself. This picture definitely deserves a right swipe.
25. A Short Presentation? Not In The Least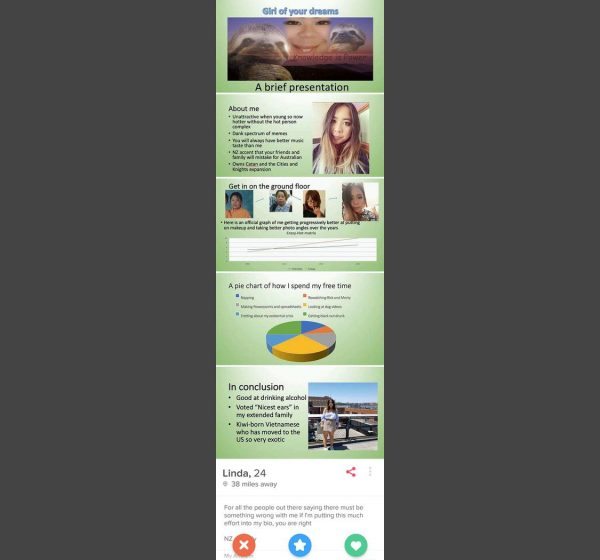 This is the most elaborate Tinder bio that is out there. Pie charts, diagrams, an about me section, a conclusion and some photos. She even has "nice ears". And if you think that the girl is exaggerating this stuff, then you are wrong. She's just desperate for a date.
26. He's Ready To Breed Dogs And Kids, Both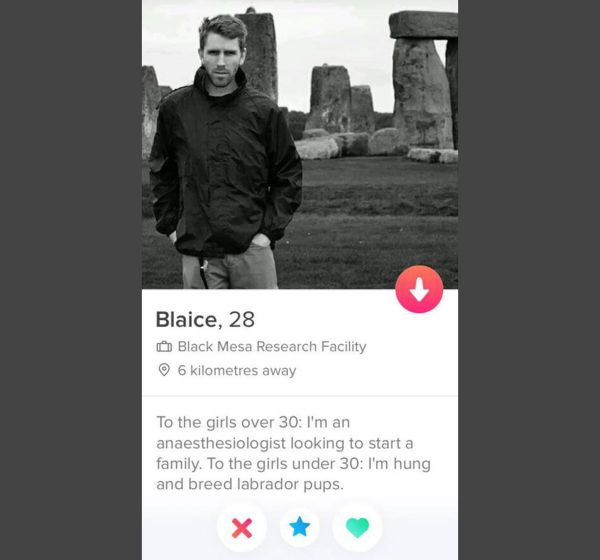 Blaice certainly knows how to attract ladies of a specific age. He even knows how to attract both sections. He has a specific set of moves for the two distinct age groups – over 30 and under 30. And you know what? He's ready to settle when you are. He looks so charming ladies, do you want him or not?
27. Just Leave The Review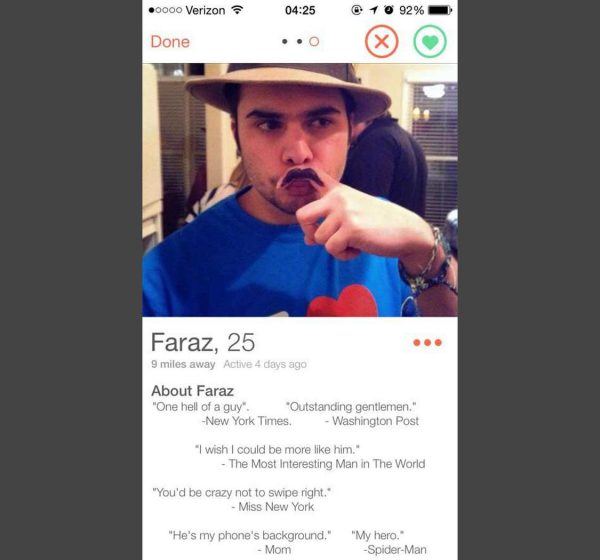 If you have always wanted to have a bestseller, then Faraz is your man. His bio is just like the front page of a bestselling book. The reviews say he is "one hell of a guy" and an "outstanding gentleman." Bestselling or not, we feel Faraz is one heck of a guy and definitely boyfriend material. So are you game enough for a right swipe? You bet!
28. Swipe Right If You Adore Double Chins Or No Chins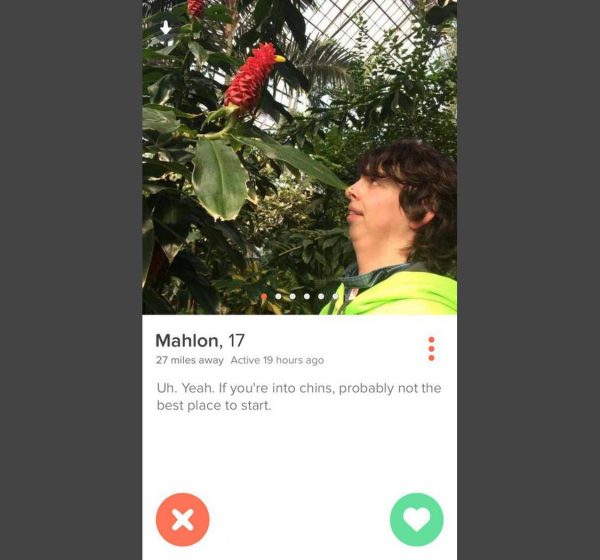 This guy has a wicked sense of humor. With a flower in his head, and a double chin or a lack of chin, he seems to have quite a personality. So, if you are one of those people who like perfect features, feel free to swipe left. But, nobody's perfect and everybody has at least one flaw in them. So don't pull back yourself from giving this guy a right swipe.
29. He Seems Like A Tough Guy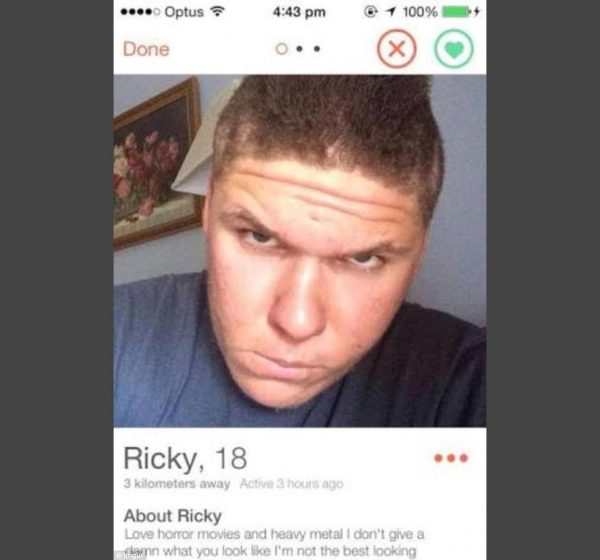 Looking for a guy who loves to watch horror movies? You must be sick in your mind, but hey, don't take it badly, because we are kidding. Ricky loves horror and listens to heavy metal music. You don't have to be the best looking girl either. He is well aware that he is not the most handsome man either. He deserves a right swipe and a hug.
30. A Shot Of Caffeine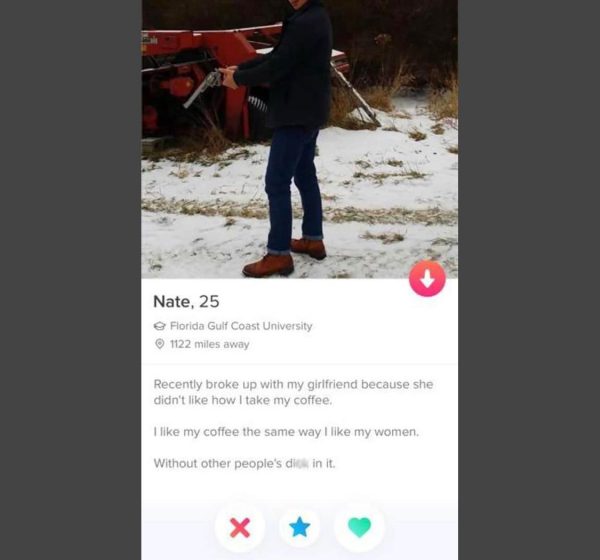 You needn't be discouraged after looking at Nate's profile picture. He may have a gun, but he isn't as dangerous as he looks. But as he puts it on the bio, you should never mess with his coffee. He likes his daily coffee in a specific way. And if you have a problem with it, then you have no chance in hell. You will be axed if you come in between of Nate and his coffee.