Meditation can reduce stress, anxiety and keep our minds focused. And it can also help improve cognitive skills and memory function. Therefore in DAVOS 2016, a summit where world leaders discuss and plan programs that aim to improve the status of the world, meditation topics had a dignified place in the general agenda.
We see the trend in yoga programs and meditational retreats grow in major cities around the world. For example, in scientific news, more and more researchers are exploring topics in mindfulness. Neuroscientists are also taking a look at the physical and neurological effects of meditation in the brain and one's overall health.
Technology Creates Distance
Many spiritual leaders have promoted meditation and the practice of mindfulness as a way to refocus our overly-distracted and digitally-hyped lives. Furthermore with today's technology, we can be constantly bombarded by emails, reminders, and updates to keep us connected online and with new trends.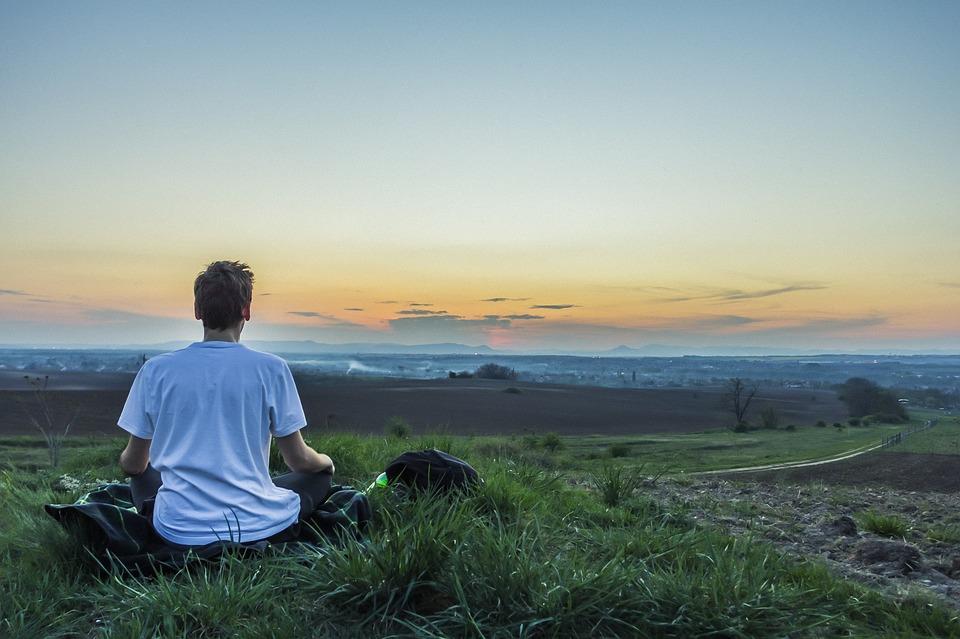 Although it allows us to work almost anytime and anywhere in the world, our dependence on mobile phones and online services have disconnected or created a great distance in personal experiences. Therefore we rarely allot time in meeting other people personally, and we barely notice the things happening in front of us while our eyes are all focused on the screens of our phones.
It seems ironic that we will find many mobile apps in the Android and iOS app market that's geared towards mindfulness meditation. The one thing that were trying to get a break from when we're meditating, are the very tools that can help us introduce the practice of mindfulness meditation to billions of people.
Can mobile apps be effective in aiding our quest for spiritual renewal and meditation?
About a decade ago, most of the mobile phones in the market were used for calls and text messaging only. Due to technology progress, mobile phones are now evolved into a mini computer, music-player, video-player, GPS navigator and a phone all-in-one. Hence, we have mobile apps for almost every function – including meditation apps.
Many of the mobile apps in meditation are audio guide programs that help users in practicing meditation. Think of it as a music player that you can use to play spiritual and meditation music, only better.
In the next section below, we've listed top 5 meditation apps that can guide you through mini-mindfulness sessions. Some include basic information to give you introduction on the concepts in meditation and mindfulness practice. Furthermore there are also apps that include short surveys that gauge how you felt after the meditation session. Several studies explored how these mobile apps are effective in helping us in our meditation practice.
Mobile apps for pain management
One study explored the idea or potential on how smartphone apps can help in pain management programs. Some mobile apps include guided loving-kindness meditations, which can be used in managing pain. Meditational audio-guides of this type have shown to be effective in reducing pain for breast cancer biopsy patients. Below is an excerpt of the meditational material from Duke Health:
Meditation for Any Situation
One good feature on new meditation apps is that it contains different kinds of guided meditations for almost every practical situation. Therefore you can be sitting on a train or bus commute after work. Or you can be taking a mindful walk. Nature treks? Can't sleep? These are just among the situational meditation guides in these apps.
Instructional Guide to Meditation
Not everyone has the time and resources to go to India and attend a meditation course in an Ashram. Not everyone also has the time to commute back and forth and allot time and money for local meditation courses. However, with meditation or mindfulness-based mobile apps, users can easily access the guides. Therefore it is useful even for a short 5 minute break from the computer, on the way to work or after.
Mindfulness Meditation-Based Mobile Apps
We've kept the list simple, with the top 5 apps in the mobile world that you can download for iOS and Android devices.
Headspace
This app is available for free to download for iOS and Android. In addition, there's a monthly or annual subscription fee for access to Headspace's meditation guides collection. The timer feature is effective for those who have limited free time and you can create an account to track your mood.
Calm
Take a couple minutes off your work and have a short pause to calm down your mind. Learn how to meditate with this app's 7 to 21-day programs. You also have the freedom to choose meditation sessions that span from just two minutes up to half an hour. Calm's interface is very simple and parts of the meditation programs have relaxing sounds and imagery.
Buddhify 2
Can you meditate even if you're busy? Go ahead, relax a little more. If you don't have a lot of spare time, Buddhify is a meditation app that offers guided sessions for different time duration. In addition, this app has over 80 custom meditation guides that are apt for different everyday situations. From travelling, difficulty in sleeping, work break, need to calm down situations, choose your session and practice meditation at the studio, at home, or anywhere you want.
Smiling Mind
This app offers a huge collection of meditation programs for almost every age range. There are programs for kids at 7 years old to programs for adults. It can track down the minutes you've allotted for meditation, and has a short post meditation survey to record how you're feeling after the session. As a result, a wide range of potential users can find great value with this app.
Mindfulness Daily
Pause for a moment when you wake up, and begin the day with a clear mind. Found yourself in a stressful situation? Take a minute or two for a mindful break. You can practice mindfulness almost everywhere, anytime and on any situation. This app is available for iOS.
The Android app market and iTunes Apple Store has thousands of meditation apps to choose from. Probably most of them are worth trying. While some may not be the right apps for you, as you try out apps you will find the right ones. Your mobile phone doesn't always have to be your source of distraction. Much as it can distract you, you can also turn things around and make use of it for your own well-being.