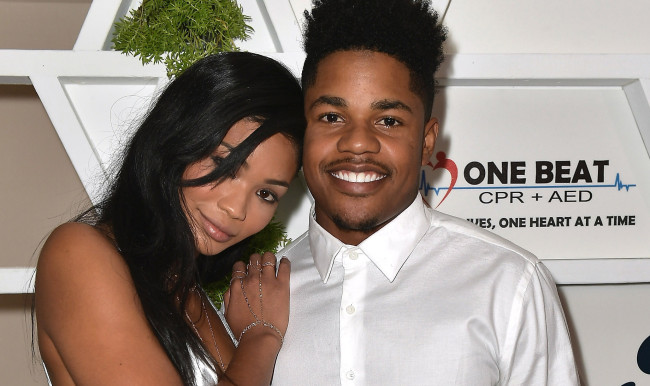 It's been quite the eventful week for 24-year-old New York Giants wide receiver Sterling Shepard and his supermodel girlfriend Chanel Iman. First, Shepard had to deal with all of the Eli Manning being benched fallout, then on Friday Iman celebrated her 27th birthday, and THEN on Saturday Shepard proposed to Iman and, phew, she said yes.
Oh yeah, he also had to play a game versus the Oakland Raiders on Sunday in which he had just three receptions for 56 yards, and the Giants lost 24 to 17 to fall to 2 and 10 on the year.
Not that any of that really matters for Shepard when this happened the night before…
"The catch of my dreams…can't wait to spend the rest of my life with you!" Shepard wrote on Instagram.
Iman also posted the photo with the caption, "A night full of tears of happiness I'm beyond excited to spend the rest of my life with you @sterl_shep3 you are my soulmate, my best friend, my everything! Can't wait to be your Mrs."
Kind of takes the sting out of the season he and his team's had, losing all those games, scoring only one touchdown this season so far, despite injuries to Brandon Marshall and Odell Beckham, Jr.
A source tells E! News that the 24-year-old Giants wide receiver proposed to Iman at the couple's home in New Jersey last night on her 27th birthday. Her ring is rose gold and features a round diamond.

The sourced added that after the proposal, the athlete told his new fiancée that they were just going to go to dinner and then he surprised her yet again when he brought her to Spin Ping Pong NYC where all her friends and family were waiting.

The insider added that the whole thing was a "complete surprise." Iman's model friends turned up for the birthday/proposal party, as did some of the Giants, like Odell Beckham Jr.
As for Iman, we haven't seen nearly as much out of her since she stopped being a Victoria's Secret Angel in 2012. She was in the Sports Illustrated Swimsuit issue from 2014 to 2016, but other than that she's been pretty quiet. Can't wait to see how she supports her man and the Giants now that the two of them will be getting hitched. (Because we know how much fun that can be.)