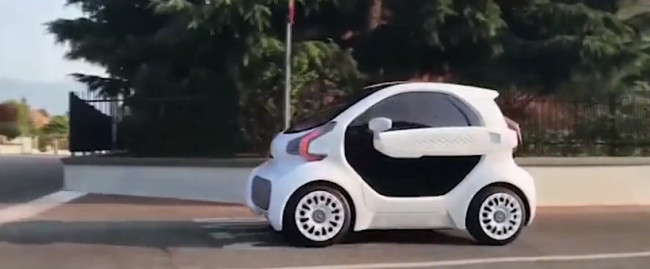 Last week, we presented you with a humble but exciting abode that could be 3D-printed within 24 hours and could be built for less than $4,000. Now we give you a 3D-printed car that can be created within three days for the low, low price $7,500.
With self-driving vehicles set to become a mainstay, China has stepped up to provide a 3D-printed vehicle that is electric and nearly autonomous. This tiny two-seater vehicle is called the LSEV and it is created by Italian carmaker XEV. The innovative car manufacturer had the bold idea to cut costs, slice the manufacturing time, and reduce the number of car parts from 2,000 to a mere 57.
The best part about the 3D-printed LSEV car is that it will only take up to three days to construct the light and innovative vehicle. The 3D-printed vehicle is said to weigh less than 1,000 pounds and 3D-printing means there is 70% reduction of investment cost. The LSEV has already received 7,000 pre-orders and can be customized. In the future, the company will allow customers to customize their ride even more so. As of right now, customers can 3-D print with Polymaker Industrial, which is a developer of 3-D printing materials. Italy has already ordered LSEV 5,000 cars and another 2,000 cars will be leased out.
"There are so many benefits that 3D printing brings to our process," said Stanley Lu, XEV CEO. "To summarise, we give freedom to creativity. Not only our customers, but also the general public can have a way to join the car development. You can also change the way how industrial make cars today. The investment of building a factory becomes much smaller. We create the most efficient way of production, not just for car, but for other projects.
"XEV is the first real mass production project using 3D printing," said Dr Luo Xiaofan, the co-foudner and CEO of Polymaker. "By saying real, I mean there are lots of companies using 3D printing for production, but nothing can really compare with XEV in terms of the size, the scale and the intensity." The Smart Car-looking vehicle will only have a top speed of approximately 43 miles per hour and can travel about 93 miles on a single charge. The vehicle will be available in Asia and Europe in 2019.