It's great to be a celebrity because it gives a person immense popularity. On the other hand, it has its own pitfalls. Being a celeb means that you are under a scanner at all times. There are some incidents that show that these celebs are not as perfect as we envision them to be. They have some embarrassing moments in their lives that they wished never happened in the first place itself.
1. Demi Lovato And Her Tampon Stuffed Nose
Demi Lovato is young and at times she does a lot of senseless things. Like in this picture, she has stuffed tampons in her nostrils to fight the cold. Yes, noses drip when you have flu. But who puts tampons in the nose to stop the dripping? Come on Demi, the doctors advise against that because it is going to bolster the infection even more.
2. Was Christina Aguilera Taking A Leak While Giving A Tribute To Etta James?
Christina was paying her respect to the Etta James on her funeral. But midway during the show a brownish-liquid was seen trickling down her legs. Looking at her emotion, one cannot help but think that she badly needed to go to the loo or was that tan lotion dripping down her legs? Whatever be the case, the actual answer lies with Christina, who knows exactly what it was.
3. Kim Kardashian's Awkward Sun Tan
Kim Kardashian is quite popular because of her antics. She delivers the required glam and spice to the Page 3 editors in the tabloids. Here she is seen showing off her sunburn when she fell asleep while sunbathing in Mexico. However, it does not look bad on Kim. We like the golden hue on her pretty body.
4. Bella Hadid's Fall During The Michael Kors Fashion Show
Bella Hadid was strutting on the rampway when she took a turn and everything came crashing down. It was the 2016 Michael Kors New York Fashion Show, and the Model of the Year took a fall. But being the champion that she is, she collected herself and continued doing her catwalk. Viewers commended her act and she was compared to the modeling queen Naomi Campbell. She faced a similar situation in the Paris Fashion Week in 1993.
5. Jennifer Lawrence's Oscar Tumble
Jennifer Lawrence was nominated for the best actress in the 2013's Academy Awards for Silver Linings Playbook. Everything seemed fine until she was declared the winner in her category. When she was climbing up the stairs to collect her award, she fell down. Owing to the weight of the moment and the drag of her Dior gown, she took a tumble. She also told that her stylist told her to kick and walk so that the dress would unfurl in a cool manner. But the suggestion did not reward her at that moment.
6. Lindsay Lohan's Dental Troubles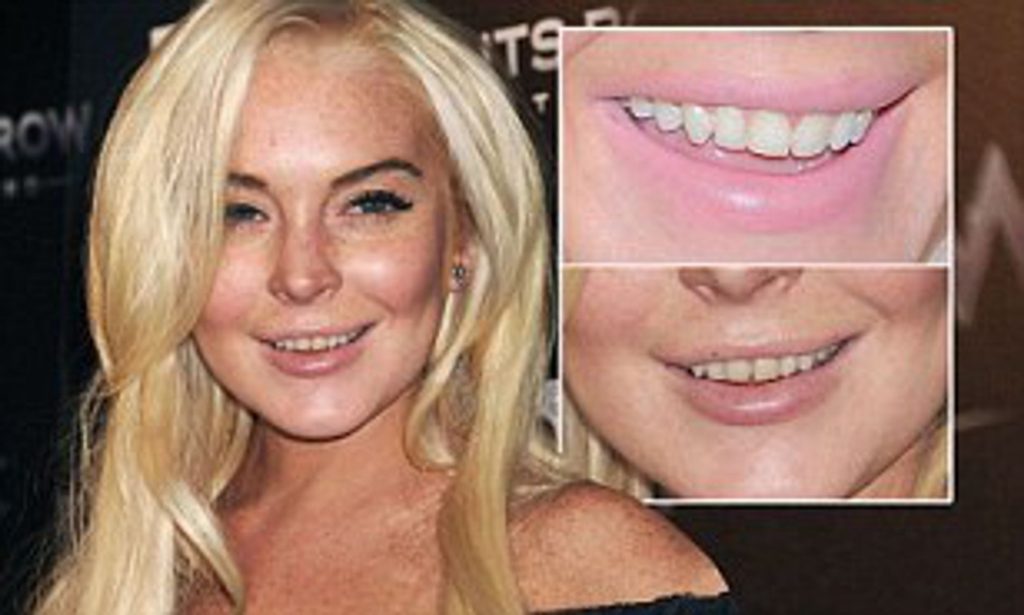 Lindsay Lohan's net worth is falling fast. This is quite evident from her seemingly unflossed teeth, which is extremely yellow. Her tooth decay is also clearly showing in this pic and this shows that she cannot afford the expensive dental treatment anymore. We wish she had not wasted her entire fortune on her partying ways. But what can we do? We sincerely hope that she is able to bounce back from this ebb.
7. Selena Gomez's Unwaxed Armpit
Waxing can be quite a tedious chore and requires considerable time. However, not all artists have the luxury of being free most of the time. Gomez was particularly busy during the promotion of her movie Spring Breakers during 2013, and her sleeveless dress revealed her inner secret. Her armpits were not completely waxed.
8. Beyonce's Hair Gets Stuck In The Fan
Beyonce was performing in Montreal during a live show when her hair got entangled in the fan's blades. She was performing the song Halo from the audience pit when this incident occurred. She was so brave, she continued to sing even when her hair was being yanked by the fan. Finally, with the help of the security guards, she was able to cut herself loose from this predicament.
9. Kylie Jenner Takes A Fall At Kim Kardashian's Bachelorette Party
Kylie Jenner was visiting her sister Kim Kardashian's bachelorette party when she had any embarrassing fall at a French Restaurant in Paris. She fell flat on her face and was helped up by Khloe. The billionaire cosmetics mogul was 16-year old back then. This fall could have shaken her confidence but she took this in her stride and moved on.
10. Nicki Minaj Suffers A Wardrobe Malfunction
Nicki Minaj has always been a controversial star. But even when she is not involved in any cheesy story, it seems that she cannot avoid but bring trouble to herself. There was a nip slip during the show, Good Morning America and the expression on Nicki's face says it all. But the viewers were able to get quite an eyeful.
11. Britney Spears And Her Fall From Grace
Here you can see Britney chopping away her tresses in the picture. She was going through a lot during those times. This iconic photograph says a lot about the stress she was experiencing at that time. Her career was faltering. Her parents were not listening to her. Her ex-husband Kevin Federline was driving her crazy. In the end, she just had it enough. Thanks to her gutsy attitude, she was able to bounce back from her lows and she was able to scale new heights.
12. LeBron James Crying After Losing A Game
LeBron James has been a top performer in NBA games. But his 3-6 record in the finals is proof that his team chokes in the finals. Maybe that is why he is shedding tears in this picture. After all, who does not want to be on the winning side? It looks like LeBron really wants to win, real bad. Lakers, are you seeing this?
13. Zac Efron's Condemned By A Condom
Zac Efron was a childhood heartthrob, thanks to his hit show on Disney. He became a teen sensation within a few years as he commenced from the High School Musical to movies. During the premiere of a movie, Dr. Seuss 'The Lorax', he dropped a condom and then the tabloids went into a frenzy over the incident. The actor confirmed that he was indeed using protection. Why? That's because he was busy bedding somebody at the time. Refrain from asking any other names in the incident, because we don't know who it was.
14. Sofia Vergara Split Her Dress During The Emmy Awards 2012
During the Emmy Awards 2012 her show, The Modern Family won the award. Sofia, however, was not extremely thrilled with it. Her dress was too small as compared to her curves. Her dress split due to her burgeoning body structure and clearly, the actress was not amused. But neither were the men in the awards show complaining, nor was the paparazzi pissed off about it. Needless to say, they were loving the view.
15. Ariana Grande Gets Smacked In The Face
In 2014, in a Victoria's Secret Fashion Show, Ariana Grande got nearly smacked in the face by the wings of Angel Elsa Holk. She was about to topple down from the stage but was able to avert the disaster. Thanks to her nimble sidestepping on the runway, she was able to avoid a fall. But the pint-sized singer gave a cute expression. But it was a close call.
16. Young Kylie Jenner Was An Expert In Making Faces
She is now a mogul in the field of makeup and cosmetics. But during the earlier days, this girl was equally talented in making faces. Don't believe us? Then have a closer look at the picture above. You don't recognize her from this photograph? We didn't recognize her either. But it was posted on Kim Kardashian's Instagram account and she claims this to be Kylie's photo, so she must be speaking the truth.
17. Fergie Leaked In Her Pants During A 2005 San Diego Event
During a Black Eyed Peas performance in 2005 in San Diego, Fergie was on stage performing. Suddenly people started to notice a wet patch near the zipper/rise area of her trousers. Just like the kids in Kindergarten school, Fergie had wet her pants, that too in midst of a crowd. On inquiring the singer about this, she said that she was in the midst of a performance and she couldn't leave the stage for a loo break. This is serious professionalism on her part and we don't feel that she should feel embarrassed for it.
18. Cardi B And Nicki Minaj Scuffle
Nicki Minaj and Cardi B nearly came to blows during the 2018 New York Fashion Week. According to sources, Nicki had made some comments regarding Cardi's way of parenting her daughter. In an event prior to this(The Met Gala of 2018), they seemed to get along well. But in this event, the way both of them behaved with each other was in stark contrast to their previous encounters. But do you want to know how Cardi got the swollen eye? She hurled a shoe at Nicki which ricocheted from a pole and struck her over the eye. Nicki was mortified by Cardi's behavior.
19. Robin Thicke Does Not Realize There Is A Mirror Behind Him
Robin Thicke has always been a good artist. The versatile musician is known to charm people with his melodies. But his character is indeed questionable. Here he is posing for a photograph with a fan. Little did he know that there was a mirror behind him and the press wasted no time to cannonball the entire incident. After this came out in the tabloids, Paula Patton, his wife at that time, filed for divorce.
20. Emma Watson Shows Unwanted Magic At The Harry Potter Premiere
Back in 2009, Emma Watson was at a Harry Potter Premier when she suffered from not one, but two wardrobe malfunctions. That night, she had donned a loose-fitting robe, which unfurled at the most unexpected of moments. First, her bare chest was on display which was followed by a flash of her knickers. Needless to say, the photographers got a lot of content to click on.
21. Donald Trump Has His Hair Ruffled…But It's Not Fallon
All of us have wondered whether the President has real hair. When Fallon ruffled through the President's hair, we had received our answer whether the whole mop was fake or not. But he surely keeps his hair in a weird shape. Here, a gust of wind blows away his hair and we can't help but laugh at the hair-brained joke. The President does not look a pretty sight…at all.
22. Jonah Hill's Wardrobe Malfunction
Jonah Hill has always been known to be quite a darling among the masses. He is immensely talented, exceptional and awesome onscreen. But this versatile star has had his share of miseries as well. Normally, it is women who suffer from a wardrobe malfunction. But Jonah proves that this is not limited to the fairer sex only. His ripped pants are living proof of that.
23. Katy Perry's Oops Moment On The American Idol
Katy Perry has always proved to be a phenomenal diva on the singing reality show, American Idol. But she is always up to one gimmick or other. Here she is seen twerking with contestant Michelle Sussett. Suddenly, she buckled her heel and sprawled on the floor, flashing the cameras for quite some time. Fellow judge and singer, Lionel Richie tried to protect her modesty, but as the third judge of the show, Luke Bryan quipped afterward, there aren't a lot of things that a man can un-see.
24. Bill Clinton Did Not Learn His Lessons Well
Seems that Bill Clinton did not learn a thing from the Monica Lewinsky affair. The ex-Prez was present at Aretha Franklin's funeral. Ariana Grande was presenting her tribute to the deceased singer. But the sad occasion does not seem to hinder Bill from his infidelity. As the wise ones say, once a cheater, always a cheater.
25. Taylor Swift's Granny Panties Save The Day
Thanks to her granny shorts, Taylor Swift was able to keep a disaster at bay. Taylor Swift was performing at the 2018 Billboard Music Awards when she had an upskirt moment. And no, her skirt wasn't as long as Marilyn Monroe's. So the entire world had a look at what she wore underneath. If Taylor wouldn't have donned these knickers, then the whole crowd would have a view of her personal assets as well.
26. Justin Bieber Eating A Burrito Sideways
Justin Bieber has always been a weird personality. His celeb status has resulted in showcasing his bizarre fetishes. One of them is shown in this picture. Here you can see him eating a burrito sideways. WTF? If you are surprised that the musician does not know the correct way to eat a burrito, then be prepared for another jolt. This is not the singer himself, but it is his lookalike, Brad Sousa. He was personally hired by Bieber to distract the paparazzi people.
27. Kanye Slamming His Head Against A Street Sign
Kanye West has always been a vocal celeb. This guy is never afraid of openly expressing his emotions. His on-stage ranting about Beyonce's video, while Taylor Swift was receiving MTV Awards, had made the headlines. He has also been involved in various controversies apart from this. He has also voiced his support for Trump, despite his faulty governance. Here you can see Kanye massaging his forehead after he slammed his head against a street sign.
28. Justin Bieber Throwing Up On Stage
Justin Bieber was performing in front of a capacity crowd at Arizona. Everything was fine until he wretched and slowly began to puke all over the stage. The spectators who were going 'Awww!' a moment before ended up doing an 'Eww!' when his inner fluids spilled out. When asked about the incident afterward, Justin responded by saying that he had drunk milk before the concert and this proved to be a bad choice for him. Digesting milk is not easy and this incident clearly proves that.
29. Ronaldo's Dental Jewels Were Not Exactly Awesome As They Are Now
Have a look at Cristiano Ronaldo. He is got that dreamy look that makes girls swoon at his feet. When you look at his smile and picture-perfect set of teeth, you simply feel that he is not less appealing than a Greek God. He has raised the glam factor on the soccer field. And the paparazzi? They go gaga over him. But this was not always the case. Just have a look at this picture during Ronaldo's younger days. Doesn't look the handsome bloke that he is now, does he?
30. Madonna's Fall From Grace
During the Brit Awards of 2015, Madonna took a tumble while performing. In that event, Sam Smith and Ed Sheeran were also present and they saw the self-proclaimed Queen of Pop fell on the stairs that led to the stage. During the performance, Madonna was supposed to tread here and there. She took a side step that was a bit miscalculated and as a result, she went down. But the kind of professional that Madonna is, she brushed it off and continued to perform. Although she is known to be near-perfect while delivering her performances, this fall proves that she is human and can also make some errors.