Many stores have stayed the way they were for years altogether. For decades, they would do the same thing over and over again. They are only interested in taking your money out of your pocket.
But then there are other stores, those which want to form a personal relationship with their customers. These are stores that innovate their methods of marketing and selling so that the customer feels at home while shopping in these places. These stores look for multiple ways for reducing wastage of resources, saving money, while making things more convenient for the customer.
No wonder these stores are always on their toes, having an edge over their competitors. They incorporate such incredible systems and designs, something that you see for probably the first time in your life. These traits go on to become trademarks.
1) Reusable Electronic Tags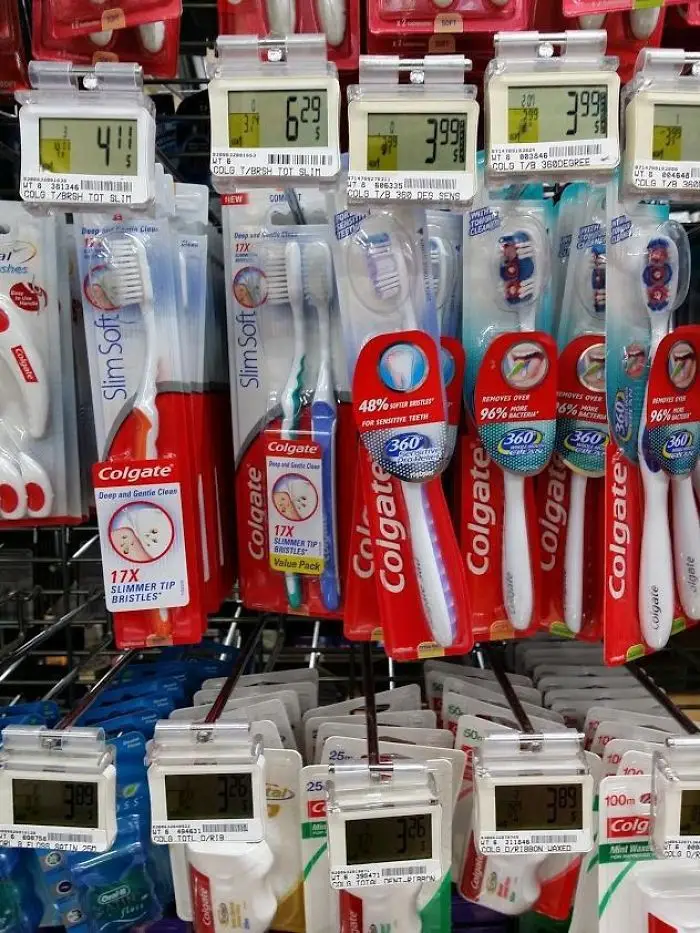 This store wants to reduce paper wastage. So they came up with a way that the price tags could be reused and recycled. That's why they have installed electronic price tags all over the store. This way they won't have to keep on discarding the old tags and waste paper in making new ones.
2) Readymade Food Bags For Feeding Your Needy Neighbors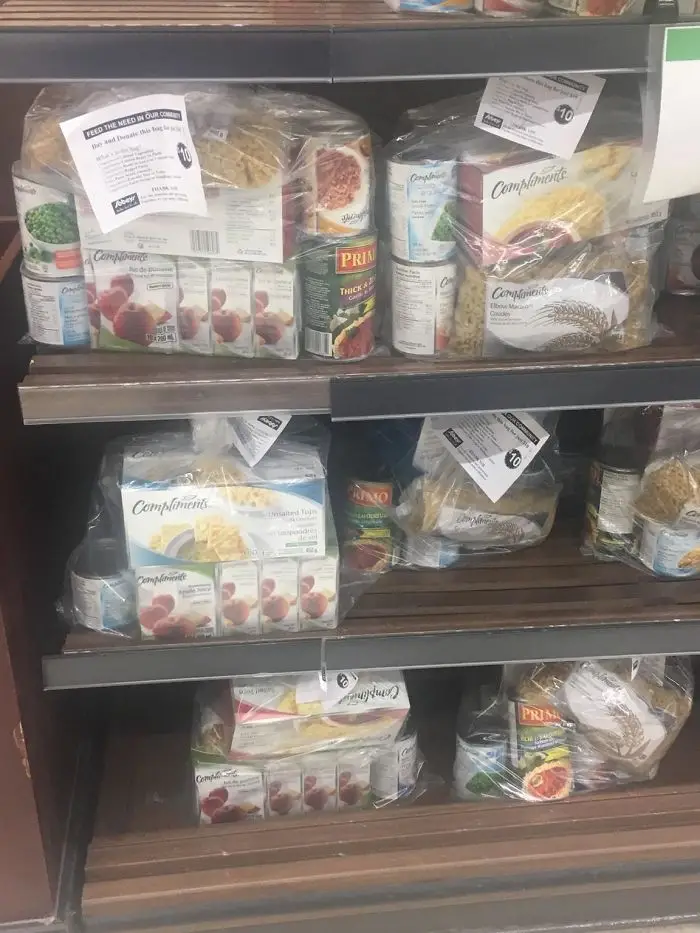 This supermarket has a philanthropic bent of mind. So it has come up with a way that makes it easy for people to help feed their needy neighbors.  They made readymade kits for people to purchase and then give it away to the homeless or people staying in food shelters. That is a pretty cool idea.
3) Mystery Beer Bag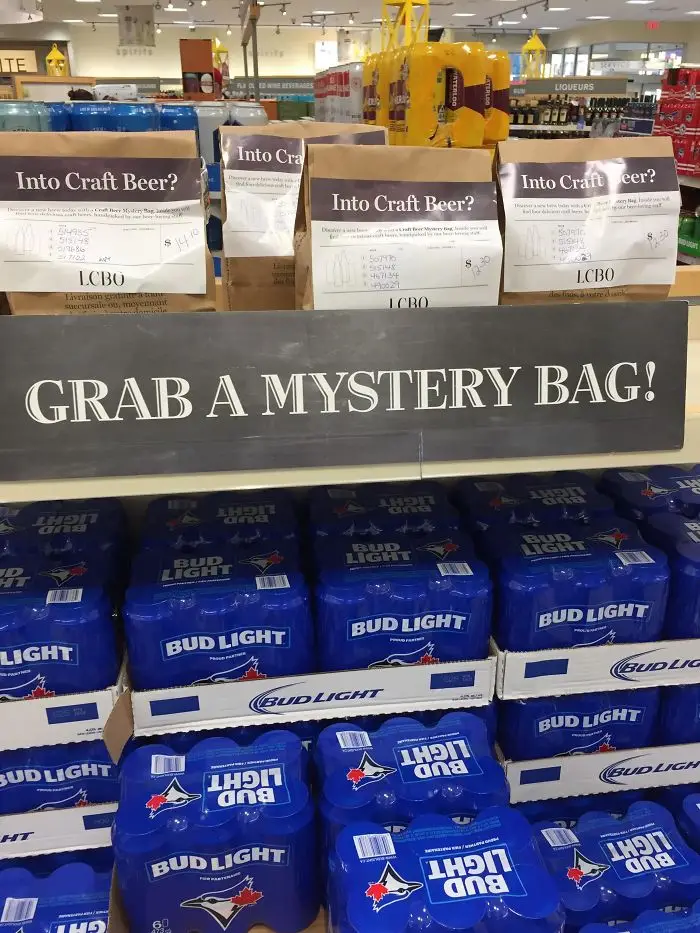 Sometimes you enter a beer store and don't know where to start and want to try something different. This liquor store has come up with ways that make it easy for you to choose your preferred beverage. They have made an assortment out of a bunch of random beers in a bag for you to try out.
4) Blind Date With a Book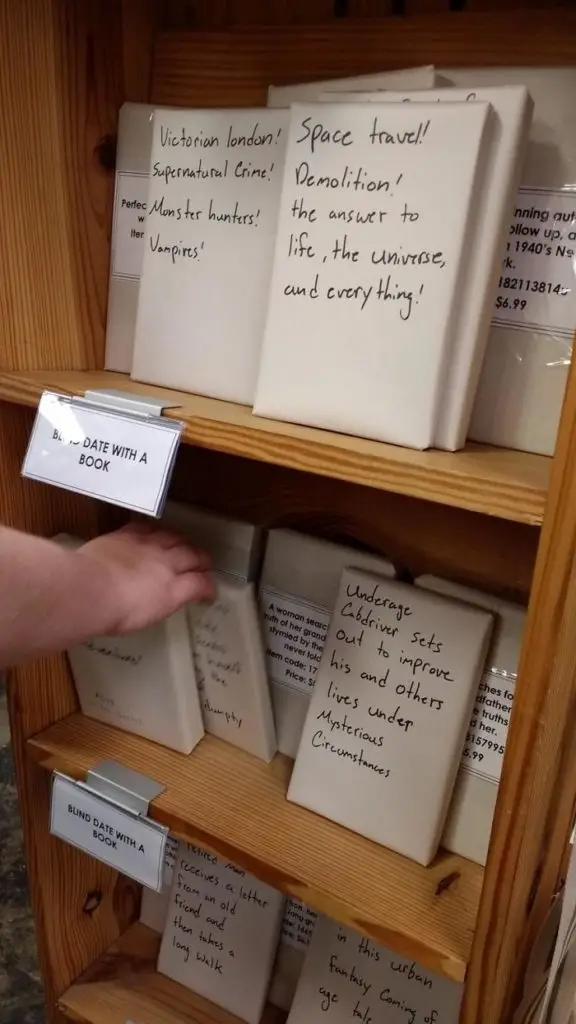 There is a saying that goes this way – you shouldn't judge a book by its cover. And this library, in particular, makes sure that you don't judge a book by its cover. It covers up the books so that you cannot discriminate and hence, can have a so-called blind date with a book.
5) Meat Machine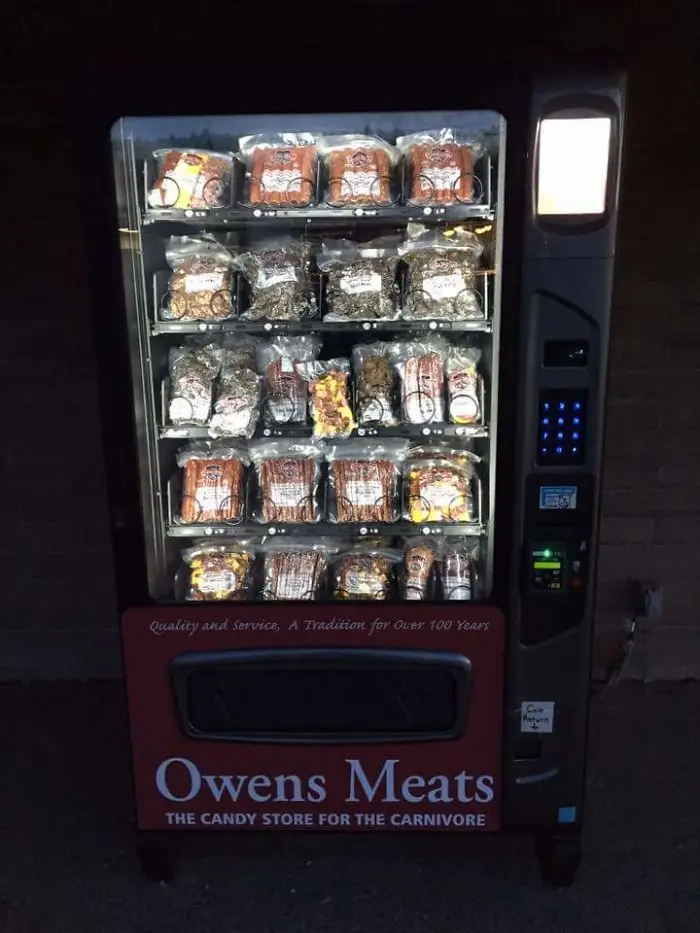 I am not sure if I would want to buy my meat from the innards of a vending machine. After all, there is something called freshness. But it's not raw and unprocessed meat we are talking about. The contents that are inside the vending machine are more like snack meat.
6) Short Story Dispenser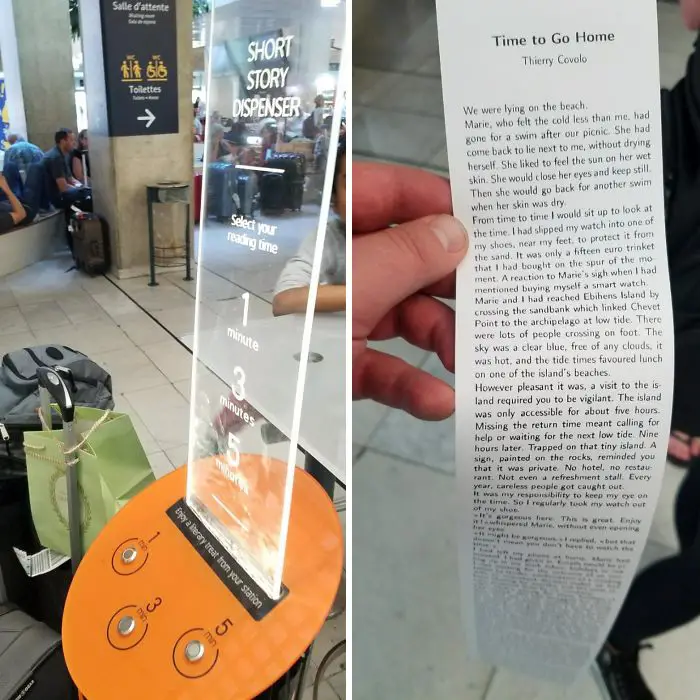 If you get bored when you are waiting for your flight and do not know how to kill time, then this airport has something that will keep you engaged. They have printed short stories on miniature paper scrolls(the ones on which shopping bills are printed) and placed them inside a dispenser. You can read an interesting anecdote while waiting for your flight. Now isn't this incredible? And it's free! This is the coolest airport ever.
7) A Directory For The Whole Store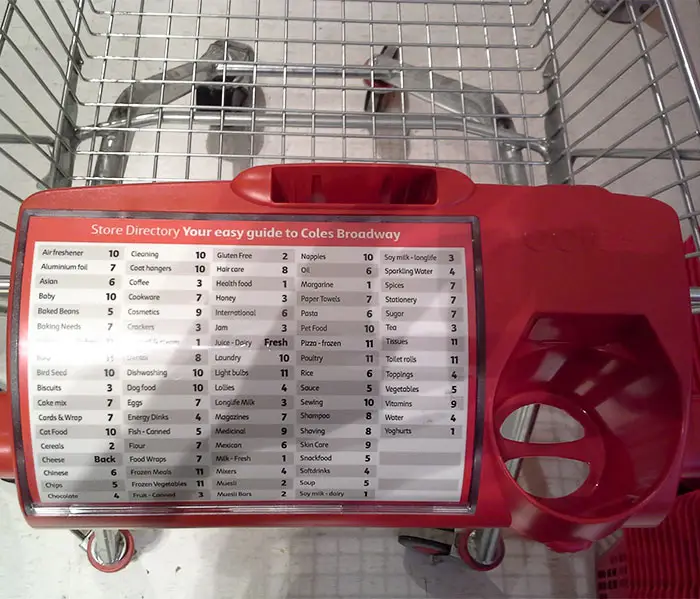 Now, this innovation is a product of pure genius. You are always looking for someone to guide you down the aisles in a store, especially when you can't find what you want inside a grocery store. This directory has a complete list of aisles, telling you about the product placement. It is so helpful for senior citizens. Now you don't have to waste your time finding a store executive to guide you through the premises.
8) Shopping Calculators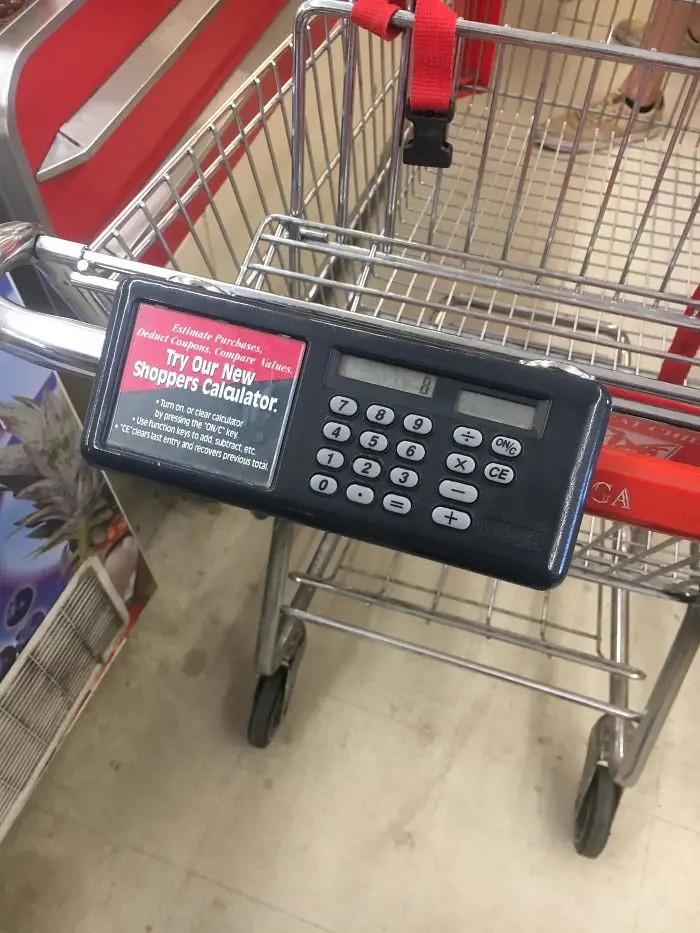 It is so sensible and helpful to know beforehand how much the groceries are going to cost you. That too before you check out of the store. Not everybody is interested in doing math when they are shopping. Moreover, there is a chance you have overstocked things. This grocery store has calculators on their shopping carts. You can total the bill up when you are waiting in the checkout line.
9) Walking Around Beer Pails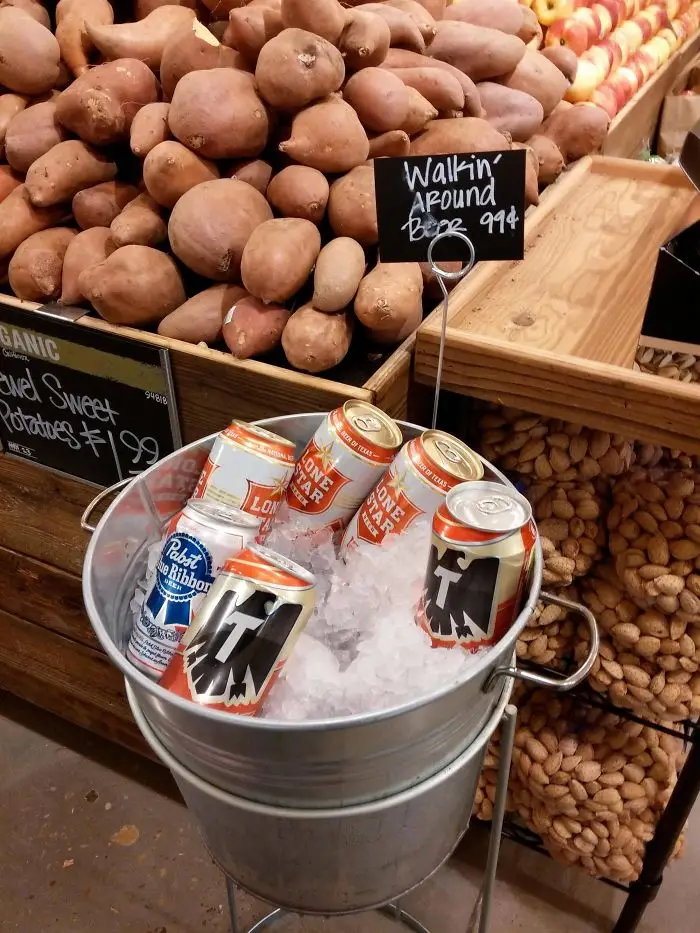 Just look at this place! This is certainly something out of a dream. This grocery store allows you to shop in a super laid back manner. They permit you to walk around the aisles, looking for things to buy while drinking beer. Drinking beer is the perfect accompaniment in boring chores like shopping.
10) Bother Me Baskets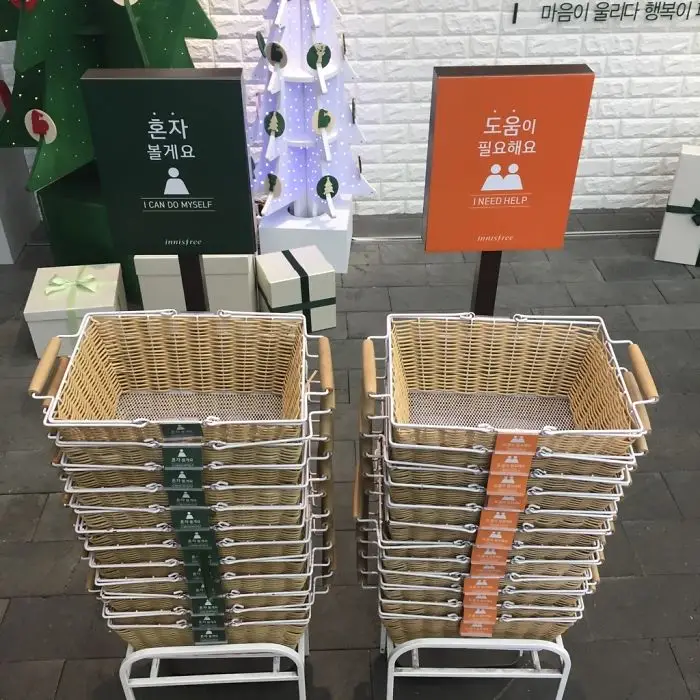 We are not sure what kind of a grocery shopping store this is, but wouldn't it be great if you didn't need to run around asking questions? These baskets have need help/don't need help signs to make sure you won't have to look for guidance based on your basket preferences.
11) Beer Cup Holders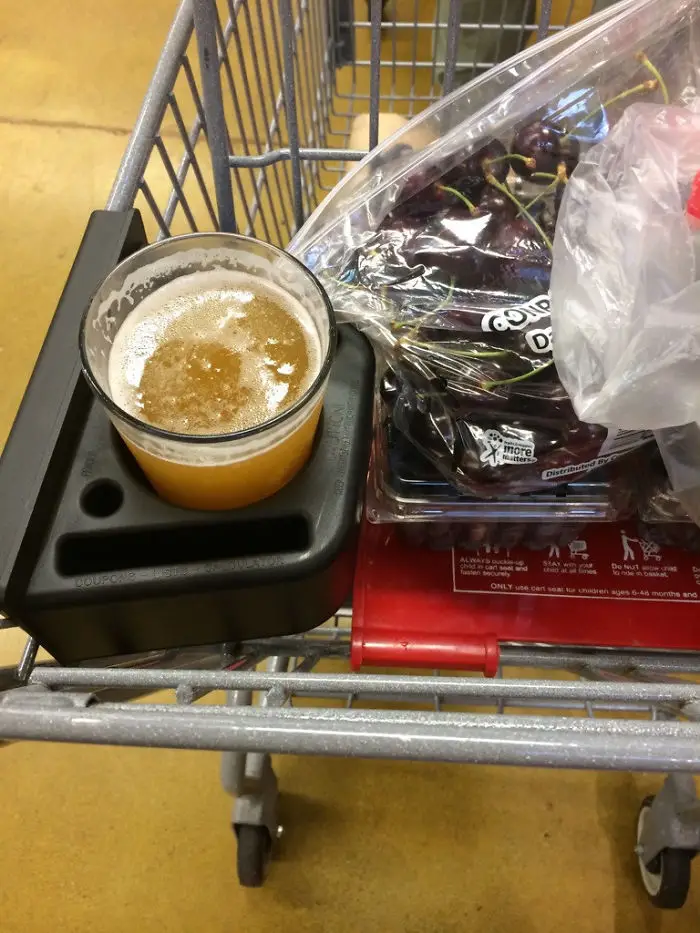 This grocery store sells manually crafted beer by the pint. Now isn't that cool enough? Shopping and sipping beer is the best thing ever and we have told this to you before. But it so inconvenient to carry the glass or the can in one hand and shop with the other. So this store has come up with a great solution. They also have cup holders for your beer.
12) Mini Dog Mattress
It is clear from this picture that this mattress store loves dogs. And they acknowledge your love too. So they have come up with a sensible scheme. They give you a free dog mattress when you buy a human-sized mattress. Cool!
13) Produce Misfits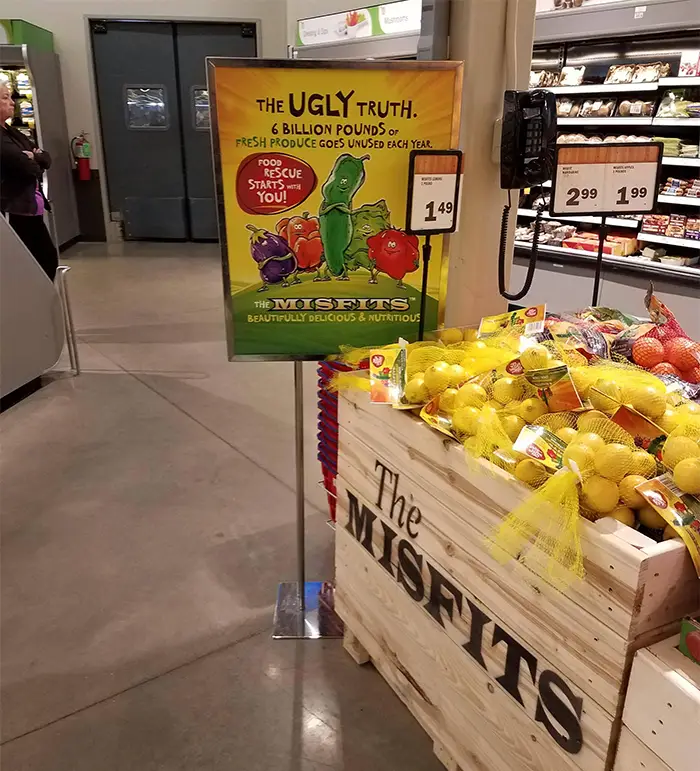 It's really a sad fact to know that about one-third of the food on this planet goes to waste because it does not look good enough. That too in times when there are millions of people around the world that are going hungry. That's why this grocery store has come up with the perfect solution. They sell their ugly and unappealing-looking produce for cheaper rates. What doesn't sell is given away for free.
14) Shopping Snack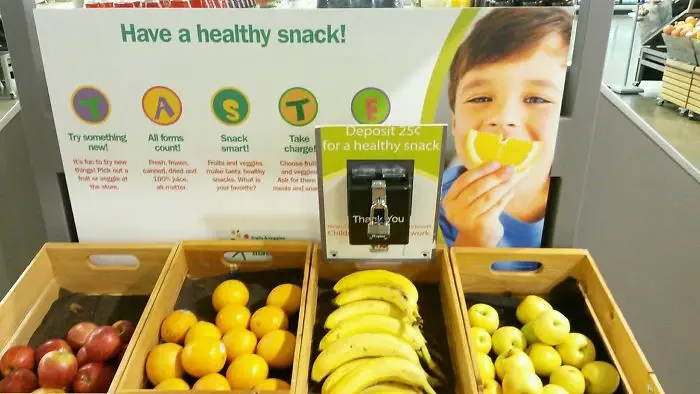 If you have to go grocery shopping while you are on an empty stomach, is always a bad idea. But that doesn't mean that you have to eat all the fat-laden junk. That's why this grocery store has come up with a unique way to help out its hungry customers. It offers healthy snacks for just $0.25. Now isn't that great?
15) Ready and Unready Bananas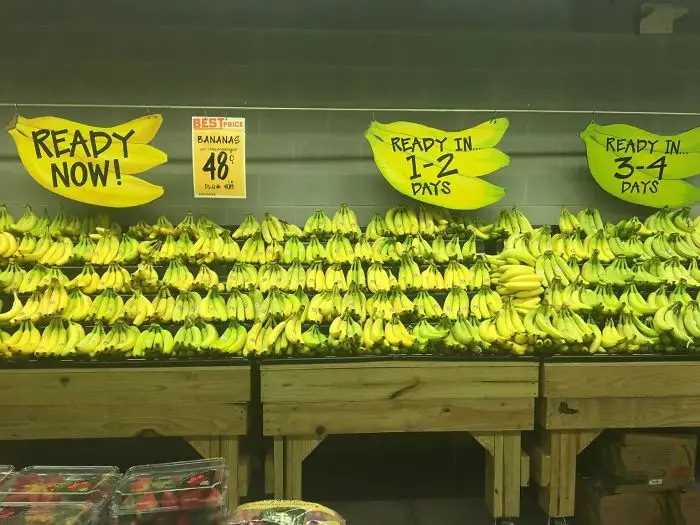 Are you tired of guessing whether your banana is ripe or not? This grocery store takes care of this responsibility by reducing the guesswork. You can purchase the banana-produce that is ready now. The raw ones will be ripened in the storage.
16) Mango Color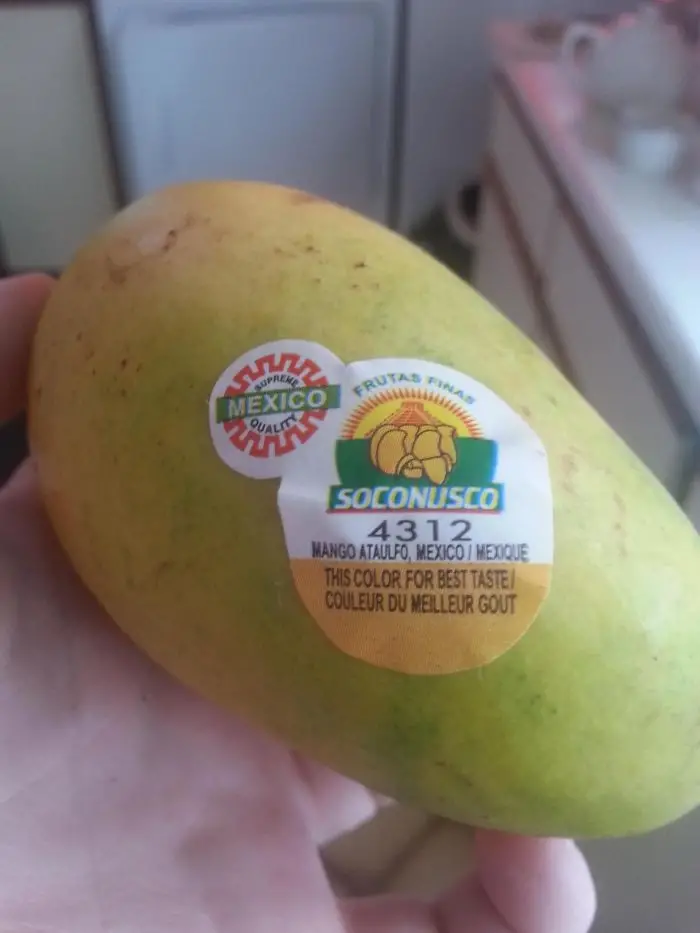 Are you aware what color a properly ripened mango is? You don't need to know now. This grocery store has stickers that will show you the exact shape of a properly ripened mango.
17) Free Fruit For Kids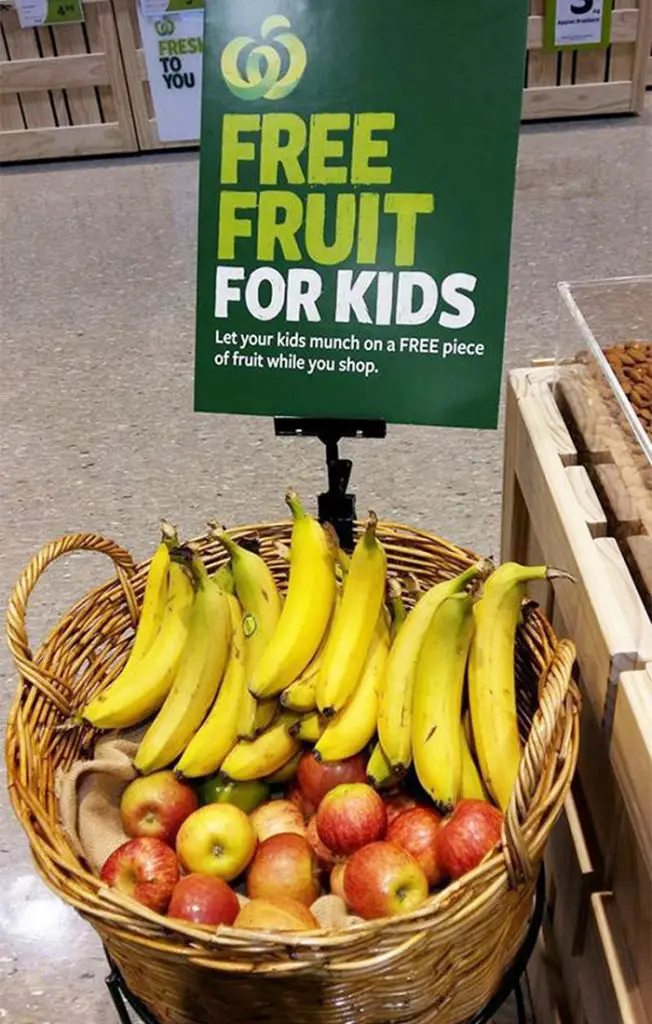 Now, this is a great way for encouraging kids to eat fruit and avoid all the sweet junk. They will want to eat fruits if they are for free. While the children are busy chomping on the fruits, mom and dad can peacefully shop for the groceries.
18) Supermarket Maps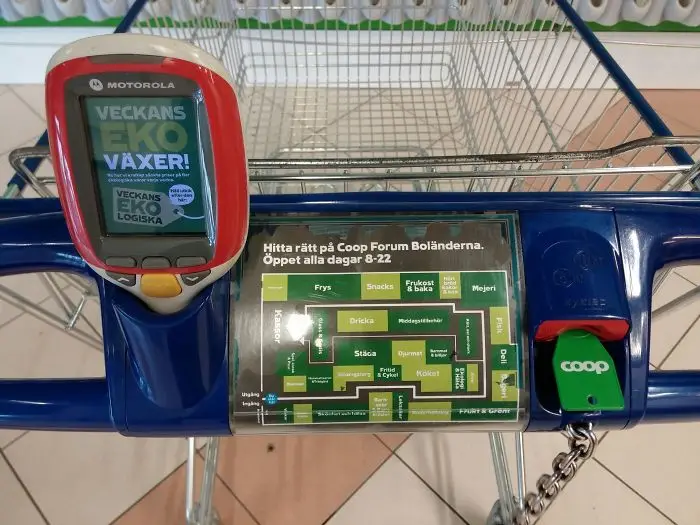 Some stores do not have properly organized aisle sections. This can be confusing for shoppers who will have a hard time figuring out what's lying where. That's why this store has a handy map on the shopping cart for all its shoppers. I wonder what those other contraptions are for.
19) Walmart GPS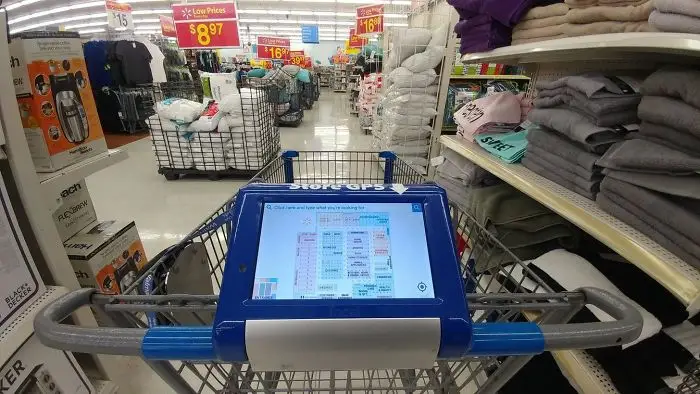 Now, this is added extra that you will rarely see anyplace else. This Walmart has installed GPS on their carts. Now that must be a really big Walmart. Walmart has been known to have the biggest stores on the planet.
20) Bread Dispenser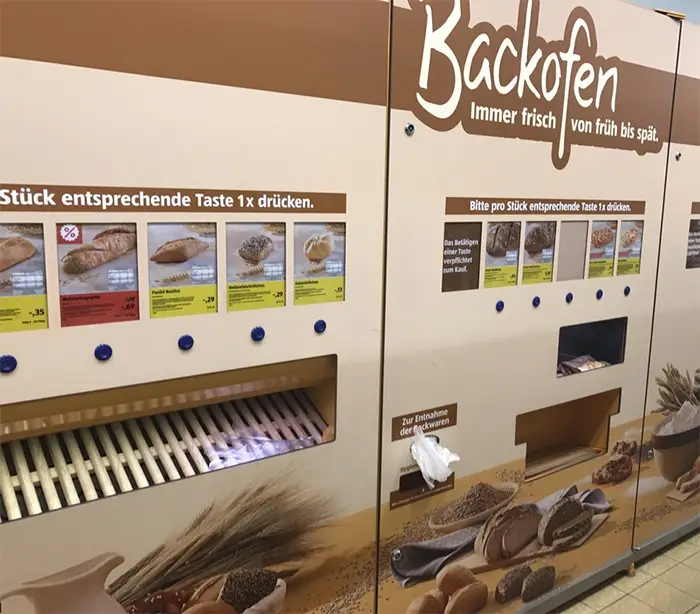 Now, who has never seen a bread dispenser before? It is something that is extremely unique and new, at least for me.  It helps to store the bread and keeps the loaves fresh. It's probably a method that has been devised by the grocery store to cut down on wastage.
21) Double-Sided Receipts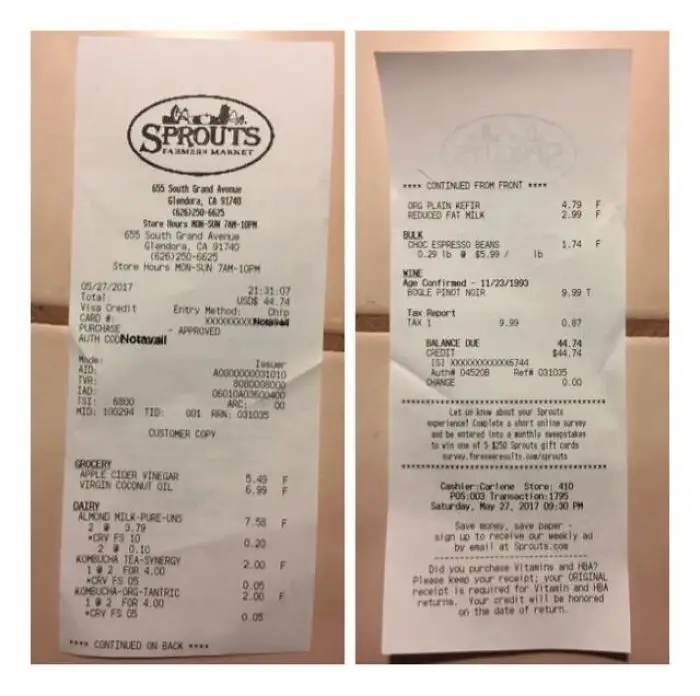 This store also intends to cut down on waste. They are working out on ways to save paper. That's why all of their receipts are double-sided. Cutting down on the paper wastage also helps in reduction of felling down trees. So it saves the environment as well.
22) Chilling Station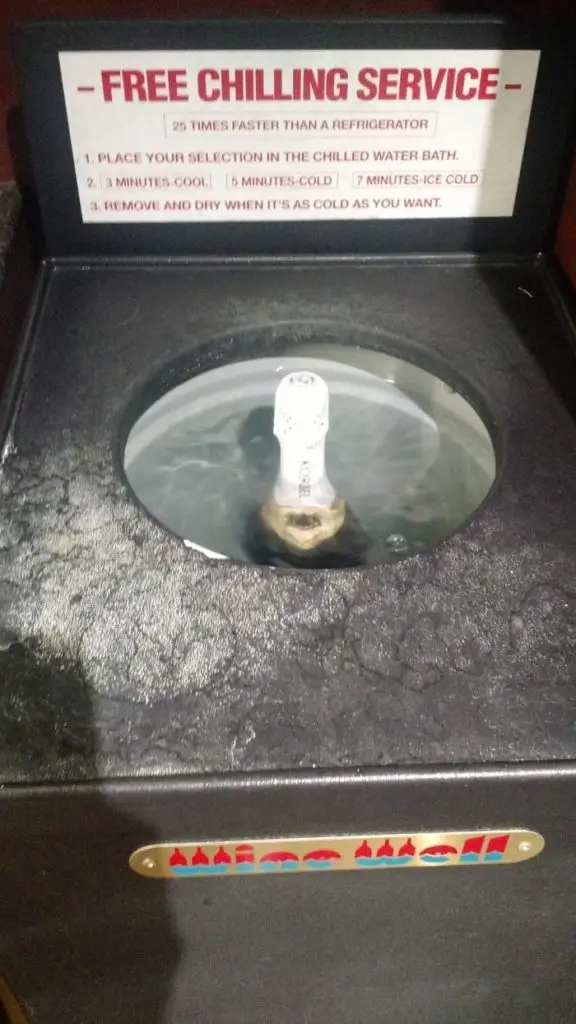 Are you heading straight towards a party? And you want to open a fresh and chilled bottle of wine, champagne or whatever as soon as you walk in through the door? This grocery store has come up with a unique concept because it has a free chilling service for its customers.
23) The Trolley Problem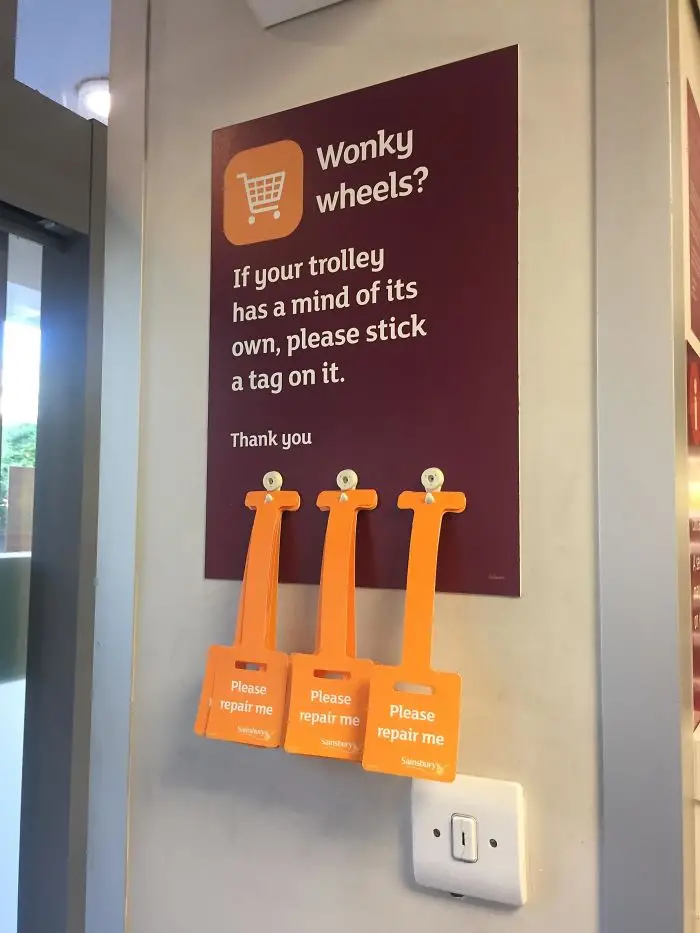 No one wants to own a trolley with wobbling wheels. That's why this store come up for a solution to this problem. They ask their shoppers to help them identify the problematic carts so that they can be repaired.
24) Book Nook of Books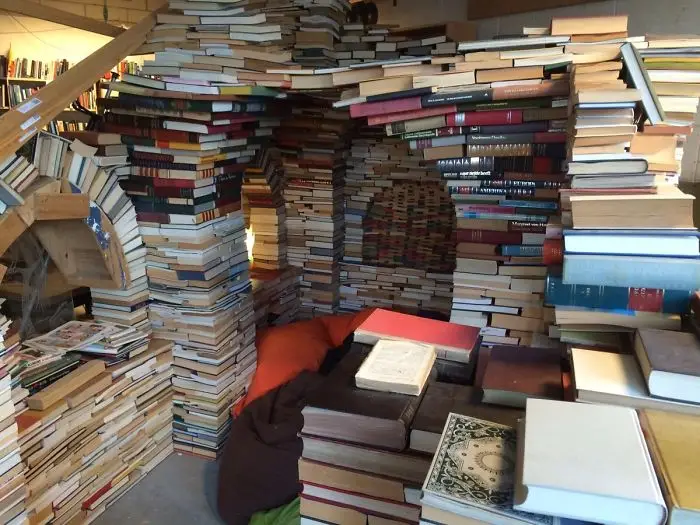 If you want to indulge in some peaceful reading, then it is best done from inside a nook. So this local second-hand book store took some pain and has created a reading nook for its loyal customers. And, what's unique about it is that it's made out of other books.
25) Pick Your Own Produce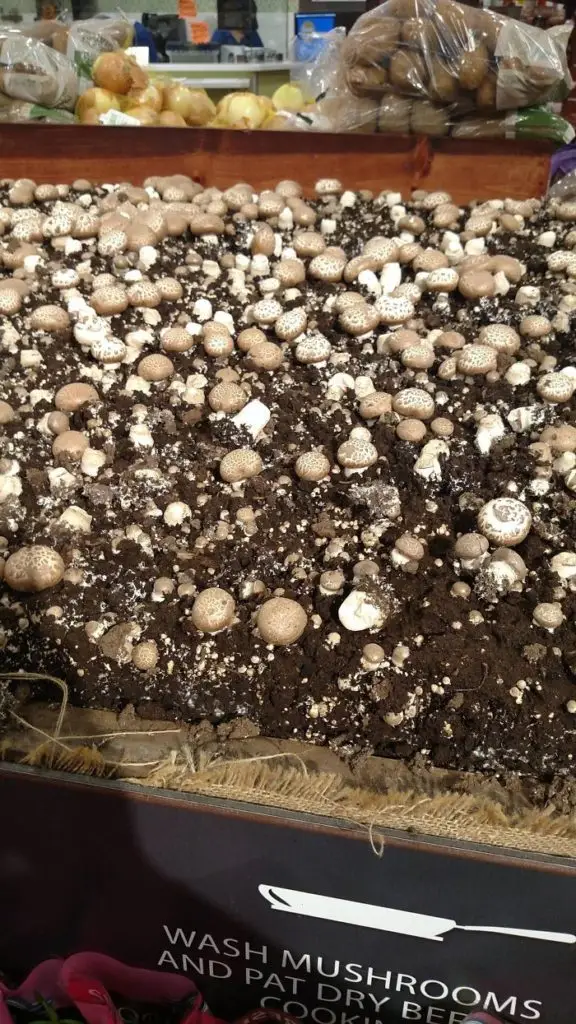 This grocery store doesn't just sell you the produce that has been brought in by the local farmers. It grows its own produce as well. What this store does is that it grows its own mushrooms and allows you to pick them fresh from this miniature indoor mushroom farm.
26) Grocery Store Lines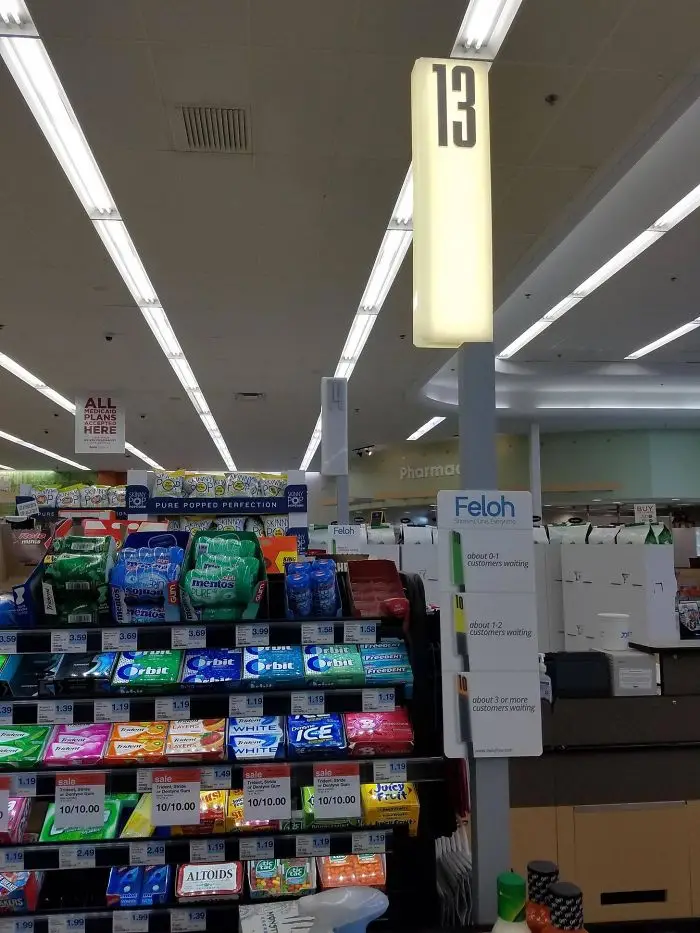 Some grocery stores are hell-bent about maintaining the best efficiency. This store is one of the lot, that just cares too much about its customers. The lights on their check out lines changes its colors to indicate how many customers are waiting in the line.
27) In-Store Beehive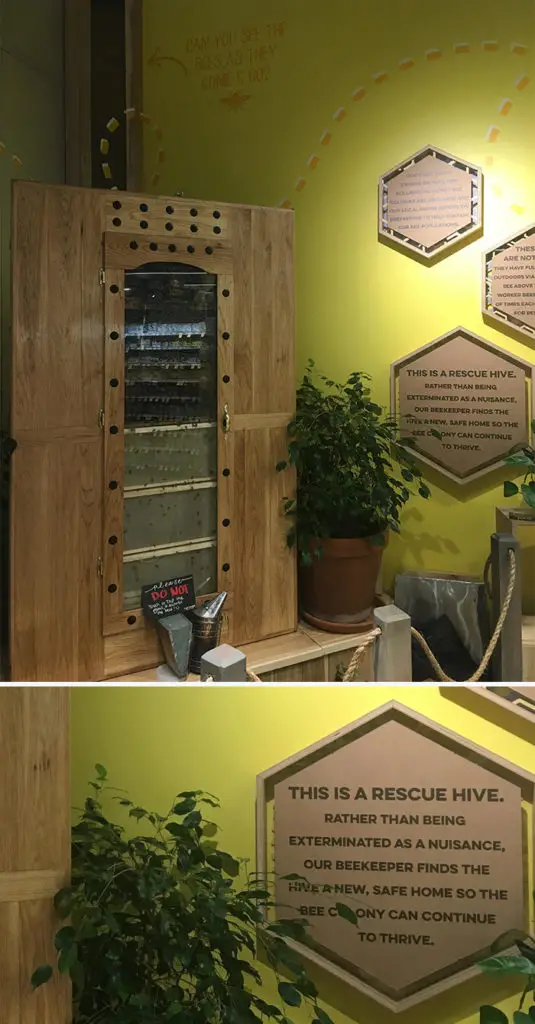 This store doesn't believe in killing the beehives that they find on their property. Instead, they have an in-house beekeeper to relocate them to a more suitable place. If you love watching animals and insects, then you can even watch the bees as they flutter around this indoor hive.
28) Labelled Clothing Hooks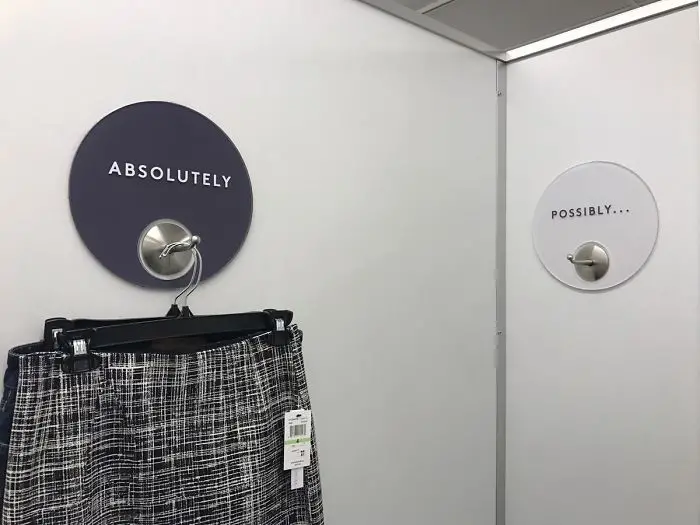 Every dressing room in the world should have at least two hooks, just like this store. The "absolutely" hook and the "possibly" hooks make the choosing job much easier. This dressing room labels their hooks so that the customer does not have to waste time in sorting their purchases.
29) Temperature Pricing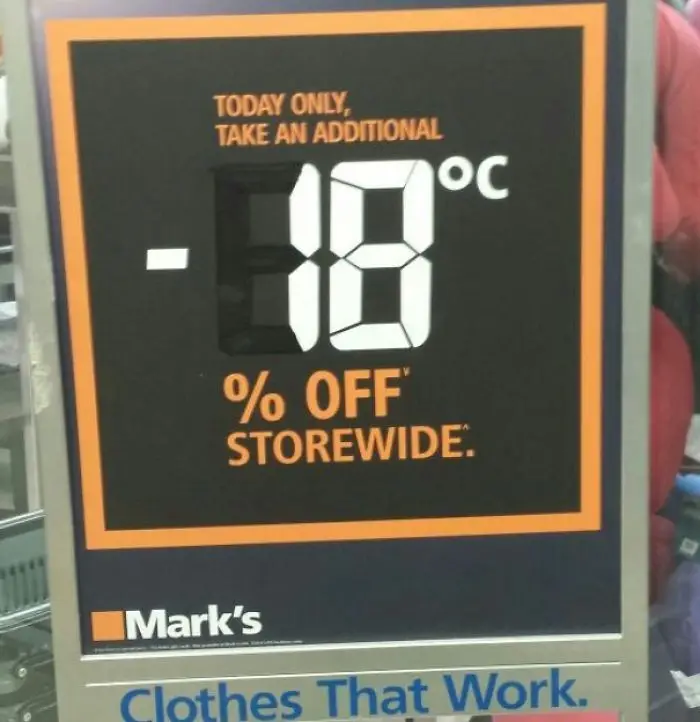 This is a funny and extremely intelligent way of attracting customers. Most people probably don't hate the winter chills outside. But this store has come up with a unique concept, it offers discounts based on the temperature outside. When the temperatures are in the negative, then this store is bound to have a lot of rush.
30) Toilet Paper Brands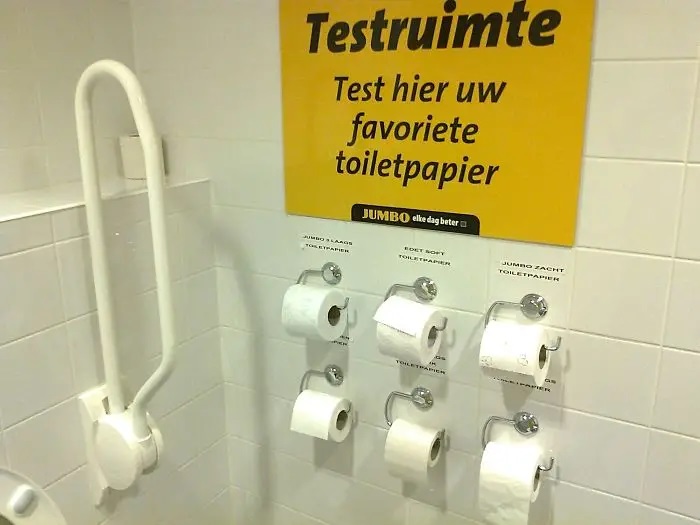 This is extremely hilarious to look at. This store allows you to try the different kinds of toilet paper they sell. So you can decide while wiping your butt, which brand you want to buy. What you feel is good, is what you will buy.
31) Up Vote, Down Vote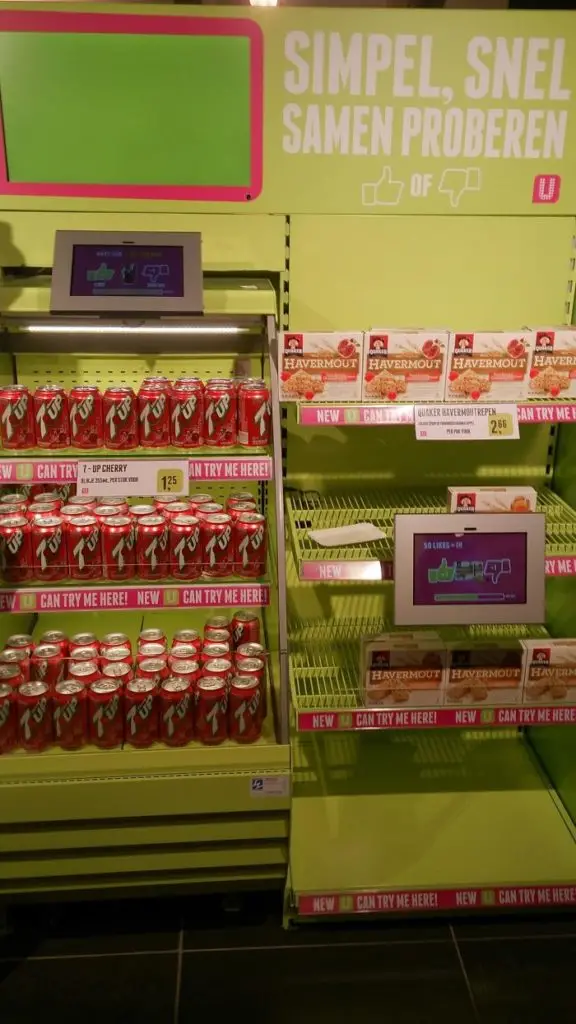 This is a university-based supermarket and of course, it has a lot of customers who are young students. They allow their purchasers to upvote and downvote products. Upvoted projects, with a considerable number of likes, end up staying on the shelves, while the other find their way out.
32) Magnifying Glass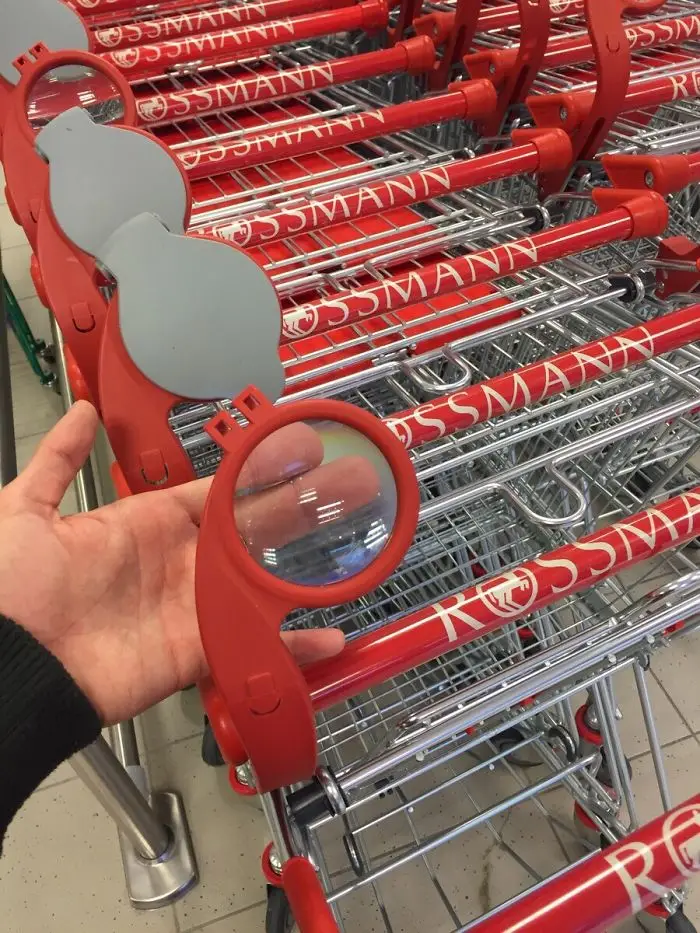 This grocery store has installed magnifying glasses on their shopping carts. It's for their elderly customers who suffer from vision problems. It allows them to see the items and labels perfectly.
33) Smart Carts For Searching Items In Stores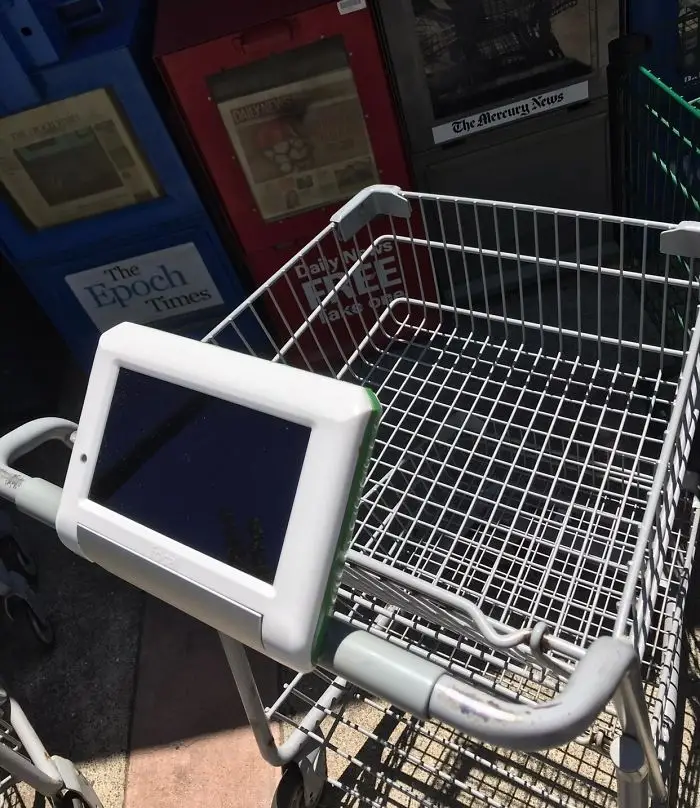 No one in this whole wide world wants to spend their time running around the grocery store in search of a particular item. What if your stores don't have what you want? Then this would result in a wastage of time. That's why this store has smart carts that allow you to search for items on a digital monitor.
34) Don't Want It? Then Dump It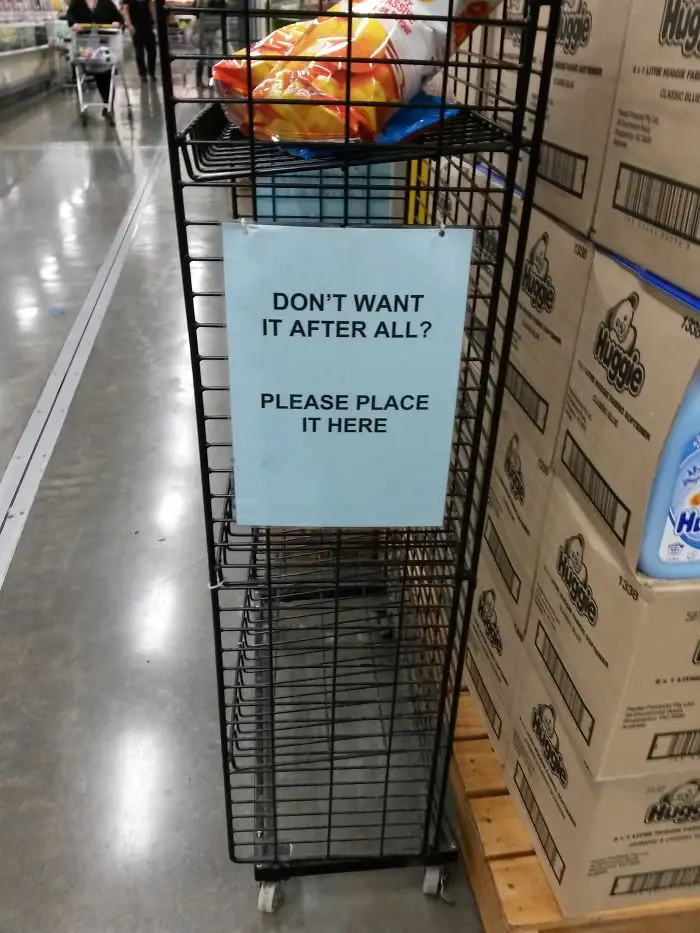 This is another idea that can be called a genius. This shopping cart has a portion for you to put stuff that you have picked, but you don't want to buy it. That way, you wouldn't have to put it back yourself.
35) S*x Shop Book Store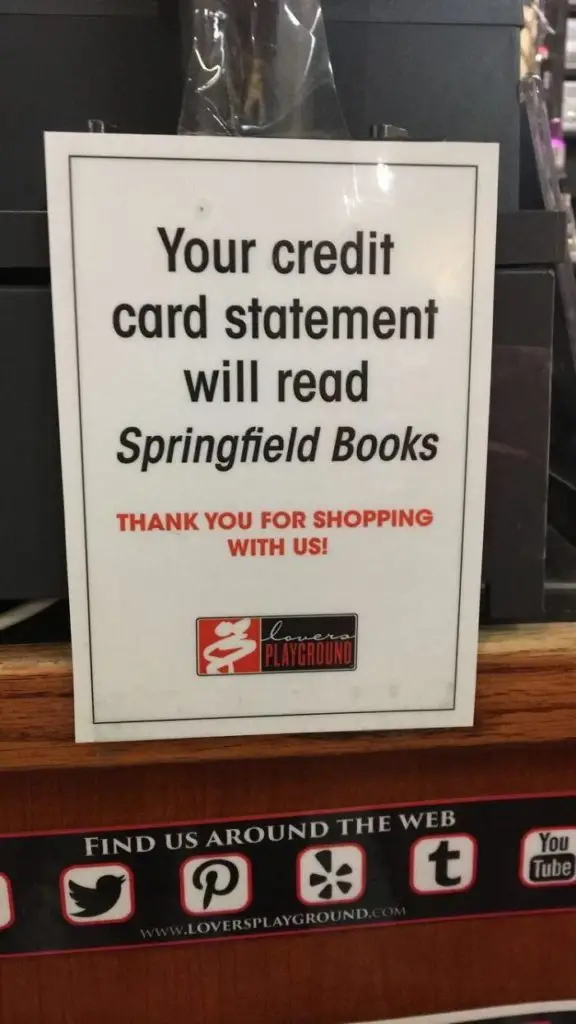 This S*x Shop has devised a way to keep the purchases discreet for its customers. So they camouflage their names of these naughty products on credit card statements. It comes up as Springfield Books instead of Lovers Playground.
36) Winter Simulator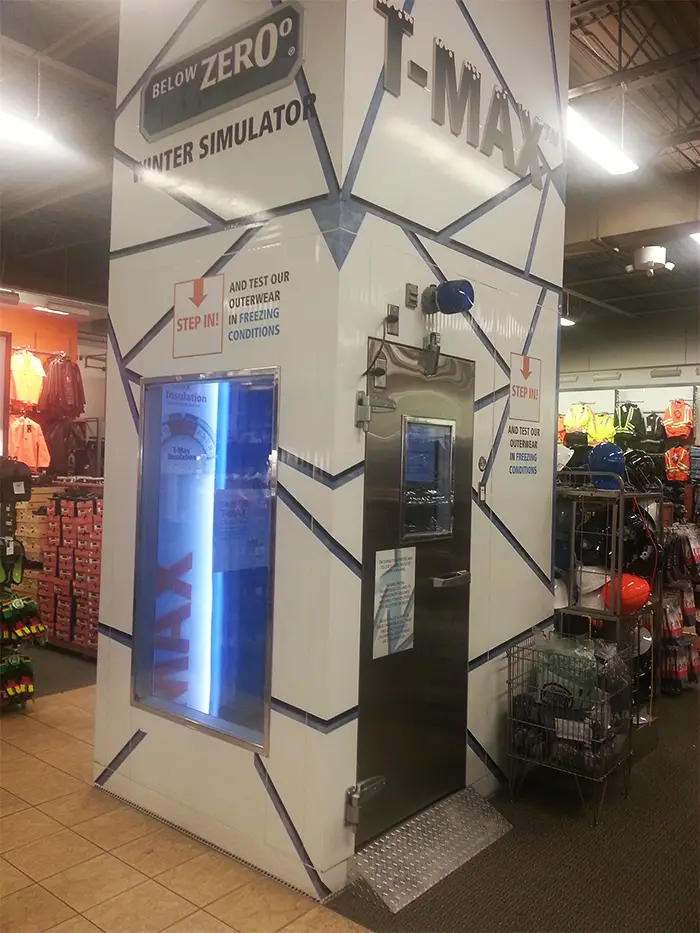 Some places get cold in the winter. So, it's extremely important to make sure you test your clothes' warmth, especially if you are going to head outside wearing it(or maybe afterwards). That's why this store has installed a winter simulator, for you to test your clothes in.
37) Phone Charging Carts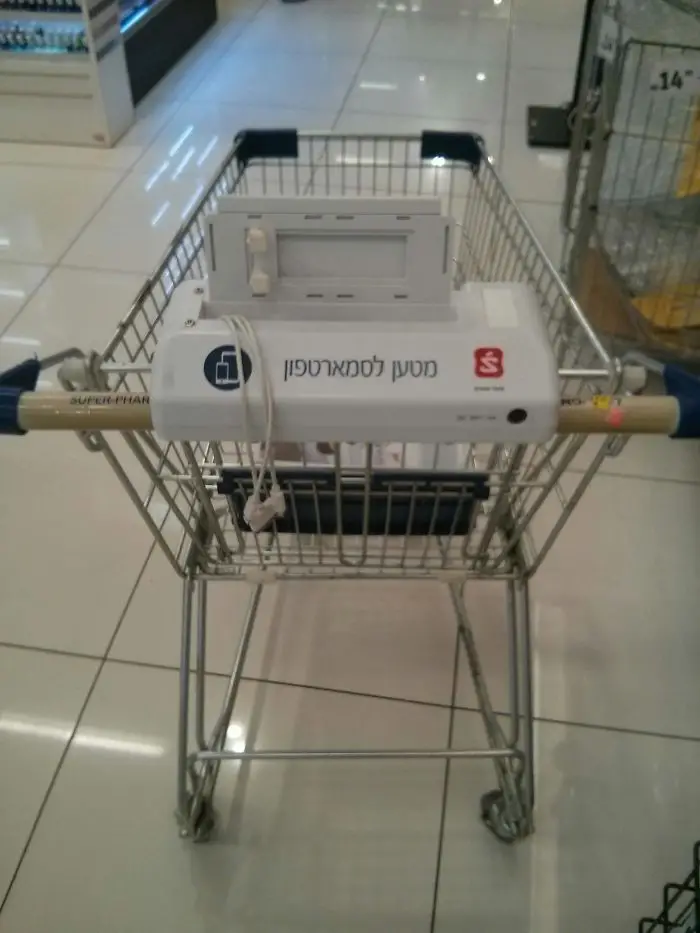 This store has phone charging ports on their carts. Although it seems kind of bulky, it is extremely useful. Maybe it does something more than just charging your phone. We haven't seen or heard about it, but we will keep you updated in the future.
38) Dog-Friendly Carts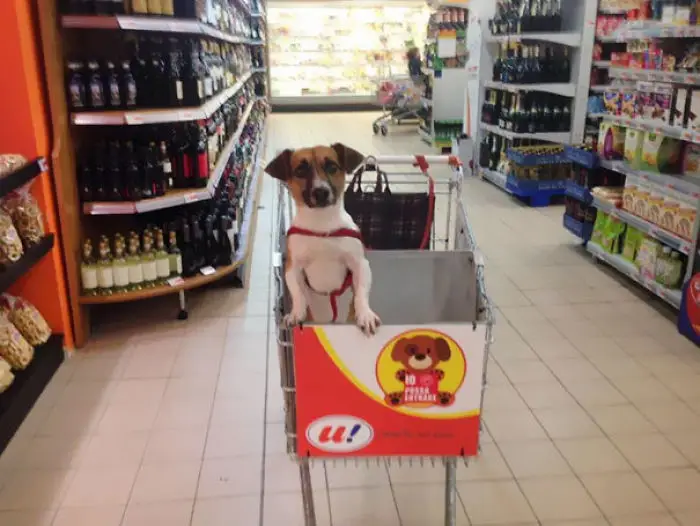 I think we have shortlisted the greatest store in the world. This is a store that has dog-friendly carts. They have divided the cart into two so that you can pop your pup into it while you do the shopping. Now you can bring your dog to the store with you, and not leave it behind at home, all alone by itself.
39) DIY Peanut Butter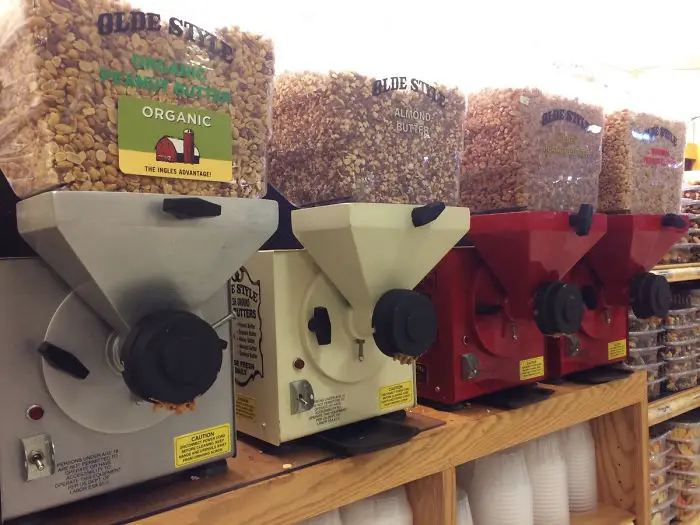 Wow, these machines could be a lot of fun to play around. Why should you get a gallon of pre-churned butter, when you can make your own? You can even mix and match the nut assortment to make your own unique creation.
40) Pick and Mix Frozen Vegetables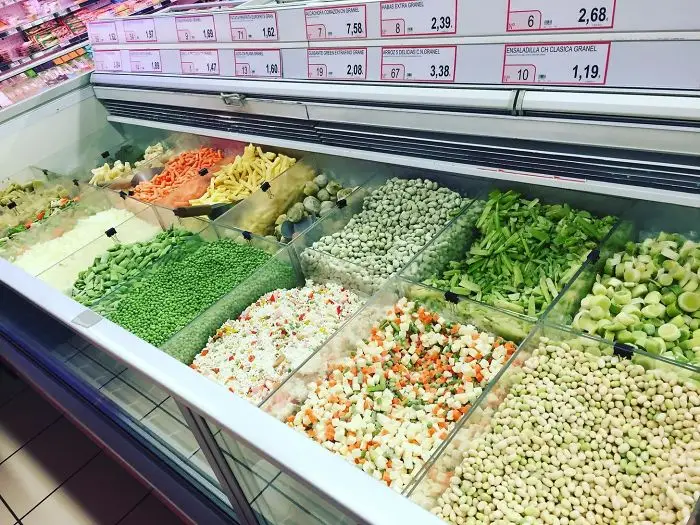 Want some frozen veggies for salad, or for a dish? Then you can make your own veggie mix at this Spanish supermarket. Mix it up and make separate assortments for pasta, goulash or a coleslaw!