When it comes to planning a trip, finding accommodation is a major part of the fun. You're basically selecting a temporary home for the entire duration of your stay, so it's gotta be cozy! It's important to select a place you feel comfortable returning to after a long day of traveling. However, you can easily be overwhelmed by the plethora of options available when you browse the internet. Fortunately, there's no need to stick to the standard hotels these days. Why not branch out and book a place with more character? Here are some unique places to stay when you're tired of the typical hotel.
It's totally possible to book accommodation that feels like an experience in itself. Some places are so exciting that you'll find it difficult to go out and explore. When you can sleep in igloos and tree houses, why would you opt for a standard hotel? You'll have a blast chillin' as you sleep under the stars in a bubble, or wake up to giraffes outside your window. You'll remember the place you stay as being a major part of your trip, instead of just being the place that you returned to rest at the end of the night. You could leave with some incredible memories and Insta-worthy photos if you stay at one of these places during your next trip.
1

An Igloo

If you've ever wondered what it's really like to sleep under the Northern Lights, book one of these Igloos in Finland. The glass igloos at Kakslauttanen allow you to stargaze from the comfort of your cozy bed. This is what you call a once-in-a-lifetime experience!
2

An Overwater Bungalow

Who would pass up the opportunity to sleep in an overwater bungalow in the middle of the Caribbean? You'll be suspended directly over turquoise waters that you can see directly from the comfort of your bungalow. You'll be fully immersed in paradise.
3

A Skylodge Adventure Suite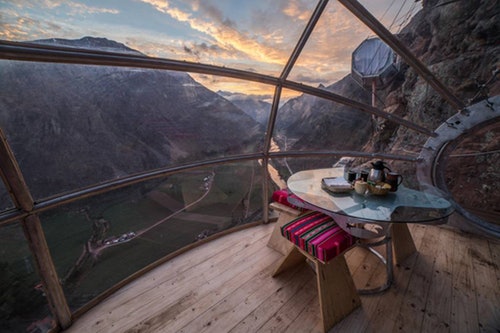 Any adventurous soul would go to extreme heights to sleep on the side of a mountain in Peru. You'll need to climb Via Ferrata or hike this mountain to get to your lodge in the sky. Since the lodge is completely transparent, you'll wake up to the best views of the Sacred Valley.
4

A Hotel Made Out Of Ice

If you're bold enough to brave the cold, then you'll love sleeping inside Icehotel 365, which is north of the Arctic Circle. You'll be able to sip drinks at an ice bar and sleep in ice suites. Sounds like a pretty chill experience to me.
5

A Secluded Treehouse

You don't have to leave the U.S. for a sweet escape. Head into the woods of Atlanta, and you'll discover this fairy-tale-like treehouse. You can sleep inside of the treehouse or roll the bed onto the platform and gaze up at the starry sky. If you're seeking solitude, then this just might be your answer.
6

Giraffe Manor

If you have an Instagram, you've probably double-tapped a travel blogger's stay at Giraffe Manor at least once. If you stay here, you could wake up to giraffes sticking their necks through your bedroom window. You can also have an up close and personal breakfast with Giraffes on the property. Put this place on your bucket list ASAP.
7

A Jumbo Jet

If you love airplanes, then you'll definitely want to book a night in this renovated jumbo jet (which stays on the ground). This Boeing 747-212B has a total of 76 beds available for guests. You'll have no problem falling asleep on this cool airplane.