When something good happens to us, we want to celebrate. After all, it's such a relief and a thing of joy when things work out in a big way, particularly when it means not having to worry about money. Imagine what it must be like for an athlete in that situation, when all their hard work results in a huge payday or massive contract extension and they'll never have to worry about money ever again. Well, what better way for them to mark the occasion than to use a little (or a lot) of that money and blow it on whatever grand indulgence or extravagance they can imagine? A fancy sports car? Diamond-covered anything? Hey, whatever floats your yacht.
But not all athletes celebrate like that. Some are a bit more humble, or at least quirky in their tastes. They prefer activities or items that are more fun or interesting to them. Here are some big-time pro athletes who scored huge contracts and celebrated in really weird ways.
Reckon Aaron Rodgers gonna git to that thar fancy lunch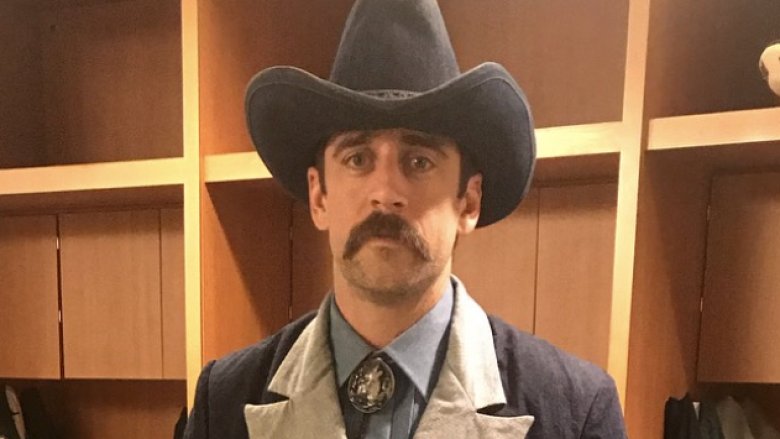 As a Green Bay Packers quarterback, Aaron Rodgers had some pretty big shoes to fill — other guys who held that job include Bart Starr and Brett Favre. But Rodgers quickly showed his mettle. He led the team to a victory in Super Bowl XLV over the Pittsburgh Steelers in 2011, the same year the Associated Press named him male athlete of the year and NFL MVP. But a quarterback is only as good as their numbers, and Rodgers has very good ones: His regular season passer rating is 103.8 — the best ever. All that brings in cash. In August 2018, he signed a four-year extension with the Packers worth as much as $180 million. That makes him the highest paid player in the NFL.
The same day Rodgers nailed the deal, he was due at an event called the Packers Welcome Back Luncheon. Rodgers showed up to the party dressed like a no-nonsense Old West sheriff. As Rodgers explained on his Instagram, the whole thing was made out of denim, while the jacket was a replica of one made for Bing Crosby in 1951. Along with a gigantic cowboy hat, Rodgers completed the look with some impressive facial hair. "Thanks to genetics that allow me to grow a mustache that even a hero of mine, Sam Elliott, might be proud of," Rodgers wrote.
If it's good enough for a kids' birthday party, it's good enough for Philip Rivers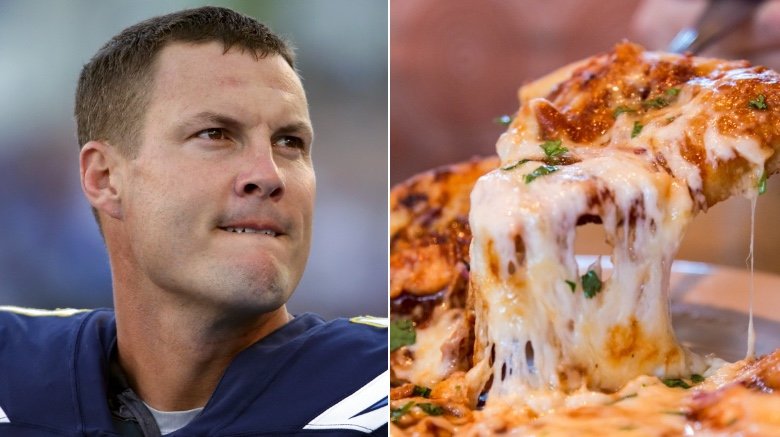 Philip Rivers has been a solid quarterback for some time, a franchise player for the San Diego (and now Los Angeles) Chargers, who he's been with ever since he turned pro back in 2004. Rivers possesses such dedication that he's started more than 200 straight games, the most of any current QB. While he's never won the Chargers a Super Bowl, he's led the league in various seasons in passer rating, passing touchdowns, and passing yards, and has been named to seven Pro Bowl squads. In 2015, the Chargers didn't want to let their best guy leave town, so they signed him to a four-year extension worth a minimum of $65 million. By the time he'd signed all the papers, "it was late," Rivers said. He couldn't go out for a fancy feast or anything, so he grabbed himself something at one of the few places still open: Domino's. Rivers ordered up a pepperoni, olive, and jalapeño pie. When Domino's found out about it, they took to Twitter to offer Rivers a job … "in like 4 years," when his contract runs out.
LeBron dreams of sushi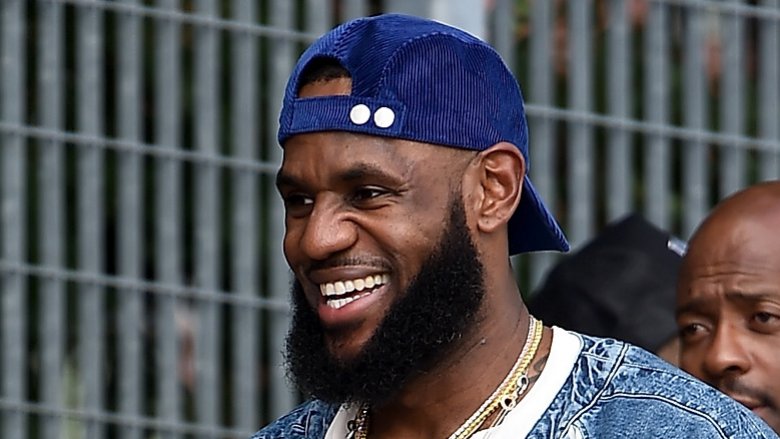 Throughout the 2017-18 season, NBA fans couldn't stop talking about where LeBron James would end up the next year. He'd be a free agent, and, having delivered on his promise to deliver a championship to Cleveland, the scuttlebutt was that he'd move on to a bigger market. Not long after the negotiation window opened, the Los Angeles Lakers announced they'd signed King James on a four-year deal worth an astounding $153.3 million. (That works out to about $467,000 per regular season game. Nice work if you can get it.)
But in spite of being one of the most famous people and remarkable athletes to ever walk the planet, James is kind of a regular guy, as far as celebrating a new, high-paying job is concerned. Bron marked the occasion the way a lot of people would: He took his wife and their best couple friends out on the town for a nice dinner. About a week after he officially became a Laker, James was spotted feasting on sushi with his wife, his former teammate Tristan Thompson, and Thompson's main squeeze, Khloe Kardashian. Okay, so it was the high-end L.A. sushi joint Nobu and his friends are also super-famous, but still, it's a lot more low-key than buying a Ferrari or something.
J.T. Thomas went for the bling (but not too much bling)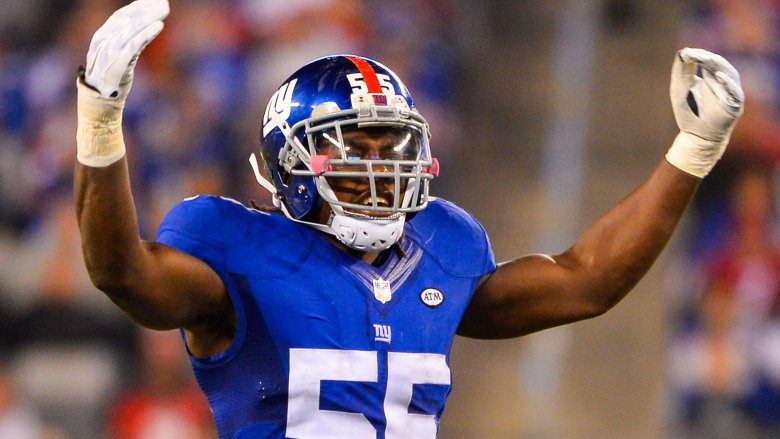 When one hears or reads the words "athlete celebrates massive, multimillion-dollar contract," one would immediately assume that the player in question would go out on some kind of over-the-top, hours long shopping spree at high-end department stores, buying up every shiny and expensive thing in sight for himself, his family, and his friends. Well, New York Giants linebacker J.T. Thomas sort of did that, but he also turned the notion on its head, racking up a massive jewelry bill … but getting it over with very quickly.
In 2015, the New York Giants lured Thomas away from his previous team, the Jacksonville Jaguars, where he'd mostly played backup, until he moved up to a starter in 2014 and scored 84 tackles. Thomas cost the Giants $12 million for a three-year contract, and the guy was so thrilled about it that he hit New York City jewelry store Avianne and Co. First, he picked out an 18-karat gold Cuban link chain, which cost $35,000. Next, he helped himself to a diamond-studded 25-karat ruby at $20,000. And then … that was it. Thomas dropped $55,000 on just two pieces of jewelry.
For Mike Trout, the steaks were high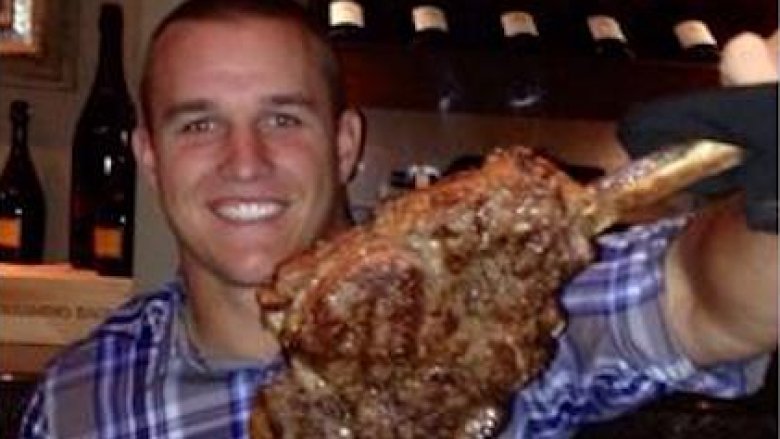 Mike Trout is undoubtedly one of the best baseball players of today, and he came out swinging. (He's a powerful hitter.) Since his rookie year in 2012 (for which he was named the American League Rookie of the Year), he's been named to every All-Star team and he's won two MVP awards (and finished in second-place three times) and five Silver Sluggers. He's not even 30 yet and he's already amassed more than 200 home runs and 1,000 hits. In only his third full year, the Los Angeles Angels didn't want to goof up and lose the very valuable Trout, so they gave him a $144.5 million contract extension to keep him in Los Angeles (well, Anaheim) for six seasons. A few hours after the news broke, Trout said thank you to his team by hitting a home run in an exhibition game win over the Los Angeles Dodgers.
Afterward, Trout celebrated in a more traditional manner, patronizing a steakhouse with his teammate Garrett Richards. That's where Trout ordered a lovely trout. Just kidding. The superstar got himself a steak that was bigger than his head and almost as big as that side of meat that tips over Fred Flintstone's car.
A very 'Meek' celebration for John Wall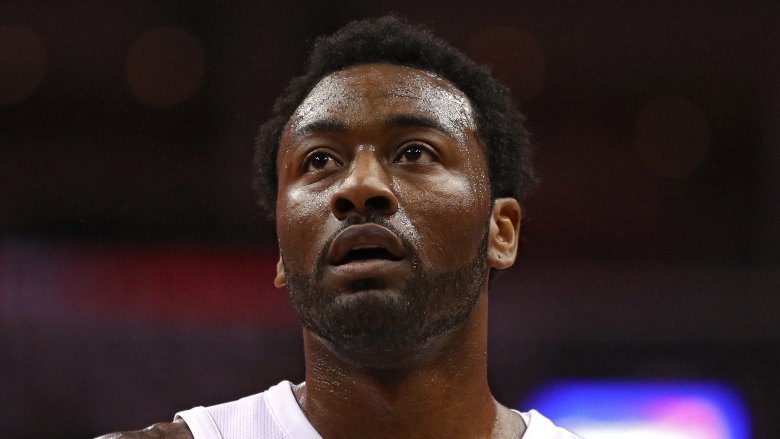 New York has its "Fashion Week," a period in which many of the world's most important clothing designers gather in the Big Apple to present their latest lines. Sun-and-beach-loving Miami has its own version called Miami Swim Week, wherein swimwear designers show off their latest bikinis and other skimpy garments that are basically underwear. It's an event that unsurprisingly attracts a lot of celebrities, such as notorious model fan Leonardo DiCaprio. The Washington Wizards' star John Wall also enjoyed the festivities in July 2017, which just so happened to occur precisely after he signed a four-year contract extension worth $170 million.
The stand-out item on Wall's itinerary: attending a party alongside countless swimsuit models at a nightclub called Ora, which offered a "bottle parade" of high-end and expensive beverages such as Rémy Martin cognac and Ace of Spade champagne. Then Wall got to enjoy a 45-minute intimate concert from rapper Meek Mill.
Party in the locker room!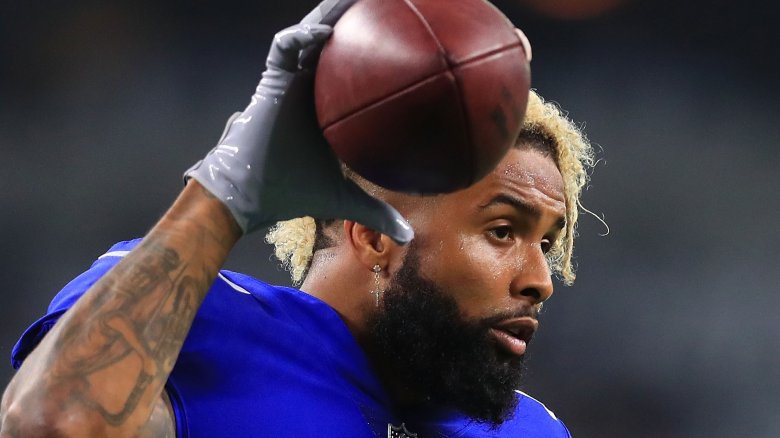 It's totally fine to celebrate a contract with a party. It doesn't have to be a house-wrecker for the ages, with furniture thrown into the pool, or one that rages until 4 a.m. at a hot nightclub with a $30,000 tequila bill. No, a party is whatever a person wants it to be, so long as there are supportive guests with joy in their hearts. That's exactly what Odell Beckham Jr. got.
According to fantasy football writer Graham Barfield, Beckham injected a lot of energy and success into the New York Giants. When Beckham was not on the field between 2015 and 2017, the Giants' Eli Manning had a touchdown percentage of 2.75 percent, a QB rating of 75.9, and a woeful touchdown-to-interception ratio of 1 to 1. When Beckham joined the mix, those numbers shot way up: Manning's touchdown percentage improved to 5.01 percent, his QB rating moved to 87.1, and he threw twice as many touchdowns as interceptions.
In short, Beckham is a very valuable asset to the Giants — or any other team — which is why the franchise convinced him to stick around in August 2018 with a $95 million, five-year contract extension. While many people out there might find themselves seething with jealousy and rage if a co-worker got a massive raise, the Giants don't play like that. Beckham's teammates threw him a spontaneous locker-room dance party.
Cam Newton is a cereal killer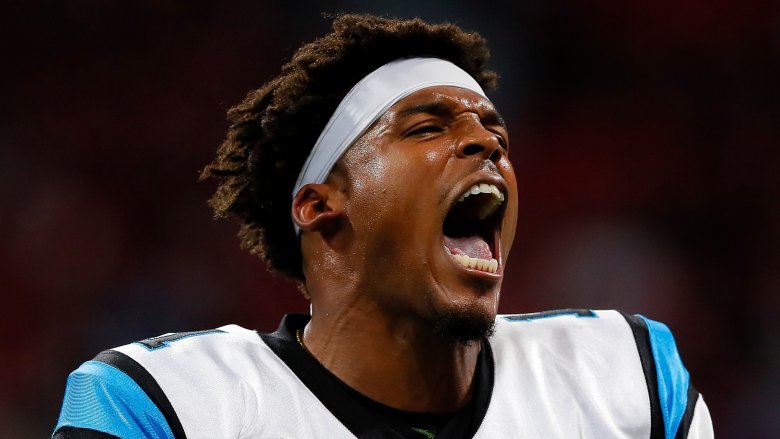 Cam Newton is the rare player to make good on the potential he showed as a college star. The Carolina Panthers selected the national title and Heisman Trophy-winning quarterback with the #1 pick in the 2011 NFL Draft. After throwing for more than 4,000 yards in his first season, he secured the NFL Rookie of the Year Award, and in 2015 led the Panthers to a 15-1 regular season record and an appearance in the Super Bowl (the same year he was named the NFL MVP).
In short, he earned his five-year contract extension worth $103 million. A reporter asked Newton how he planned on celebrating, and the star had his plans locked down. He planned to "Pop a couple milk cartons, Lucky Charms, and add a lil bit of Cinnamon Toast Crunch." Well, $103 million can buy a lot of cereal. Happy munching, Cam.
Joe Flacco was lovin' it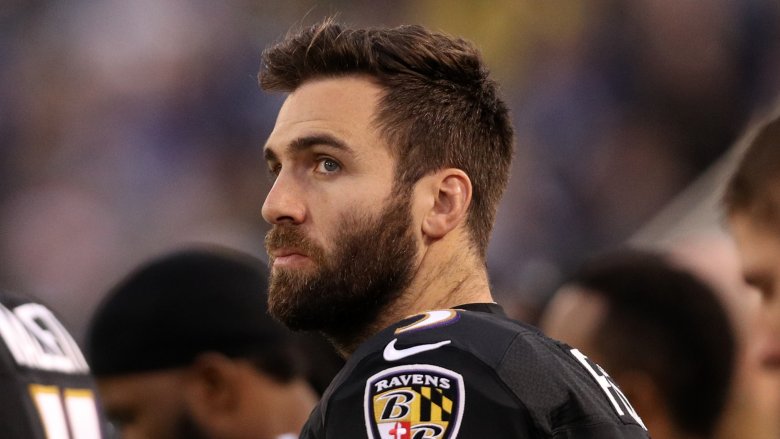 A few years before the Packers made Aaron Rodgers the highest paid player in the NFL, that achievement was held by Baltimore Ravens quarterback Joe Flacco. He's not the flashiest of players, marrying supermodels and hosting Saturday Night Live like Tom Brady or anything, but he did guide his team to a Super Bowl win in 2013. (He was rightfully name Super Bowl MVP, too.) A month later, the Ravens locked down Flacco, securing his services for another six years at a cost of $120.6 million overall. As the famous commercial goes, Super Bowl heroes celebrate by "going to Disneyland!" Apparently marquee quarterbacks celebrate gigantic paychecks (the deal included a $29 million signing bonus) by "going to McDonald's." Just after signing, Flacco rolled through a McDonald's drive-thru in Aberdeen, Maryland, situated between a Ravens property and his home in New Jersey, and got himself a bite. His order: the $6.99, 10-piece McNugget value meal (so he could save a buck or two), which included fries and a soft drink. He opted for unsweetened iced tea.
They blindsided him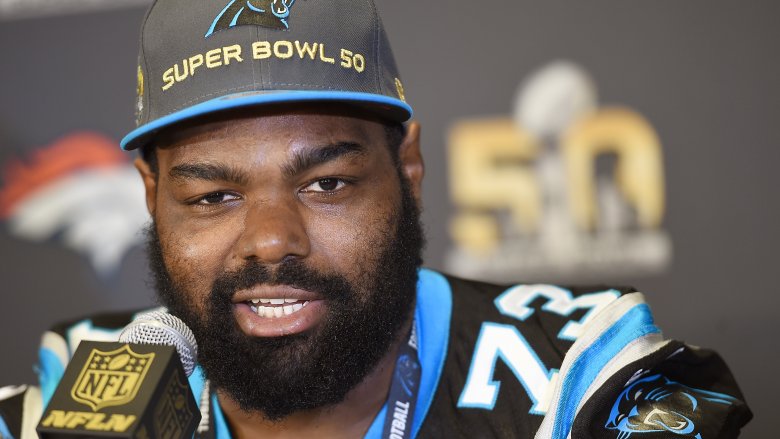 Even if you don't follow football, you might have Michael Oher's name bouncing around your brain. He was the subject of the 2009 movie The Blind Side, the one that won Sandra Bullock an Oscar for portraying Leigh Anne Tuohy, the woman who adopted Oher into her family when he was a teenage football phenom. No matter how well Oher does in the NFL, he'll probably always be remembered just as much for his connection to the The Blind Side and its highly fictionalized version of his life. In real life, he's been a tough, solid, and reliable lineman over a nearly decade-long career playing for the Baltimore Ravens, Tennessee Titans, and Carolina Panthers.
Not even his teammates will let him live it down. In 2016, Oher signed a three-year extension with the Panthers, earning him a gentle ribbing online from other members of the offensive line, who posted pertinent GIFs from The Blind Side on Twitter. Ryan Kalil put up one of Quinton Aaron, who played Oher, imploring, "I don't want to go to any place else"; Trai Turner posted a shot of Aaron giving co-star Kathy Bates a triumphant fist-bump. To his credit, Oher, enjoyed it. "So easy to grind with these guys! genuine love!" he wrote.