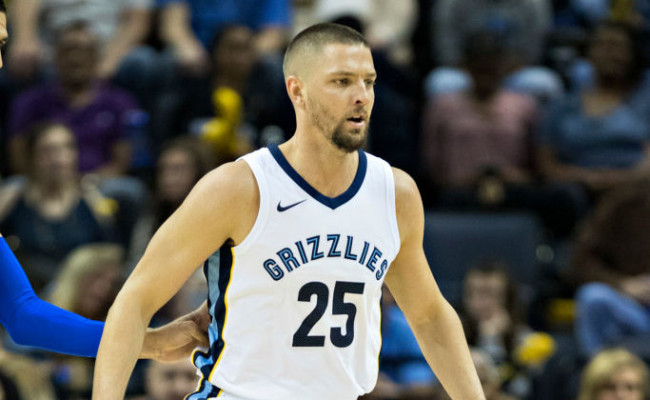 I wish I was friends with Memphis Grizzlies small forward Chandler Parsons. (Even though he is one of the most annoying airplane passengers ever – especially to his friends.)
For one, the 29-year-old Parsons has a boatload of money in the bank after signing a guaranteed 4-year, $94 million contract with the Grizzlies (that they're probably regretting right about now – the team's fans certainly are).
And it's that kind of money that allowed him to drop $11 million on a suh-weet bachelor pad in Bel Air earlier this year.
It's also that notoriety and income that's allowed Parsons to assemble the most impressive set of friends and girlfriends outside of Leonardo DiCaprio's completely ridiculous social circle.
Over the past year or so, Parsons has hung out with or dated all of these women: Chloe Bennet, Jordan Yorn. Toni Garrn. Hailey Baldwin. Felicia Sanders. Paige Spiranac. Kate Beckinsale. Kendall Jenner. Bella Thorne. Savannah Chrisley. Jen Selter. Erin Foster. Abigail Ratchford. Arianny Celeste.
So yeah, he seems like he might be a fun hang, right?
But wait, as they say, there's more.
Now, based on recent social media activity, it appears that Parsons has made yet ANOTHER new friend and wouldn't you know it, she's a 23-year-old model named Cassie Amato that I know nothing at all about, except that she tried out for the 2018 SI Swimsuit Issue and has around 180,000 followers on Instagram.
According to SI Swimsuit, Amato is "from West Hollywood and attributes her mellow demeanor to her upbringing in California. What does social media mean to this chic Cali chick? Cassie reveals that platforms like Instagram and Twitter have never been more important, since models sometimes now book jobs and land campaigns based on their social following!"
Good to know. Here she is hanging out with Parsons…
She seems nice.