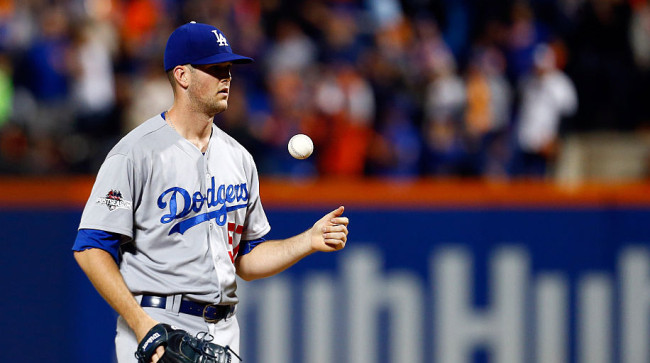 26-year-old Los Angeles Dodgers pitcher Alex Wood has had himself a pretty darn good 2017. Bro went friggin' 16-3 with a 2.72 ERA, threw a gem in fame four of the World Series and then tossed two innings of shutout relief in game seven.
All in all, it was easily Wood's best season since his sophomore year back in 2014 when he went 11-11 with a 2.78 ERA for the Atlanta Braves.
And while his Dodgers came breathtakingly close to winning the World Series this year, but couldn't quite get it done, it hasn't stopped Wood from also having what I am assuming is the best OFF-season of his baseball career.
That's because this offseason Wood got hitched to his lovely girlfriend of over three years, Suzanna Villarreal, over Thanksgiving weekend and has been spending some very quality time down in the Caribbean enjoying one whale of a sweet honeymoon.
The couple first met at the University of Georgia, but didn't start dating until a few years after they were both out of school. Villarreal's Twitter says that she is a licensed realtor at Beacham & Company in Atlanta, where the two of them got married.
As for how Wood proposed, Villarreal shared the story with a company that put together some of her wedding goodies…
Picture this: the sun is sinking into the Kool-Aid blue waters of St. Barths. Jagged, jade mountains line the horizon. We're aboard a private yacht for a sunset cruise. We go to the bow to watch the sun melt into the horizon. Totally dreamy, right? In that moment, Alex hands me a love letter. As I'm reading, he drops to his knee and pops the question. Meanwhile, an undercover photographer (dressed as part of the crew) captures the whole thing. It was hands down the most magical night of my life.
Smooth, bro, very smooth…