What happens after The Last Sharknado: It's About Time, aka Sharknado 6? Is there another movie in the works? Is there really no Sharknado 7? According to The Hollywood Reporter, you should never say never. Look at all the reboots and revivals and sequels that pop up after years of time away from the small screen. Couldn't you see Ian Ziering return as Fin Shepard for the 10th anniversary of the original Sharknado with another film? After all, it's become a staple on television the last five years, seemingly in celebration of Shark Week.
Sharknado 6 is reported to be the final installment of the series, so, at least for a while, there will be no more Sharknado movies. But, Bustle has reported that there could be a 7th film. Screenwriter Thunder Levin, who makes a cameo in the final scene of Sharknado 6, previously told Screenrant that, "I have actually developed a story arc for Sharknado 5 through 7 — for the next three movies." But, this statement was made upon the 4th movie's release and Levin was not a writer on the 6th movie, so things definitely could have changed.
When it comes to regrets as the series comes to an end, Chris Regina, Syfy's former head of original films, told Syfy Wire that he wishes he was able to have had NFL player Rob Gronkowski appear with a cameo in one of the films. Regina revealed, "The one cameo I regret was that we never got Rob Gronkowski, who by the way was like the longest one we kept chasing over and over again. He wanted to be in Sharknado, and after so many of them, we could just never get the schedule together for him. We always wanted him spiking a shark."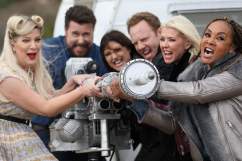 'Sharknado 6' Celebrity Cameos & Cast Spoilers
Sharknado 5 left Fin Shepard wandering Earth alone, after it was destroyed by all the sharks. For the 6th installment, Shepard will travel through time, to the American Revolutionary War, Medieval times, and other eras. The official NBC synopsis of the final film reads, "Our hero Fin (Ian Ziering) has battled sharks all over the globe, but in this last installment he will tackle the final shark-tier — time travel. In the ending moments of Sharknado 5: Global Swarming, Fin was seen wandering alone on Earth after it was destroyed. Now he must travel back in time to stop the Sharknado that started it all. Will Fin and the gang be able to set everything right and save the world once and for all?"
As usual, the final Sharknado was filled with cameos and they even included star Ian Ziering's former 90210 cast-mate Tori Spelling with her husband Dean McDermott. Ziering told Us Weekly that Spelling is like family and there's undeniable chemistry when filming together. Sharknado star Tara Reid chimed in, saying, "There was paparazzi trying to take pictures of them. We had security and SUVs all over the place, I was like, 'What movie are we shooting?' They came out and nailed it. [Ian] was so happy. I'm always happy to see Ian happy. You could see he had his history with Tori and how happy they were together. It was a very nice moment … They were all awesome. It was us four in the scene. I saw the chemistry that [Ian] and Tori had for sure. They really do it have it."
TV Line first reported that the Sharknado series was coming to an end in March 2018.