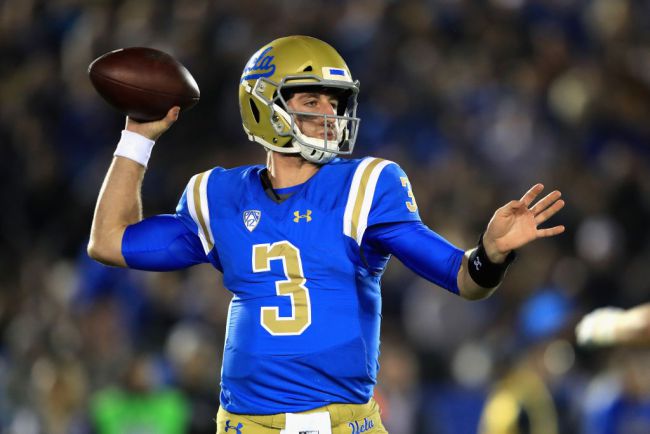 In the lead up to the NFL Draft, former UCLA star quarterback Josh Rosen is fighting against the notion that his sole focus is not becoming the best professional football player he can be. This perception was exacerbated last week when Jim Mora, his former coach at UCLA, said:
"He needs to be challenged intellectually so he doesn't get bored. He's a millennial. He wants to know why. Millennials, once they know why, they're good."
The projected first-round pick cleverly replied with:
Why? #why

— Josh Rosen (@josh3rosen) April 2, 2018
In a recent profile by ESPN, Rosen candidly addresses the perceptions of his character, even admitting that helming the ship of a D1 FBS-contending university at 18 years old made him a bit arrogant. It also doesn't help that he is a rich kid–both his parents are Ivy League educated, his dad being on the short list to be Obama's surgeon general and his mom being the great-great-granddaughter of Joseph Wharton of Penn's Wharton business school.
Then, Rosen was pressed about the jerkish thing he's ever done, and he brought up the infamous hot tub photo, which he captioned "Power Moves Only."
UCLA quarterback Josh Rosen has a hot tub in his dorm. From @AndyJ0seph: https://t.co/0GFkVancfr pic.twitter.com/ybos6eMfft

— azcentral sports (@azcsports) October 23, 2015
What's the most jerkish thing you've done?
[Pauses] The social media post about Under Armour was pretty sh—y, and the hot tub.

What was the mistake with the tub? Having an inflatable tub in your room, hosting a woman in the tub or allowing a photo to hit Instagram?
Hosting a woman in the tub. Again, it's about tailoring the message — I don't want to get political, but the thing I regret the most about the Trump thing is using the F-word. I'm a role model for kids. I regret the F-word.
Now the hot tub: I accidentally shipped it to my mom's house. My mom thought it was hilarious and drove it up for me. I thought it was hilarious because she did. But I shouldn't have had a woman in there. I enjoy making people laugh, but what I find funny and put online, others might misconstrue and find jerkish. I need to refine my message but not lose who I am.
Josh, if it's any consolation, I thought you were the man when I saw that pic and I still do.