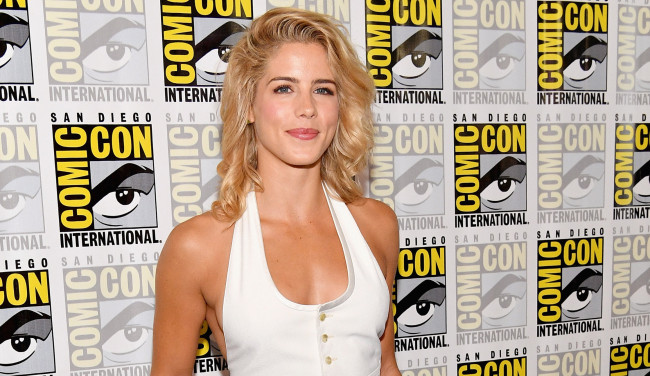 If you watch any of the DC Comics superhero shows on The CW then you are very familiar with Emily Bett Rickards, who plays technological hero Felicity Smoak on Arrow, and every now and then on The Flash.
Rickards, for those unfamiliar, began her professional acting career on Arrow back in 2012 and has been on the show ever since, as well as all of the other CW comic book-based shows like Supergirl and Legends of Tomorrow.
Now, however, the 26-year-old Canadian actress is branching out on to the silver screen with two movies set to come out in the near future called Funny Story and Slumber.
The first to come out will be Slumber with Rickards in the lead role, sometime in 2018. Here's a little synopsis…
When a woman wakes up unexpectedly from a coma after an experimental procedure, she must piece together her past while searching for her missing daughter in a sinister hospital that won't let her go.
If that sounds a little creepy, well, that's kind of the whole point.
Speaking to Vulkan magazine in a new interview, Rickard discussed the upcoming film, what it's like to play Felicity Smoak, social media, improv, role models and more.
The premise for Slumber sounds a little terrifying. What do you think is the first thing you would do if you woke up in a strange place unsure of why you were there?

Terrifying question for a Saturday morning. I do not know, besides try to learn everything about my surroundings as soon as possible; just be aware of who, what and where!

Who do you think would be the most trustworthy person to approach in that situation?

In that situation I doubt you would have much of a choice! You would have to think on your feet and work with what you're of given, but survival would have to be your first thought.

Are you the kind of person who is open to new/experimental treatments or would you go for a more tried & true treatment?

Experimental.

Can you tell us a bit about your character?

She definitely dream-like and hasn't lost her inner child.
As for playing pretty much the one character that seems to move around TV CW's Arrowverse the most…
How does it feel to enter different sets as the same character, how do the sets compare, let's say between that of Arrow and The Flash?

It's strange because you stay the same, your character stays the same though she is written by different people. As the actor sometimes you have to be conscious about the consistency of your character and her life… And the environment changes. Going and working on a new set with a new crew is entertaining, and then getting to interact with different scene partners… It's like new food!
Then, of course, she was asked who is her FAVORITE DC Comics character? "Hmm. Can there be a Batgirl movie soon?" she replied.
As long as Patty Jenkins directs it I will be right there with you, Felicity. Whoops, I mean Emily.
She was also in this movie apparently…