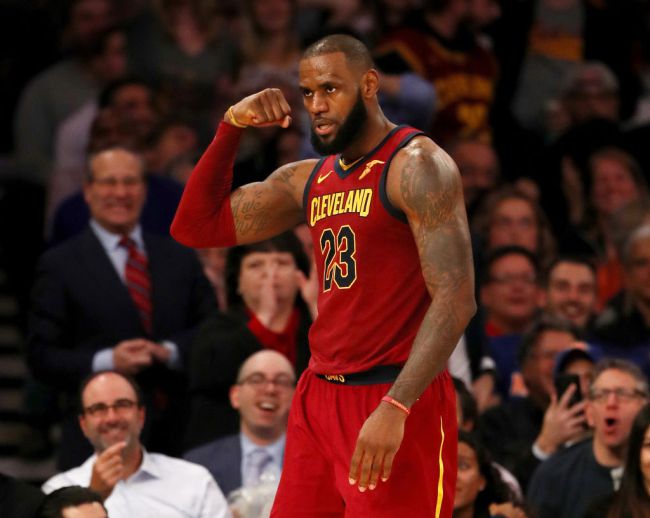 Earlier this week it was reported that LeBron James and his team had sent Alabama a cease and desist letter after the school announced it was releasing their own barbershop roundtable show featuring Bama coach Nick Saban which was fairly similar to LeBron's Uninterrupted show "The Shop".
On Monday, UNINTERRUPTED sent a letter to Alabama addressing concerns over copyright infringement and intellectual property appropriation.

"The Shop" was developed by James and UNINTERRUPTED co-founder Maverick Carter. Its first episode, which premiered during the 2017 NBA Finals, generated approximately 4 million views across UNINTERRUPTED.com and ESPN's YouTube channel, according to a copy of the letter obtained by ESPN.

"Your continued exploitation of 'Shop Talk' infringes 'UNINTERRUPTED's' copyright, trademark rights and other valuable intellectual property rights in 'The Shop' and significantly damages 'UNINTERRUPTED's' commercial prospects for 'The Shop,'" the letter reads, in part.
Coach Saban heard about LeBron's complaints and immediately fired back.

I don't have a reaction to it," Saban said in a press conference. "I think LeBron James is a great player. There's been at least 20 barbershop-type things I've seen on TV. I didn't know anybody owned that. I didn't even know he had one. I'm sorry that anybody could be offended by something that we were just having fun with. I enjoyed it, and we're going to continue to do it."
LeBron is clearly not happy with Saban and continued to fire shots at the legendary football coach for ripping off his show.
That's exactly what I would think he would say," James said Tuesday night. "But I built UNINTERRUPTED for a reason, for us athletes to have a platform to be able to speak your mind about whatever we want to talk about. I respect him as a coach, but I'll be damned if I allow someone to use our platform or try to do the same thing we're doing and just think it's OK.
Does LeBron actually think he invented the barbershop roundtable show? There's absolutely no way he wins if he goes to court so I'm not sure what he's doing.