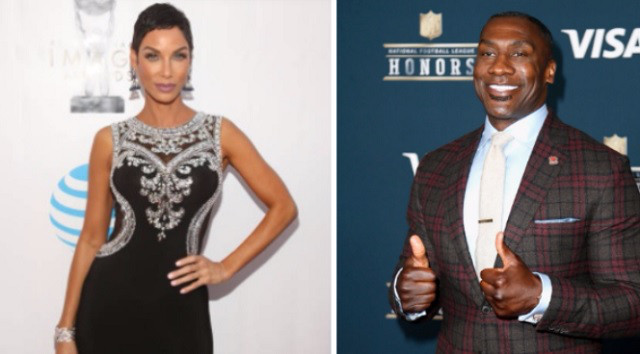 For the past few months, Fox Sports host Shannon Sharpe has been on the prowl trying to get the attention of Eddie Murphy's ex-wife Nicole Murphy.
It all started innocently when Sharpe basically said that he didn't have a chance in hell to date Murphy on Twitter.
I want Nicole Murphy. He nor I will get what we want https://t.co/qbHGE8CcYk

— shannon sharpe (@ShannonSharpe) August 30, 2017
Sharpe has even went as far as to offer all of his "Fox" money to miss Murphy.
Just trying to find a shorty I can love the way @ShannonSharpe loves Nicole Murphy pic.twitter.com/UknL4R1jzh

— Lieutenant Lit (@TareakTheBlack) October 10, 2017
Nicole Murphy is about to get all my Fox money. I don't even want no check. When I was growing up a man worked hard and on Friday got his paycheck to bring it home and give it to momma. Go ahead and put it in Nicole Murphy account….Did you see her the other day Joy? That women finer than frog hair… I ask her for her account number I say I want to put some money in your account twice a month for the next three years… I'll get off the black and milds, I'll throw all that liquor in the pool If she says Shannon I want you to change your last name, I'll call my self Shannon Murphy.

Apparently Murphy has found Sharpe's antics to be pretty funny.
https://t.co/gwRwT5G0P2

— Nicole Murphy (@Nicole_Murphy) October 9, 2017
Another classic moment from @ShannonSharpe if she want pancakes she getting pancakes @Nicole_Murphy let my man make you some pancakes pic.twitter.com/7mbUlW6IGm

— Makenez (@Maken_Ez) October 10, 2017
Hilarious!!!!! pancakes!!!

— Nicole Murphy (@Nicole_Murphy) October 10, 2017
After months of shooting his shot, Sharpe was finally able to hang out with Murphy after he met up with her at a Flywheel class over the weekend. The two snapped a picture together which led to Shannon Sharpe to bust out the victory Backwoods cigar live on air during today's edition of Undisputed.
Another classic moment from @ShannonSharpe if she want pancakes she getting pancakes @Nicole_Murphy let my man make you some pancakes pic.twitter.com/7mbUlW6IGm

— Makenez (@Maken_Ez) October 10, 2017