There come many instances in our lives, when we do not think things through in a thorough manner. And then we end up doing things we never intended to do in the first place. Like we crossed the road to the other side, when we needed to remain on the side we were on. Or we had a piece of sourdough bread, even knowing that we were gluten-intolerant. It happens, right? Sometimes these incidents could turn out to be extremely hilarious.
Finding it hard to believe? Here are some pictures that might change your mind, that too in a funny way. Just have a look –
1. This Girl Put Glitter On Her Face Believing All That Was Written On The Label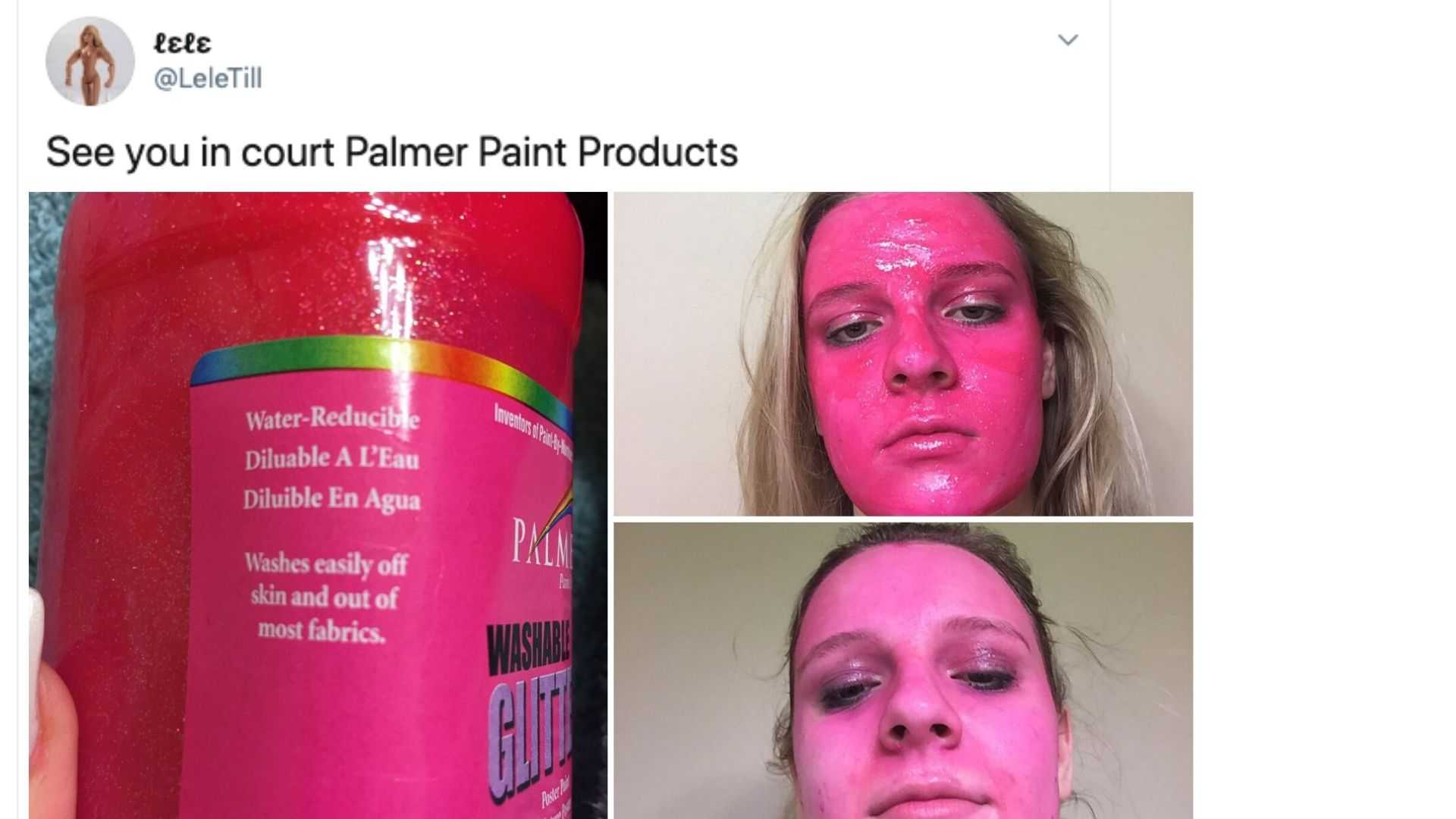 Now, where did she get the great idea of putting glitter on her face? She should have checked it out by putting a bit on her hand, and seen whether it was removable or not. Now her face is all pink and she is planning to sue Palmer products.
2. Who Puts A Fidget Spinner On Their Genitalia?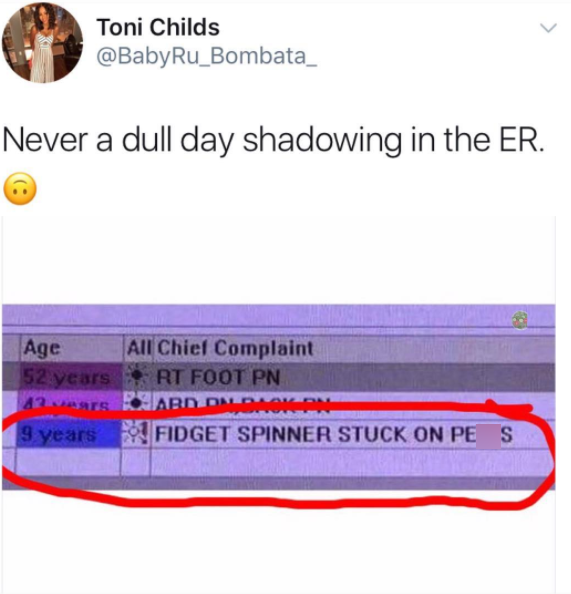 The ER can never be boring. There is always an incident that brings a smile on your face. You remember that episode in Mr. Bean, where he goes to a General Hospital to get a teapot removed from his hand. Well, a young 9-year old decided to put the fidget spinner onto, you know where. Wonder how the hospital staff will deal with this one.
3. Yeah, You Seriously Don't Fit Into Everything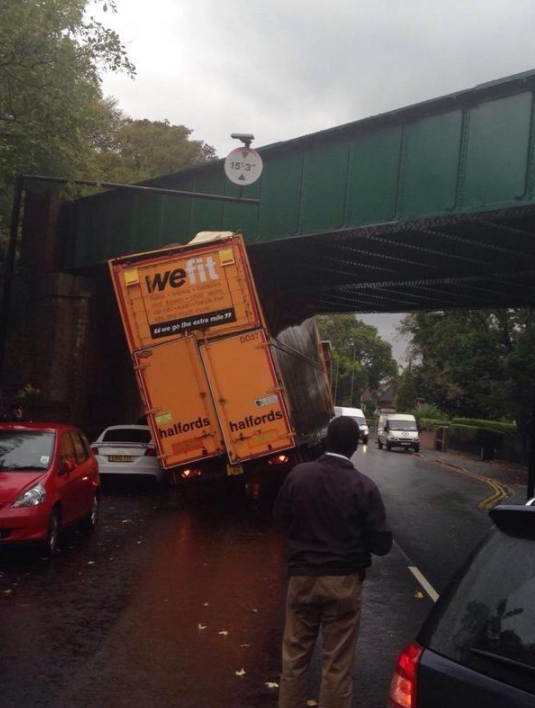 This truck got stuck under an overbridge. Now, this is not an uncommon incident and happens in almost all parts of the world. What's uncommon and ironical, is the company's name that you see on the truck. They seriously fit into anything and everything.
4. Which Girl Doesn't Realize She's In The Men's Loo?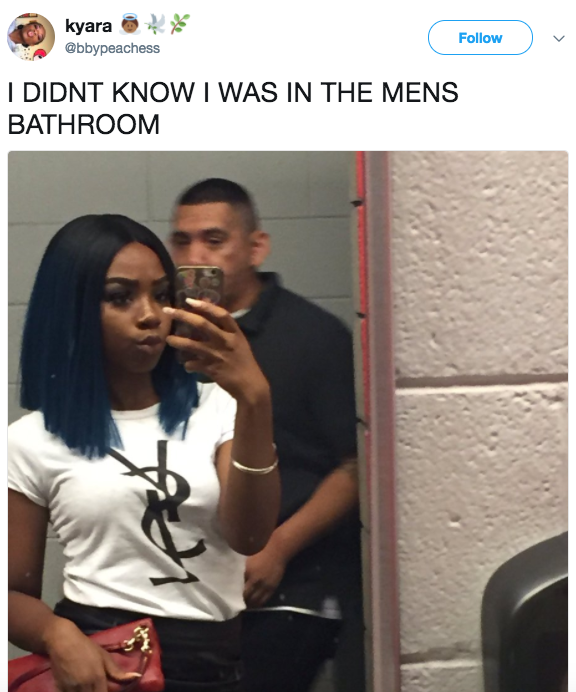 This is an incident that has happened a billion times. Women or men drop in to take a leak in the loo of the opposite sex. Men try to avoid such a situation on grounds that they could be labeled as a sexual offender. Women, on the other hand, are unmindful and awkwardly use a men's loo. But if you make a stop in a public restroom of the other sex, make sure you avoid taking a selfie. You never know!
5. Some Crazy Dude Wore A Scary Clown Costume At The Premiere Of IT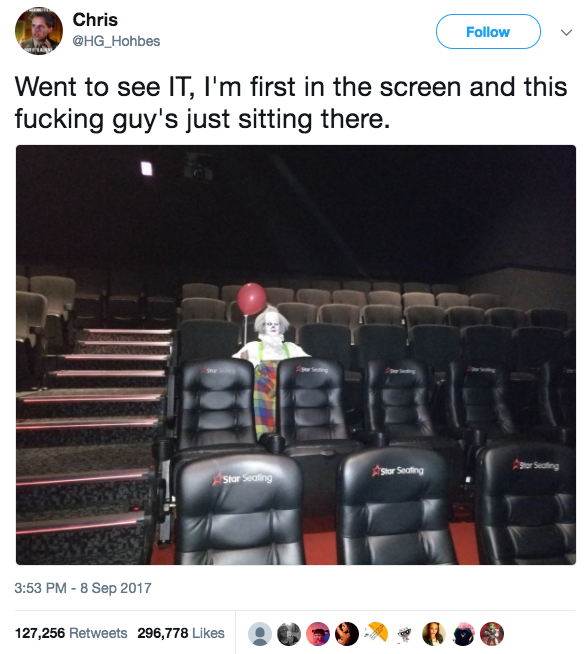 There are some fans who are crazy about movies and go to any lengths to emulate characters from it. Now nobody has a problem with it, that is if you choose the right character. This guy in here decided to dress as Pennywise the clown and he has delivered quite the chill.
6. This Girl Decided To Have A Closer Look At The Dusty Corners Of Her House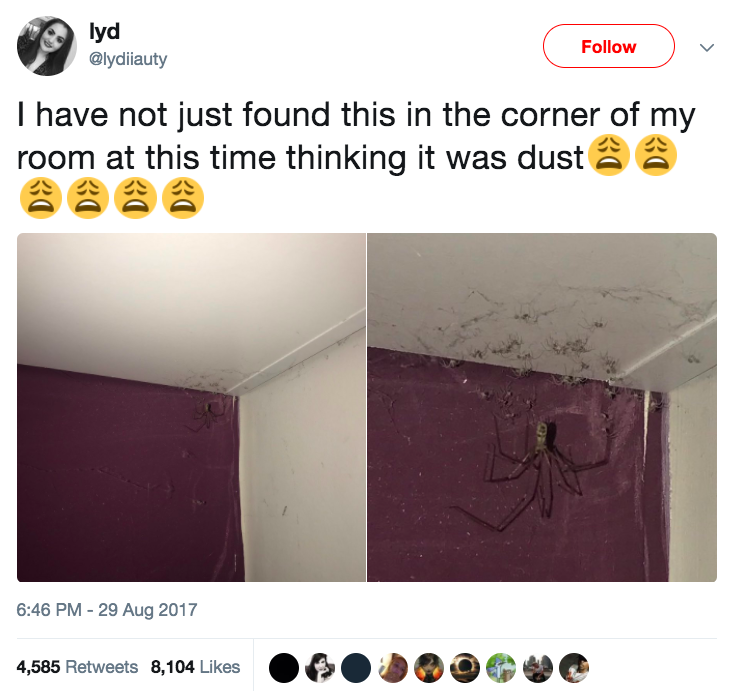 If you are in a house that's quite dusty and needs to be cleaned, then make sure that you are fully armed. That's because there is always some unwanted infestation in the house. Now just have a look at the picture. How big is the Mama spider? And she also has an army of spiders with her. Feel something crawling under your skin?
7. A Woman Decided To Order A Glass Chair From Amazon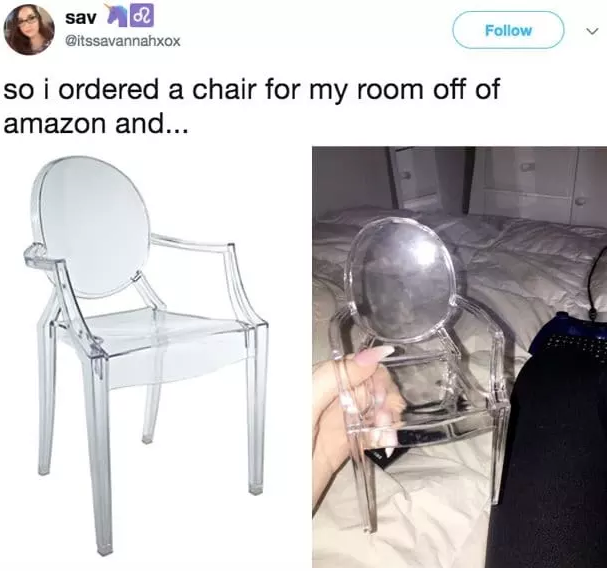 When you are ordering things from Amazon, make sure that you have made an inquiry about the size. There are many people who have been at the receiving end of the bargain. Like this woman here, she ordered a full-size glass chair at a cheap price. In return, she received a toy one.
8. This Guy Got To Know That He Missed The Finale In The Worst Way Possible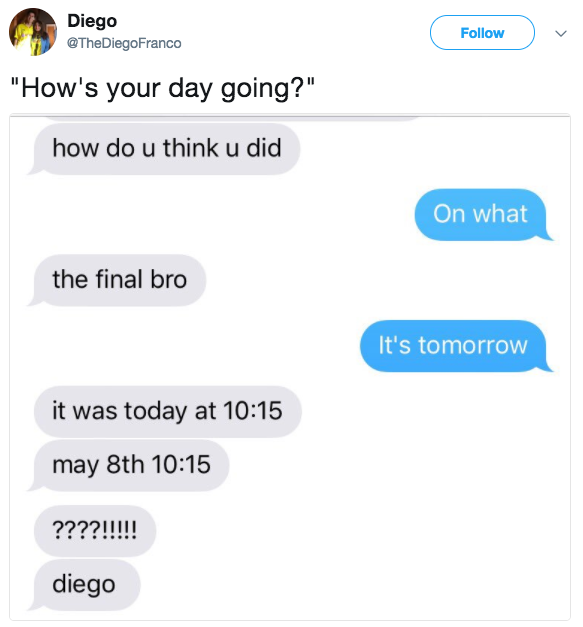 What's the scariest thing of your life? You miss an exam without actually noting it. Diego, our protagonist didn't realize he had skipped the final exam without actually knowing it. That is until his close buddy decided to inquire how his exam went.
9. This Girl's Marshmallows Turned Into A Mellow Accident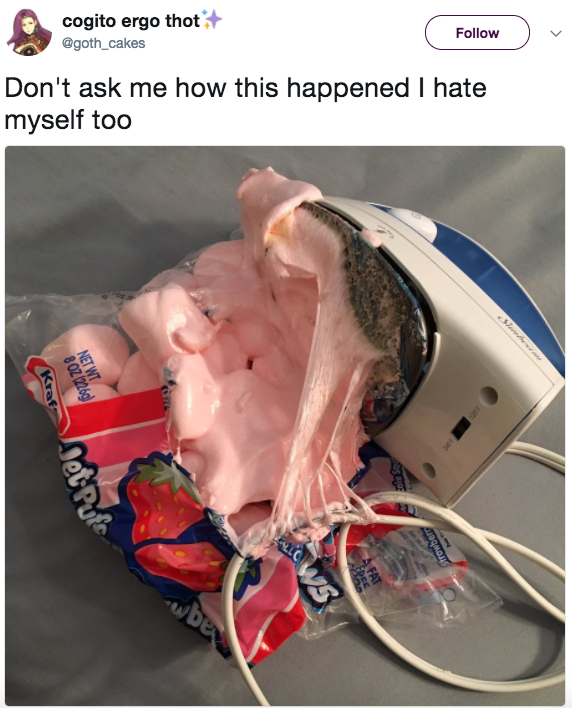 Have you ever forgotten your food near a pressing iron? If you have not, then you are a lucky person. However, the girl who purchased a packet of fruity marshmallows wasn't able to taste even a speck of it.
10. When You Over-Believe In Facebook Remedies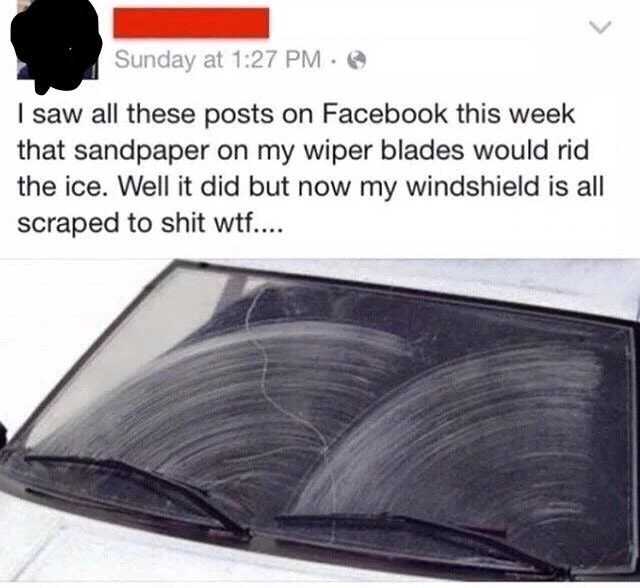 Never believe in D-I-Y remedial stuff that you read over Facebook. Many people post fake nonsense and when you try out the stuff, you realize what a big scam it was. This guy who posted the picture tried one remedy. He put sandpaper on his wipers so that it could scrape off the snow easily. Now he has one badly scratched windscreen.
11. Gone Through The Roof Or Hanging Down The Ceiling?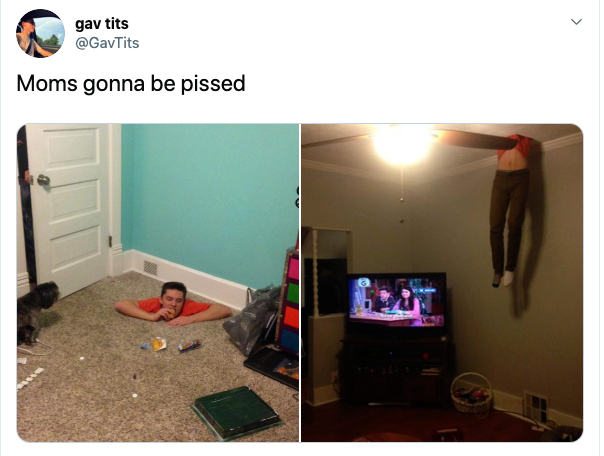 We do not know how the boy managed to break the flooring, but he's hanging in mid-air. Yes, his Mom is going to be angry for sure and maybe
12. This Guy Shouldn't Have Thought That Facebook Was A Real Person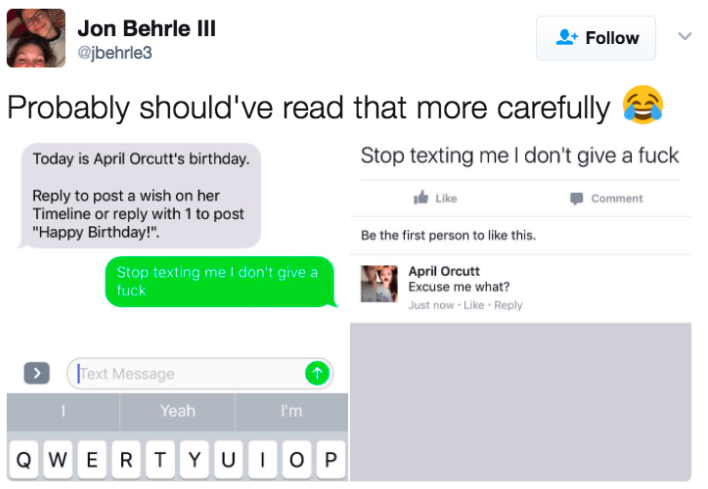 The friends' birthday notification is one important feature of Facebook. It keeps on giving you reminders for those people who have their birthdays on respective dates. But it seems like Jon does not like to be reminded again and again. But April had to bear the brunt of it.
13. Informing Mom About Her Boy's Naughtiness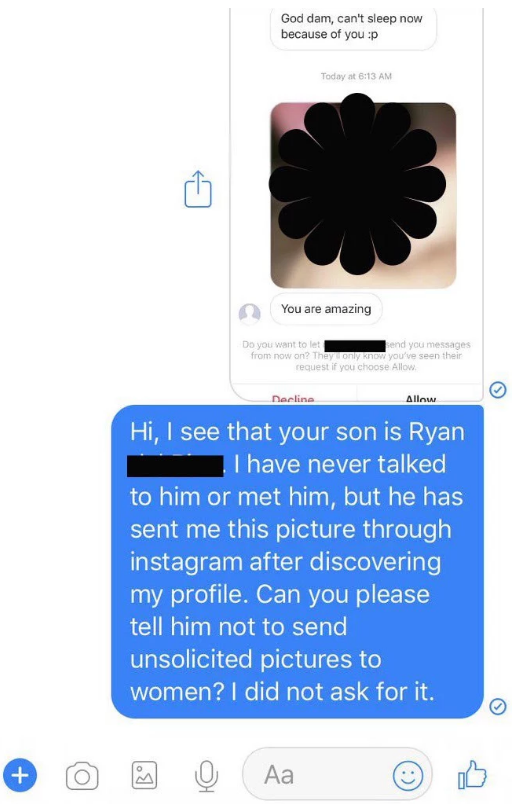 This boy has a habit of sending unsolicited and obscene pics to beautiful girls on Instagram. Unluckily for the boy, the girl knew his Mom and gave the pic the boy had sent her. She also informed the lady what her boy had been up to. Now the boy would have to face the wrath of hell from his Mother.
14. Too Many Selfie Filters!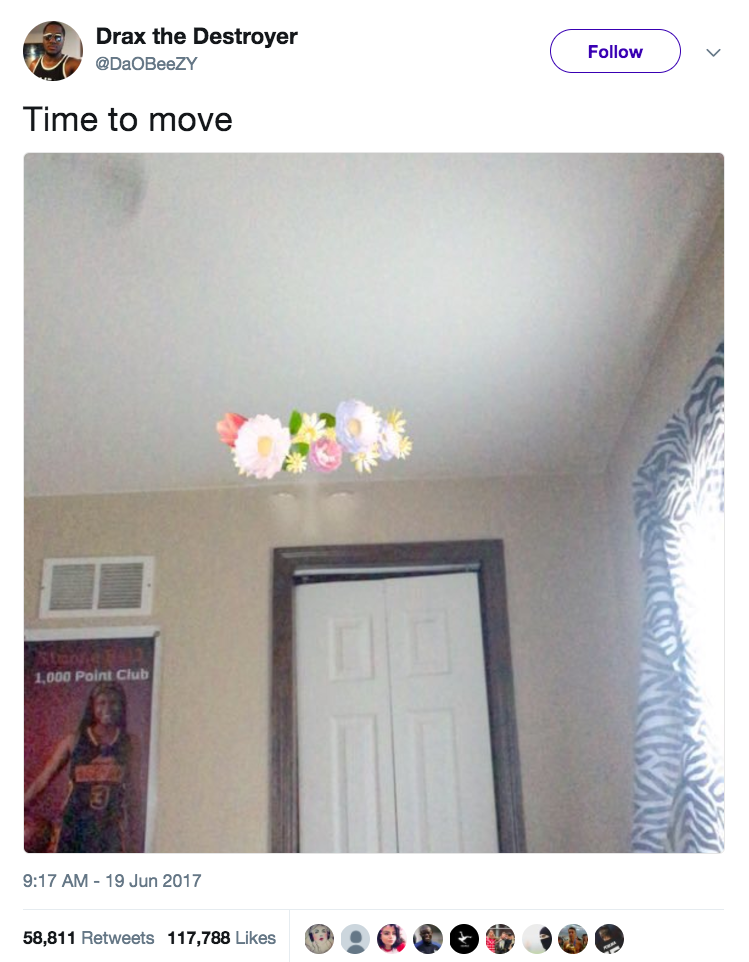 Girls have a habit of snapping selfies with many filters. Flower filters, cat and dog filters are women's all-time favorites. But an invisibility filter? Maybe using too many filters is not a good idea.
15. A Murderous Conspiracy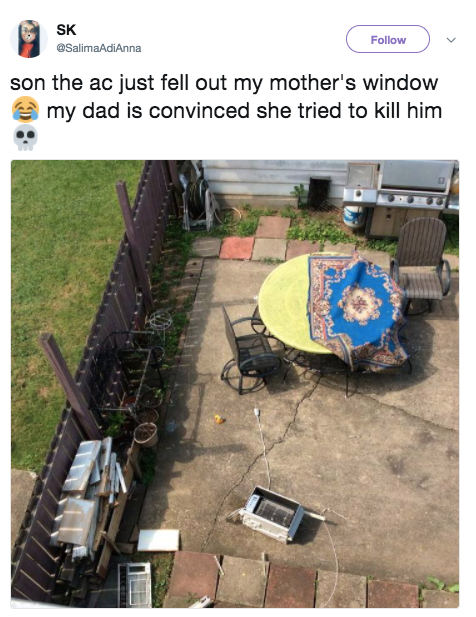 The AC fell out of the boy's mother's window. But the boy's dad did not dismiss that it was a simple and baseless incident. The father is seriously thinking that his wife is trying to murder him.
16. He Was Asked To Post The Cover Photo Of His Passport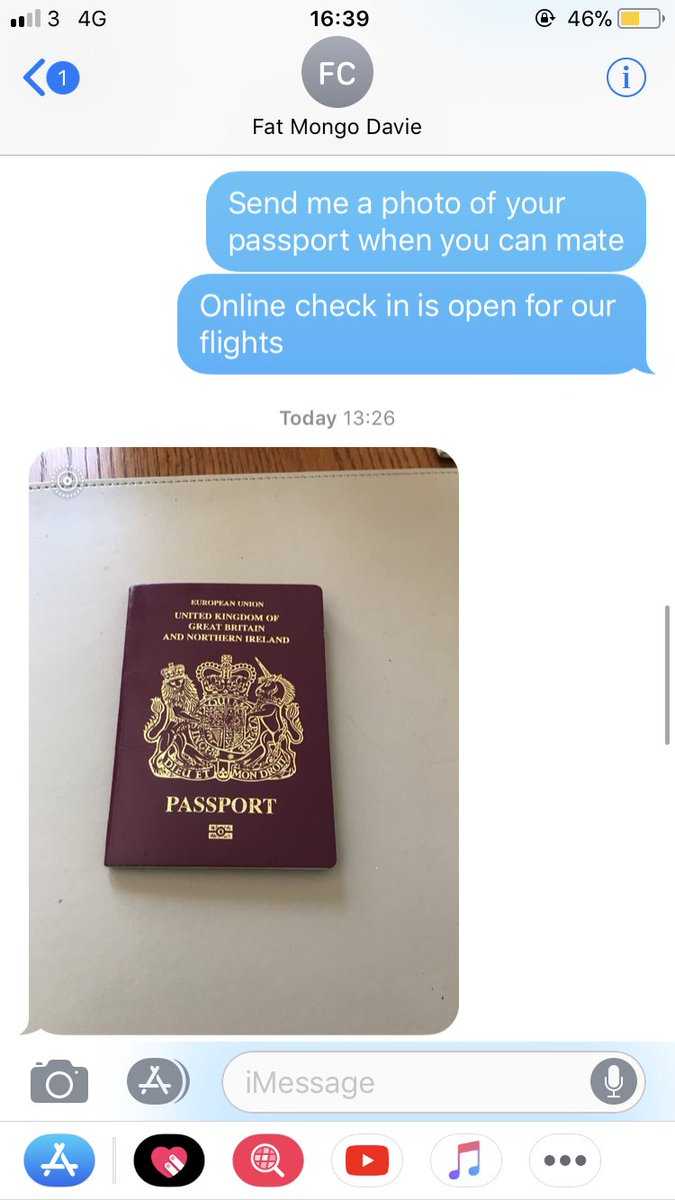 This man was asked to post the cover photo of his passport. That meant that he had to show the front page of the passport which bears proof to which countries he had traveled. But being the dork that he is, he sent the photo of the cover of the passport.
17. Gluten In A Gluten-Free Cookie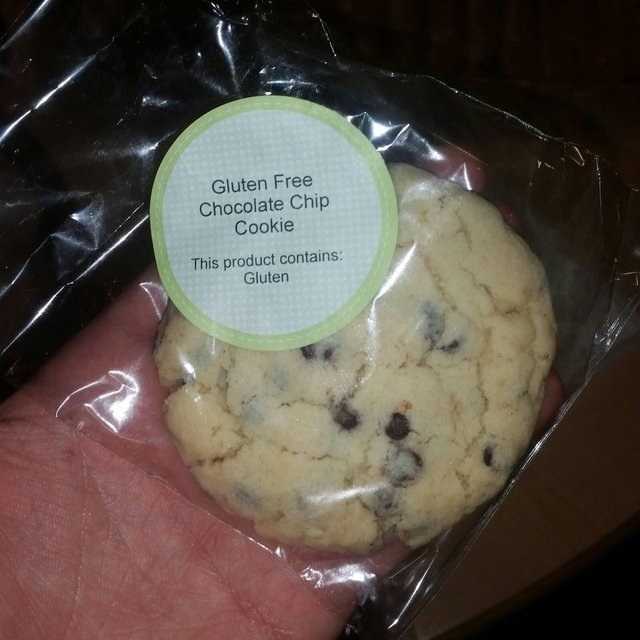 Now, who puts gluten in a gluten-free cookie. Obviously, somebody did not think it through thoroughly. But the question arises, if somebody is allergic to gluten, then should they consume the cookie or not?
18. Eating Trash, Right?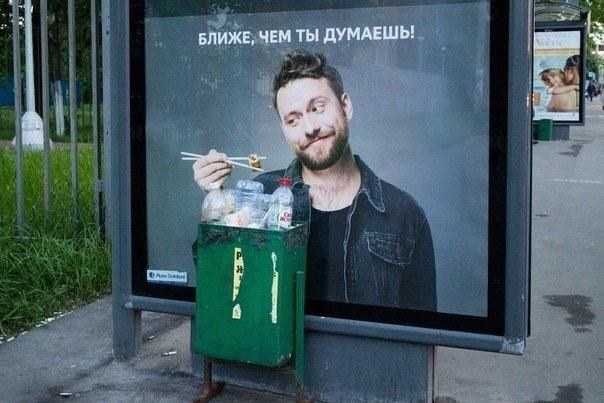 Now, that is what one would call strategic placement. One should not place trash can near posters of edibles. But owing to the way the bin is placed, one is sure that the man is eating some sort of junk.
19. This Guy Does Not Seem To Follow What's He Reading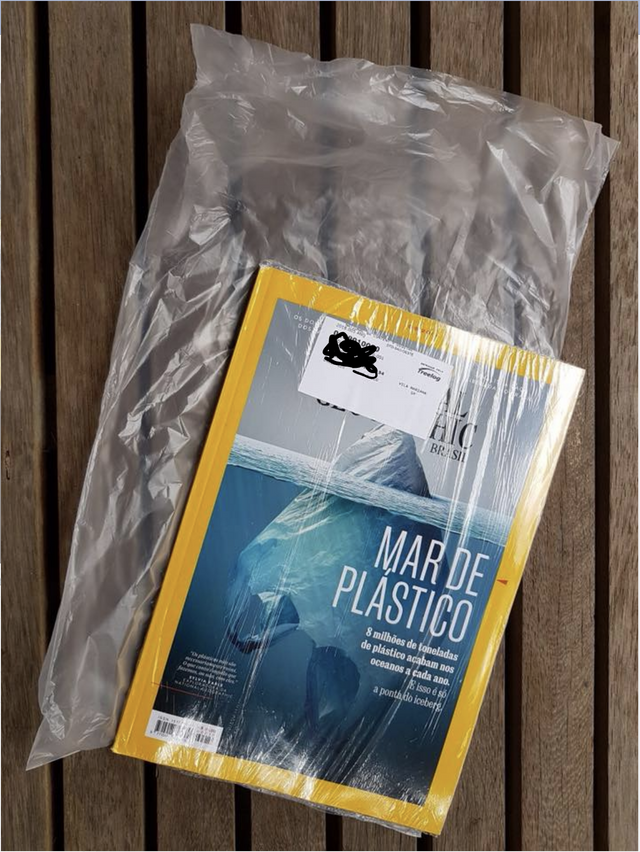 The front page of the magazine has a symbolic picture of how badly plastics have affected the world. But the plastic wrapping in which it has been sent makes you think, did they think it through?
20. Bad Placement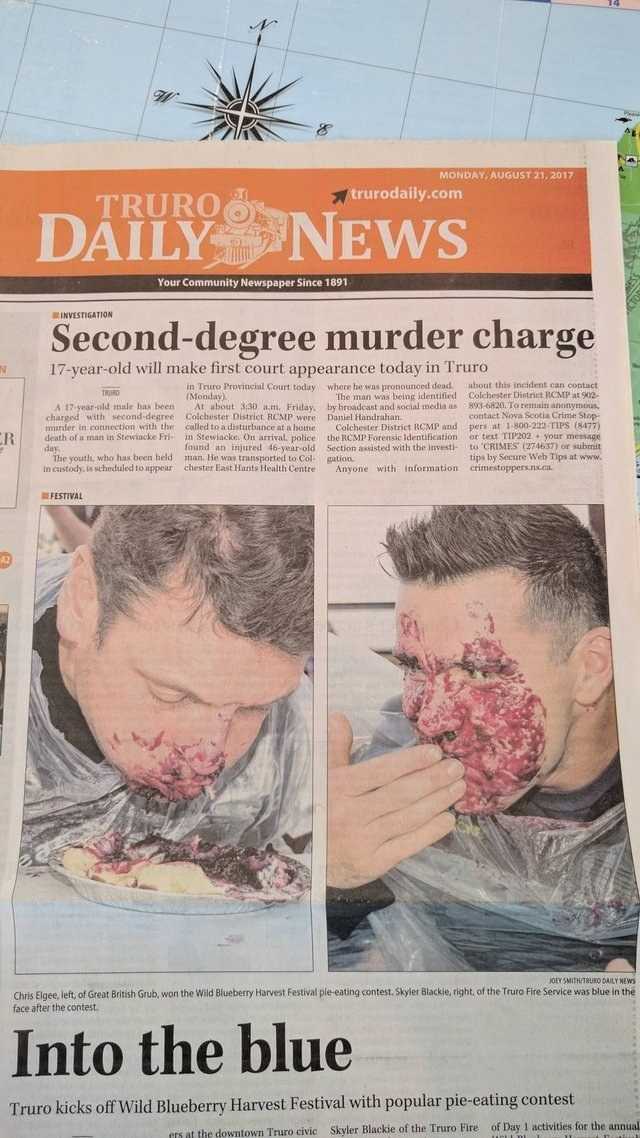 How can you place the photographs of a pie-eating contest under an article which is about horrible murder? The way the contestants' faces are smeared in jam makes you think that they are the befitting criminals who committed the heinous crime.
21. A Case Of Bad Writing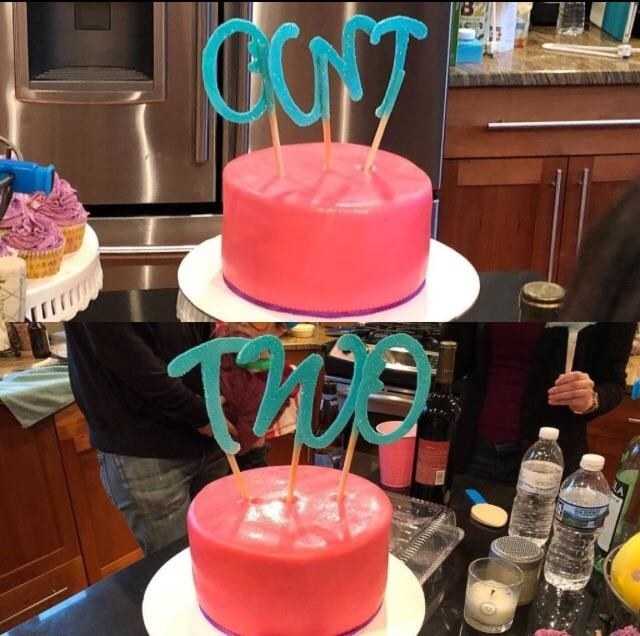 The font of the cutout words on the cake is so silly that even the word,"TWO" looks like something else. But please do not utter the word that it resembles, because it is quite objectionable. But you have guessed the word, haven't you?
22. Yahoo! Does Not Even Use Its Own Search Engine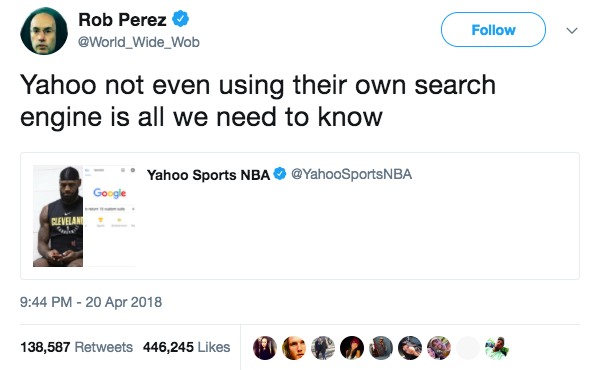 If Yahoo! has to post something over the net, then they should keep in mind to use their own search engine. But they know that it is in bad shape, so they employed Google instead. But, the man has a point. It's shameful to not endorse your own product.
23. The Amazing Maze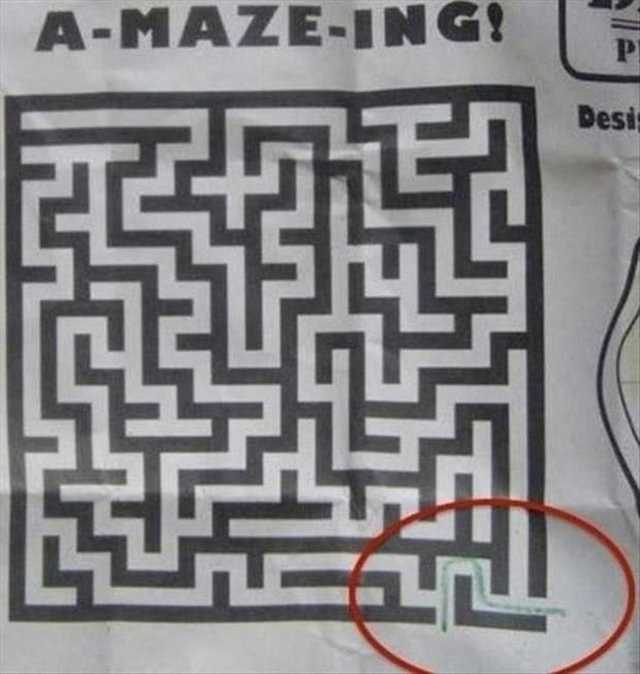 Now, that's a short way out of the maze. Maybe the man who designed it was fed up with all the complicated ways of the world and wanted an easy shortcut.
24. The Person Who Posted These Instructions Did Not Think It Through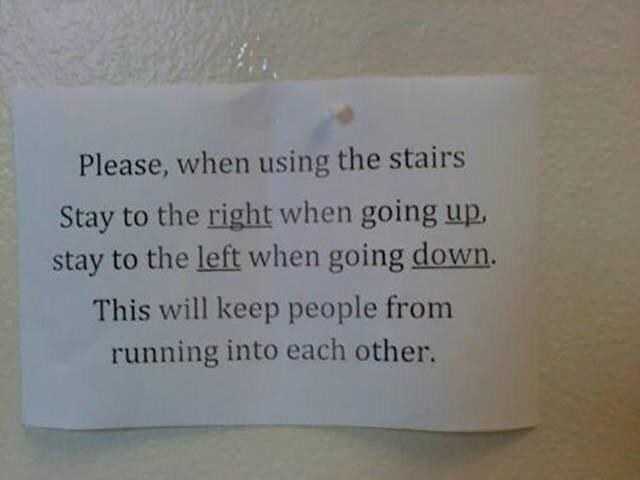 Stay to the right when going up. Stay to the left when coming down. But this will not avoid people 'from' running into each other. It 'will' cause people to run 'into' each other. Seriously the person did not think this one over.
25. The Horrible Placement Of The Trash Can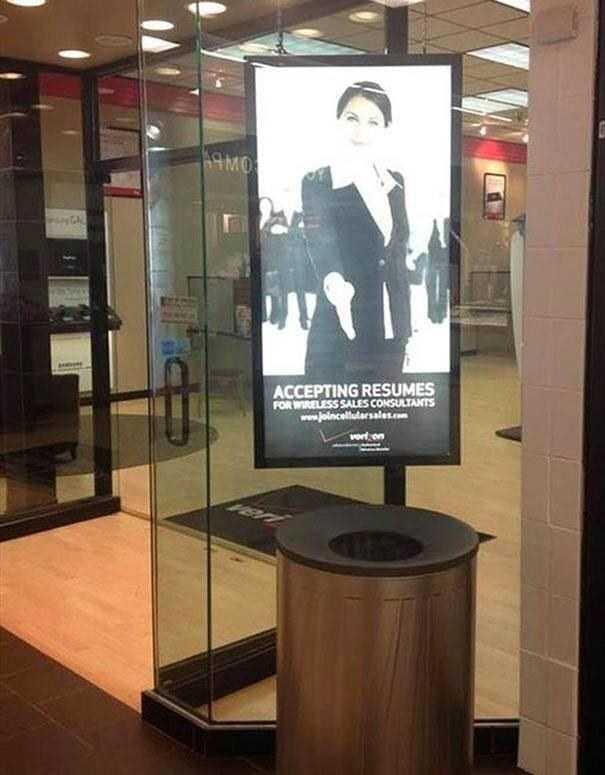 Most of the resumes do end up in the trash can. The girl in the picture is showing you the truth of the corporate world. The placement of the trash can may be wrong, but it reveals the secret underbelly of the job market.
26. You Should Never Put Yellow Colored Marble On A Toilet Seat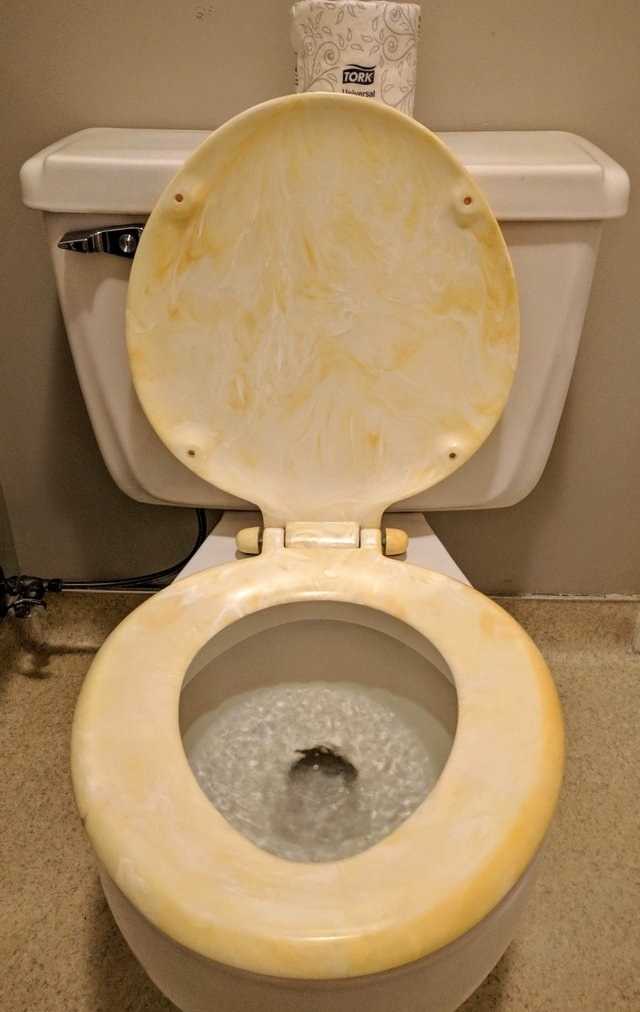 Putting marble on the toilet seat seems to be fashionable, but you should take great care while picking up the right color. If you use yellow color, like it is shown in the picture, then people will actually think the other way round. You know what I mean, right?
27. You Should Never Lie When You Are In A Rush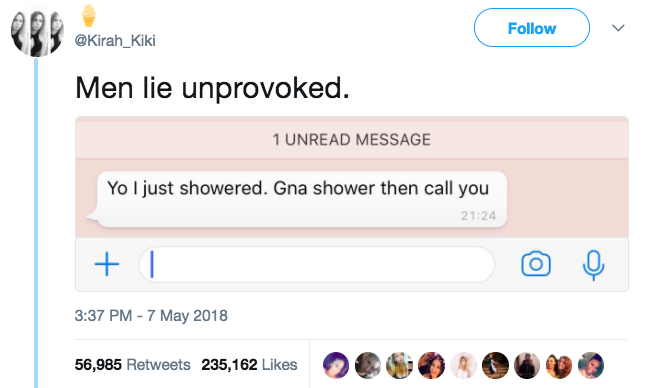 When you are lying, you should be extremely patient. Like this man here, he said that he just showered and he was going to call after he had showered. No wonder, his woman is so pissed at him. At least think before you speak, Dude.
28. The Instructions Should Have Been More Specific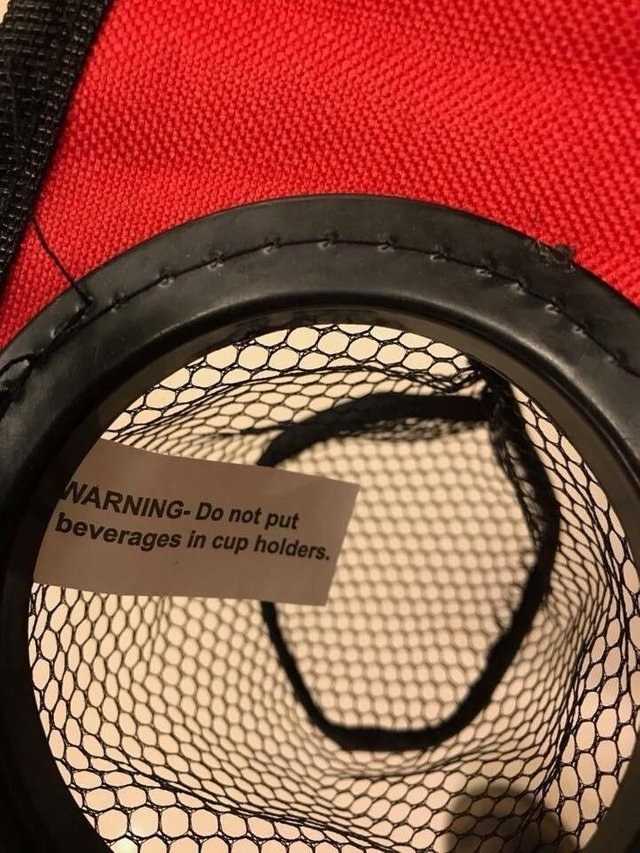 If you have a cup holder where you cannot put a beverage, then what good is it. Or is it intended for empty cups? Whatever be the case, the person who has written the instructions should have thought twice before printing it.
29. The Beef From Troy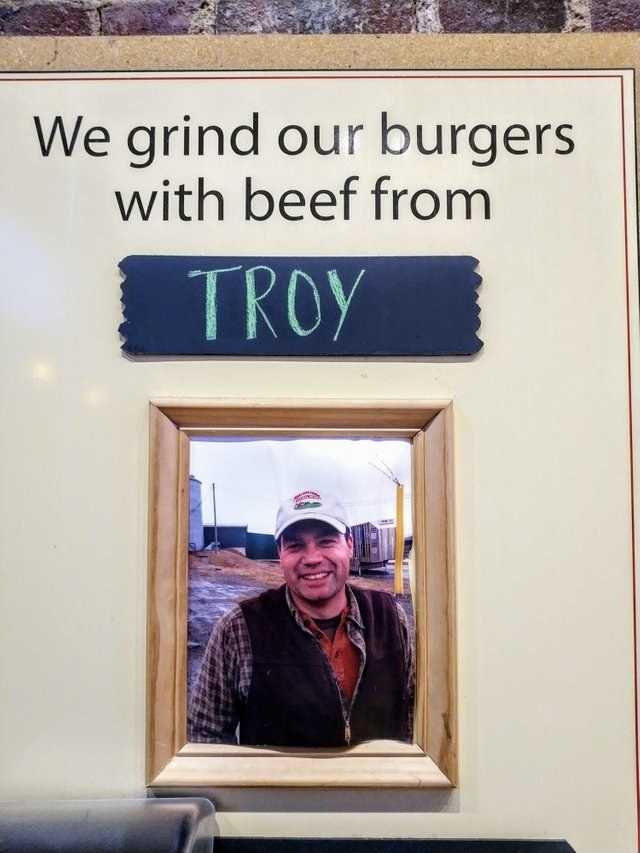 What sort of beef does Troy supply and why do they even take it from him? Again you should have thought things over. And look how happy the dude looks. He will not be happy with the context in which the content written on this sign is taken.
30. Who Put The Stand Out Sign Over The Camouflage Jacket?
Obviously, it would have been somebody who has been extremely dumb. You purchase a camouflage outfit to hide and blend in, not stand out.