Snapchat is used by thousands of people every day to share silly snaps and stories, and it's generally viewed as more of a time waster. But finding love on Snapchat? It may seem impossible but one couple has taken the Internet by storm. Their romance started on the social media photo sharing app, and the story has appeared on talk shows, news reports and of course, on other forms of social media. What follows is a story that could very well be the next romance.com!
It begins when the girl, also known as "Mystery Girl," who's really named Abby, spots a cute guy at the University of Wisconsin-Madison library. The guy-in-question is wearing a Minnesota Vikings jersey, and so he's known as "Vikings Fan."
Abby is immediately taken by his looks, so she wants to track him down using the University of Wisconsin-Madison Snapchat story, so she submits a snap, saying, "I'm seriously in love with you. Find me."  She also says that he should meet her at the Memorial Library.
Alas, their romance isn't meant to be, just not yet! They don't have that encounter, but hope isn't lost because now, the Snapchat user base of University of Wisconsin-Madison is about to step in to help. First, he says that they should meet the Discovery Center, but she ends up not seeing his reply. Vikings Fan decides to stay and work on a college project, but Mystery Girl, aka Abby, is still out there. Their Snapchat audience is riveted.
One Snapchat user urges Vikings Fan to seek the girl out, saying, "Two things: You can sit right there and you can do your project, or you can get your ass up and find that girl man! She's looking for you." Still others are watching the Snapchat story like it's a cinematic masterpiece.
Mystery Girl/Abby finally they should meet at The KK, a local hangout. Vikings Fan arrives but doesn't see the mysterious girl from the snaps. Finally, they meet, and it's adorable and their story has captured the Internet. The Internet also figured out both of their names. Viking Fan is actually Reed. The duo are both 22-years-old seniors, and they exchanged numbers after they finally met up in person.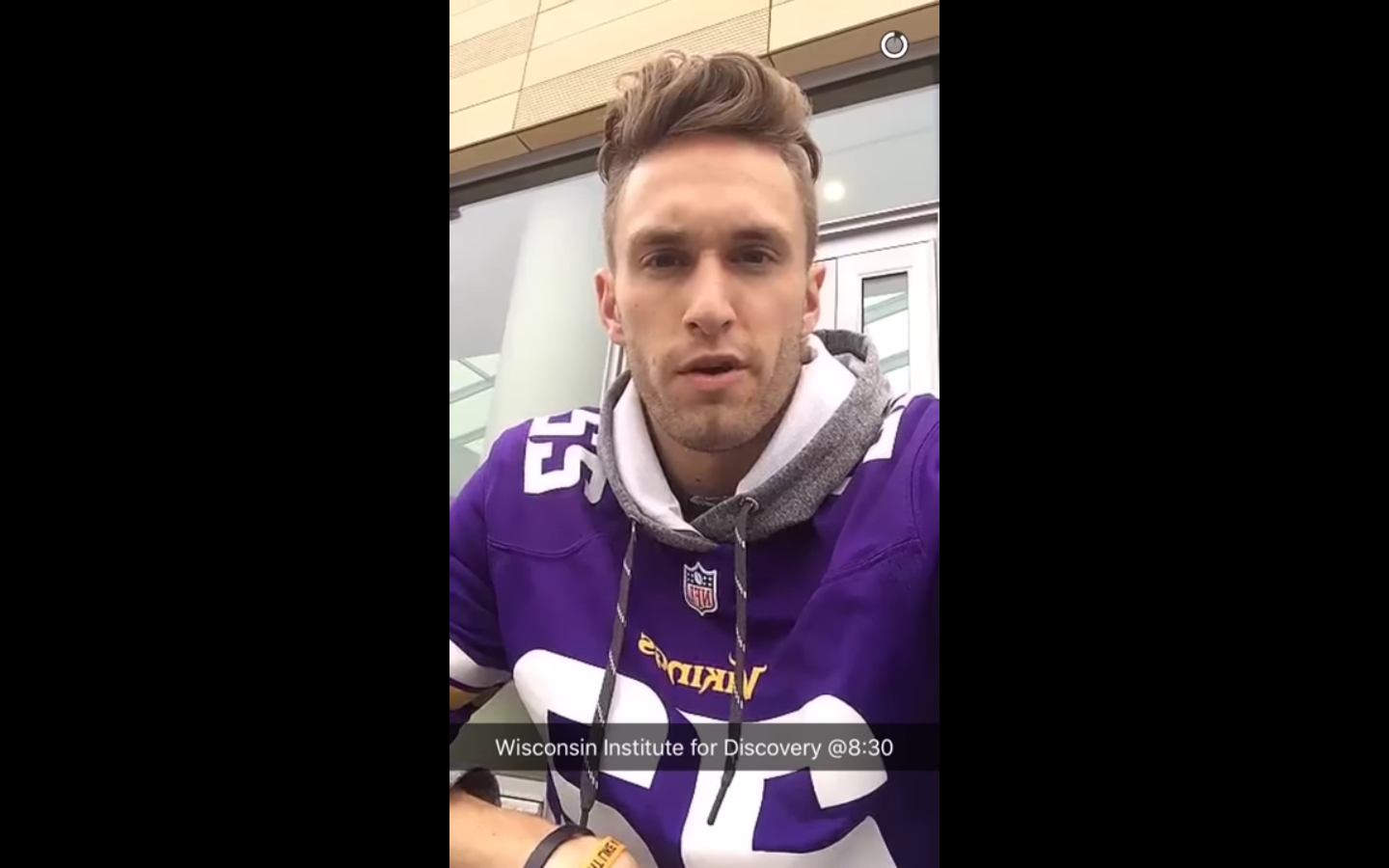 Speaking to The Huffington Post, they reported their activities were fun, but not date-dates just yet. Mostly they've spent time going to a block party, watching movies, and baking.
Like Rihanna sang, they may have found love in a "hopeless place," college. Some say it may have been staged, but for the romantics at heart, it's a new type of love story for the digital age. Abby says she now thinks she looked desperate in the snaps, and you have to wonder about any ex-lovers the two may have irked, but still, it's an adorable story to come out of Snapchat! Maybe you too can find love on Snapchat. You can probably expect that another story like this will come out, because there are always imitators. You can watch the whole saga on the video from The Tab, the university's newspaper.