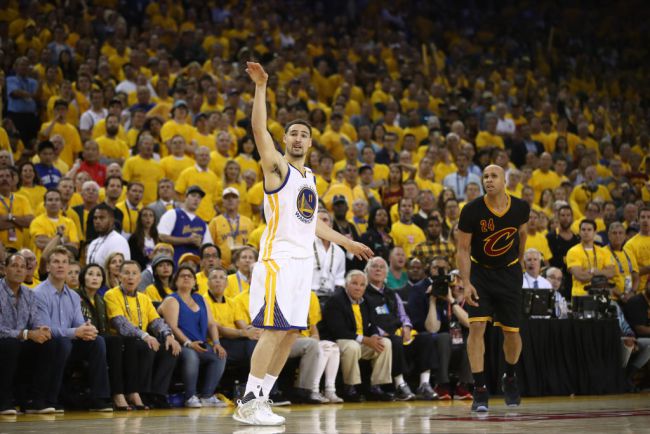 Klay Thompson wants everyone to know that he's single and not dating Abigail Ratchford.
Last Summer, the Instagram model caused a bit of a stir when she posted a picture of Rocco, Thompson's dog, as well as a picture of basketballs on a countertop with a caption about how well she slept the night before.
*Sits upright in chair*
*Clears Throat*
"BANG!!!" – Mike Breen voice@KlayThompson pic.twitter.com/bwohg1pZuH

— Rob Perez (@World_Wide_Wob) August 8, 2017
On Tuesday, Thompson spoke with Damon Bruce of 95.7 The Game and attempted to squash the rumors by saying that he's currently single and looking for a "wholesome" girl.
He's great. Living the life," Thompson said. "About to take him to the park later — get some sun, have some fun."

Apparently pointing to the aforementioned rumor, Bruce asked, "Any pin-up models we should know about?"

"With Rocco?" Thompson's quipped in reply. "Oh, no no no no no. (I'm) just being good."

Bruce noted how fast he shut the idea down.

"Yeah, I'm trying to find a wholesome lady out there," Thompson said. "That'd be nice."
The 27-year-old Thompson has a pretty solid resume with the ladies off-the-court. Over the years, Klay has been linked to Brittany Lucio, a former Miss USA contestant, and L.A. Rams cheerleader Cherise Sandra, who creepily stalked Thompson on social media back in 2016.
It is worth noting that while Klay is shooting down rumors about currently dating Ratchford it doesn't mean that he never hooked up with her during the summer. It's hard not to be jealous of Klay's life, dude is playing one of the greatest NBA teams of all-time while being single in his prime. Dude is living the dream.