There's no denying that New York City is one pretty spectacular place. It's The City That Never Sleeps: full of iconic skyscrapers, neon lights, picturesque parks, and trendy restaurants. When I moved to NYC, I quickly fell in love, all because of the little magical moments that caught me by surprise. There's nothing quite like walking up Fifth Ave right as the sun is setting, and seeing a pink sky against the Empire State Building or making friends with the cat at the bodega downstairs. For all of your magic moments, you'll want some clever Instagram captions for NYC pics (so grab your camera).
Whether you've lived in NYC your whole live or are just visiting, it's one of those places that looks exactly like it does in the movies. It was made for the 'Gram. Sure, there's a lot of hustle and bustle you'll encounter, but I love the times when you're just sitting on a bench in Central Park eating a delicious cookie from Levain Bakery.
What's so great about New York is that it's different for everyone who visits. When you're ready to document what NYC means to you, consider using any of these 20 captions for your Insta post.
1. "The flag of New York City should be someone with four bags opening a door with their shoulder." Alex Baze
2. "All of the lights." Kanye West, "All of the Lights"
3. "Don't you love New York in the fall? It makes me wanna buy school supplies. I would send you a bouquet of newly sharpened pencils if I knew your name and address." You've Got Mail
4. "My heart burns for the city lights."
5. "I look out the window and I see the lights and the skyline and the people on the street rushing around looking for action, love, and the world's greatest chocolate chip cookie, and my heart does a little dance." Nora Ephron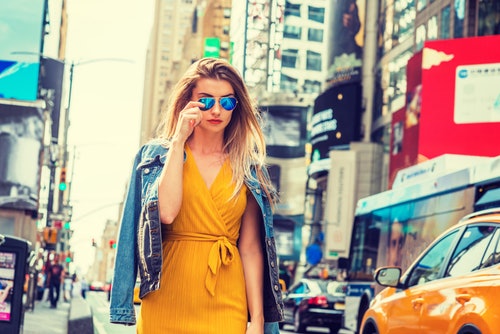 6. "I want to wake up in a city that never sleeps." Frank Sinatra, "New York, New York"
7. "New Yorkers are born all over the country, and then they come to New York City and it hits them: Oh, that's who I am." Delia Ephron
8. "These streets will make you feel brand new, big lights will inspire you. Let's hear it for New York." Jay-Z and Alicia Keys, "Empire State of Mind"
9. "Anything is possible. This is New York." Carrie Bradshaw, Sex and the City
10. "Late nights, bright lights."
11. "Wish it. Dream it. Do it." Leslie Levine
12. "Go on and try to tear me down. I will be rising from the ground like a skyscraper." Demi Lovato, "Skyscraper"
13. "Welcome to New York. It's been waiting for you." Taylor Swift, "Welcome to New York"
14. "Wanderlust and city dust."
15. "London is satisfied. Paris is resigned, but New York is always hopeful. Always it believe that something good is about to come off, and it must hurry to meet it." Dorothy Parker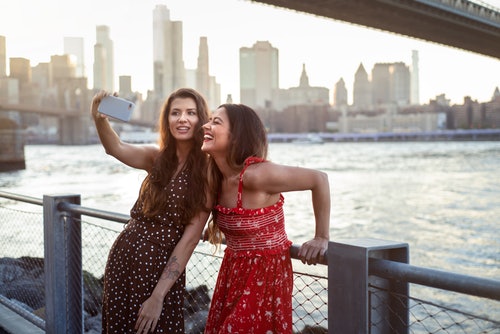 16. "There is something in the New York air that makes sleep useless." Simone de Beauvoir
17. "I came, I ate, I conquered."
18. "I would give the greatest sunset in the world for one sight of New York's skyline." Ayn Rand
19. "Would you rather live one perfect day over and over or live your life with no perfect days but just decent ones?" Jenny Han
20. "If you follow your heart just right, it will get you to New York City."