After the advent of the internet, the term 'Fake news' has become extremely popular. But have you wondered why? With the present-day photo editing tools, the smartest of the people can be fooled. There are a lot of photographs that are a big lie from the word go. But they being posted nevertheless, by a mischievous people. Anyway, leaving all the serious criticism behind, we will show you famous images over the web that you did not know were photoshopped. So prepare yourself for seeing things that are not the way as they are shown to be.
1. Photograph Of MGM Intro Behind The Scenes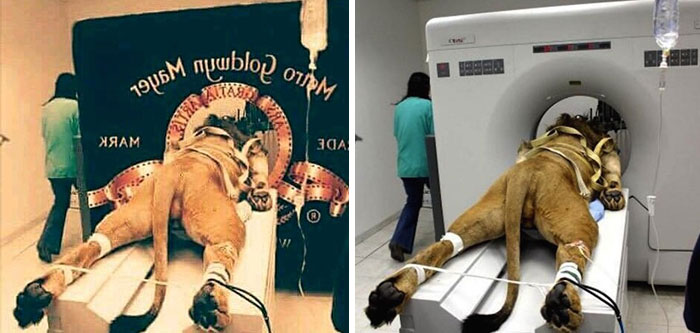 You must have seen this photo of a lion strapped onto a machine to make the iconic MGM introduction. The lion roars in the slot and it looks great. But in reality, this is not the case. It is actually a photo of a lion being diagnosed at the vet's office for a CAT/MRI scan. A bonus fact – luckily, the lion recovered from his ailment and is now completely healthy.
2. If The Mustache Wasn't Enough, Then Add Those Angry Eyebrows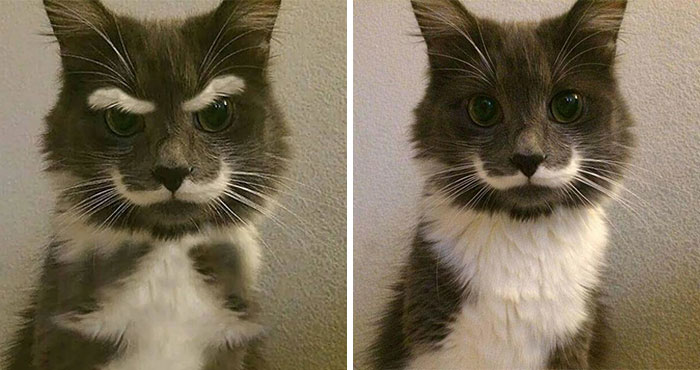 The internet is crazy about animals pics. These images look both weird and cute at the same time. This cat has an adorable mustache. But an image editor photoshopped eyebrows and this picture went viral after that.
3. This Chef Created An Amazing Fried Rice Wave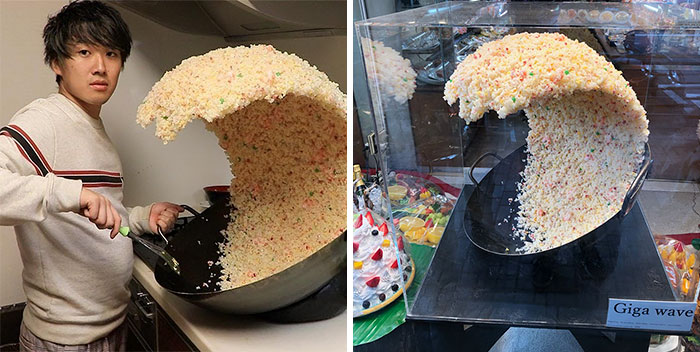 You must have seen this photograph which is a viral sensation. It was seen in the 'fried rice meme' that showed a man making a fried rice wave in his pan. In reality, the photo itself is a fake. The rice wave is actually a sculpture that is sold in a fake food shop in Tokyo.
4. Astronaut Carrying Marijuana In Space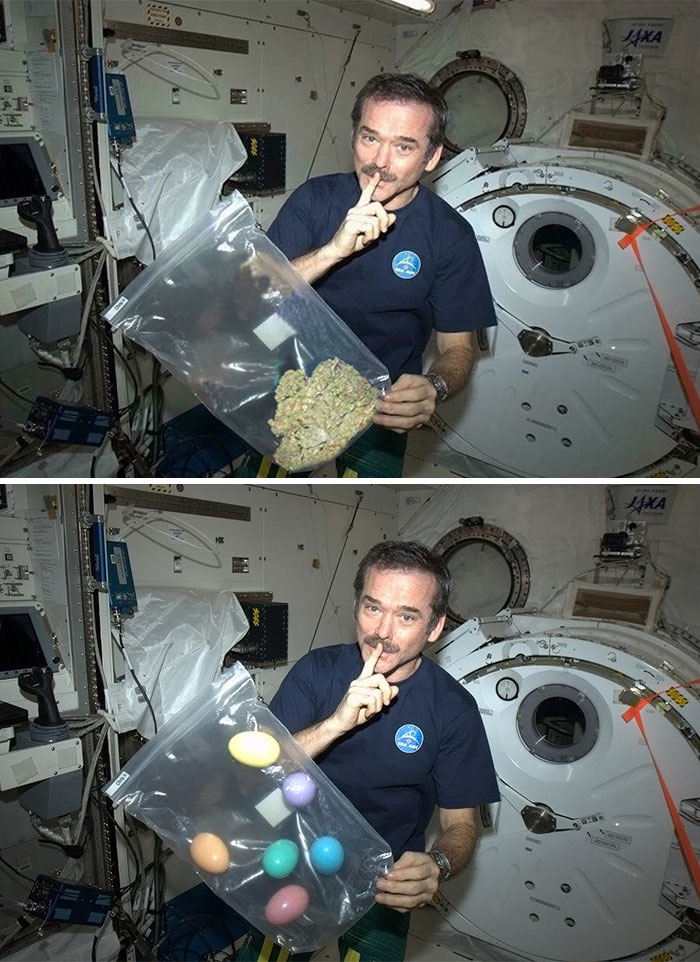 Chris Hadfield is one of the most popular Astronauts in the world. His incredible vlogs are seen the world over. It has also resulted in answering of many space related questions. But if you are thinking that he is using banned addictive substances while he was in space, then you are mistaken. Chris was trying to give a surprise to his co-workers with some Easter eggs.
5. The Magical Castle On Top Of A Slender Mountain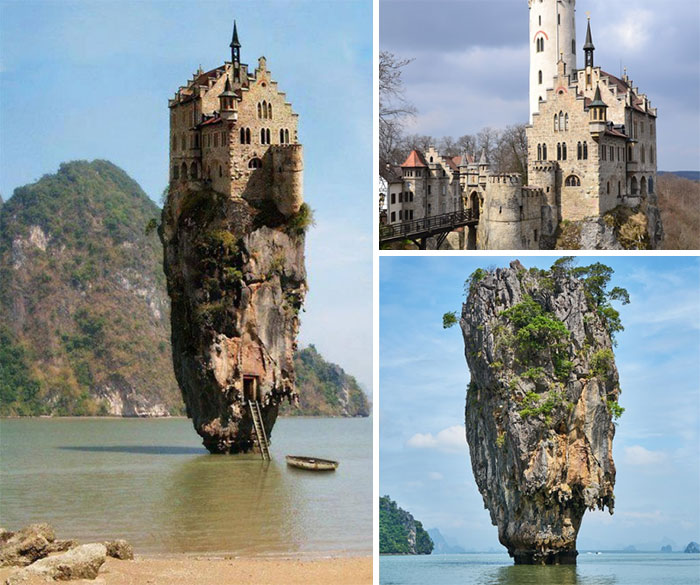 This magical castle that you are seeing in this picture, is a fake. It might look exciting, but unfortunately, it is a combination of two photographs, one picture is of a rock in Thailand and the other is of a castle in Germany.
6. Unplanned College Name Sign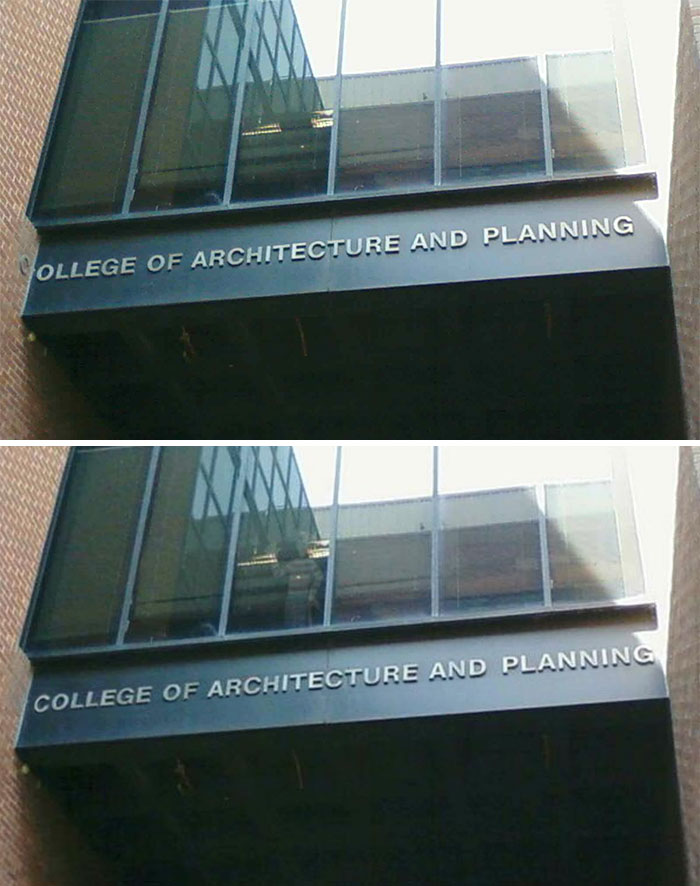 This famous image was an absolute representation of stupid construction images. However, the biggest mistake was that people constantly shared this humorous image online. This photo was photoshopped extremely well, so the authenticity of the image isn't obvious.
7. This Dangerous Pilot Selfie Is Also A Fake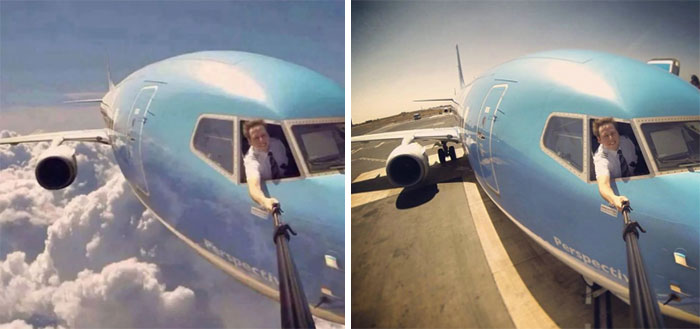 This iconic selfie has created a wave of appreciation online. It is a picture of a pilot photographing himself in mid-air over the clouds, while he was flying. But in reality, this was a photo of him taking a selfie when he had safely landed on the ground.
8. A Kid Sleeping Near His Dead Parents' Graves In Syria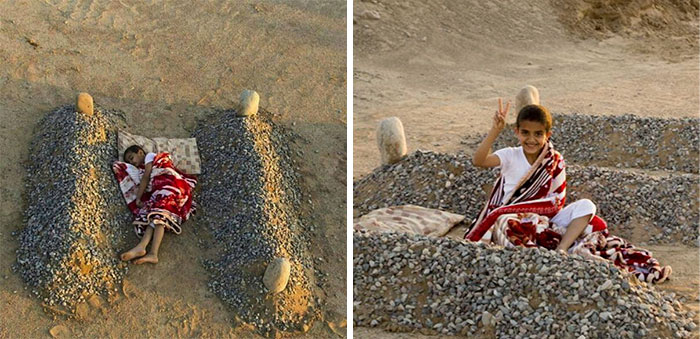 This is a photograph of a kid sleeping near his dead parents' grave in Syria. But you know what, the photographer staged this shot. The kid knew the photographer and the graves did not belong to his parents. People like these play with others' emotions for getting fame.
9. Frozen Venice Is Actually Another Combo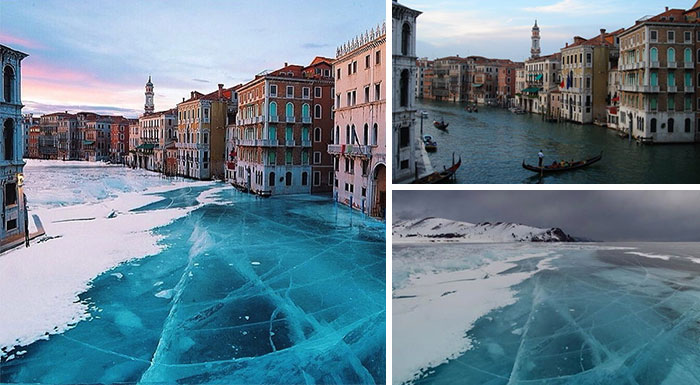 Venice is a beautiful place, no doubt. If you want to pay a visit halfway around the world, so that you can see this marvel, then let us suggest you that there is no need to do so. It is a photoshopped image of the frozen Lake Baikal in Russia and Venice's surroundings.
10. Perfect Lenticular Clouds

Lenticular clouds are rare and already pretty to look at. Cool-looking as they are, the chances of having a multiple-layered cloud is impossible. But somebody doesn't think like that. There is no need for excessive photoshop. Nevertheless, this image went viral as a screensaver.
11. Woman Squatting Like A Frog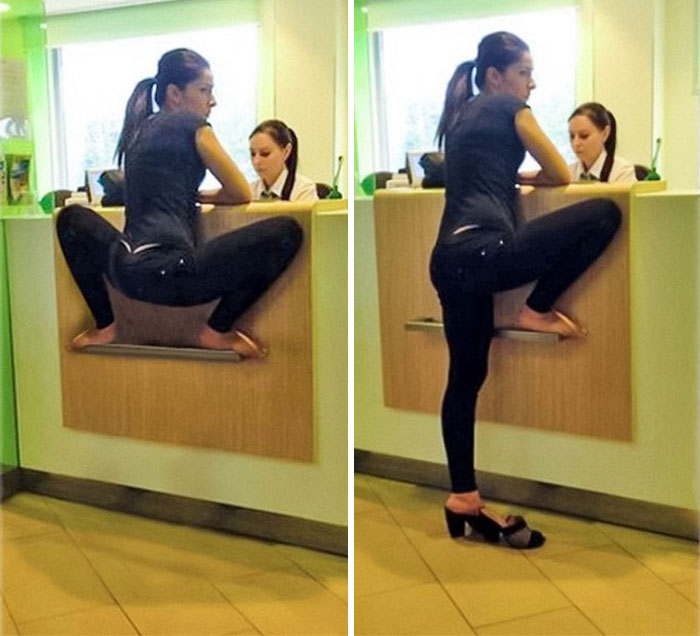 This picture is still one of the most recent viral sensations. It showed a woman weirdly squatting on a tiny shelf. It turns out that she had only lifted one leg on the shelf. You can easily make out the manipulation because the lady's bottom looks a bit weird.
12. The Case Of The Unique Black Lion
Weird animals look extremely cool. You rarely come across a unique animal, like the albino hippo that was shown in Discovery. There are many others that exist for real. But there is no need to create a new on with photoshop.
13. Have You Ever Seen The Moon Perfectly Fitting On A Skyscraper?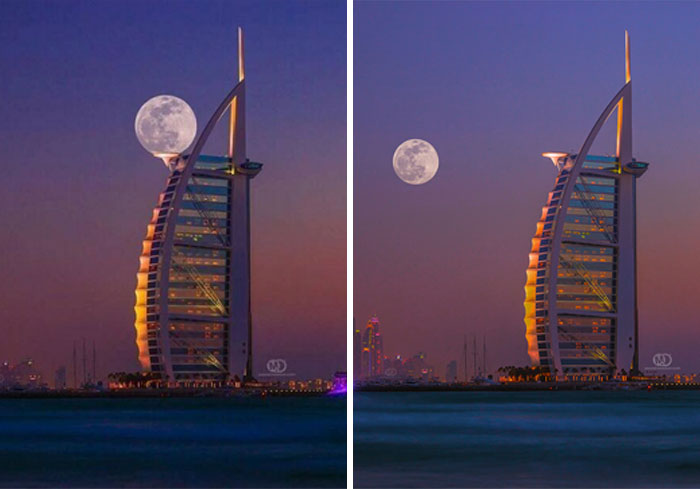 Photoshoppers are weirdly obsessed with the moon. You will see that the earthly satellite is the centre of attention in many viral photos. Now, have a look at this popular photo. The image editor just added a moon to the Burj Khalifa tower in Dubai.
14. #10yearschallenge Against Deforestation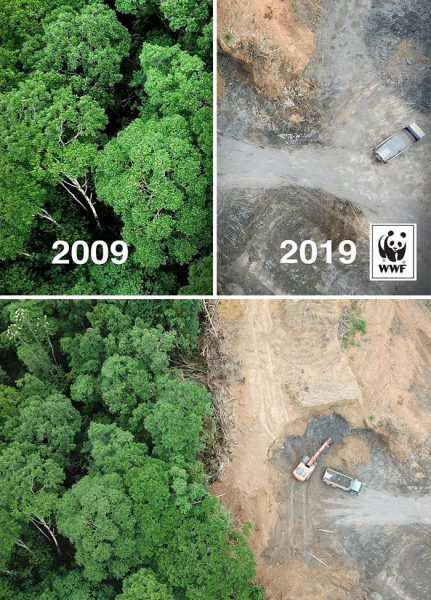 The hashtag #10yearchallenge went viral the previous year. People from all the nationalities in the world started sharing their images. Someone decided to use the hashtag to warn people about the terrible impact of deforestation. Unfortunately, the image that was used to spread the message was fake.
15. A Bear Chasing A Cyclist In The Yellowstone National Park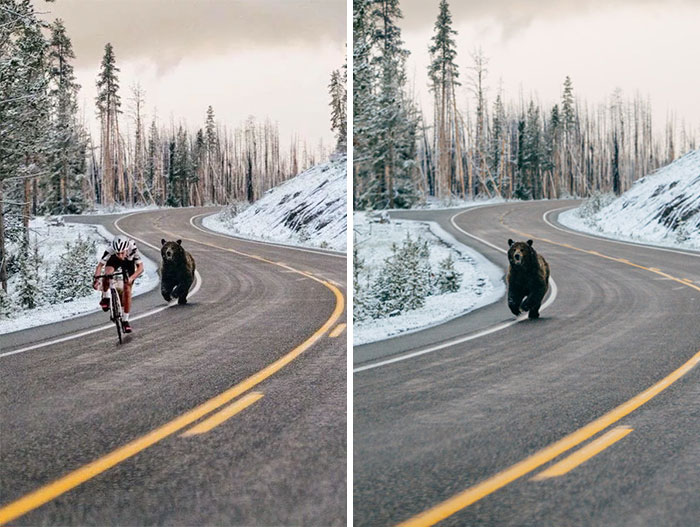 A photo of a bear chasing a cyclist has been doing rounds on the internet. But it will have a far bigger effect on you when we tell you that the picture is not an authentic one. In the original photo, the bear is sprinting down the road all alone and not chasing anybody. The photo was shot in the Yellowstone National Park.
16. A Photo Of Marilyn Monroe And Elizabeth Taylor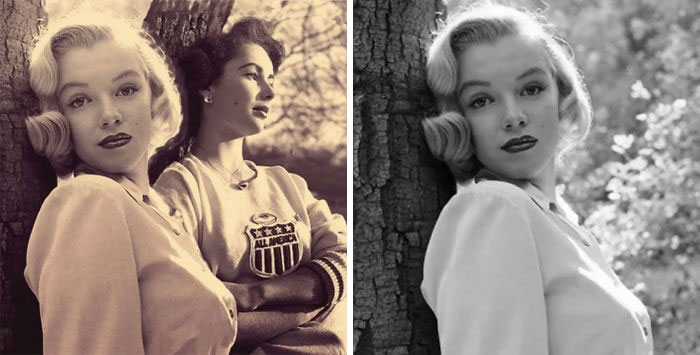 Two beauty icons of Hollywood chilling in one photo? How cool! But this is another fake. Elizabeth Taylor was photoshopped into a picture of Marilyn Monroe. However, this is not the first time that Marilyn Monroe's photos were photoshopped.
17. First Dab In The History Is Not An Original Photograph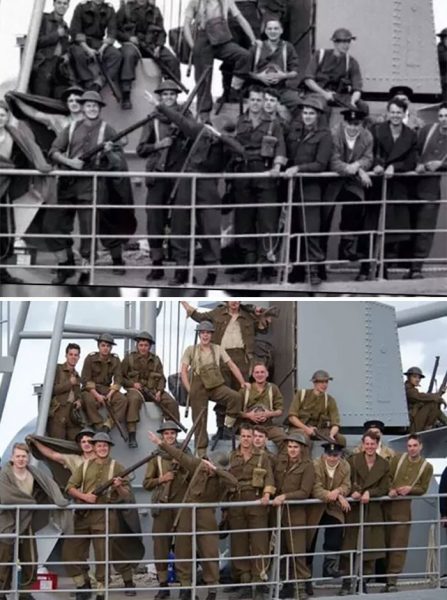 The first dab seems to be captured in the 20th century. It means that this iconic movement will remain perennial. Unfortunately, this time also the photograph is a product of clever editing. It is a behind-the-scenes shot from the movie Dunkirk, which was shot way back in 2017.
18. Photo Of The Space Shuttle Travelling Above The Clouds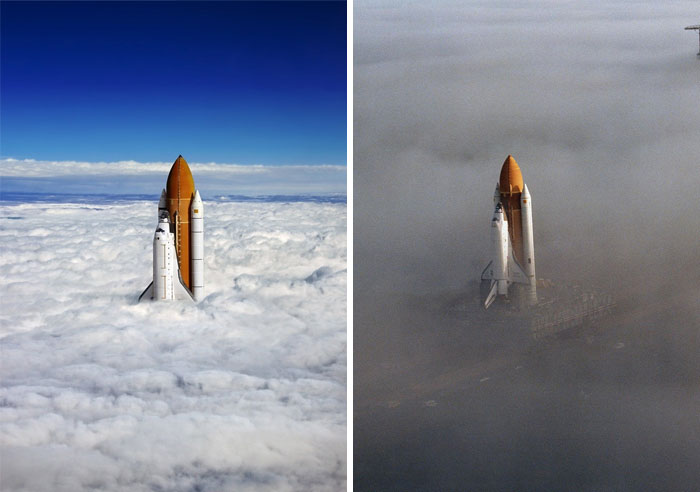 This image of a space shuttle travelling above the cloud has again fooled many people from all around the world. What many people do not know that the space shuttle was still on the ground and not in the air. The original one is also as cool as the original one.
19. Picture Of A Dwarf Giraffe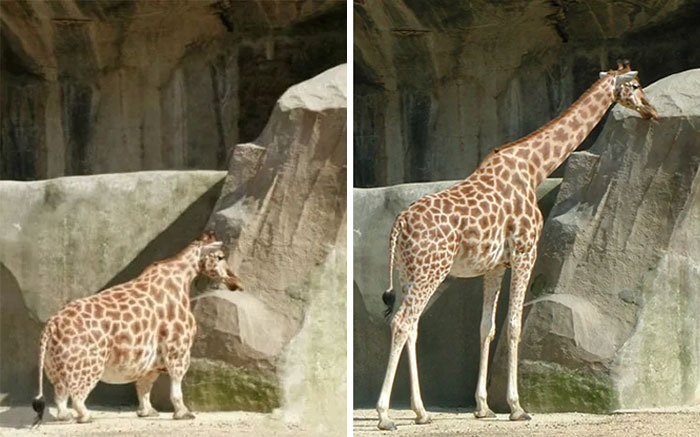 This is the photo of a giraffe who is suffering from dwarfism. It has been used online many times on multiple websites. Although giraffes can suffer from dwarfism, this photo is fake.
20. A Bear Chasing National Geographic Photographers In A Forest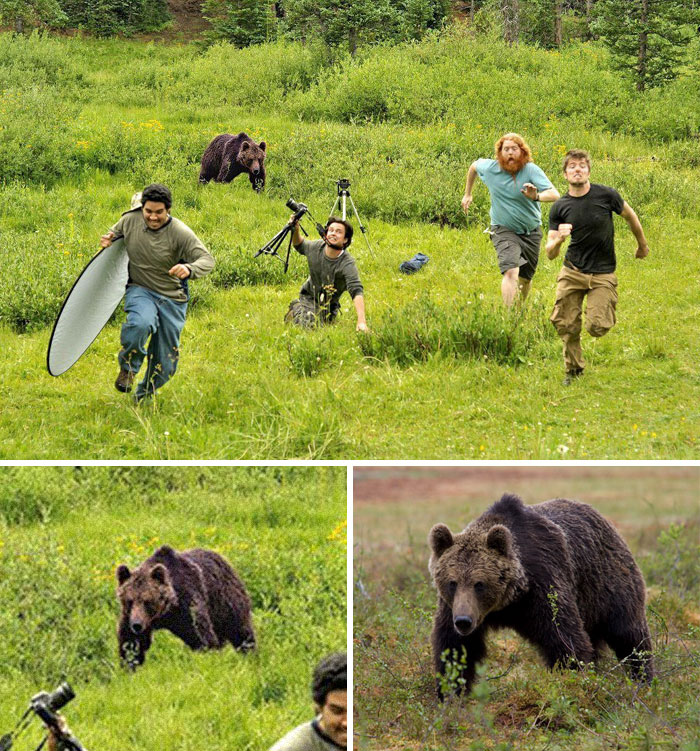 This photo shows a bear chasing a group of National Geographic photographers. But like the other photos in this list, this one is also not a real photograph. This bear is in a stock photo that can be easily found over the internet.
21. Giant Skeleton Found

The internet is filled with photoshopped images of archaeologists as well. You might have seen them finding huge skeletons that might belong to a race of giants. The photos that show these skeletons are completely fake.
22. An Island That Looks Like A Star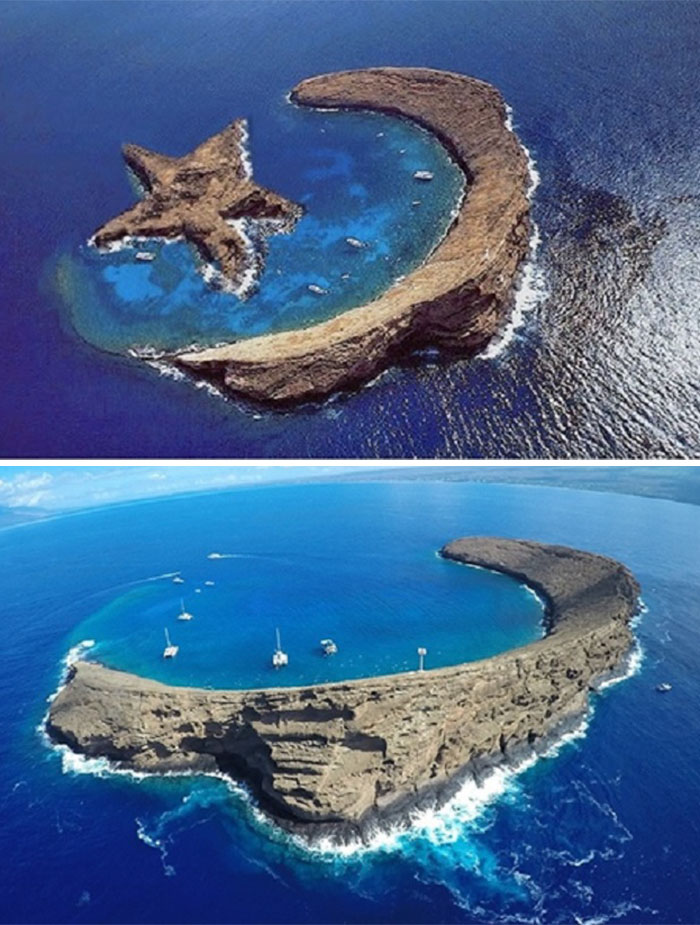 Such an island doesn't exist for real. We know that you are feeling bad for missing out such an excellent travelling opportunity. The moon-shaped island Molokini is located between the islands of Maui and Kahoolawein Hawaii.
23. A Cow Chilling On A Car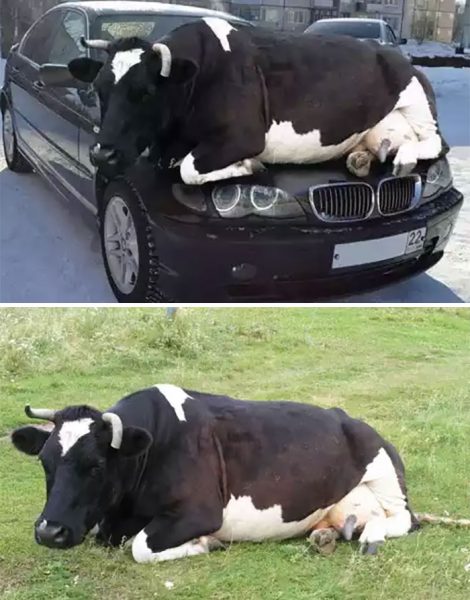 One fake viral photograph is this one. It shows the picture of a cow chilling on a BMW. But again, that is not the truth. It turns out, there is no car in this photo at all. The cow was also chilling on the grass. A photoshopping miscreant merged these two pictures to get a new one.
24. Photo Of India From Space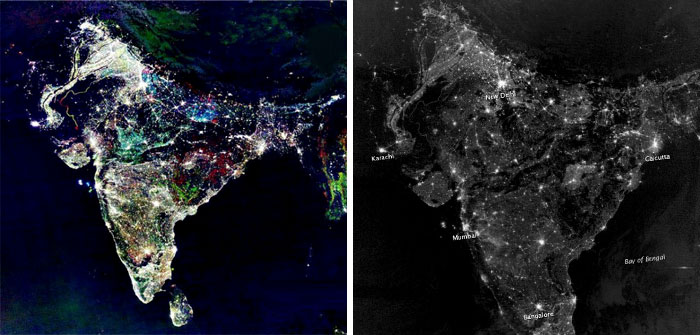 This is a magical photo of India which was taken from outer space during a Hindu festival, where you light up fireworks. It was supposed to be a composite picture of satellite images in shaded different colours. But thanks to Photoshop, it became something unbelievable.
25. Einstein Riding Away On A Bicycle As An A-Bomb Explodes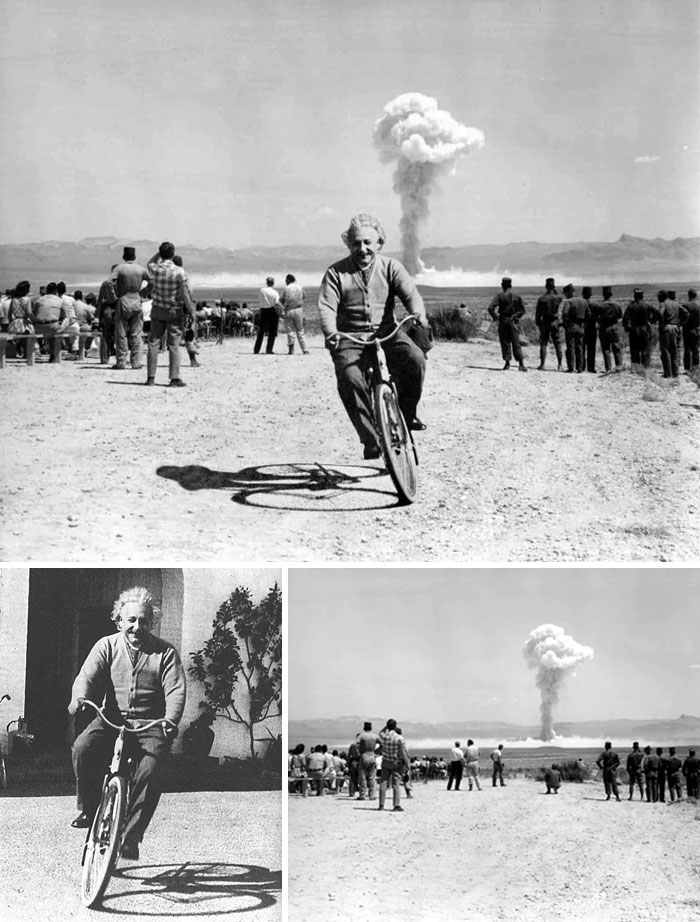 The photo of the explosion was taken 7 years after Einstein's death. So, Einstein's image was taken from another picture where Einstein is riding a bike. A cool guy mixed the two and the result was an awesome one.
26. Paris Hilton's Offensive T-Shirt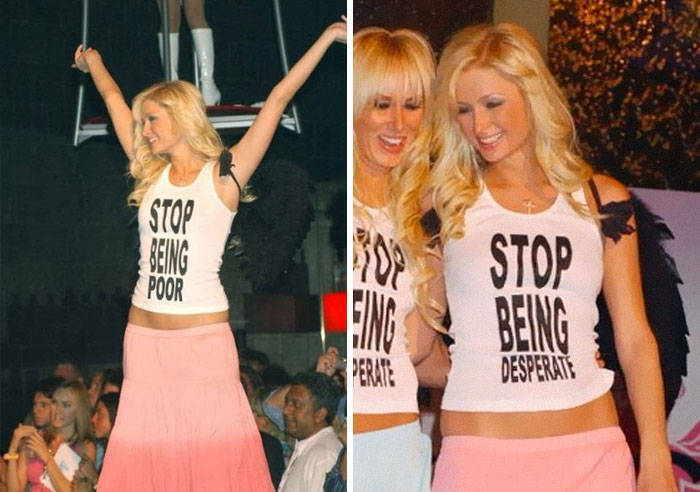 A-list celebrity Paris Hilton is mostly known for her rudeness. But she isn't a cruel person who does not like poor people. In reality, she is actually wearing a tee which says stop being desperate.
27. Turtle Mountain? Must Be The Hideout Of Teenage Mutant Ninja Turtles
It would be an amazing place to visit, but only if it existed for real."Turtle Mountain" in reality, is just the "Pilot Mountain" in North Carolina.
28. Romney Family Misspelling Their Last Name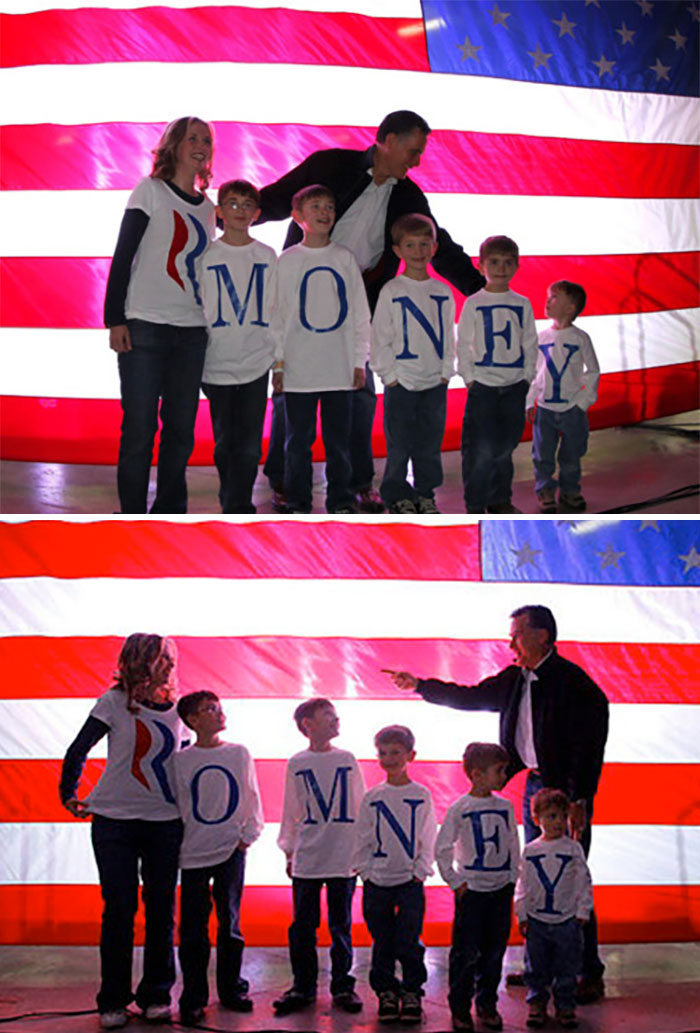 The US elections are always full of controversies and fake news. Back when Mitt Romney was running for president, people were trying their best to sabotage his campaign. Look at this picture. The one on the lower end is the real picture and the one on the top is the photoshopped one.
29. The Pooping Cheerleader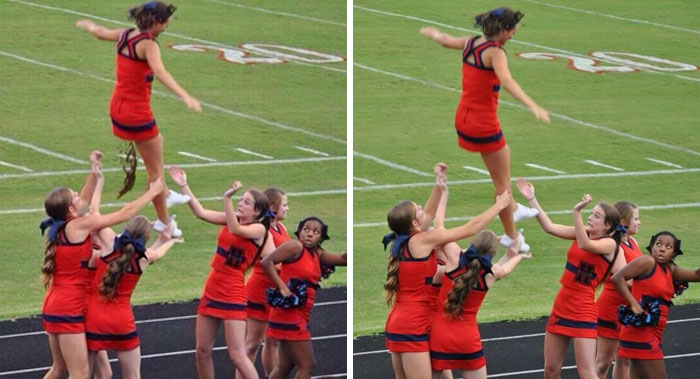 With these sort of things, you can really spoil somebody's life. Many people saw this picture and laughed on the cheerleader's poop leak. But there were some(who also believed that it was a real picture) and felt deeply sorry for the girl. Thank God, the truth is out and the girl's face has not been shown.
30. A Photo Of A Tourist Taken Moments Before The 9/11 Attack

The horrible 9/11 story is entangled in many conspiracy theories. Just surf the web and you will be confused with what's fake and what's real. If you look at the picture, it will seem as the photo was taken just a moment before the tragedy happened. But in reality, the man in the photo did not witness the tragedy. He may be somewhere out there, alive, healthy and safe.