Humans have made such inventions that help it to rule this planet. Although most of them work for the betterment of mankind, there are some that need a bit of tuning. Not only that some of the inventions are outright awkward, making you think that why were they invented in the first place. So hold tightly to you seats and get ready for a show that will certainly make you roll on the floor laughing.
1. Nude Heels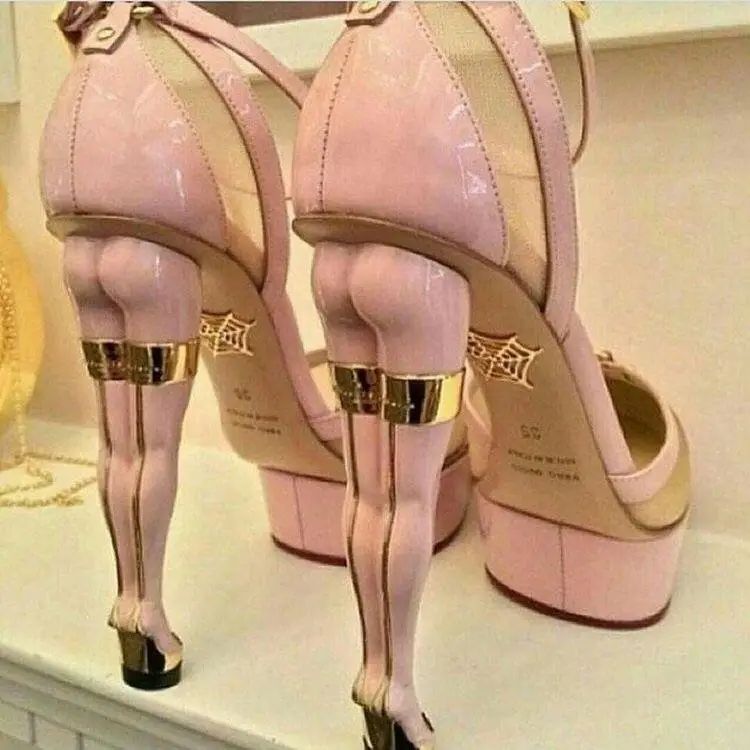 Money brings in a lot of sass and class. But there is no guarantee that it might bring in sense and rationality as well. Who would wear this pair of crappy heels? If you ask me, I shall never recommend this footwear to anybody I know.
2. Noodle Protector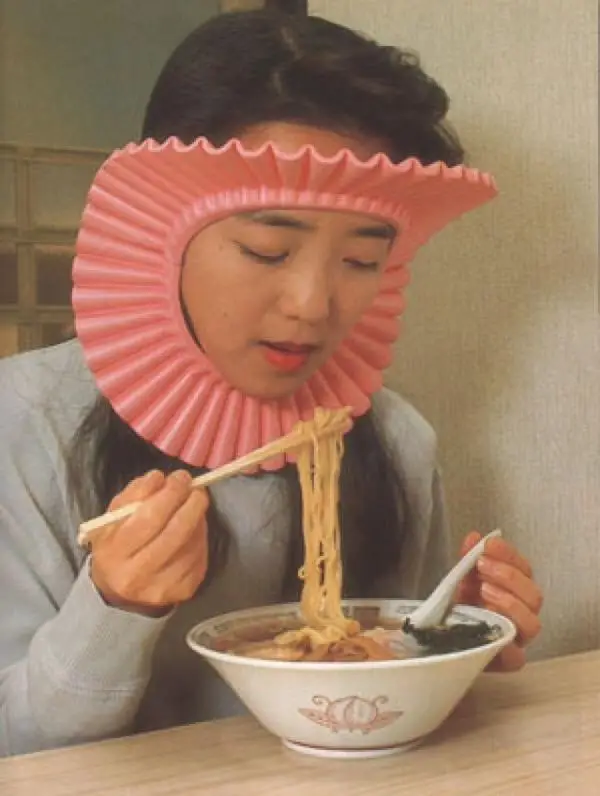 If you have faced the problem of your hair getting in the way of your noodles. Just purchase this noodle protector and you are ready to have a delightful Asian meal.
3. Angry Socks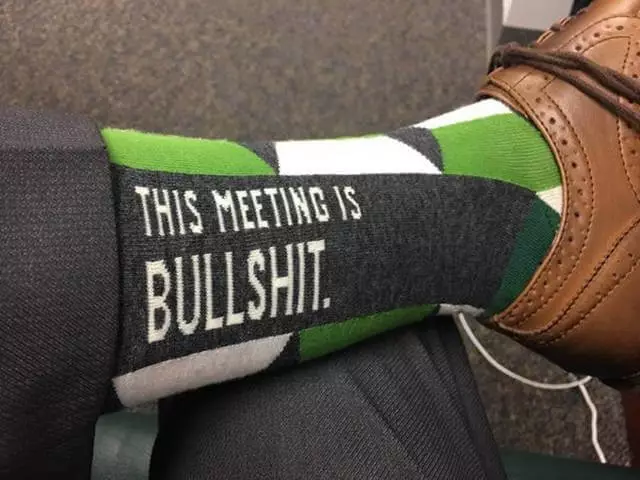 If you want to show others that you are in an angry mood, then you do not need to have something so obvious that strikes the eye. You can also wear some socks that show others that you are pissed off.
4. Baby Mop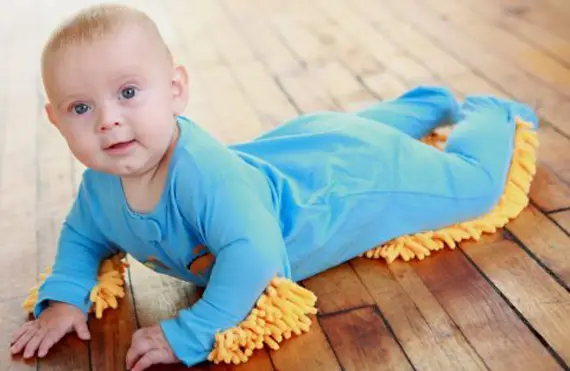 Feeling lazy and want to push over the responsibility of wiping the floor on somebody else? Why not put your own baby to work? This dress consists of arm-length and knee-length patches of mop. As your baby crawls on the floor, he/she will be cleaning it as well without realizing it. However, there is a risk that you could be booked under the child labor act.
5. Vampire Repellant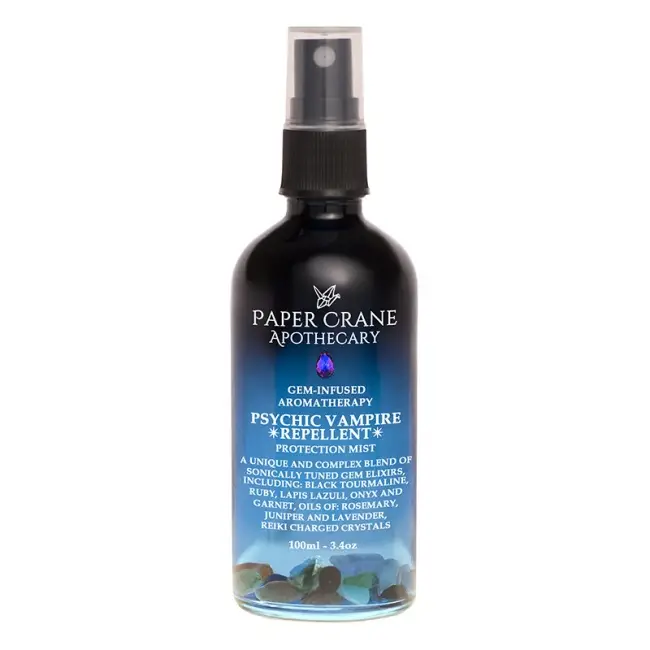 If you want to keep those blood-suckers out of the house, then you need to just invest $22. And, you know what? This repellant also smells great.
6. Stroller Scooter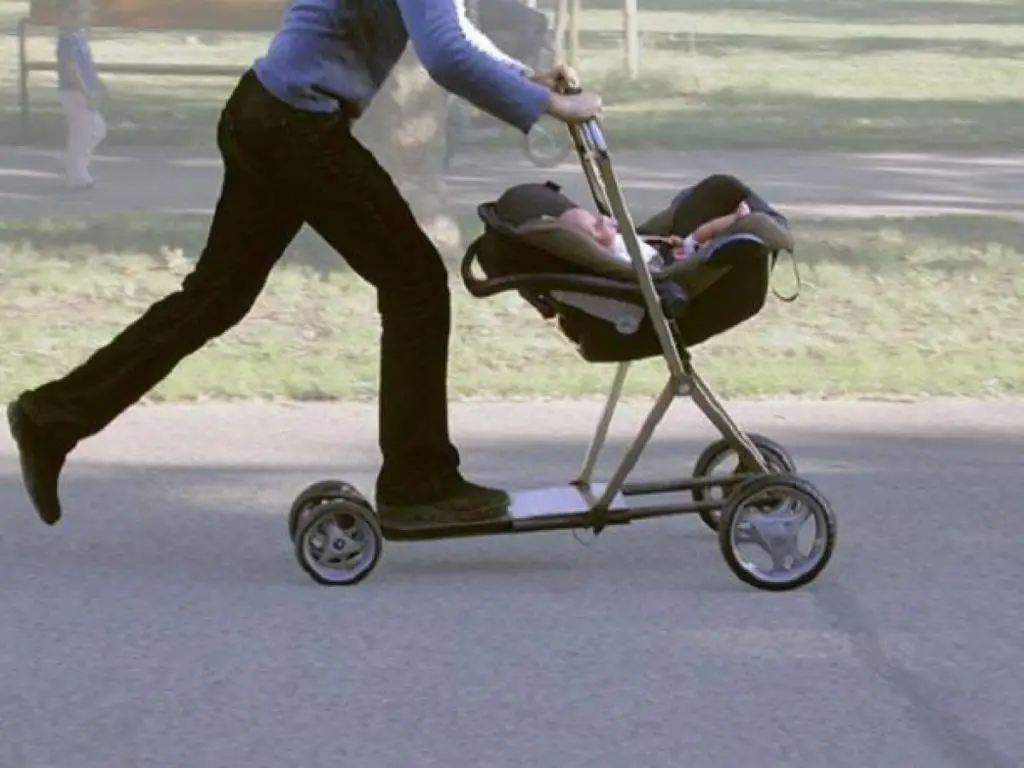 If you want to stroll your baby in a jiffy, then this is the perfect gadget. It also trains a father(or a mother) to have some fun with their kids while taking care of them.
7. Selfie Spoon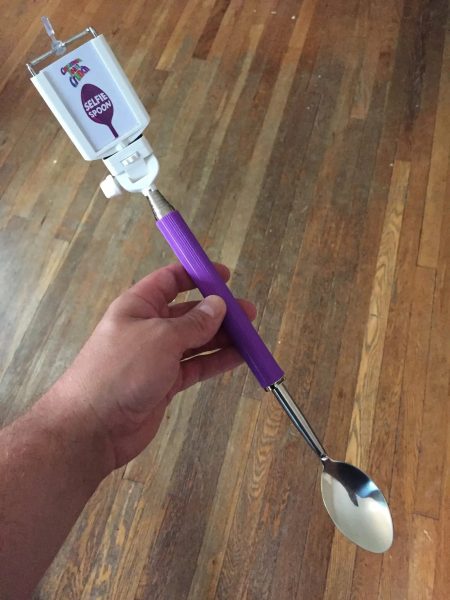 This one is for babies. After all, the influencer of tomorrow has to start right in the cradle itself. But you do need some practice. All you need to do is buy one for the kid. It is manufactured by Cinnamon Toast Crunch.
8. Toilet Paper Dispenser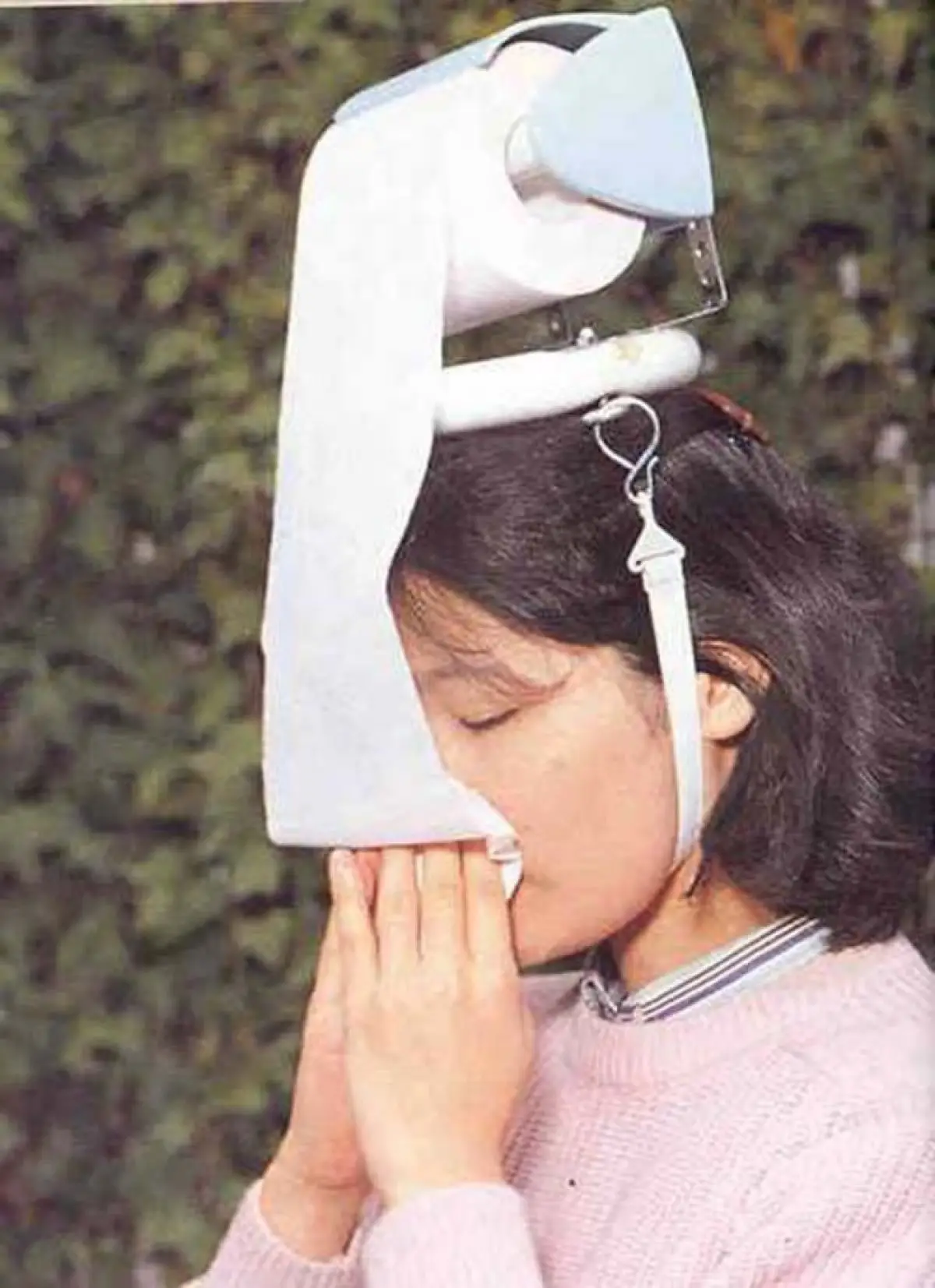 Now you do not need to hunt for toilet paper if you have an immediate nature's call. All you have to do is reach the toilet paper dispenser on your head and you will have a sparkly bottom, we promise that.
9. Full Body Umbrella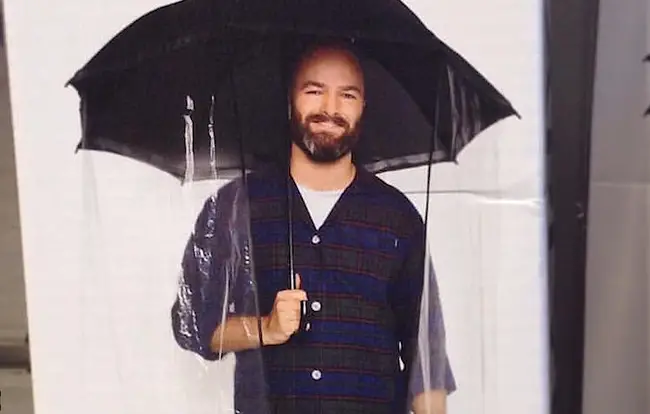 Normal Umbrella protects you from the rain, but they cannot save you from the windy sprinkling. So whenever the rain falls sideways, then you can pull down the curtain and protect yourself.
10. Unicorn Meat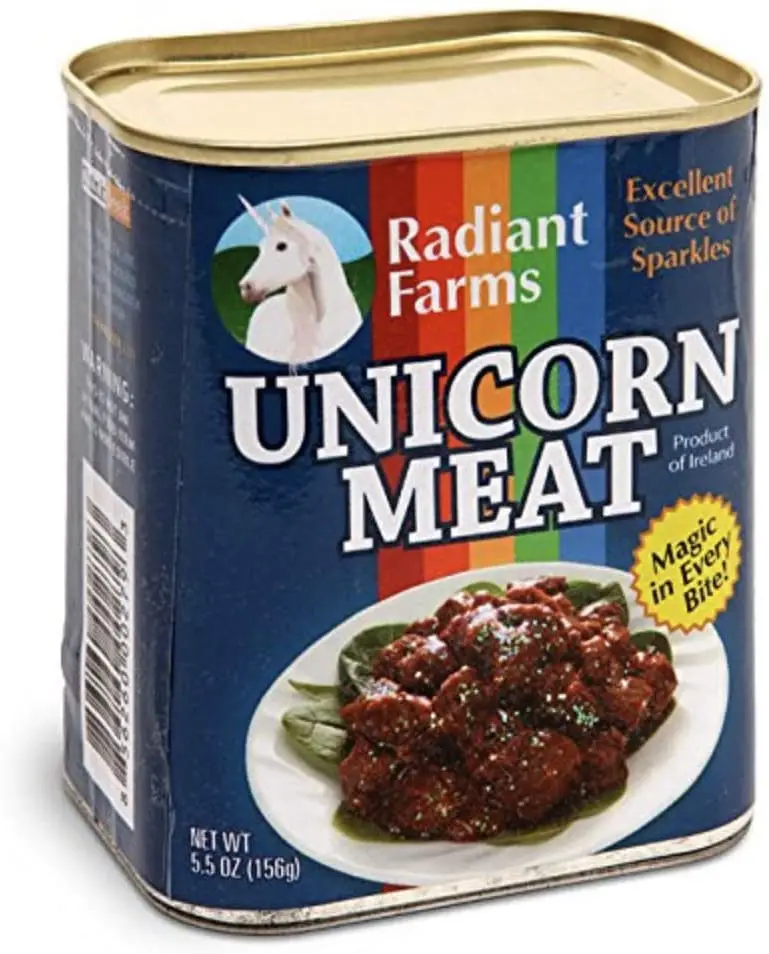 Found on Amazon.com, this is regular canned meat with soda pop sparkles. According to the manufacturers, there is magic in every bite. But it is you who has to decide what kind of magic it is.
11. Telescope Glasses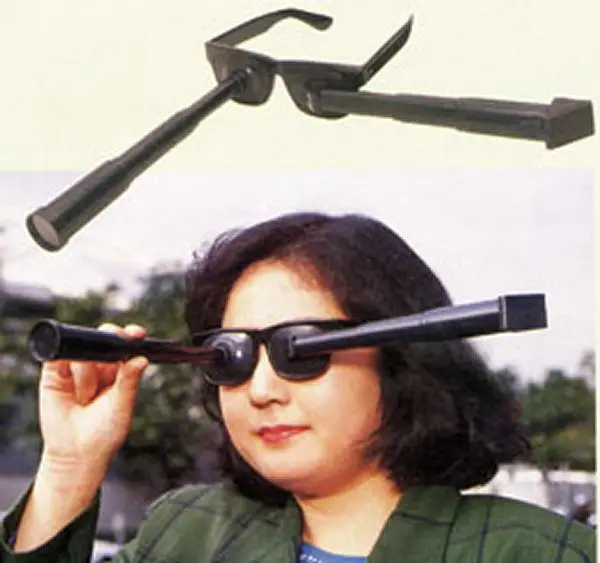 Little telescopes that are built right into the lenses, these glasses are extremely unique. Of course, they allow you to see things that are at a distance. But it looks extremely uncomfortable to wear.
12. Artsy Cabinet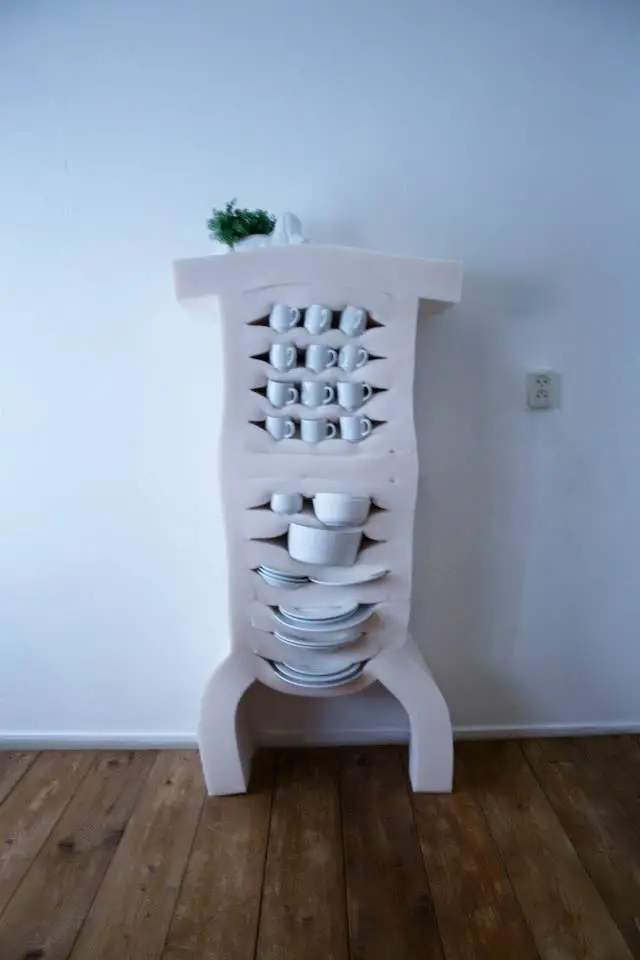 This cabinet was designed and manufactured by Studio Dewi van de Klomp. It looks like something you would see in a children's fantasy movie. Its appearance is extraordinary. Yet, somehow your cutlery and crockery manage to squeeze in these cracks.
13. Ab-Hancer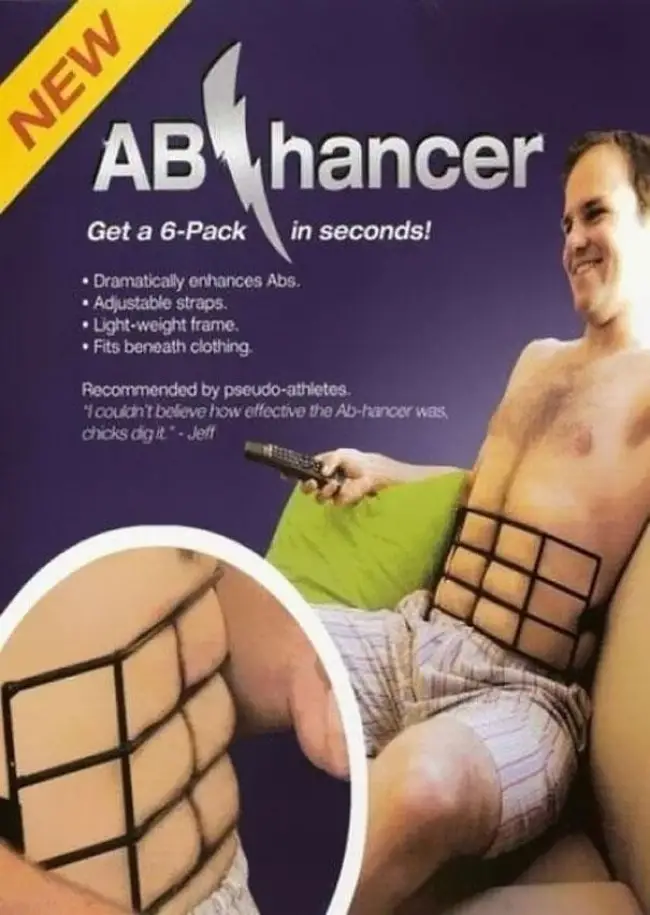 If you don't want to put in a lot of effort to get six-pack abs, then you can use the Ab-Hancer for an easy job. There is no way that anyone will be able to tell it is not the real deal.
14. Glowing Toilet Paper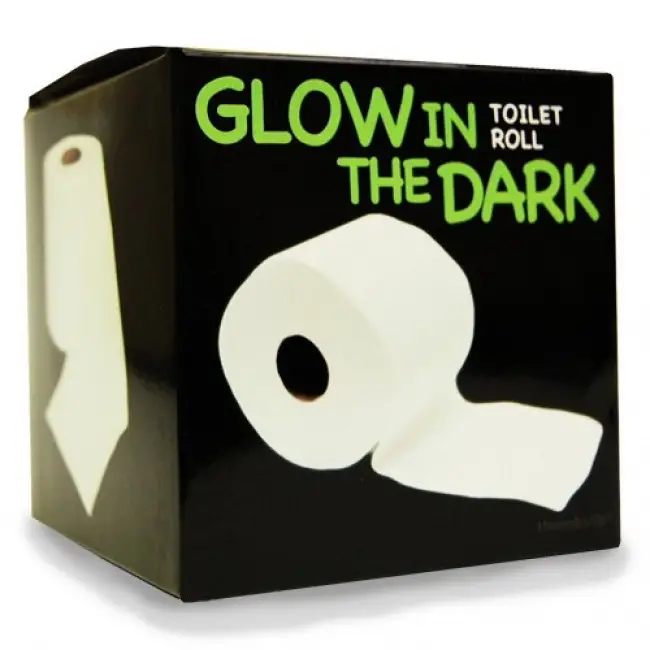 When you have glowing toilet paper, who the hell needs electricity? Just go to the bathroom at night without turning on the lights. But it is a bit expensive when compared to a normal roll of toilet paper. Of course, what else did you expect?
15. Makeup Guide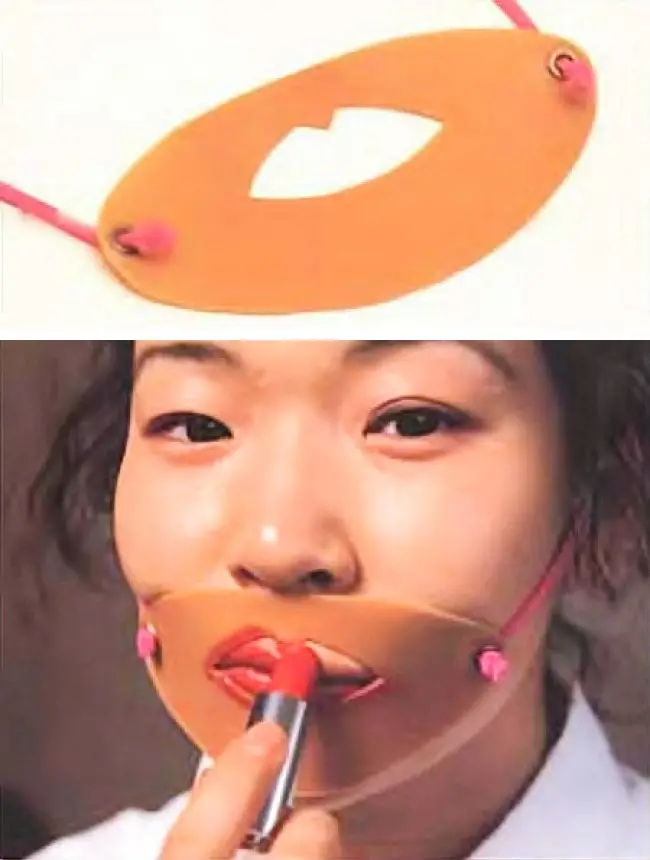 This makeup stencil gets your lips coated with lipstick perfectly, every single time. You don't even need to have a mirror to look at. It makes it so convenient and risk-free, you don't have to worry about your lipstick making a stray line across your face.
16. Human Body Fat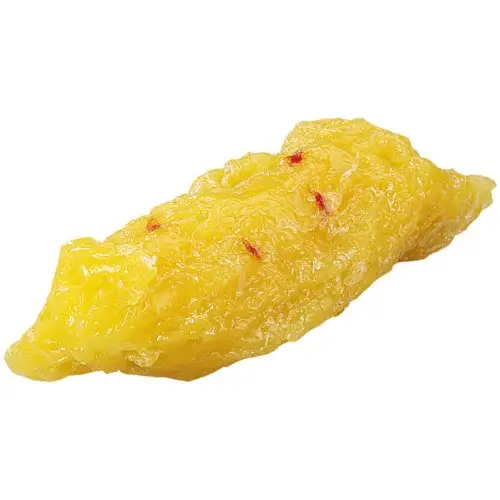 This is the weirdest product for sale that we have ever seen or heard. It's a five-pound replica of human body fat. How they made it is still a secret. You will be surprised to read that it has over one hundred positive reviews on Amazon.
17. Duck Bill Muzzle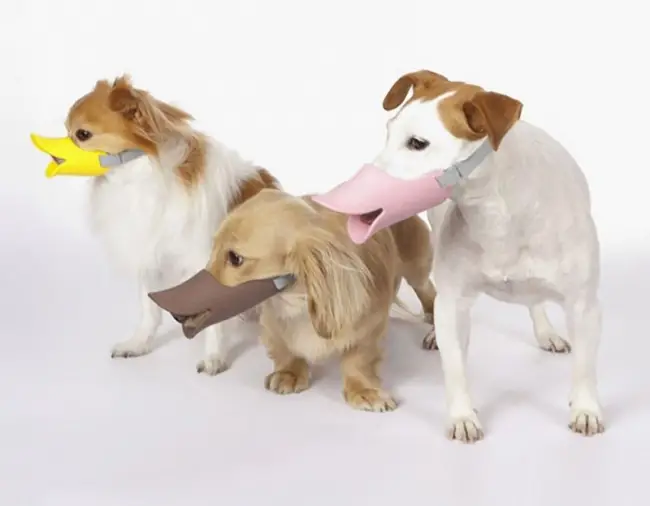 Dog muzzles can make your pet look extremely silly. These duck-bill dog muzzles will also make you roll on the floor laughing while it keeps your dog silent.
18. Basket Ball Glasses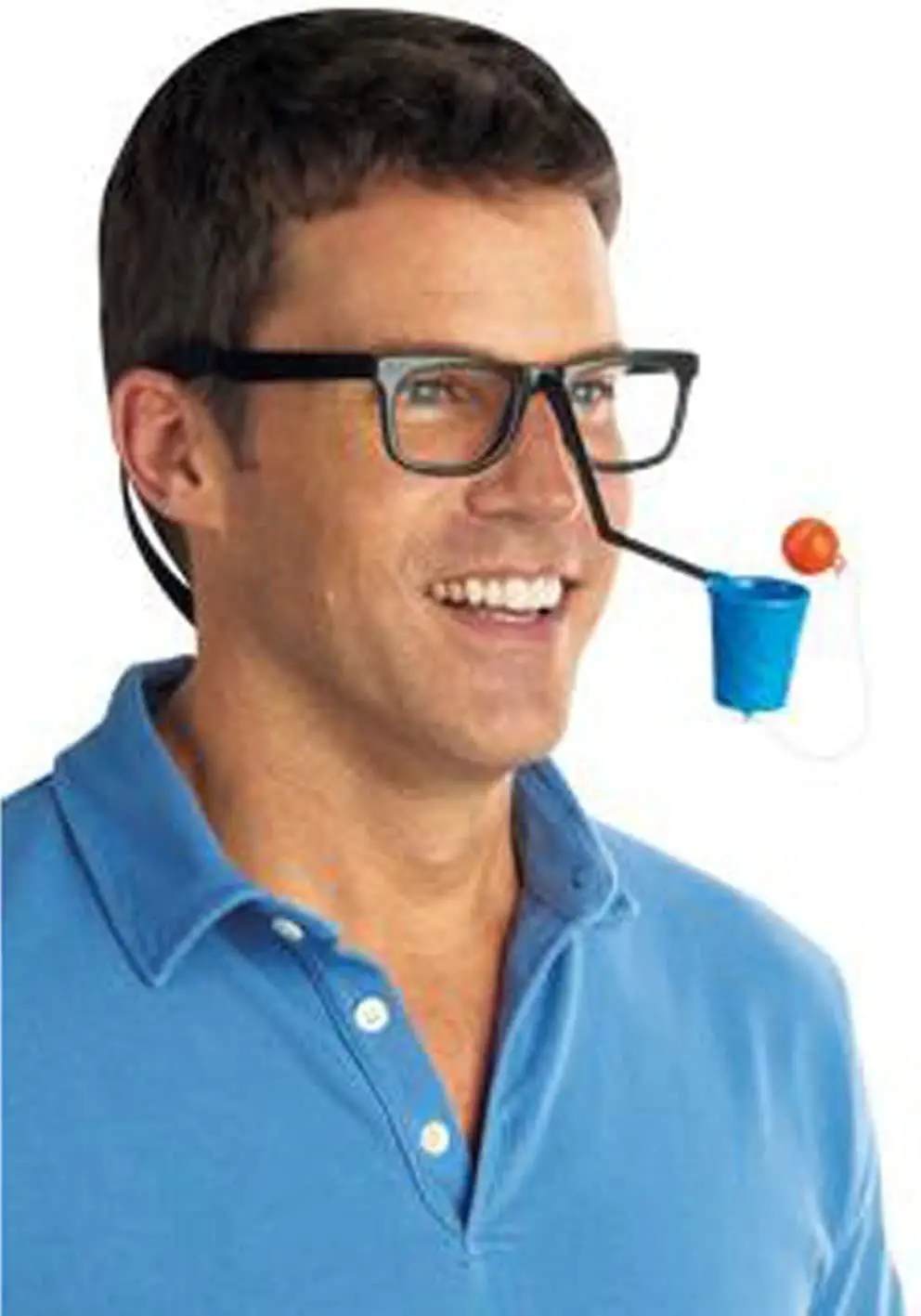 Both kids and adults love this toy. If you read this product's Amazon product description, then it goes something like "only sport you play on your face". So keep yourself busy while looking clearly.
19. Solar Panel Hat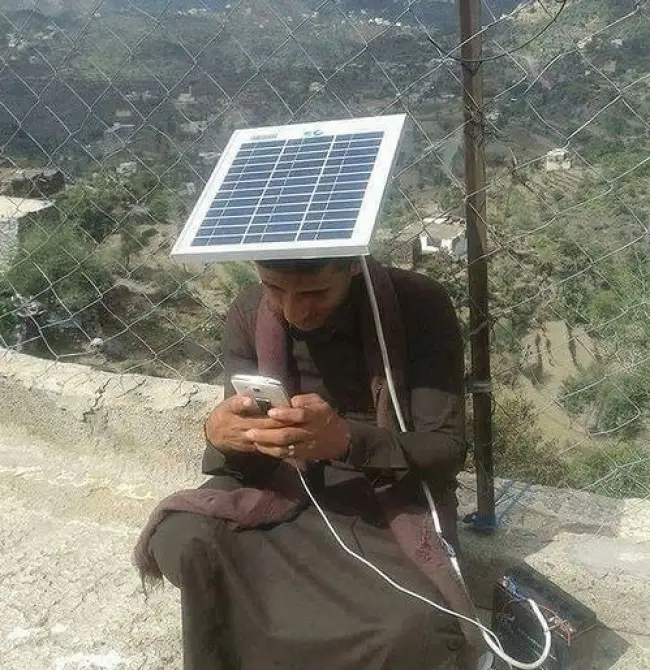 When you need to charge your phone on the go, then this is a handy tool. However, it does require a lot of solar energy to charge up and you also need a strong neck to support it. There is also a heavy battery bank that you need to carry along.
20. Bacon Balm
Who does not love bacon? There is this brand on Amazon that sells bacon-flavored lip balm. Are you serious? Yes, this product exists for real. All people that you kiss(or those who kiss you) can also enjoy the flavor as well.
21. Rain Collector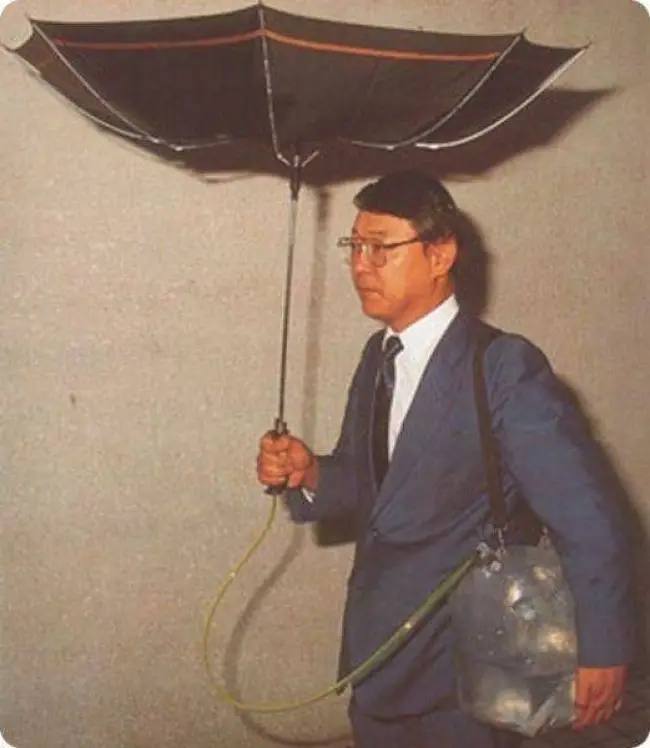 In this day and age, there is no reason to waste any kind of water. With this umbrella in tow, you can collect rainwater as you walk in the rain. You can even collect in a mini-reservoir.
22. Dad Bag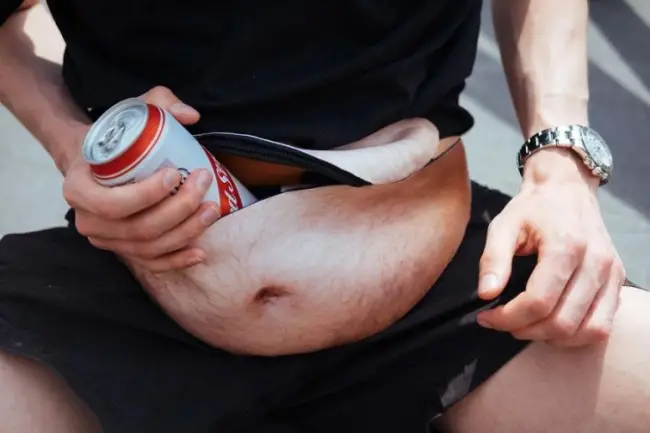 This is a fanny pack that resembles a beer belly. This product is called the Dad Bag. And you know, it's perfect for storing beer or any other thing you want. It's convenient and insulated.
23. Umbrella Shoes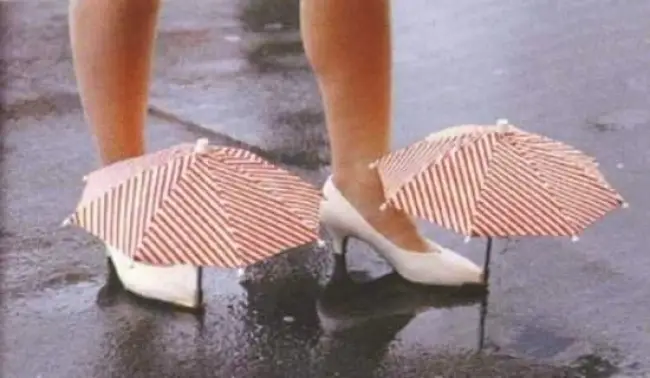 If it's raining outside, heels aren't the best choice of footwear. However, if you insist on wearing heels, then we have these little umbrella attachments. Like this woman in the picture, you don't have to worry about your stilettos getting wet.
24. Runny Nose Soap Dispenser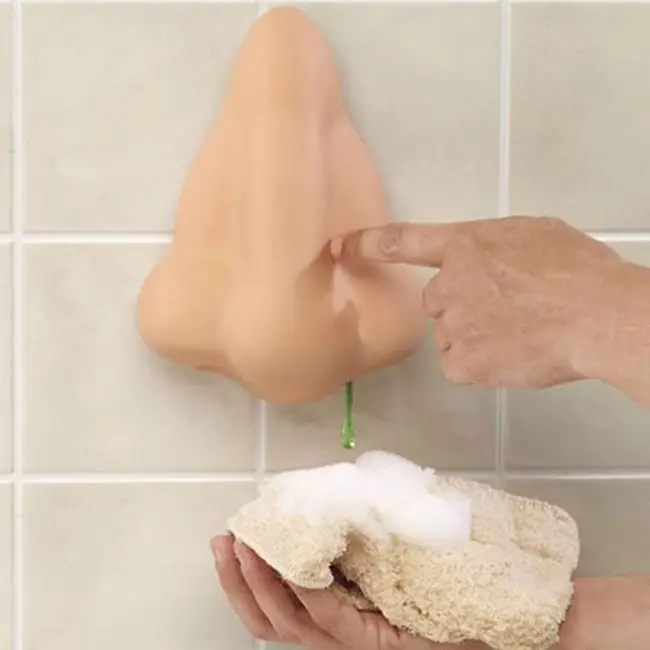 It can be installed anywhere, be it the loo or the shower. You can fill it up with whatever type of shampoo or liquid soap that you like. When you press on one side of the nose, it looks like the nose is dispensing out the mucous. It's an excellent idea for a funny gift.
25. Plane And Car Combo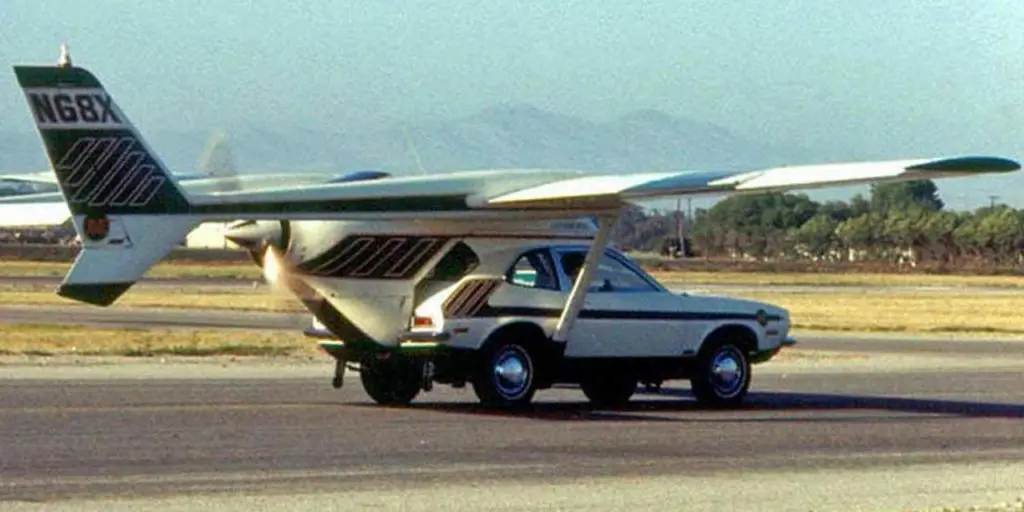 Do you want both, a plane and a car? We presume that you are a James Bond fan, who loves making a getaway or entry in one of these. But we are not sure how well it works, so happy driving or flying or crashing.
26. Muscle Leggings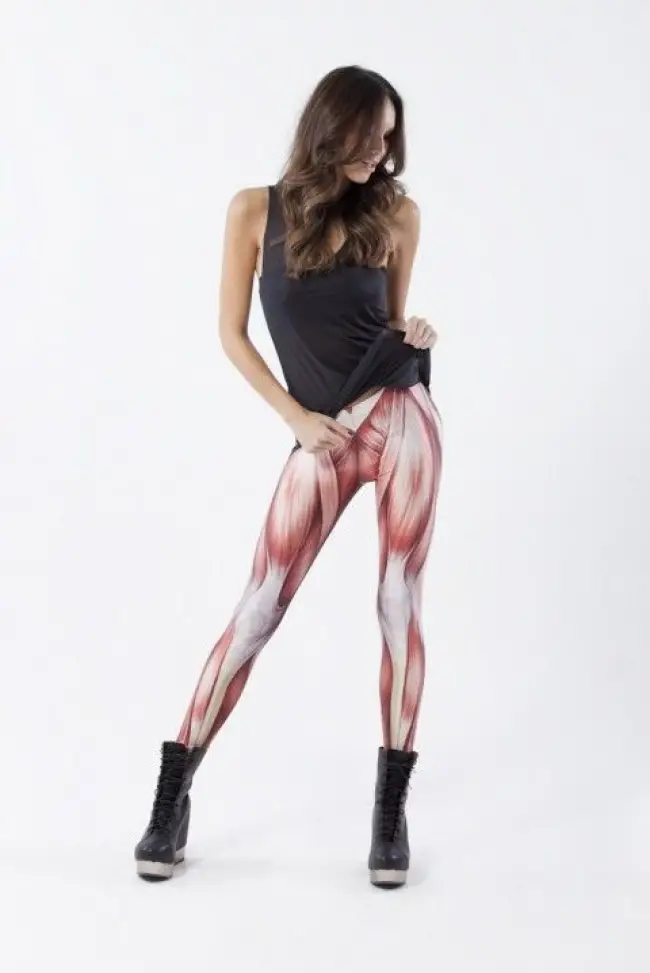 You have seen the movie, Hollow Man? If we tell you that there is nothing more stylish than these Roseate leggings, would you believe us? Imagine wearing a costume that looks like real human muscles. Wear them on Halloween and enjoy the surprised and scared look on everybody's faces.
27. Cat Transporter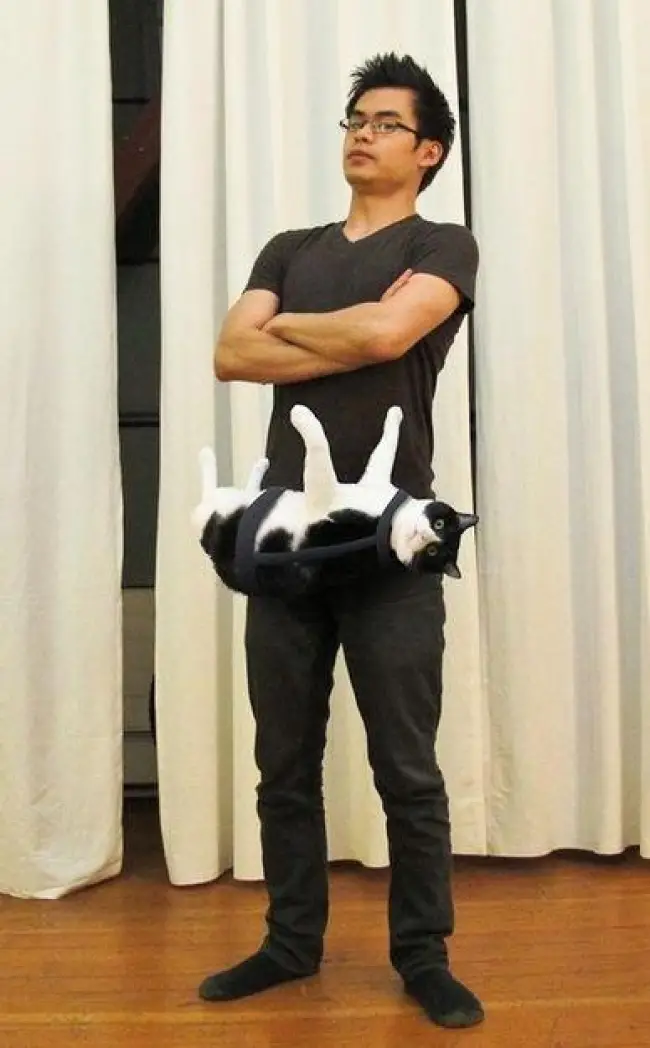 We presume that you need no explanation for this product. The photograph is self-explanatory. It's a cat carrier which you can wear around your waist with the help of a belt- like-harness. You will never need to leave your cat at home alone.
28. Dried Tarantula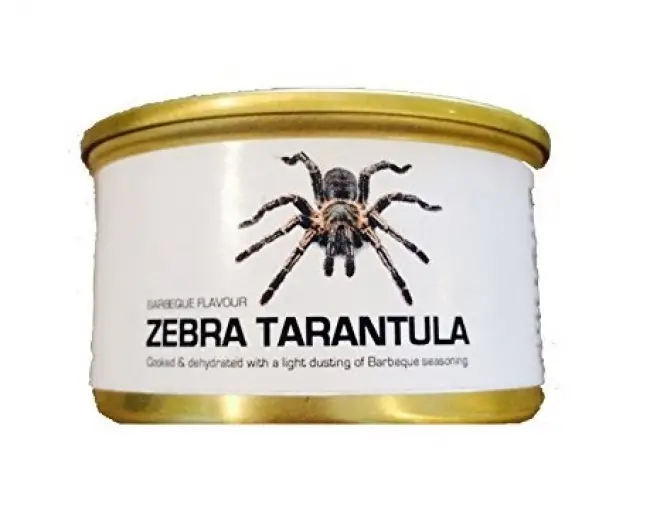 If you like eating insects, especially spiders, then this is the right product for you. This is a  dehydrated zebra tarantula, which is not toxic and is both edible and delicious at the same time. It also has a bit of alcoholic-kick to it.
29. Bike Lawnmower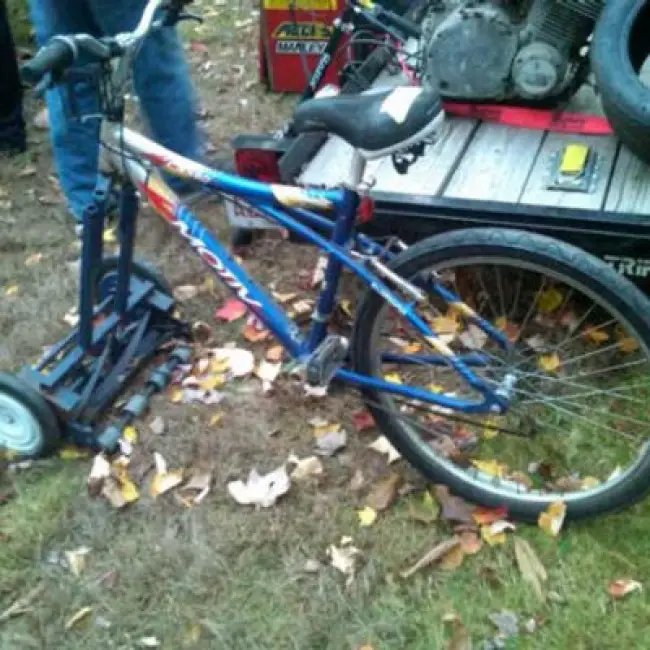 When you attach an old-fashioned lawnmower to the front of a bike, then you get a fuel-free grass cutting device. If you are wondering that it's functional or not, then let us tell you that this gadget actually works. Now you can keep your grass short while burning some calories, both at the same time.
30. Ear Hat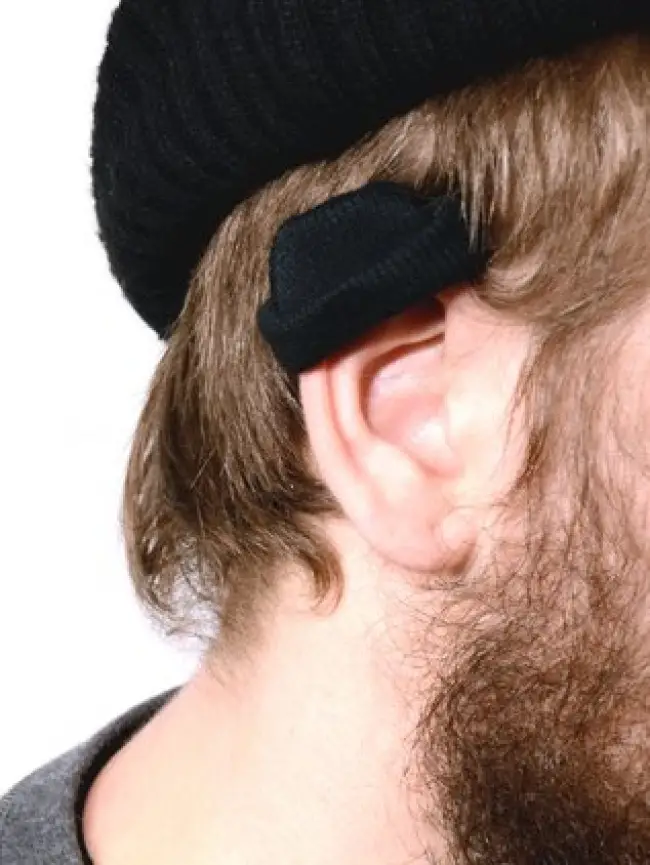 If you wear hats that leave your ears exposed, then that's where the ear hat comes in to save your day. It will keep the top of your ears nice, warm and snuggly. Wish they had something to cover the whole ear at once.
31. Water Bike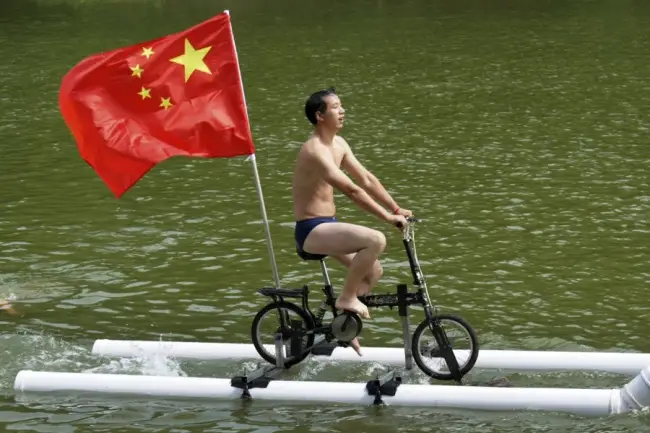 Would you classify this as a bike or a boat? However, it is functional. You can pedal your way across the river. You can keep on top of the water surface with the help a couple of floating PVC pipes.
32. Hand Puppets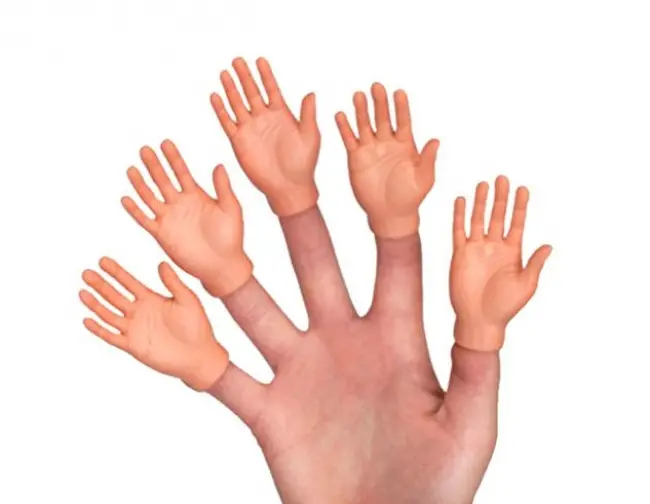 There is this shop on amazon that sells hand-shaped finger puppets. You can now look like Dr. Strange. But if you think that they are great for multi-tasking, then you are mistaken. And you thought you could instantly turn one normal human hand into five tiny ones. Wake up!
33. Tooth Covers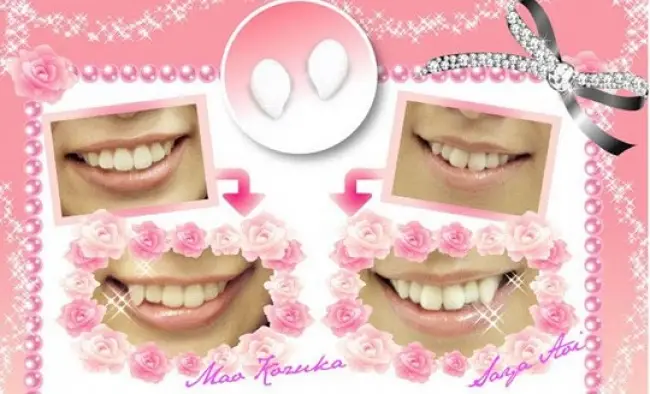 If you want to cover up a bad tooth, then don't bother going to the dentist. All you need to do is get one of these white tooth covers and you are done. They are a cheap and most effective way of getting a perfect smile. The company even offers a vampire set.
34. LED Eyelashes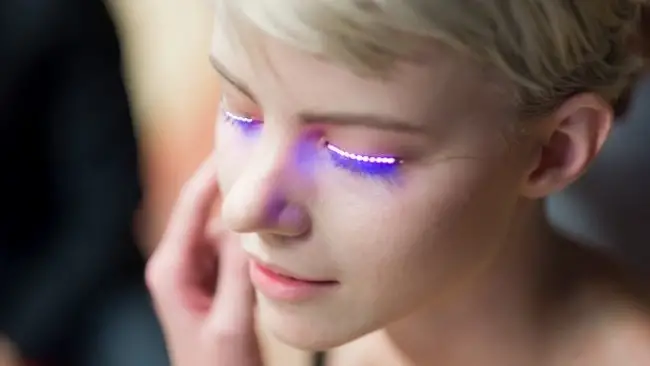 If you want to sport futuristic fashion, then you will certainly love these light-up eyelash covers. They look perfect for a trendy event. You will attract attention wherever you go.
35. Ankle Shoe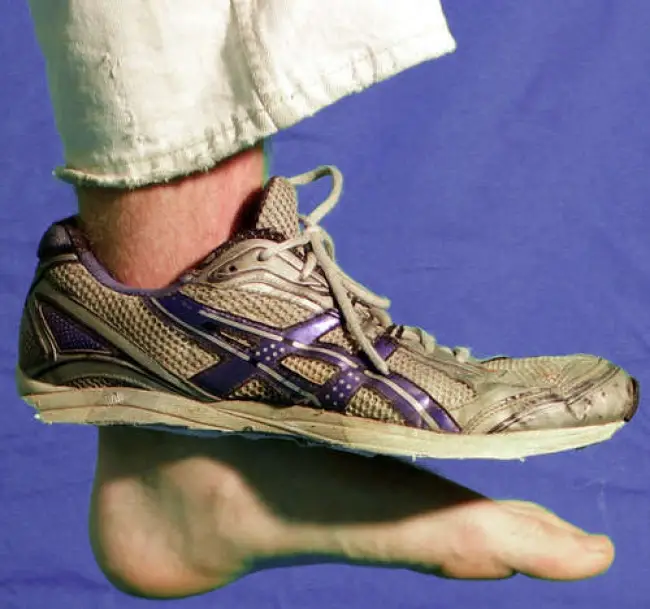 If you wish to go barefoot in public but you have to comply with social rules, then you need these shoes. It is a show that has got no sole but allows you to fulfil the wishes of your soul.
36. Electric Facial Mask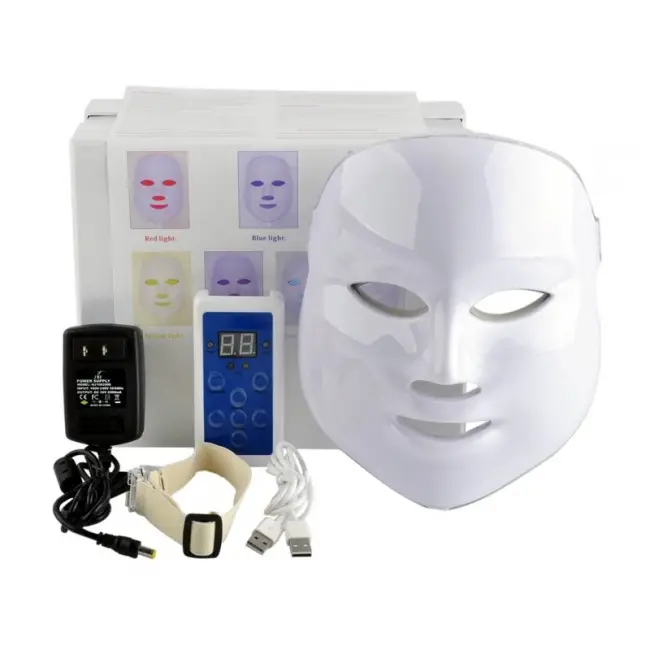 As this product claims, this LED facial mask will prevent you from having acne. But if you think that electrocuting your face will lead you to have better skin, then ask an expert. We certainly do not know how this product is supposed to work.
37. Snow Shoes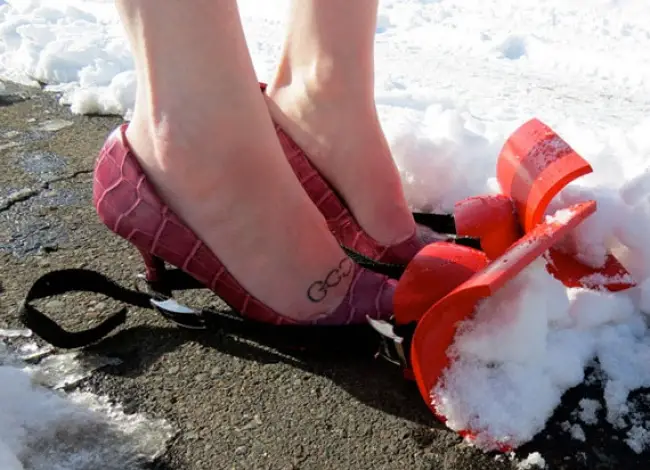 We have already seen heels with umbrellas on. But how outrageous do heels with snow plows seem? If you have snow around and you want to wear heels, go ahead. You can also plow the sidewalk or driveway as you are walking.
38. Jaw Trainer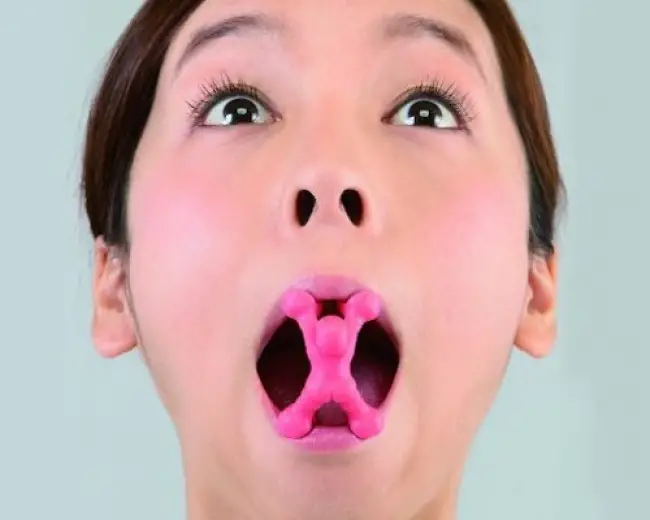 Japan has always created some of the most bizarre products in this world. This little mouth exerciser is from one of those weird gizmos. With this device, you can pop it between your train your jaw and other facial muscles, so that you can crack open a diamond.
39. Coffee Lid Face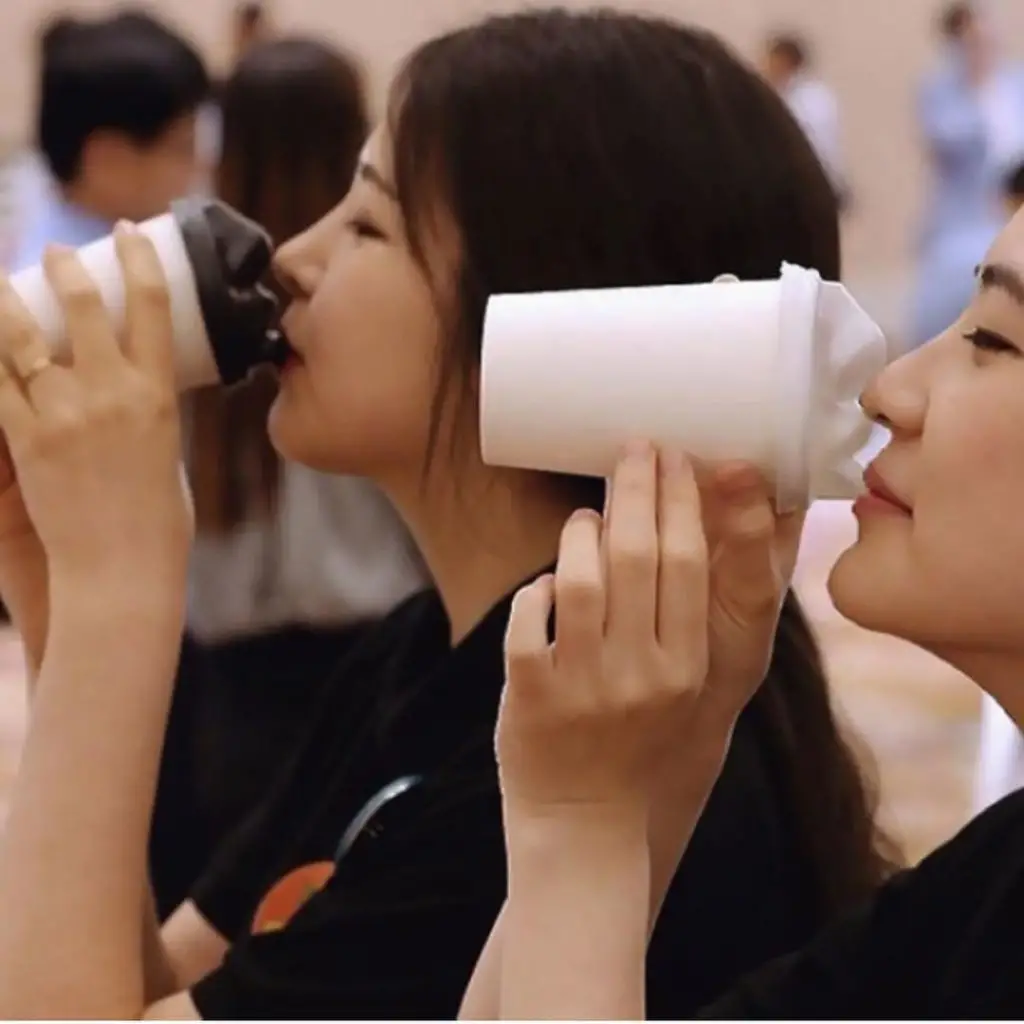 With these lids on your coffee mugs, you can practice some french kissing while sipping your espresso. Sure, it might look a little weird, but think of it this way – making out with a coffee cup sounds so sexy.
40. Nose Shaper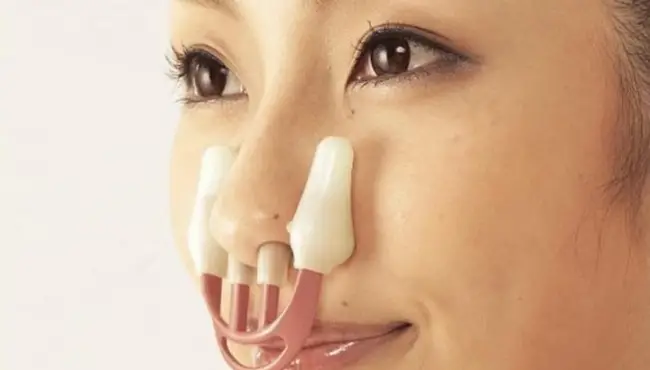 This device claims to be designed for enhancing your nose shape. Now you can skip those costly nose jobs and forgo the risk of rhinoplasty. These nose-jobs are extremely dangerous and not required at all. Just use this device because it seems to be a simple and safe way to have the perfect nose.