When a cat wants to sleep, you can't stop a cat from sleeping. In fact, if you are an expert on animals, then you ought to know that cats can sleep more than 16 hours a day. And we aren't kidding. Every cat owner in this world knows that their cute balls of fur can actually find any comfortable spot. A cat has a peculiar habit, if it can fit in a place, they will definitely sleep in that particular spot. It will own that place and not budge from it.
But what's hilarious is that they will pick the funniest and weirdest of places. Here's one more interesting fact – they try all types of different positions and places. If you are finding all this difficult to believe, then here are 40 of the funniest and weirdest places cats choose for their siesta. Lay back and enjoy –
1) The whole world is upside down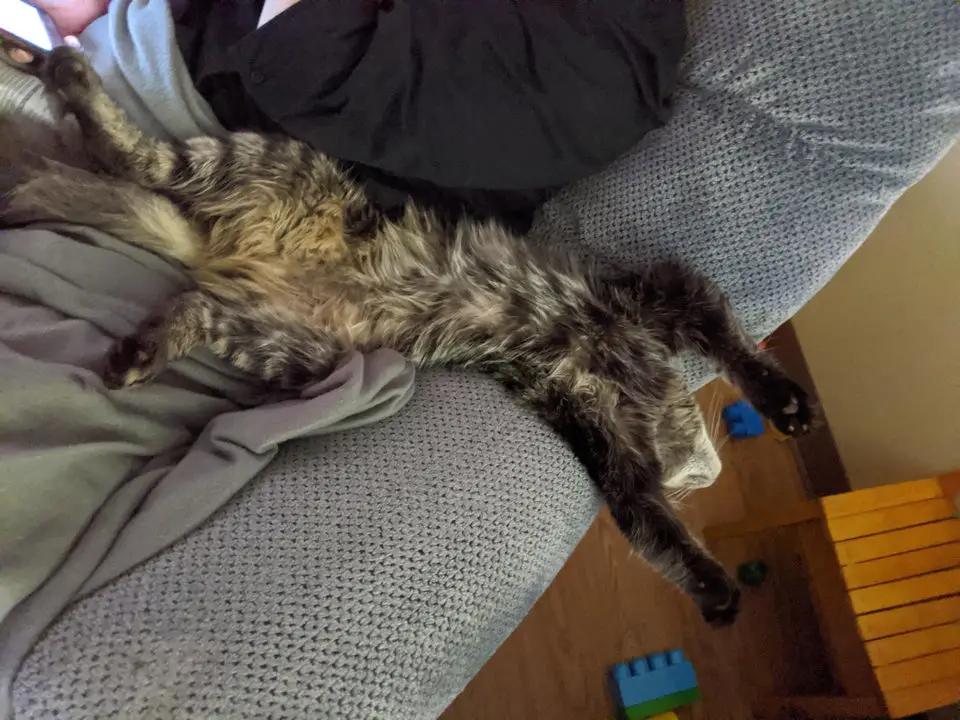 If you are sleeping with your head in this position then it doesn't look comfortable at all. But wait, this cat is a bit different than others. Have a look. How soundly asleep he is! We sincerely hope he won't be dizzy when he wakes up. Good night, sleepy eyes!
2) If I can sit on it, then I can sleep on it as well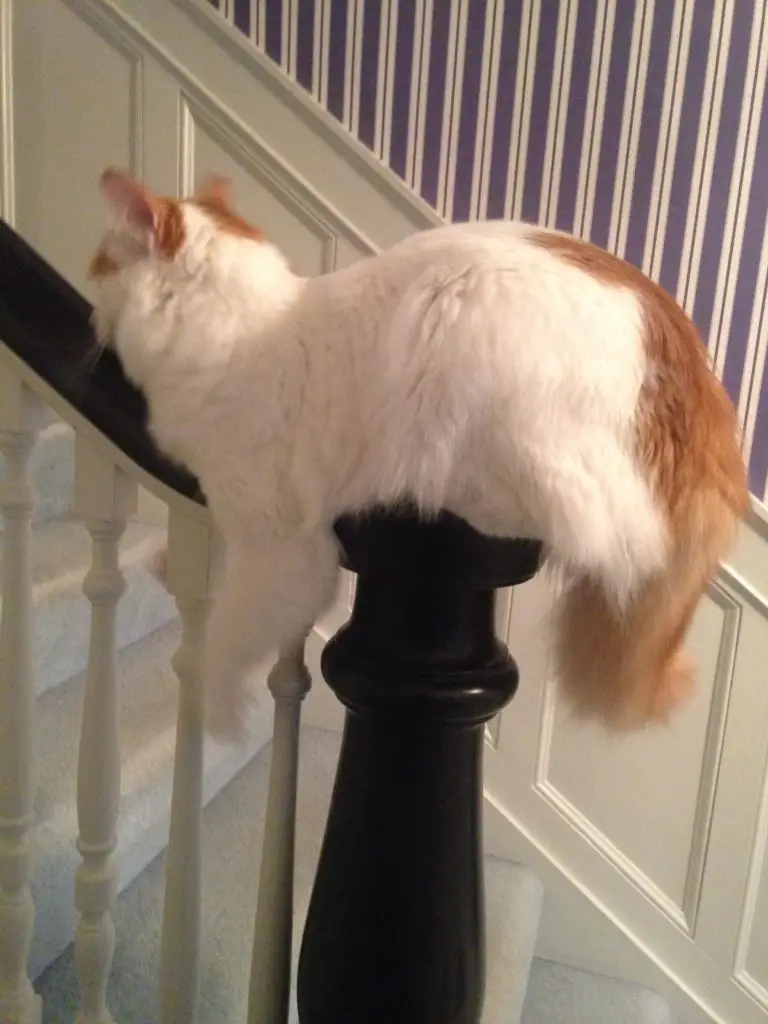 This cat loves to climb things. It must have been feeling bored and wanted to try out something new. So it tried a whole new sleeping position. But she chose the unlikeliest of places. But looking at the cat snoring, it seems that this spot is working for it!
3) I want to hug you!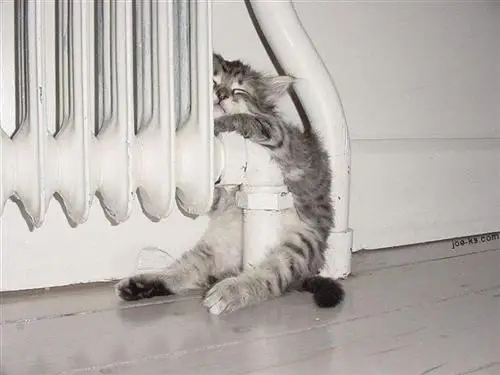 This awesome little cutie pie is so adorable! Just look at how awfully tired he is! He fell asleep near the thermostat, but it's surprising, he's actually comfy in that awkward spot. Now we feel assured that in some instances, you will find the best comfort in the most unlikely places around the house.
4) I am waiting to get completely dry on this clothesline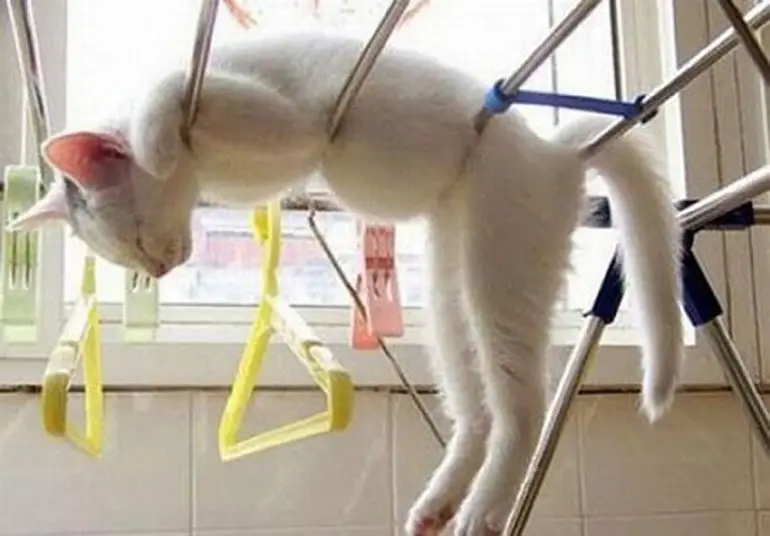 We are neither aware nor are we sure if this kitty had on its mind. Why did it choose the clothesline to sleep? It picked up the spot so it can dry? Or it just happens that the cat appreciates the pressure points that it is getting when it is sleeping in this position. It looks uncomfortable to us but, he's sound asleep.
5) Amazing bending skills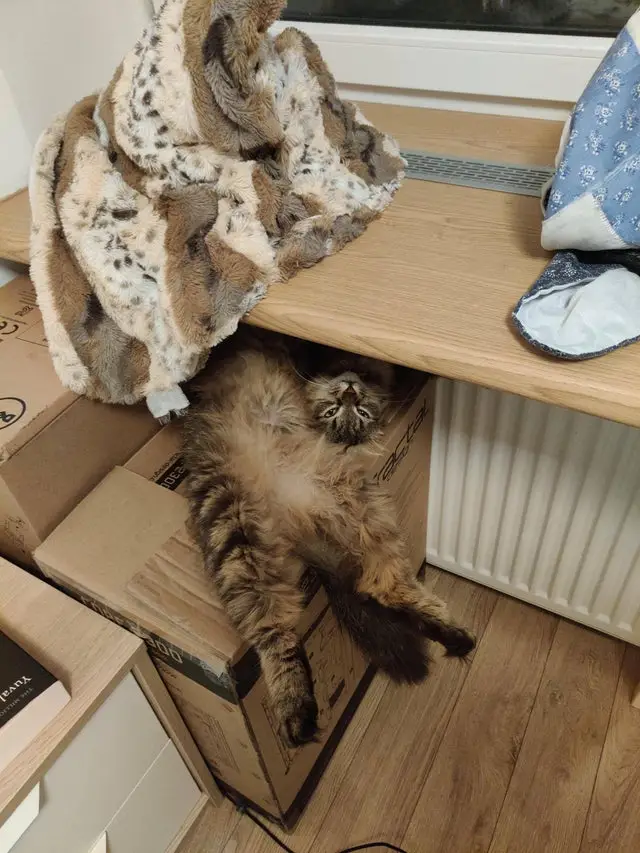 Flexibility is everything. This cat here in this picture loves his special flexibility skills. Even we got confused because for a second there it looked like there were two different cats! And yes, don't try bothering him out of his sleep, because he can still see you from this position.
6) Yeah, it works for her!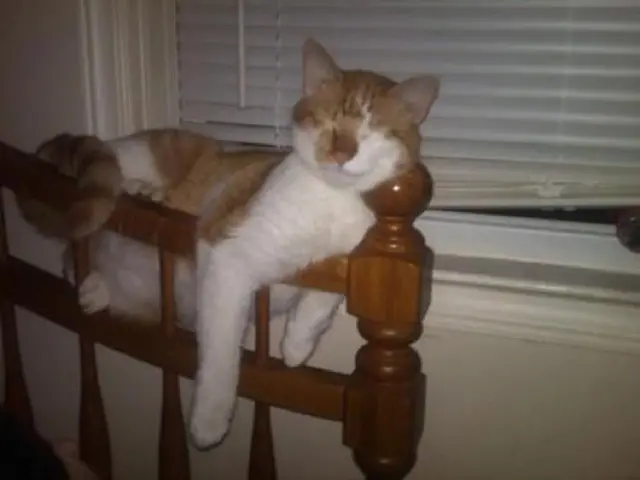 We are not sure if it's a happy cat, but this feline definitely looks that he's loving to take a nap in this position. Like he's super comfortable on the bedstead in this jaw-aching position. Just look at his hind feet, he is still maintaining a good grip so that he won't fall down from the bed.
7) Sleeping on the bulky monitor
Now, this is the limit! I have started believing that cats can fall asleep just about anywhere. Those were the good and nostalgic old days where any cat would love to sleep like this. Instead of focusing on the slender keyboard or laptop, it has chosen the wide head of a desktop monitor. It's both warmer and bigger to lay down on. Look at how snugly this kitten is sleeping!
8) Relaxing position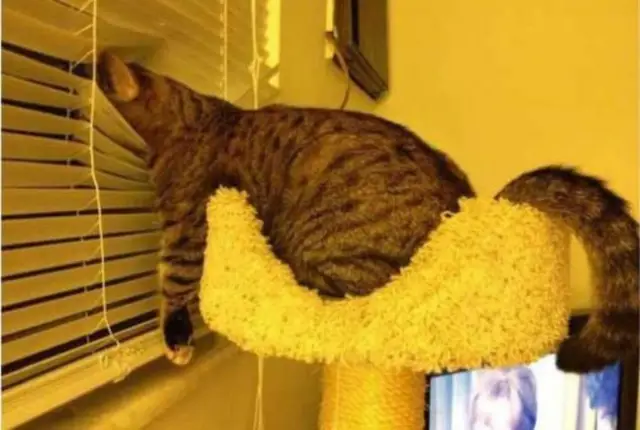 It happens all the time. When you are watching TV, you suddenly fall asleep? This is what happened to this cat also. It fell asleep while it was watching out of the window. This window blinds provide great support and he looks relaxed.
9) While playing in the slipper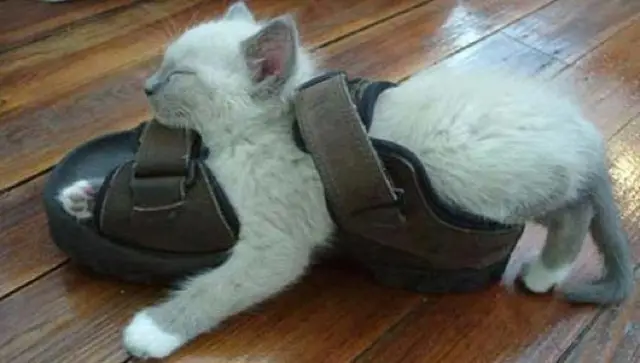 This adorable kitten slipped inside a slipper and was caught off guard. Little did this cute kitty know that he won't be able to win against a sweet slumber. It looks like he fell asleep in the midst of his play time.
10) This duo is not your typical of sleeping buddies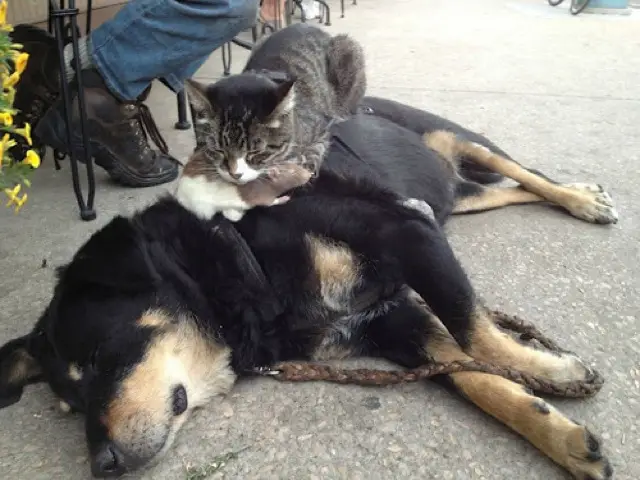 Okay, this looks like an impossible one. We are not at all sure what just happened in here, but it's so cute. A dog, a cat and a mouse, all snugly sleeping over each other. This is definitely one in a million moment. There are no chances of these three creatures getting together. It looks so cute!
11) Now this is getting a little bendy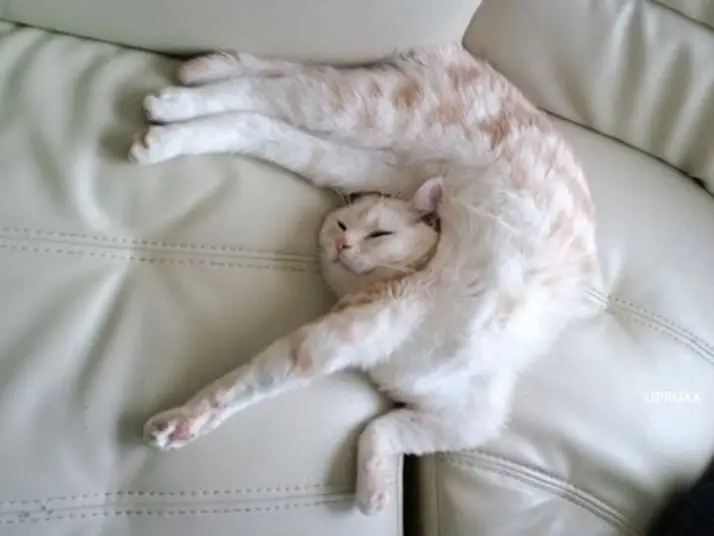 Does this cat have a spine? What spine are you talking about? This cat in the picture sure knows how to bend itself. Not only is it in impossible curvature and still it is managing to rest. We, ordinary humans, didn't even know that these cats could actually bend like this and actually go off to sleep!
12) This is the best among the rest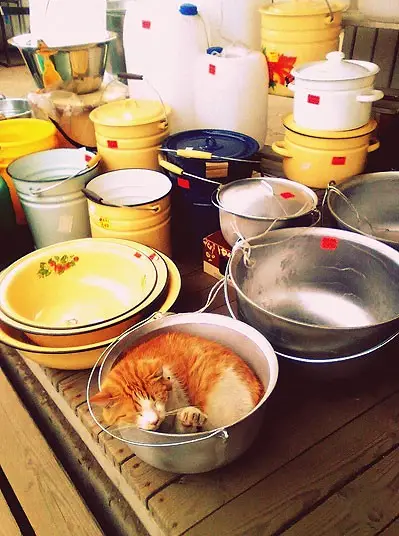 Of all the places where this cat could get lots of possible beds, this vessel is the one where it fits the best. For one, it's cooler and it's just the perfect size for this cute kitten. We can easily say that this spot is comfortable indeed!
13) Don't close the door while it takes a rest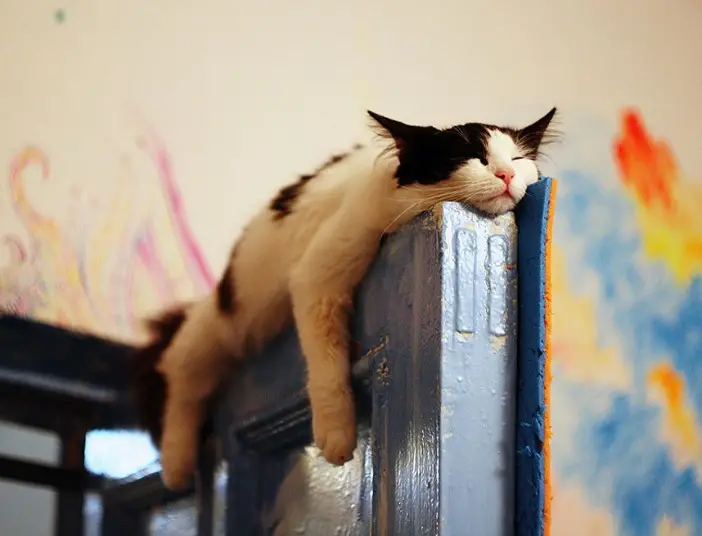 Dear cat owners, don't open your doors if you have a cat in the house. And if they sleep like this, then don't close your doors without checking it thoroughly first. Clearly, some cute cats love to sleep in this position as well. Maybe they don't like their beds and think that this door is a better option.
14) I am not drunk at all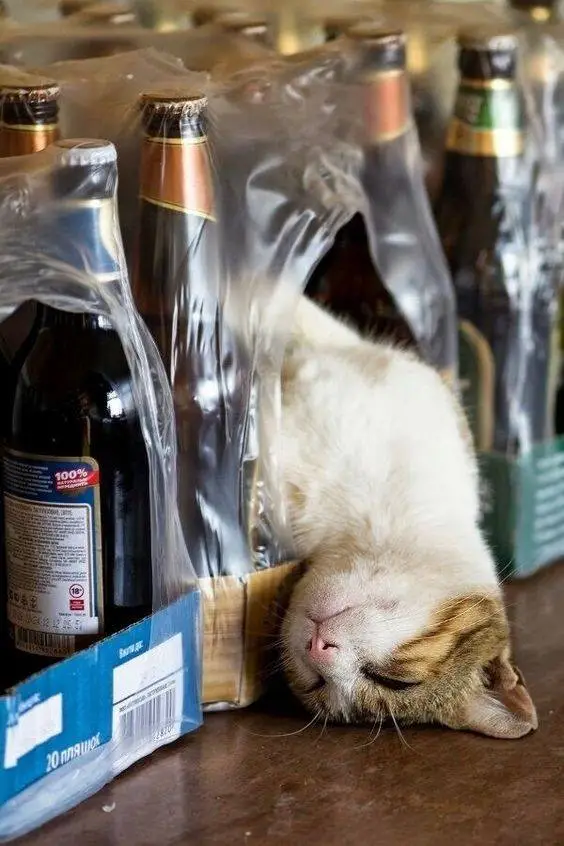 If you are thinking about what it seems, then you are highly mistaken. No, this cat isn't drunk. But when you see that this beer pack looks like a box, you will understand why this cat chose this place to sleep. It's so challenging not to believe that this cat is drunk as hell. Maybe he got tired of all that was going inside and fell asleep.
15) Double comfort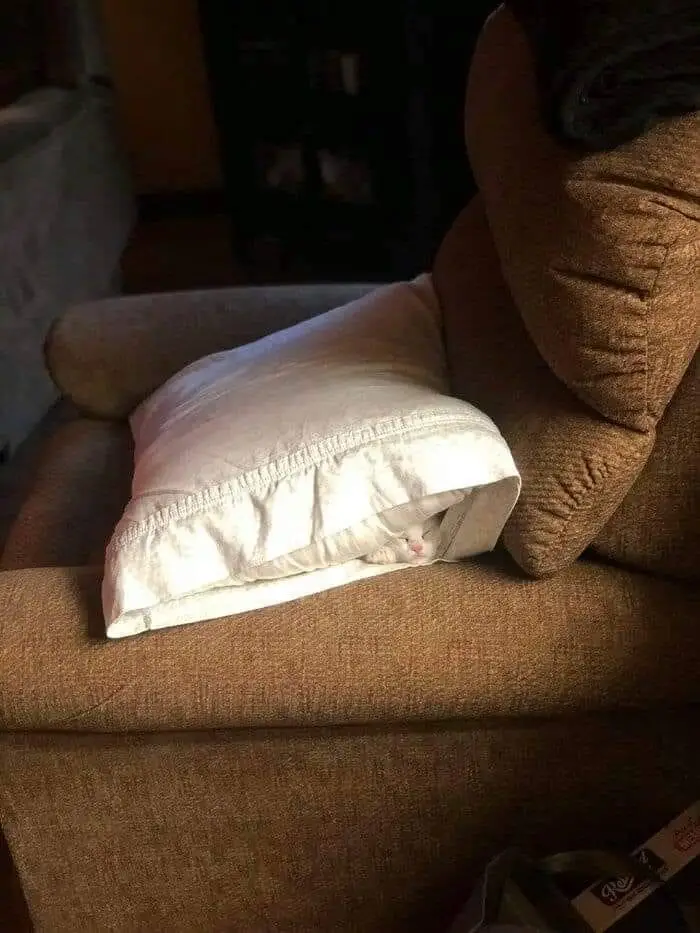 It is double the comfort for this kitten. When this couch isn't warm enough, then it gets inside this snug pillowcase. We are hoping that no one would sit on the couch there without realizing that there is this little fluff inside it otherwise it would get squashed.
16) Lazy day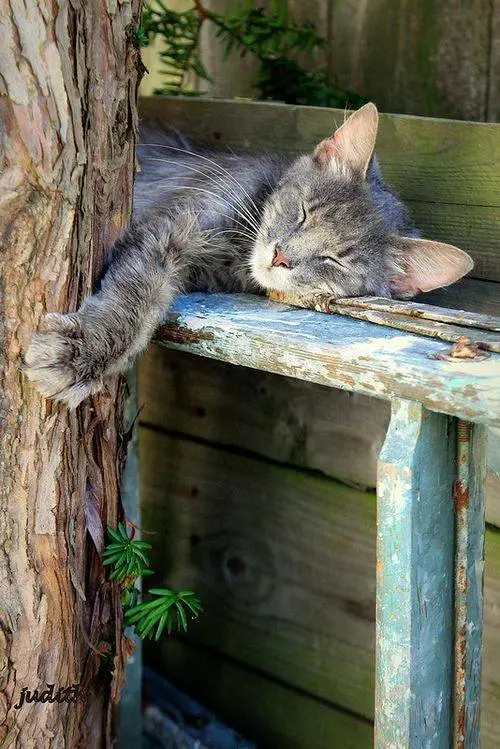 Aww, just feel the cool breeze and fresh air on the face! Who wouldn't want to stay outside like this? This space is extremely limited if you ask us. But who cares? Not this cat! It is a good thing that he looks so peaceful here.
17) This is a case of invasion of privacy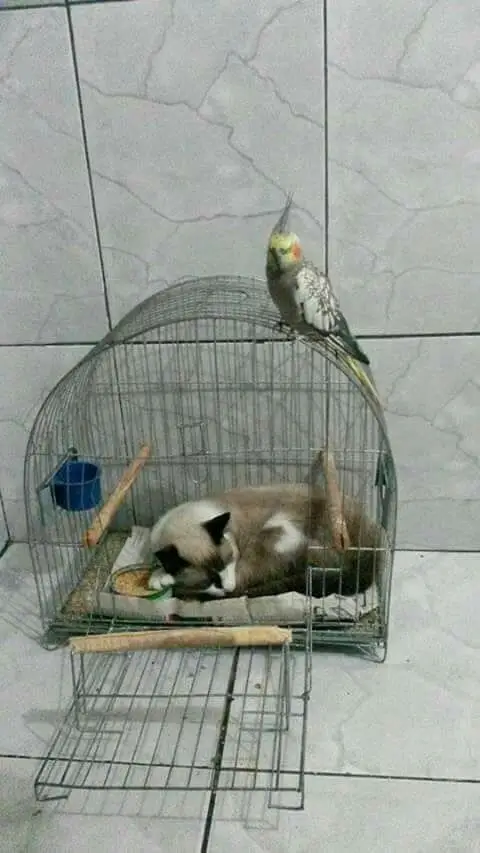 We totally agree with you on this here! We are laughing so hard after seeing this. It's so funny to see the parrot's look here. It's his home in which the cat made himself comfy inside. Never leave your home unprotected!
18) Buddha gives you inner peace to sleep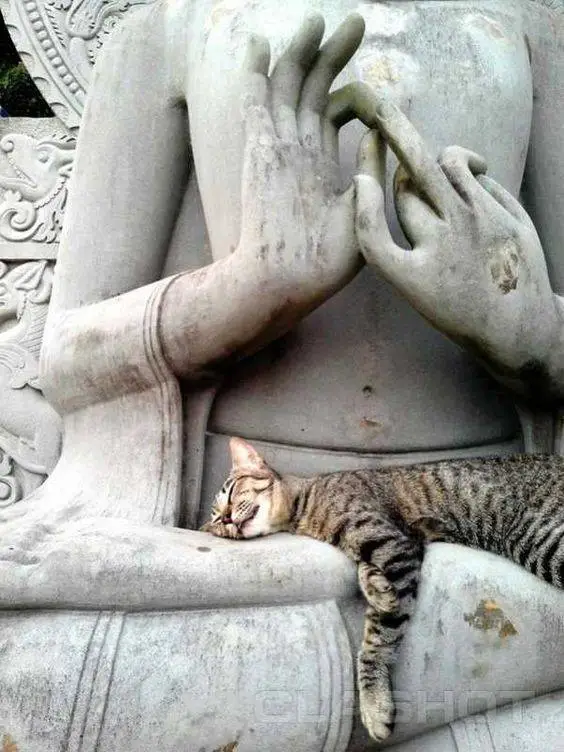 It's lucky to sleep on a divine lap because it's so peaceful there. Here you can find the ultimate peace in the world and you can relax without worrying about anything. This cat knows this for a fact and has found the perfect place to take a nap. We would love to sleep like this cat too! Yawn!
19) I would like to stretch my back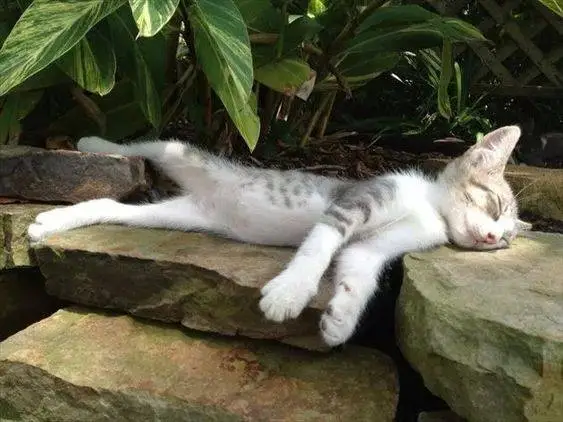 We understand why this cat chose this spot. It's cool there and anybody can definitely sleep there. But what about the position in which it is sleeping? That's quite challenging for anybody out there. We sincerely hope he doesn't get a backache when he wakes up and comes around.
20) This cat has been cat-nipped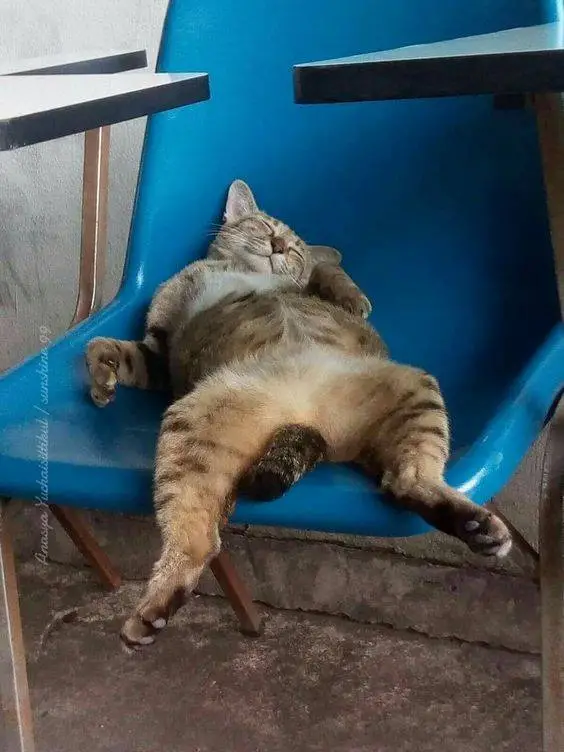 It looks like this cat had more than the recommended dose of catnip! He looks so inebriated and comfortable. And of course, he looks so happy! We would love to sleep like this too. Only if we could get high on catnip!
21) This cat has been planted in the pot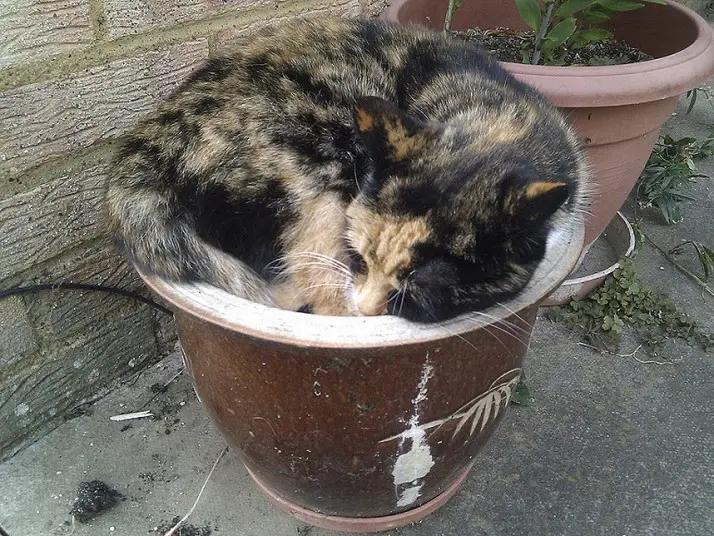 Instead of a planting a plant in this pot, this cat is sleeping in it. He looks comfortable in this place. We are just wondering how long it will take before it blooms?
22) Getting bendy inside a box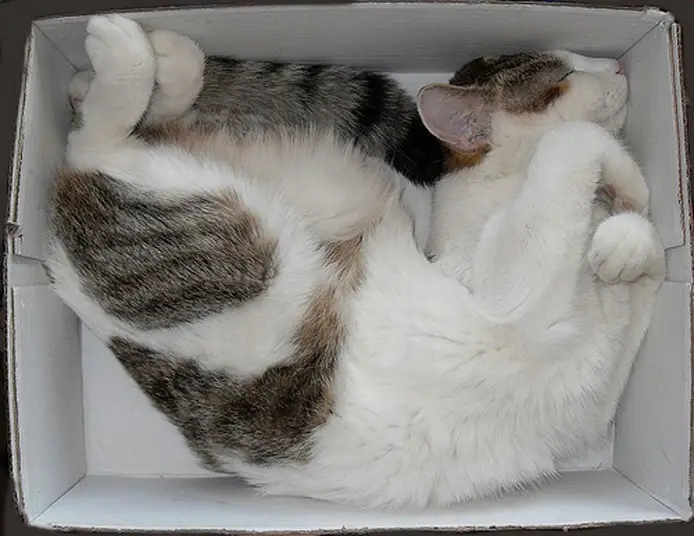 Cats are known to love boxes and we get it this time. It looks as if this box belongs to this cute cat. What's unusual about this cat is the way he prefers to sleep. He is another cutie but quite bendy and flexible.
23) Inside this snuggly little couch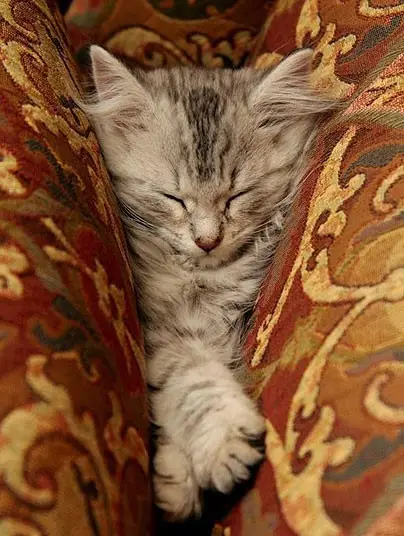 There are some instances when you just want a big hug but everyone is busy with their lives. Then you find this comfy spot on the couch. It looks warm and it will give you the snuggly feeling that you have been wanting. That's why this cute kitten looks so happy sleeping in this spot.
24) If I can fit in it, I can very well sleep in it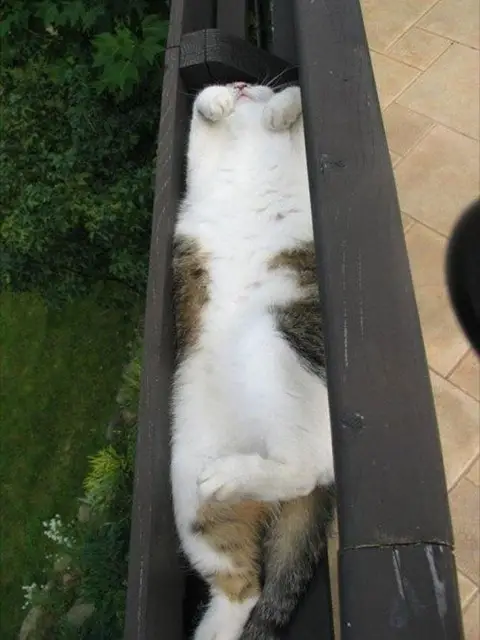 The if I fit I can sleep saying holds true here. Of all the cats in this list, this cat is just hilarious of the lot! We love to see this cat in its unusual place of relaxation. We sincerely hope it doesn't snow or rain, otherwise, this kitty could get disturbed.
25) It is too tired to lie down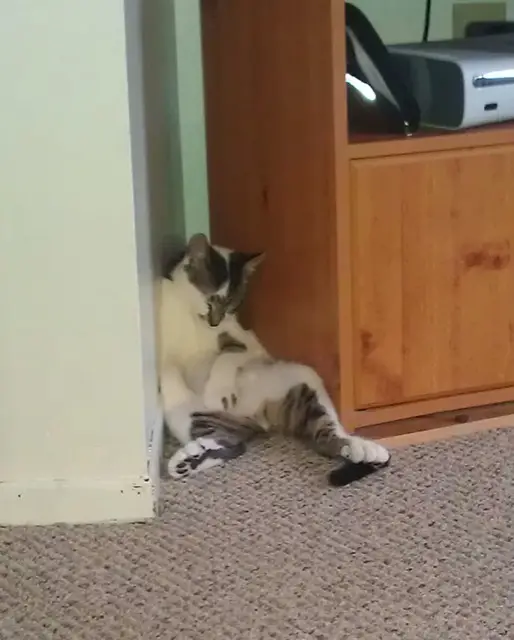 This cat seems to be extremely tired to even lie down in a proper place! We are pretty sure he's not drunk or something. But this picture of this cat looks quite hilarious and it is quite cute also!
26) This cat thinks it is lying in a spa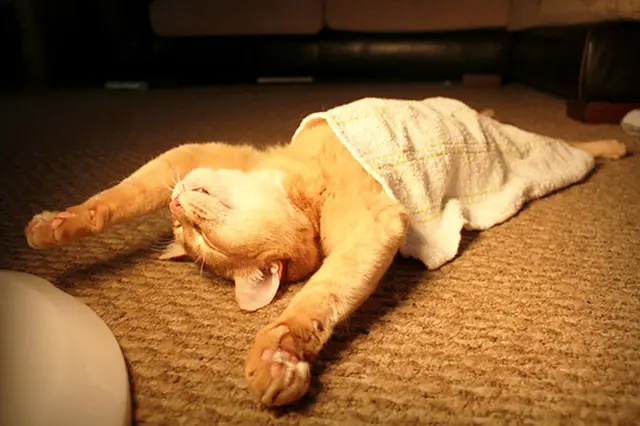 Some cat owners are as mischievous as their cats. When the owner of this cat saw this cat sleeping in an awkward position, an idea popped inside his head. He covered it with a towel. Now, this cat looks like it's relaxing in a spa! Maybe he must have fallen asleep after getting a good massage.
27) Office cat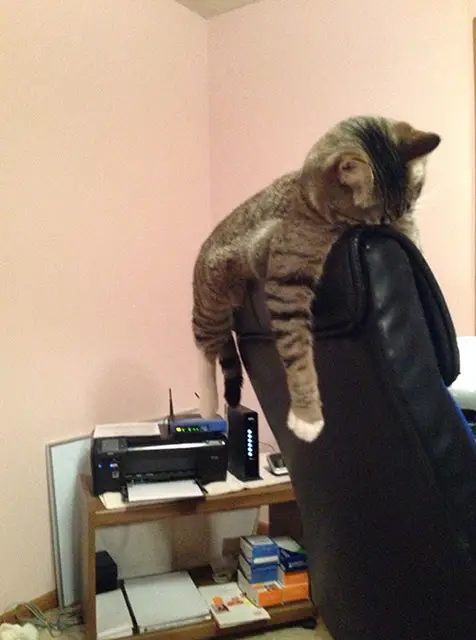 It is not just us humans who get tired working for a whole day in the office. Even cats also get tired in the office. Just look at this cutie pie who fell asleep on top of the office chair!
28) Two beds and one cat! Quite unfair proposition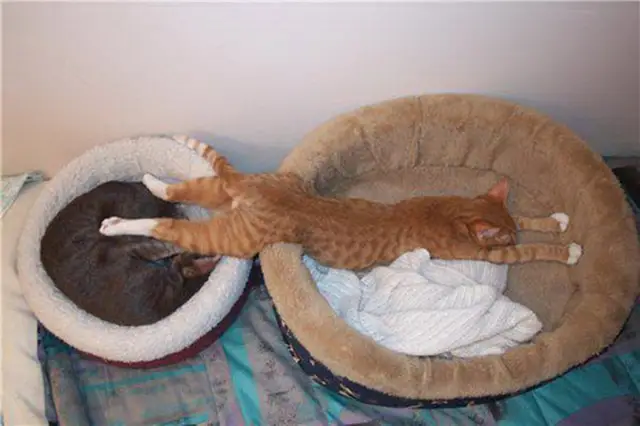 Some cats are selfish. When you have your own bed, but you still have to invade the privacy of your friend, then you can be called selfish. The cat in this picture has the most selfish of sleeping positions.
29) How can you fall asleep while walking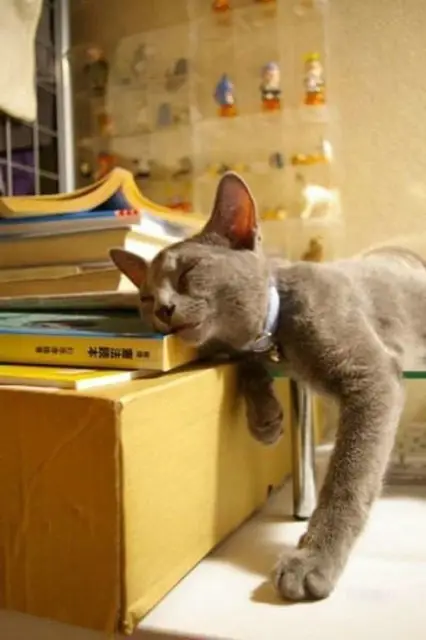 We are shell shocked on this one! It seems like he had been walking and fell asleep in middle of the stroll. Maybe he's really tired of all the day's work? Who knows what has happened to this cat? We think he looks adorable in this awkward pose.
30) How in the blue blazes did he do that?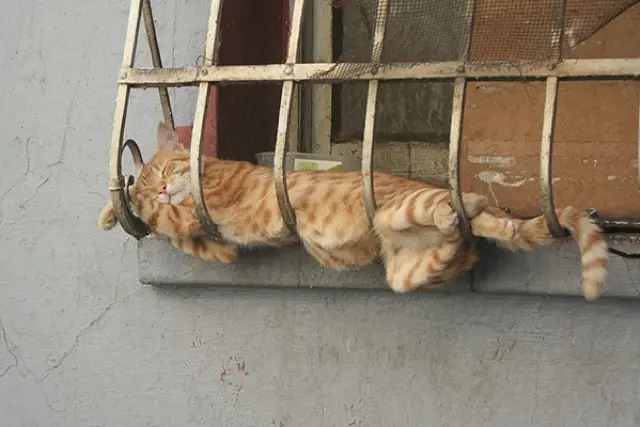 This cat has created a different meaning for the word 'comfort'. One cannot wonder how it can feel at ease in this grill? Imagine the cat climbing up from the bottom, getting up there to being able to get some sleep in that awkward position. We want to know how he was able to perform this feat!
31) The liquid cat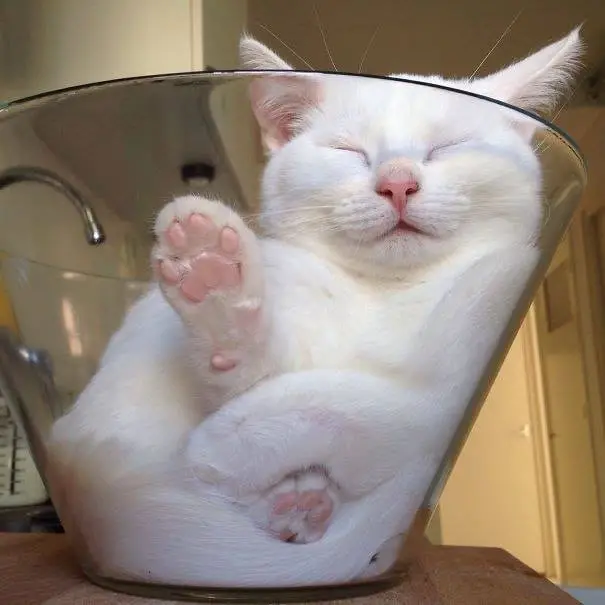 We are guessing that the saying that goes around about cats being liquid is true. Have a look at this cat sleeping so comfortably inside a bowl. It has no issues about this at all!
32) Sweet friend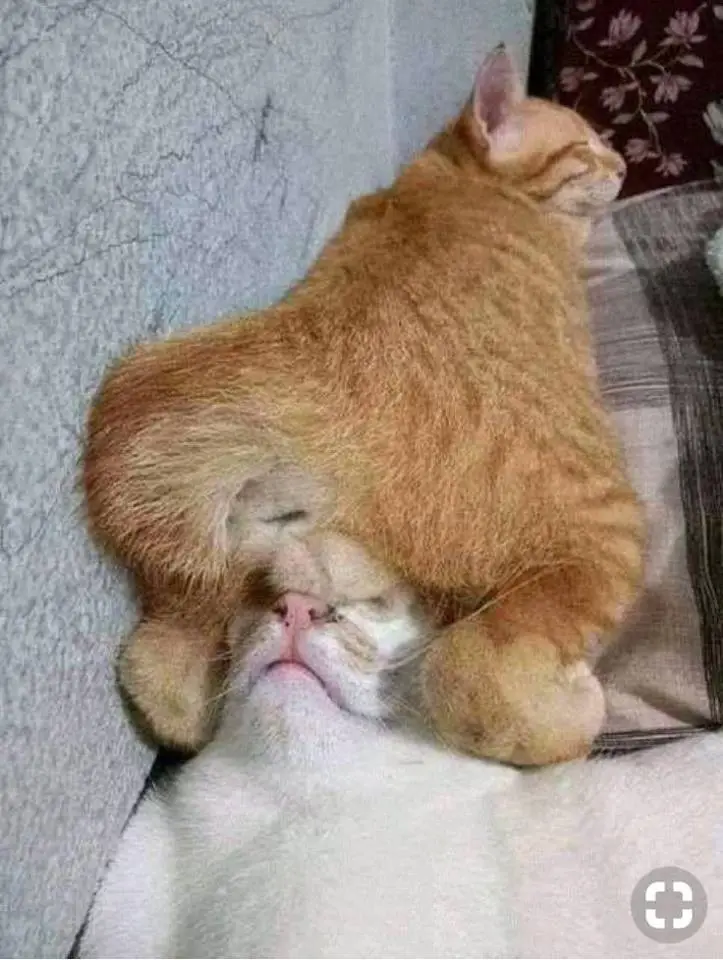 All this is either too sweet or just too funny for us. We are wondering what this white cat is dreaming about right now? The brown cat is just so comfy on the white one's face. We are just hoping that brownie is not being naughty!
33) New cat bed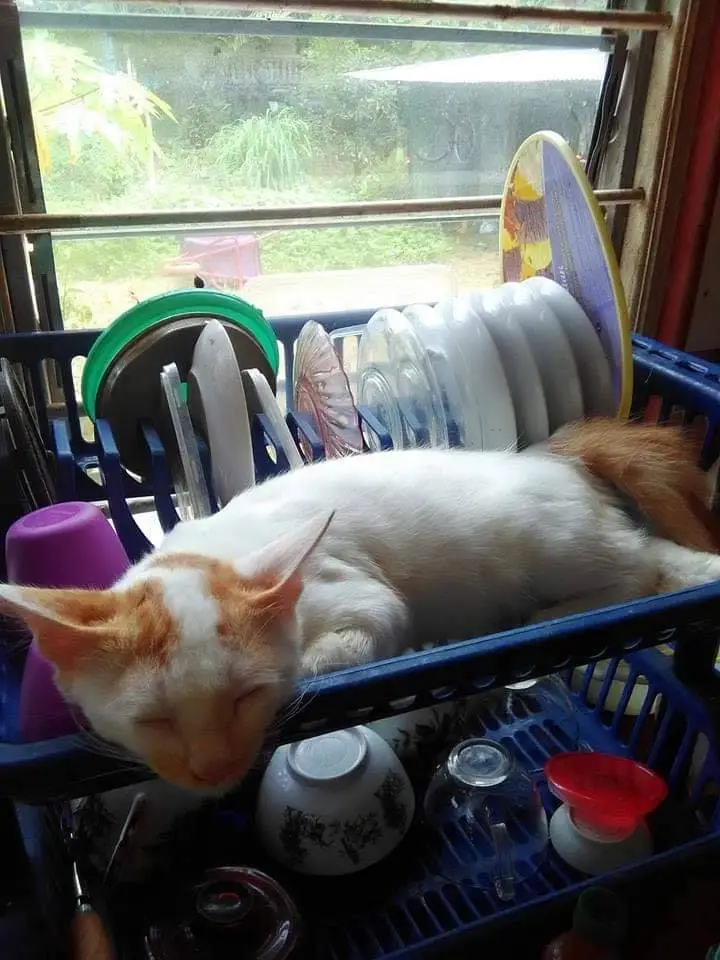 It doesn't matter to this cat if it has a bed or not. It could sleep on the sofa, but it chose this dish rack. It seems to be more appealing to her. Just look at her, it's the perfect bed for this cat!
34) This cat is about 3 pounds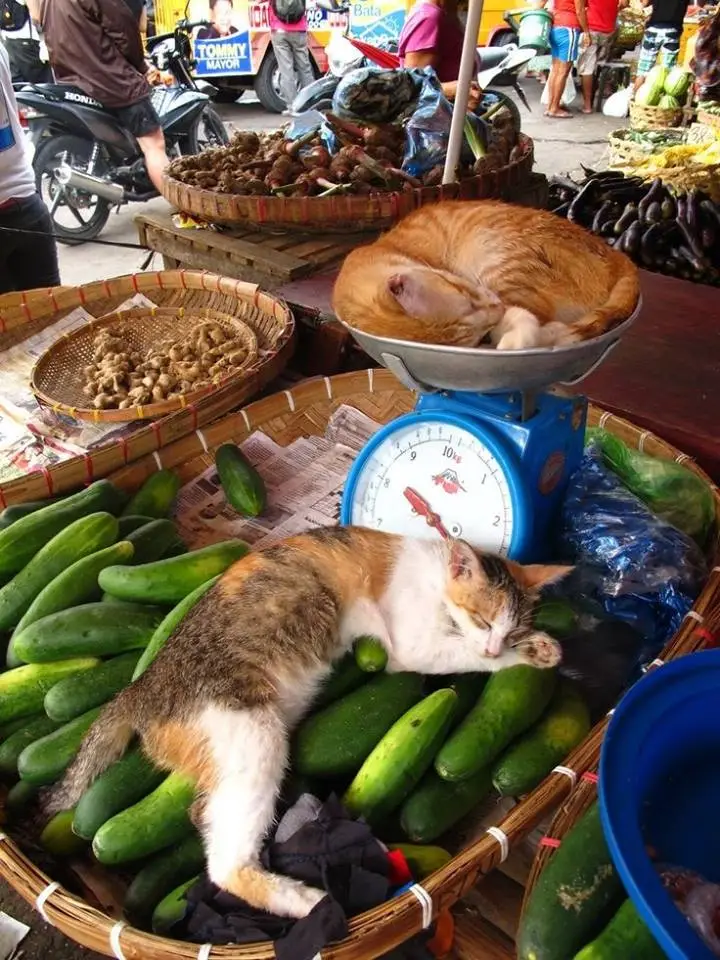 Did you know this fact? A typical house cat weighs around 6 pounds. If you are wondering how we came to know about it, then no, it's not magic. Just use your common sense and look at this cute kitty sleeping on a weighing scale and what it reads. The other cat is sleeping on a pile of cucumber.
35) Hotel kitchen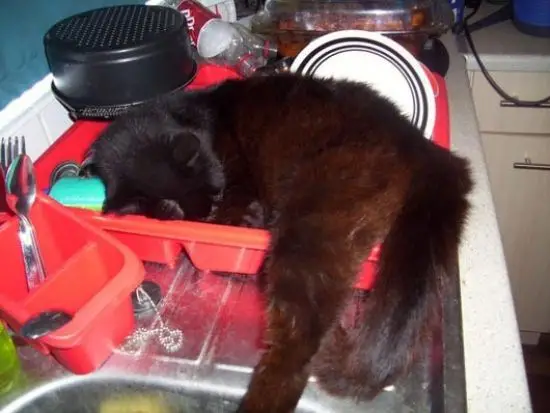 Here is another cat who has found out that sleeping on a dish rack is comfortable. It can be an alternative for your own bed. It's just like having the sink as your private bath area. The dish rack can be your bed. This is just like an instant hotel!
36) This cat knows the true meaning of cozy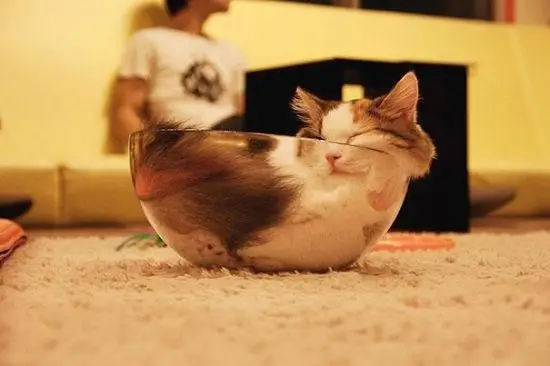 Have you ever wondered what does the word "cozy" mean to a cat? We are still trying to figure that out. Even a small glass bowl like this can be as cozy as your own bed.
37) The basket won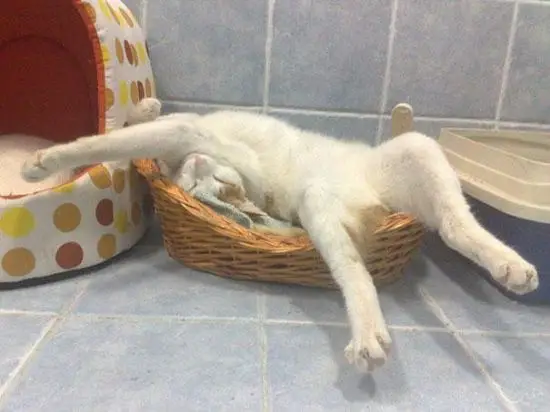 Is this a cat bed or basket? We now know what the cat thought about it. This cat doesn't like the soft and big bed it was given. In fact, it would rather sleep in this position on a basket. You need to get a new breadbasket.
38) It is not so comfy after all
Is this a comfy sofa? Yes, it is! Is this cat sleepy? Yes! This cat was so sleepy that he wasn't able to properly position herself when it was in bed. We are hoping she won't slide down the bed.
39) Too adorable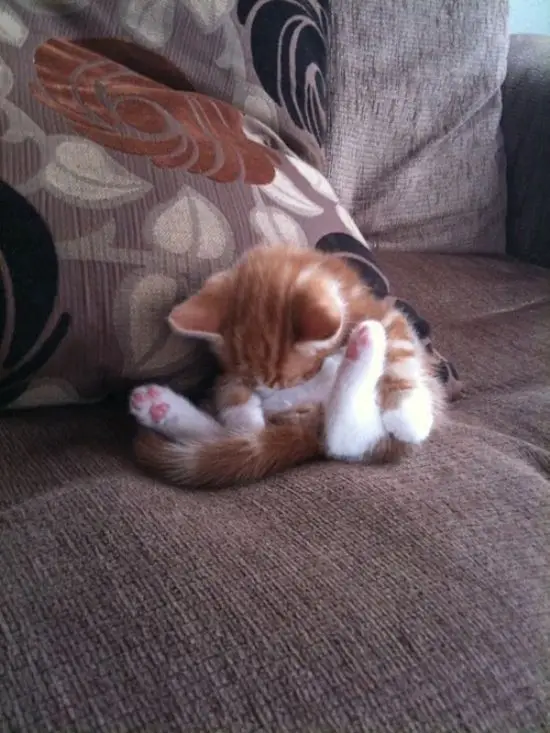 Aww, just look at this adorable little kitten here. It fell asleep while it was sitting down. Oh, its like we are getting cuteness overload here! We would love to put this little kitty in a comfortable position and put a stuffed toy by its side!
40) He perfectly fits inside the box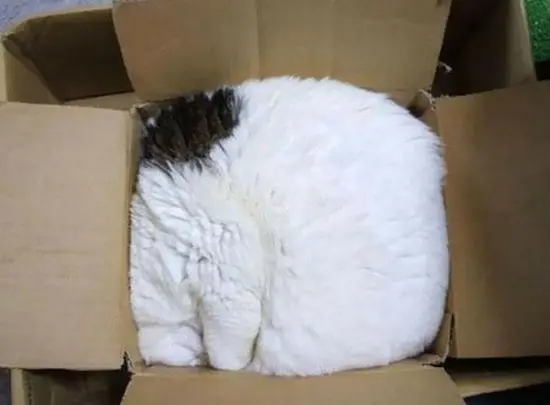 This cat has found the perfect box. It might be a little small, but we shouldn't underestimate a cat's ability to fit in anywhere. Right? It looks like he perfectly fits in it. And he is even able to fall asleep inside it comfortably!