The packaging of products is an important component of any industry. Without proper packing, a deliverable cannot be retailed or transported properly. That is why every company invests heavily in the packaging of their goods. If done properly, it can be a lifesaver. But sometimes a company takes their product packaging a bit too far and you are left wondering what sort of logic was applied in the packing.
1) Where Is The Product?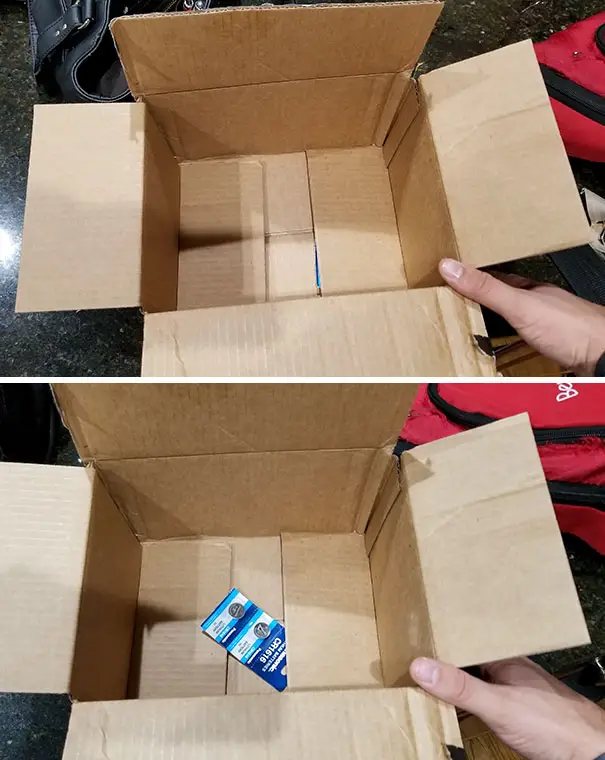 The box is so big, but there is no sign of the product. There it is! A couple of small batteries packed in the biggest box ever. Sometimes, you feel if the packers really had any common sense or not.
2) Packing For The Lazy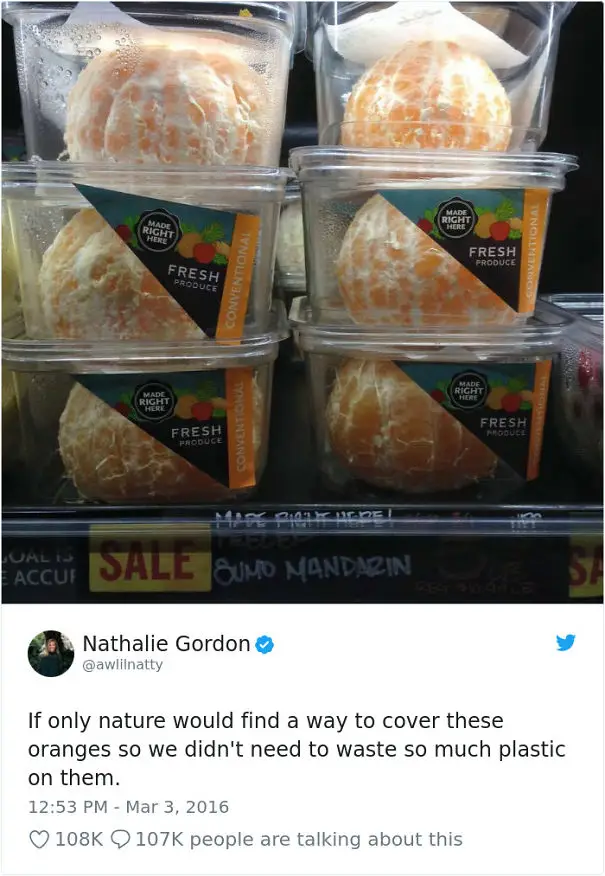 The lady who has tweeted this picture forgot one thing. Oranges come in a natural protective cover of their own. But the lazy woman could not be bothered to remember even this small fact.
3) The Egg Turned Out To Be Empty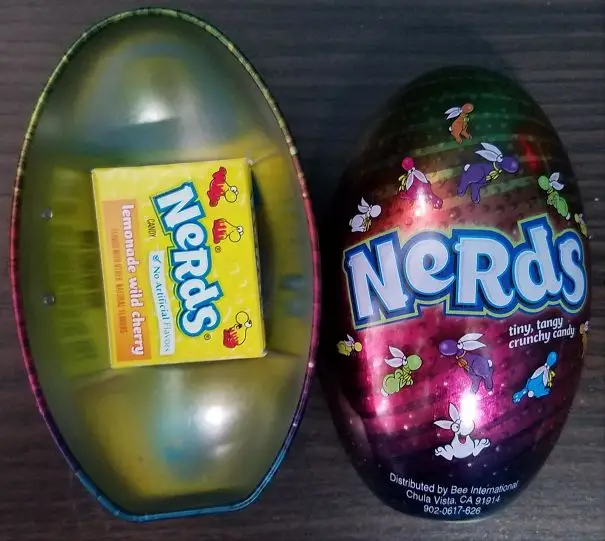 The size of the egg cover might make you think that the tin would be full of nerds. What comes out of it, might be a big disappointment for you.
4) How Lazy Can You Get?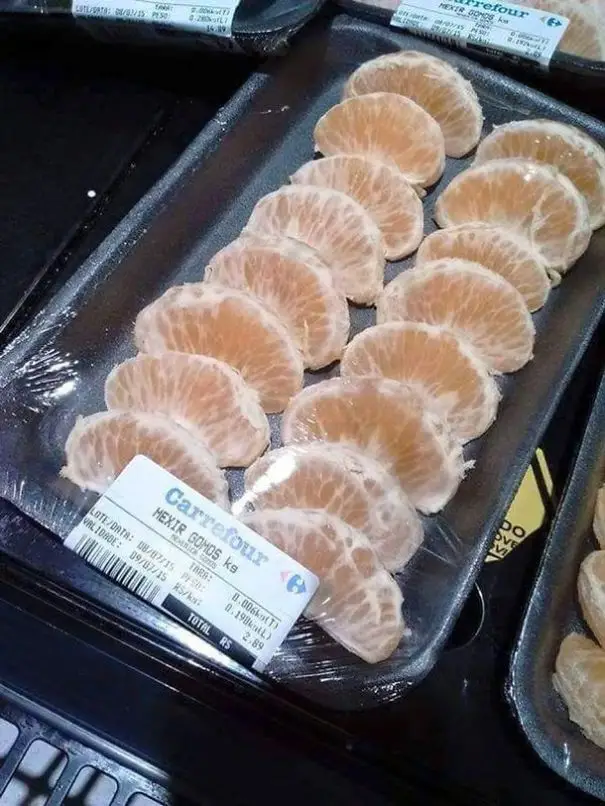 Earlier we saw already peeled oranges being packaged in boxes in stores. But now if you see that those peeled oranges are sliced and packaged, you can wonder how lazy people can get.
5) The Packaging Will Drain All The Hope In This World

If you see it from the outside, then you will think that the tumbler is full of Gummy Bears. But when you open it, you will realize that the game is something else.
6) Packaging A Single Tomato Seems To Be Totally Illogical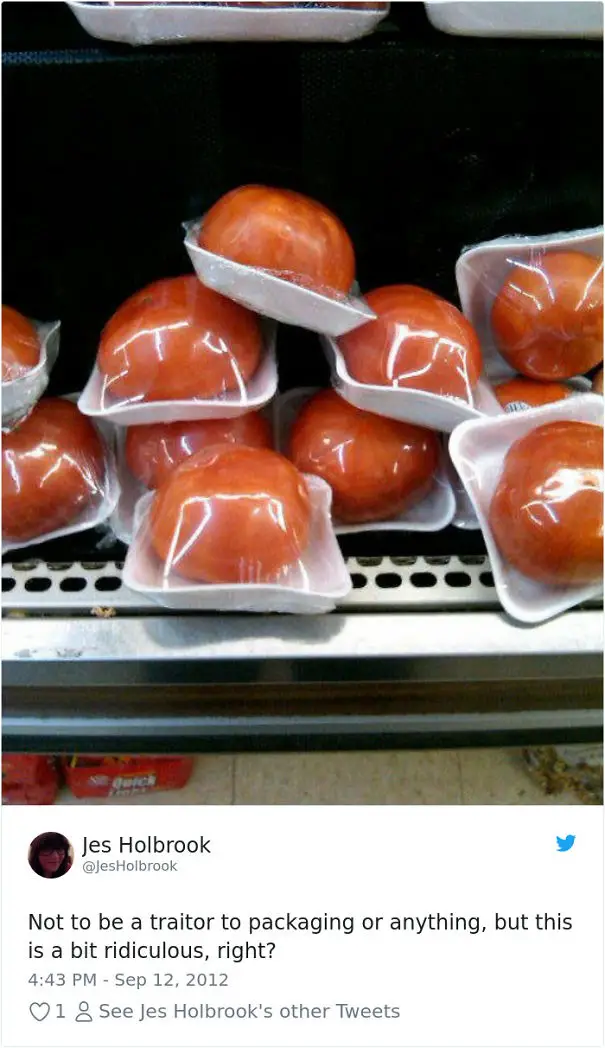 Who in their right minds would package a single tomato one by one? Who is it for anyway? Cleanliness freaks or the ones who do not wish to purchase in bulk? The world is full of idiots.
7) Wow, That Deserves Some Applause

You just wanted a replacement cord. But instead, they delivered a box with it too. Why do I say so? Look at the size of the cord and look at the size of the box. Don't they use brains while packing?
8) We Wouldn't Have Known If They Hadn't Told Us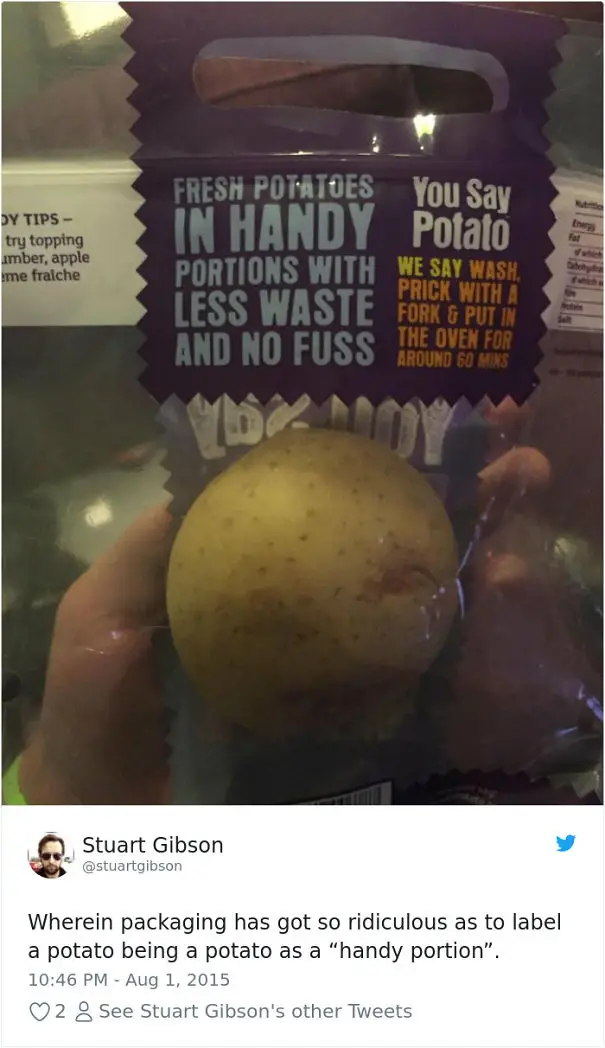 If you have gotten used to the single piece packaging, you now come across labelling. Either they don't think you know what a potato is like, or they are just trying to finish their responsibility.
9) They Didn't Even Spare The Watermelon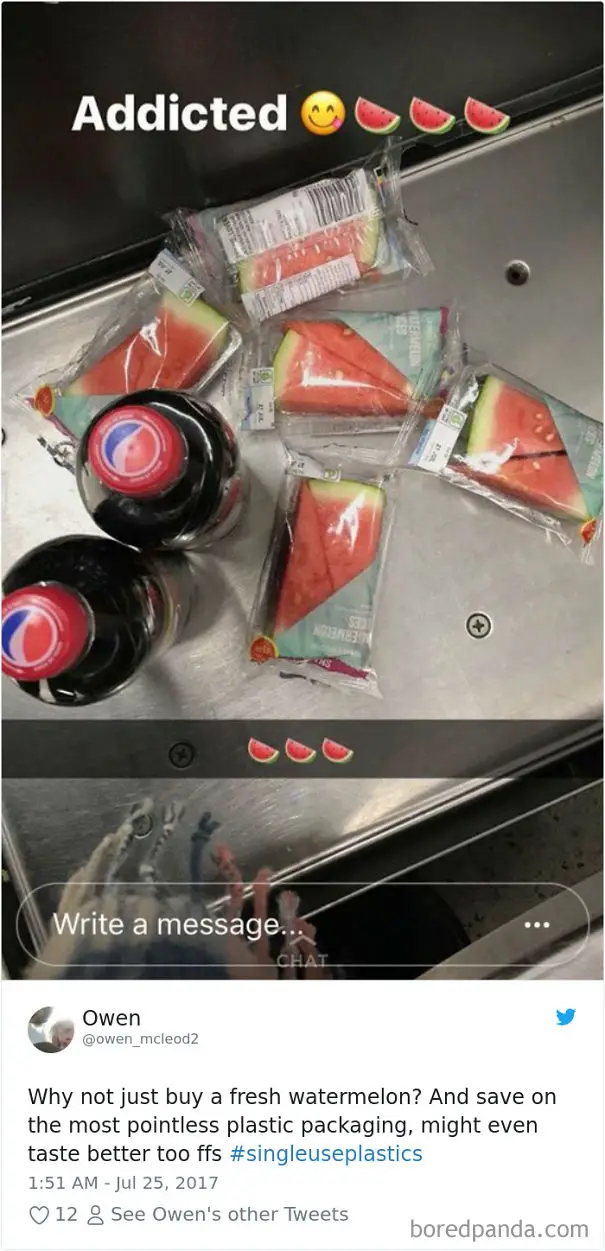 Packaging devils did not even spare the watermelon either. Wouldn't it have been sensible if you bought a fresh watermelon instead? And it tastes better too.
10) Over-Packaging Kills The Fun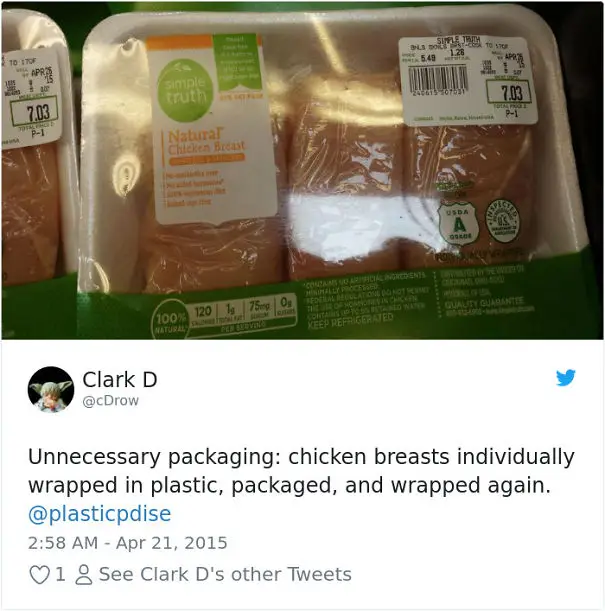 How many times would you package a thing? First, the chicken breasts were individually packaged. Then the assortment of three was packed in plastic again. But the suppliers weren't satisfied they wrapped it once more. Overdoing it?
11) Pallet With A Pallet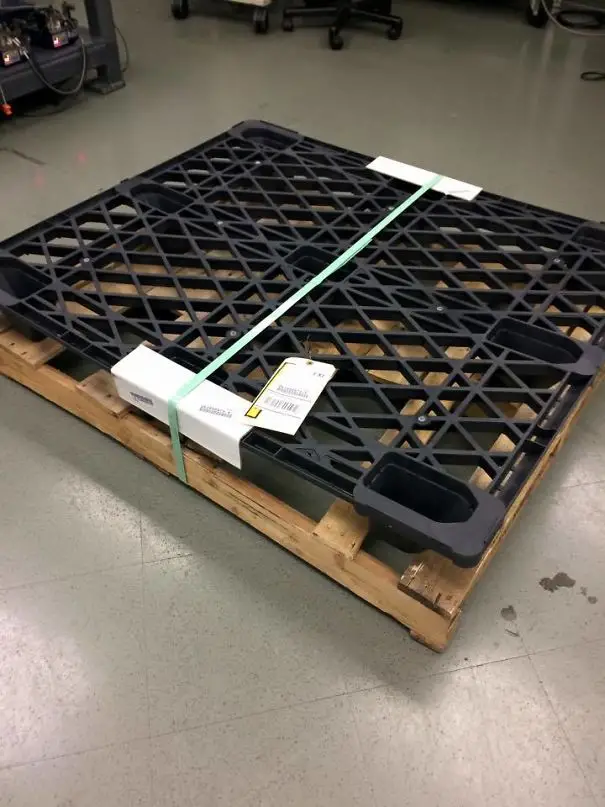 Why on earth would they pack a pallet inside a pallet? All of this seems so confusing. The worst part is you fail to understand, which pallet is the product and which one is the protective covering.
12) A Big Packet For One Lime Leaf?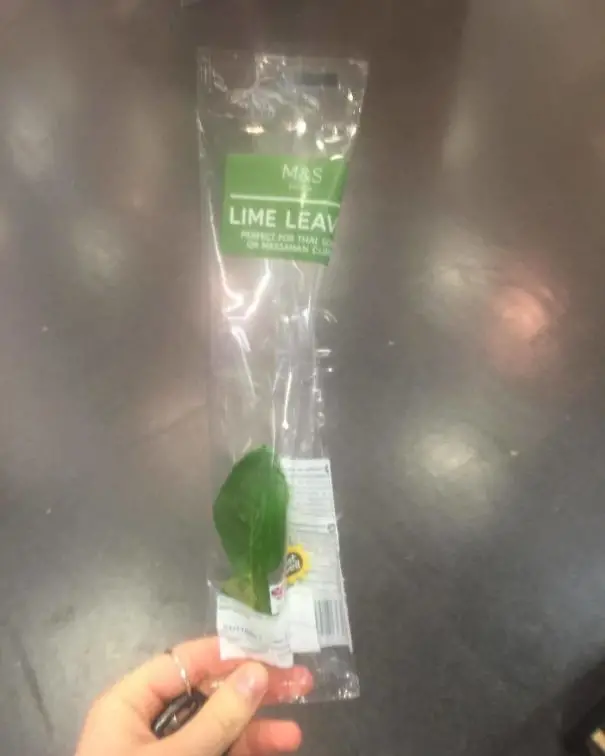 Couldn't they have wrapped the lime leaf in a smaller packet? But when there are tonnes of plastic to waste, you do not worry about it. Quite charitable. I wish they could be less miserly in terms of the lemon leaf as well.
13) Does A Coke Tin Need Packaging Too?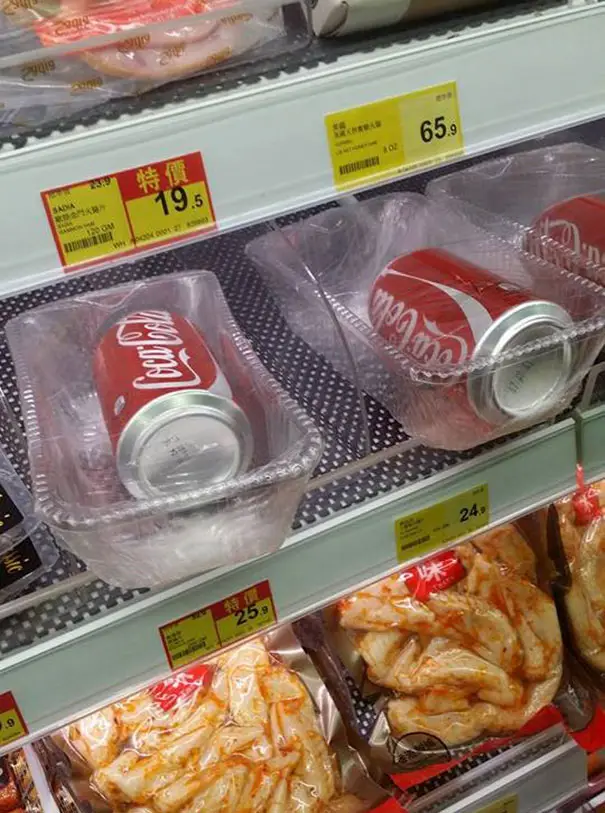 Wasn't packing the coke in a tin enough? Do they even require a foil packing with clingwrap? Maybe they want to make the customer feel special, but it is quite stupid.
14) Now They Are Packaging Chewing Gum As Well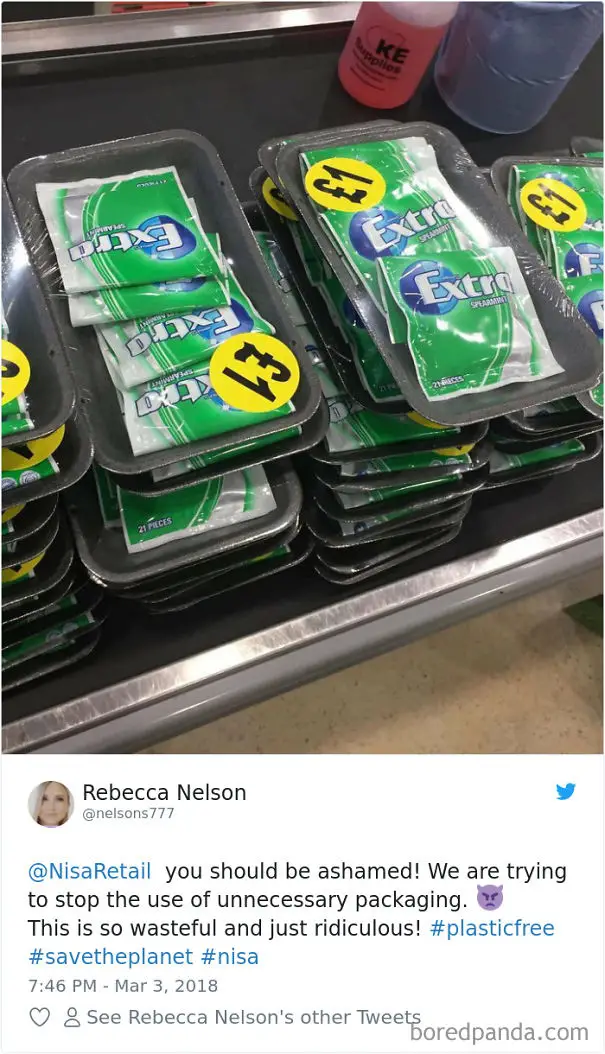 If they wanted to sell off the gum, the packets would have been enough. But I guess there was a discount offer on it. So what? They could just have wrapped it with transparent cellophane tape. Use your brains, people!
15) A Single Jar Comes In Packaging Of Nine Jars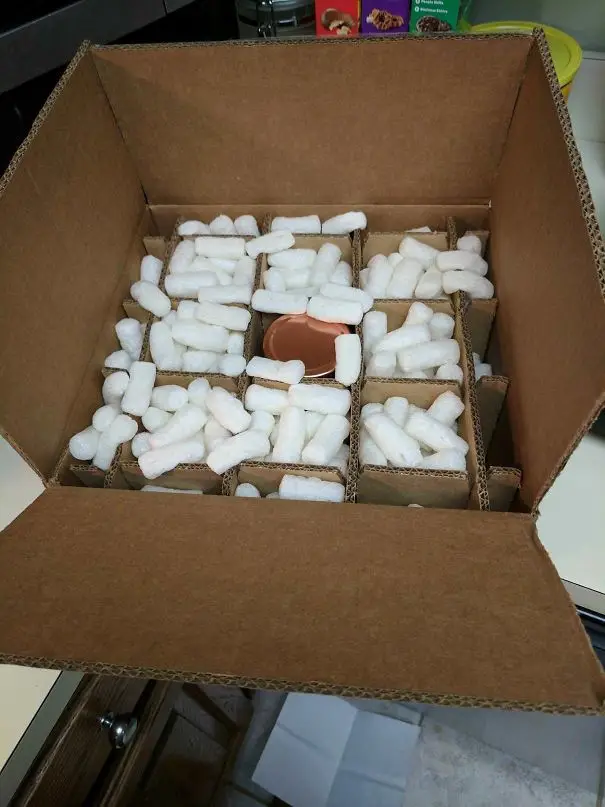 They used a 9-pack box for a single jar pack. What can be dumber than this thing? They even filled the rest of the box with foam. One just wonders how people can waste packing equipment.
16) Why Do Oranges Need To Be Double-Packed?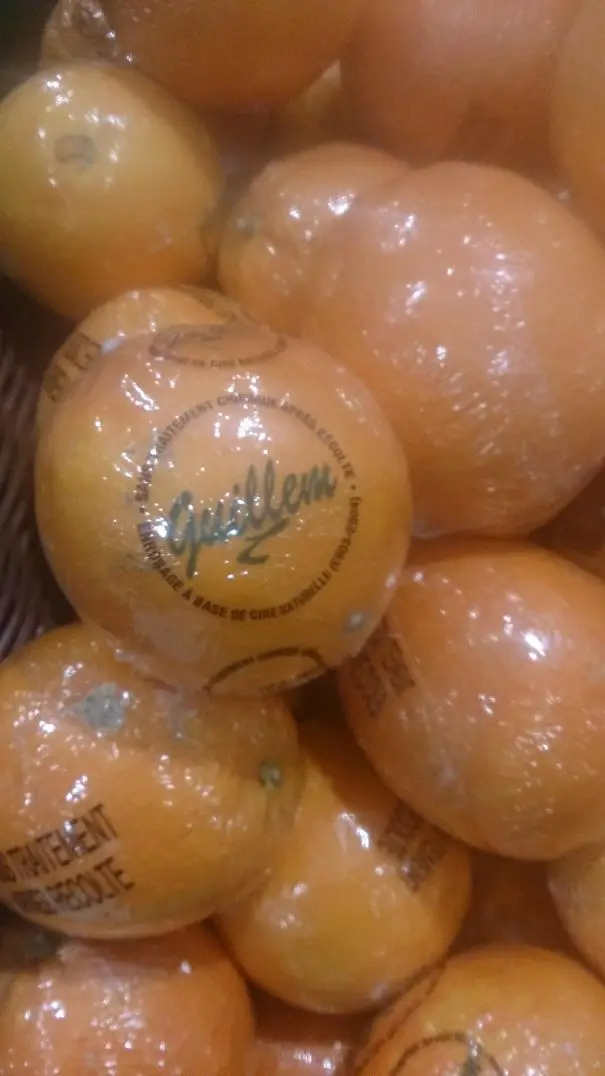 Earlier they were selling peeled orange units in a box. Then they were even selling single orange slices. Now they haven't peeled the orange, but have wrapped it quite well. Some people go bananas over oranges.
17) Senseless Packaging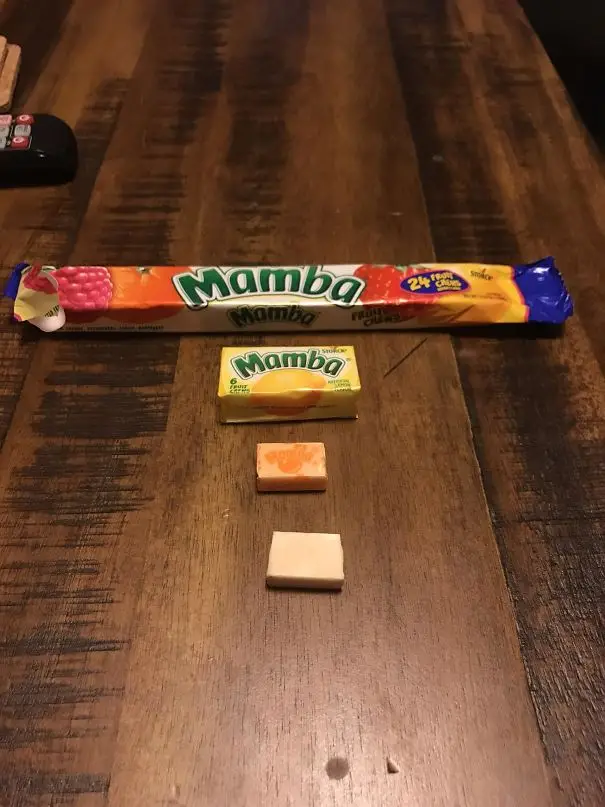 Some things are not explainable. For that small amount of candy, why have four layers of packing been wasted? Ask the Mamba manufacturers, someone?
18) When Will They Stop Wasting Plastic?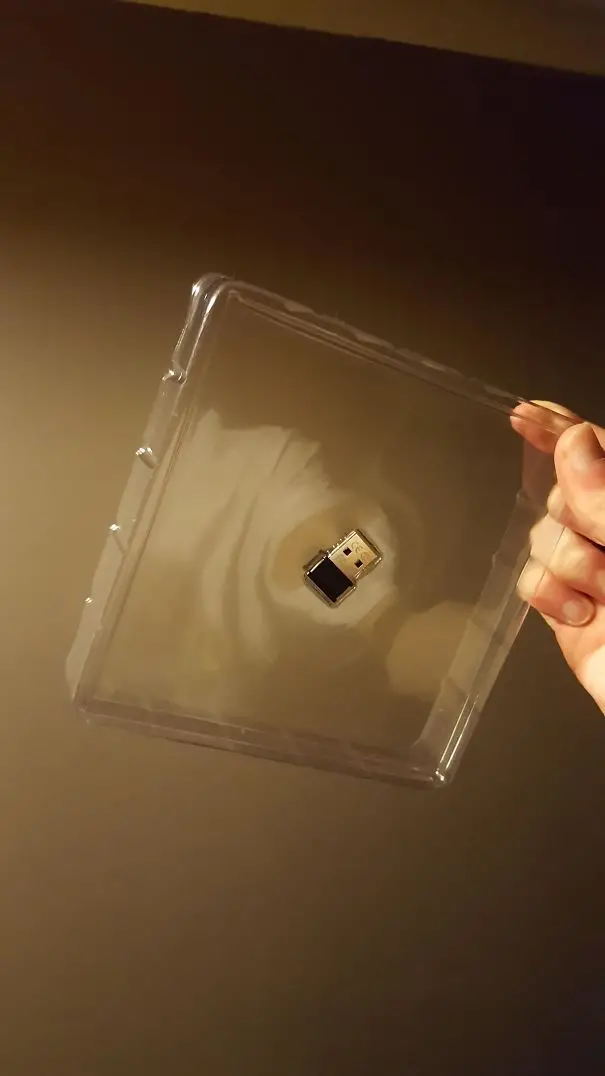 For a small flash drive like this one, why does one require to waste so much plastic? Maybe that's because they didn't want to spend their brains over this stupidity.
19) Too Much Plastic, Too Much Dumbness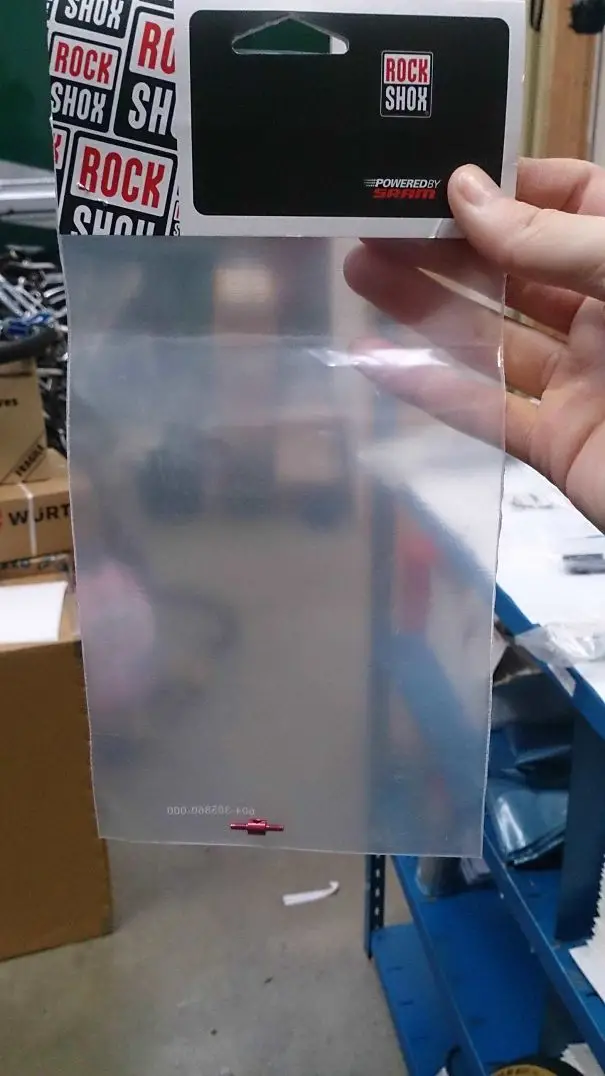 Wow, they used such a big bag for such a small thing! Of all the strange things that happen in this world, this is by far the strangest. One simply wonders why they don't think once before delivering the product?
20) One Whole Carton For A Single Marker Unit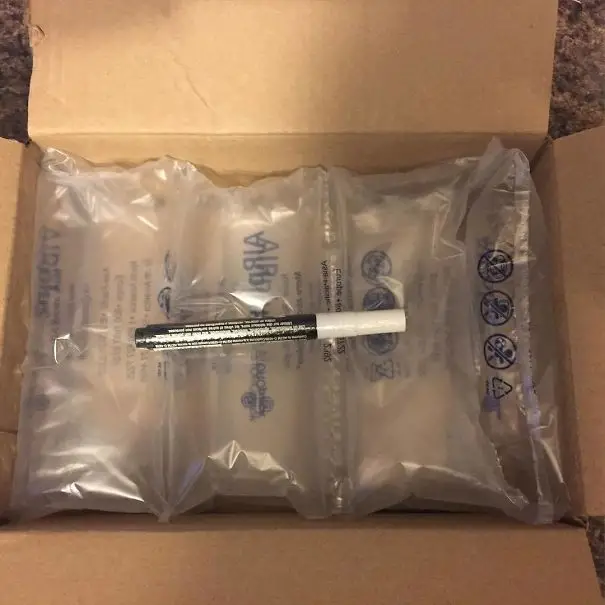 Wasteful packaging leads to the felling of a lot of trees and it also leads to a lot of land pollution. Still, these dumbheads don't learn their lessons.
21) Starbucks Goes Packaging Bananas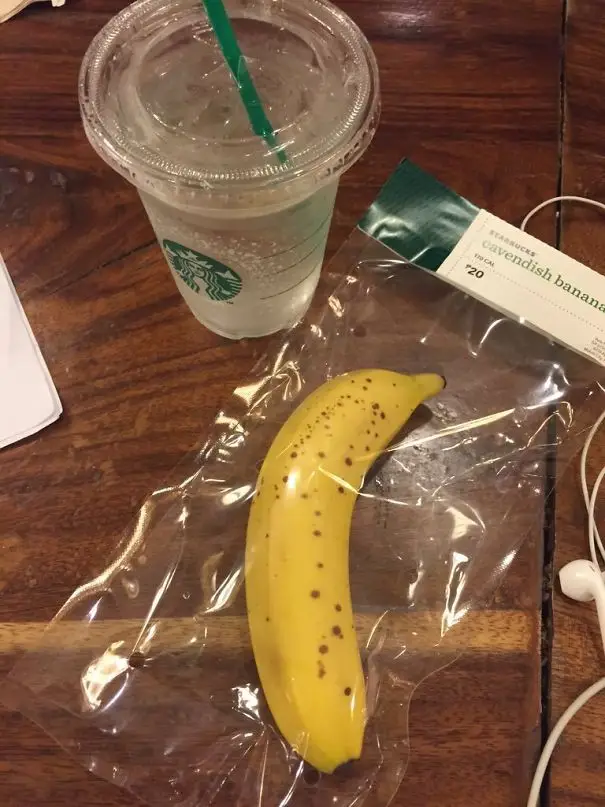 Why, oh why, would someone waste their resources over a banana? But it seems that Starbucks management has some serious brainstorming issues.
22) One Mango In A Box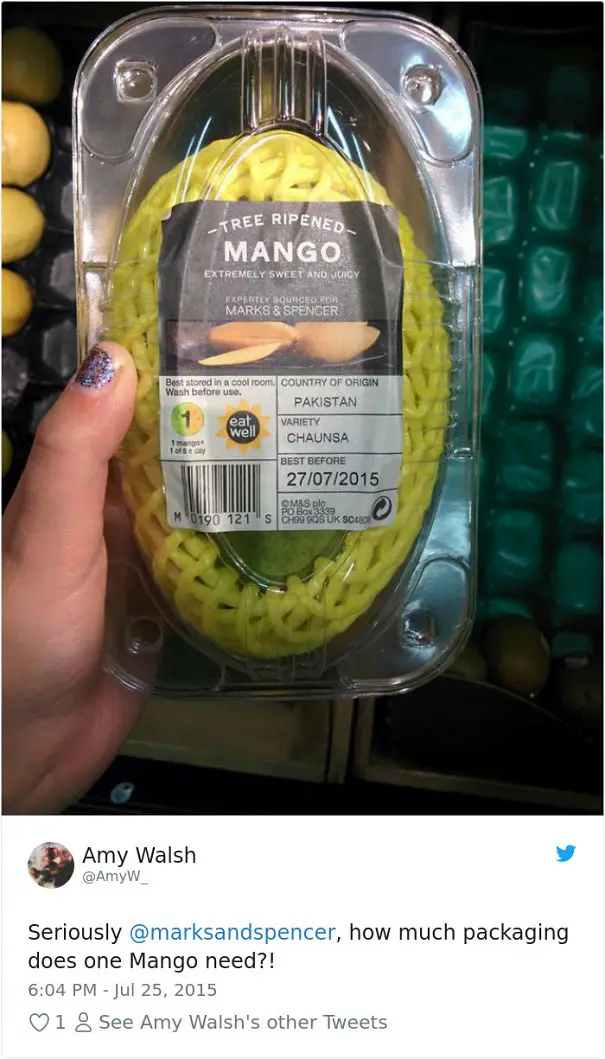 We understand the fact that Mango is a royal fruit, but still how much packaging does it need? It has been wrapped in foam and then in a plastic box. Bonkers, if you ask me.
23) Bag In A Box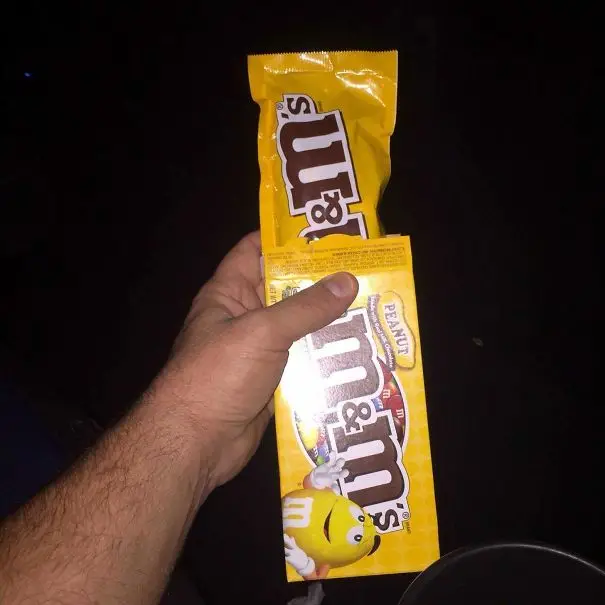 Your favorite M&M's packet inside a box. If you ask me, then the packaging costs more than the candy. Crazy people who waste billions of dollars on packaging.
24) Just Look At The Size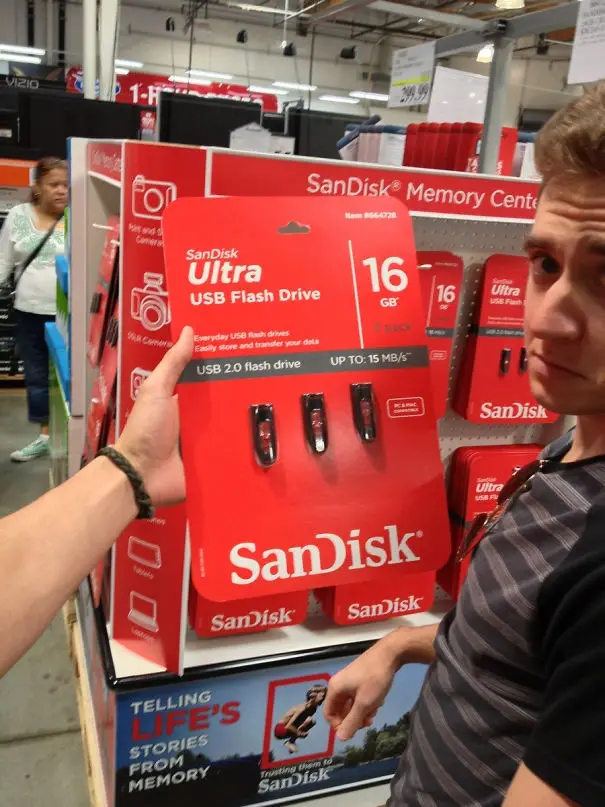 Such a big piece of cardboard for this miniature flash drives. They may have shrunk the size of the chip, and it seems that they have even managed to shrink their brains.
25) Bubble Wrap Without Bubble Wrap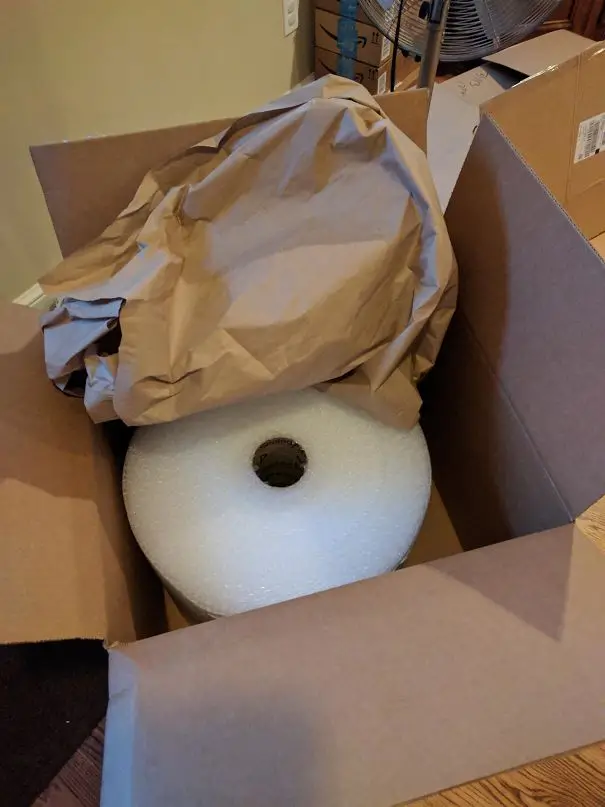 They send over a ton of bubble wrap without actually wrapping it in bubble wrap. Maybe this bubble wrap won't burst or something.
26) For One Tea Bag Only?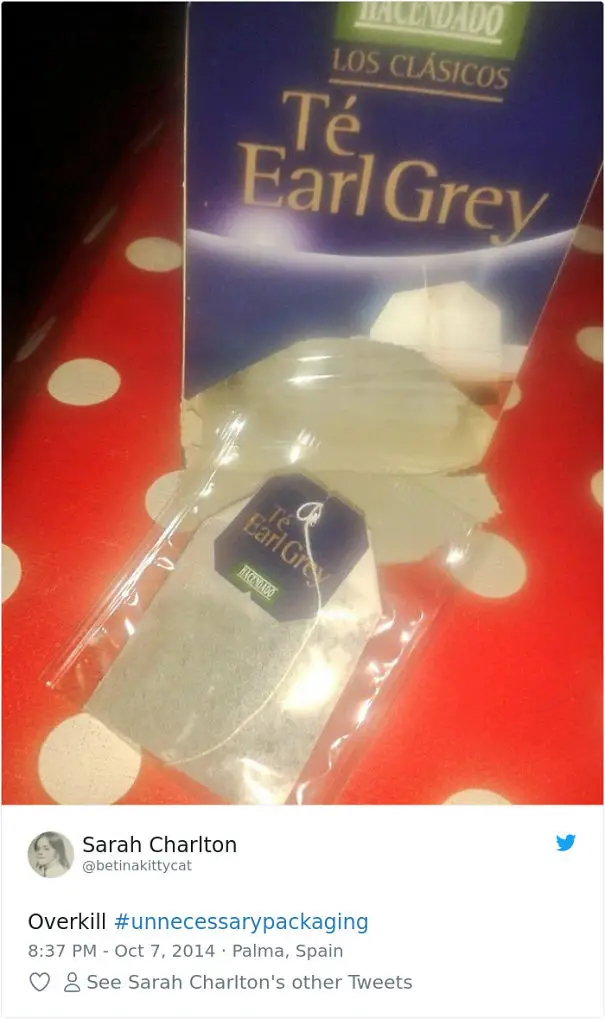 One single pack of tea in a plastic wrap? What happened to the regular box of 50? Maybe they needed to validate the increase in the price of tea.
27) All For A Single Pair Of Surgical Gloves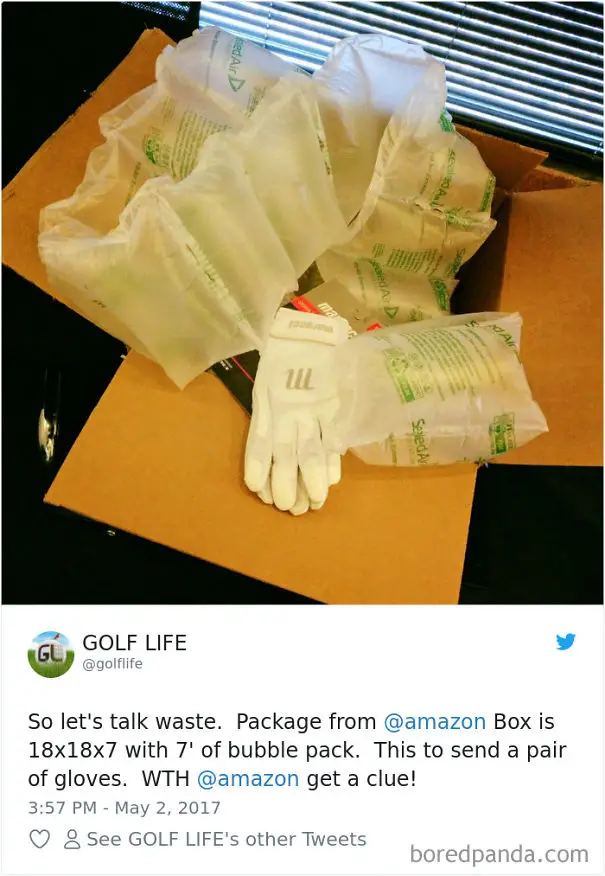 Why would somebody pack a single pair of surgical gloves in such a big carton? And imagine, it's Amazon.
28) Bulb-By-Bulb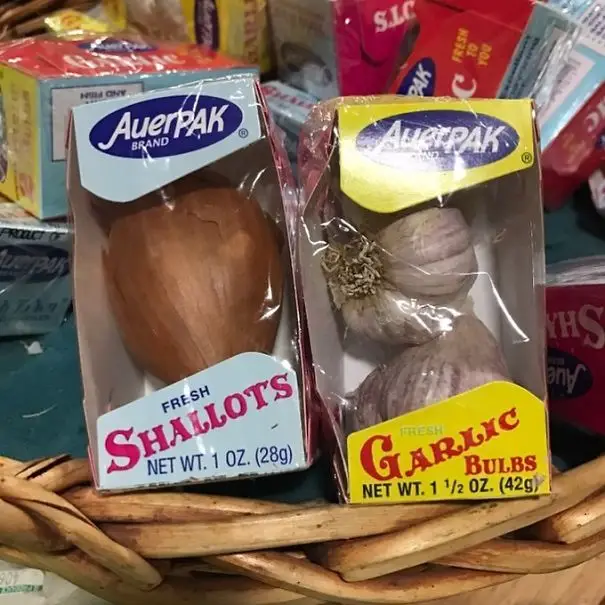 Why would they pack a single piece of shallot or a pair of garlic bulbs in a single pack? If you ask me it is a way of packaging overkill.
29) Single Bananas?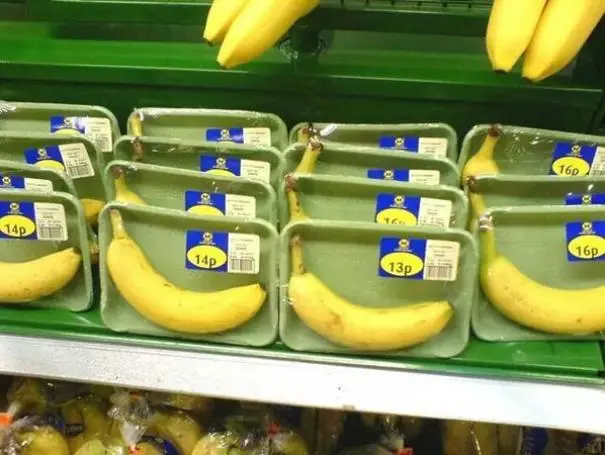 Who would eat one banana? If I had to pack it, I would do it by a dozen. Still, if they prefer this way of packing, at least add another banana to this pack.
30) Single-Use Plastic For Sharpened Pencil?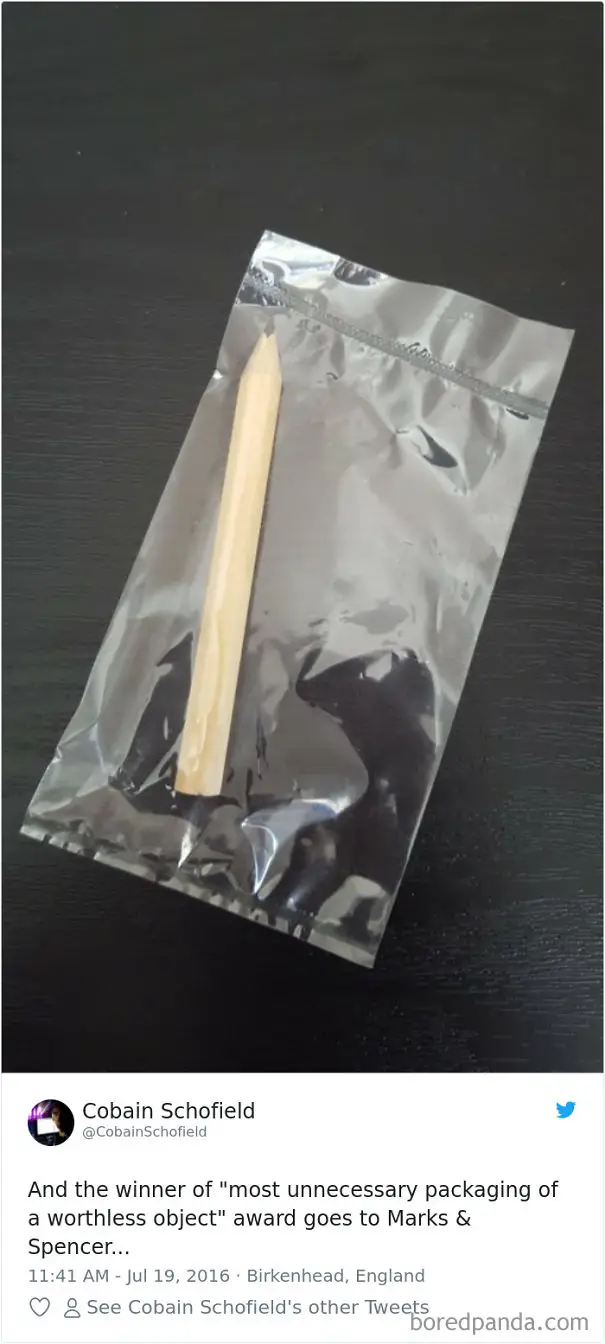 If they had to pack a sharpened pencil, they could have at least done it in a box. Wouldn't the pencil prick inside this soft packaging? Wish they had sharper minds.
31) Peeled Bananas In Wraps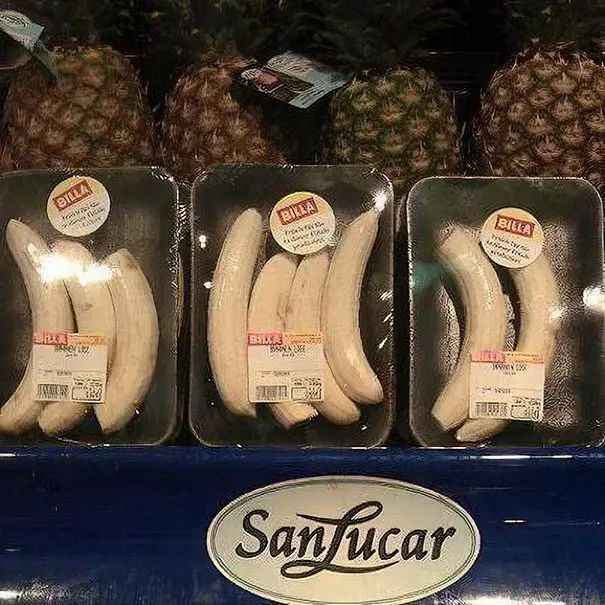 The heights of laziness. Now, they have peeled the banana and packaged it. In the world of crazy packing, nothing seems to be impossible. Somebody stop them, for God's sake.
32) Box In A Box, What A Match!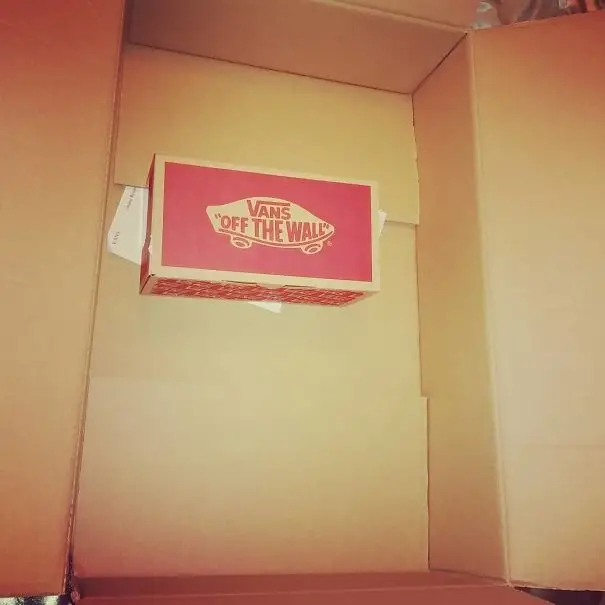 For one small box of matches, they wasted a whole carton. If they are feeling so generous, they could give away more matchboxes just for the sake of occupying the space.
33) Now They Are Packing Single Kiwi Slices?
Now, this is the limit! They have packed Kiwi slices. And what's more, one box contains one slice. They don't even want you to move your fingers.
34) Couldn't They Wrap These Strawberries As Well?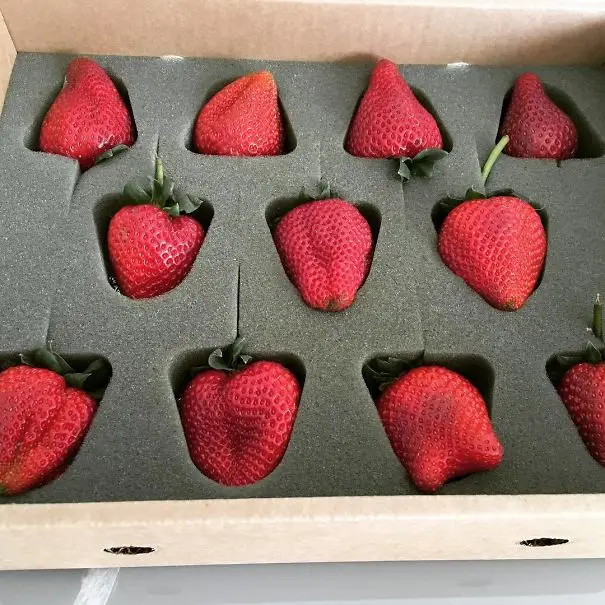 They could have packed the strawberries in individual packs if they wanted to. If you think I am losing my marbles, then ask them what was the need for slotted foam for packing strawberries? Wasn't the box enough?
35) Wow, Such A Big Knife!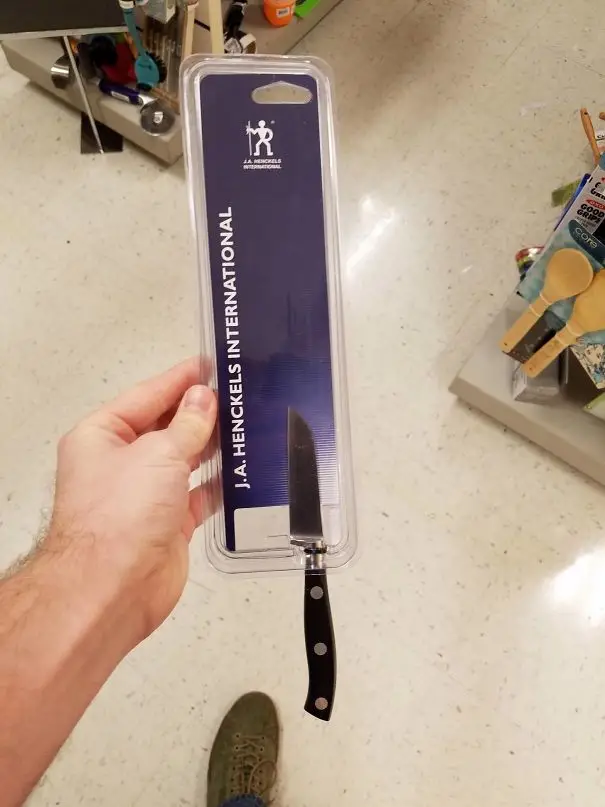 They made the pack big, but they left the knife small. Wouldn't a bigger knife be a better fit? But, as they say, some people are as stupid as they can be.
36) Are These Apples Or Tennis Balls?
What are these exactly? Apples or tennis balls? That's because the packaging looks quite similar. Why oh why, are they making the packages out of nothing? Devils, if you asked me. Stupid commercialization.
37) Knitting Needles Or Spears?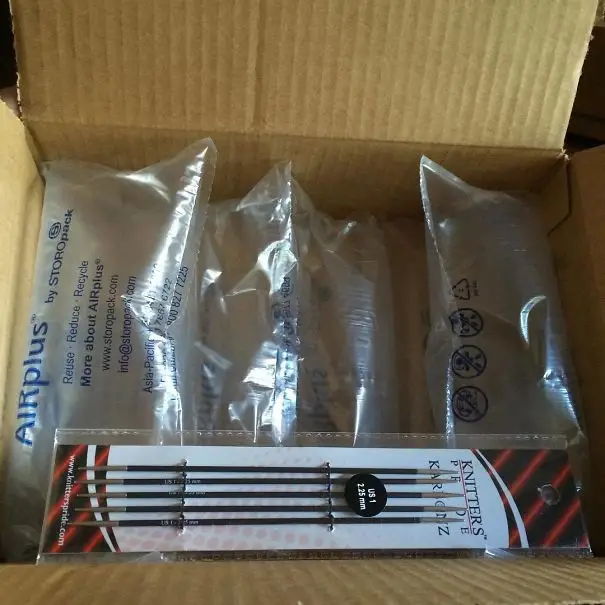 If you looked at the box, you might have thought that a person might have ordered the whole load. But look, it's just one piece. Now, how can you defend that?
38) What A Waste!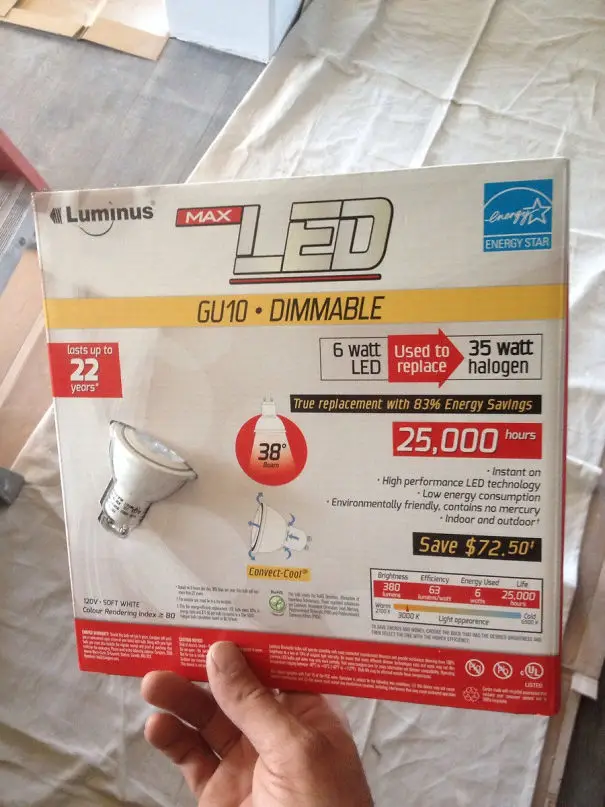 A small bulb that is as bright as it gets, but a mind that is as dumb as it can be. Why have they wasted so much paper in the packing, only God can answer this.
39) I Presumed It Was A Big Thing

Now get this straight. It's a proven fact that flash drive packers are the dumbest species on the planet. Otherwise, can somebody explain to me how they manage to waste cartons over such small things?
40) That's Just For One Tablet?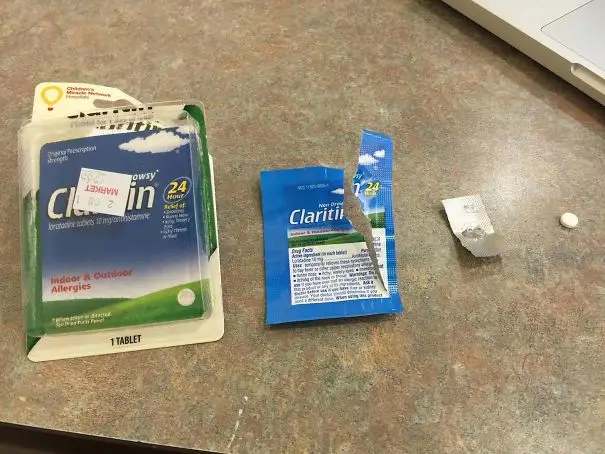 One piece of gum, and look at the packaging that's involved in this one. Surely, they must have thought that ripping off needs some effort. So, they created the best they could.