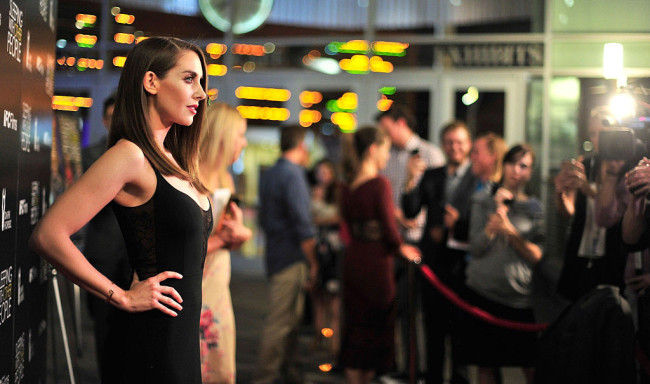 Alison Brie is all geared up and ready for season two of her Netflix series GLOW about the 80's women's wrestling TV show. She's been sharing some behind-the-scenes stuff already and based on this new profile she appeared in for Women's Health, she's been hitting the gym pretty hard.
In her interview for the profile, the 34-year-old actress, who, as we've already seen, works out like a maniac, humblebrags about doing some split squats, "I just did my heaviest ones ever — 80 pounds. Usually I peak at 50, but today we went up and I was like, 'Oh my god!' It was intense."
It's cool though. She killed it on GLOW last season and says that her strength training has helped her both physically as well as mentally for the role as well as life.
…when she needed to step up her workouts to prepare for GLOW — "to be able to throw people and do things like that," she says — she boosted both muscle and confidence. "I feel like I was building strength outside and in at the same time," Alison says. "Now I feel like strength is beautiful, rather than that stick-skinny is the beauty standard."

She's not speaking in platitudes. In fact, Alison has gotten to a place where, she says, "I've just never given less f-cks. It's a nice feeling because you live your life more and care less about what other people think." It's also given her a constant. "Your career will fluctuate; you'll have highs and lows. But I can always go to the gym and work out. I'm in control of myself and my body."
From the looks of the video and photo shoot they did to accompany the interview and Alison's 10-point lift-heavy primer, we should all be working out like her.
As Brie also points out in her interview, when it comes to working out, "You're never more than two weeks away from peak performance. So you have those two weeks of 'this is awful,' and then you're like, 'Oh, okay. My body remembers things.'"
See? No excuses, bros. Get to it.