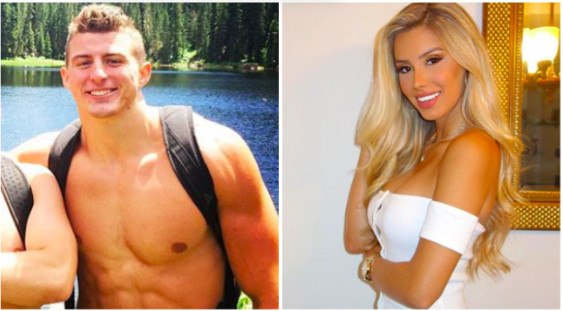 If you're a tight end in the National Football League, you have it made in the shade when it comes to your love life. Colton Underwood landed Olympic gymnast Aly Raisman and the dude was a practice player. Chiefs tight end Travis Kelce starred in his own damn dating show called Catching Kelce, which pitted women from each state against each other for a chance to slap skins with the bachelor. Rob Gronkowski has boned literally every women in the Greater Boston area, including my mother most likely.
The latest tight end to pull a 10 is little known Atlanta Falcons tight end Eric Saubert, the Falcons fifth round pick of the 2017 draft (174th-overall) from Drake University. The 6'5", 253-pounder is currently *InStAgRaM OfFiCiAl* with Nashville-based ESPN sideline reporter Sara Cardona.
In 2015, Cardona, a  University of Tennessee-Chattanooga alum was linked to Cris Collinsworth's son and former Notre Dame team captain, Austin. Dude had great hair.
But, as young love goes, Cardona and Collinsworth ended their fling and back in November of this year, Cardona attended a Falcons game with Saubert's number stitched on the back of her denim jacket.
Not bad for a third string tight end who has zeroes across his stat sheet.


I played two years of Varsity football in high school. No big deal but kind of a big deal if that interests anyone. Literally, anyone.