Celebrities have been known to wear strange dresses on the red carpet event and other award shows. Most of the time, these dresses bind the spectator in awe. But the rest of the time, it creates such an awkward appearance, you just can't stop talking about it. The netizens then troll the artists in various ways.
9-year old Riley is one such young troll who has an Instagram account which goes by the name of Riley Diary. She emulates the appearance of such stars who wear such atrocious dresses. Her take on the dress and situation is such, you will drop on the floor laughing and mind it, you will get a belly ache from the humour. It is that good.
So, let the action begin –
1. Emma Stone And Her Waffle Dress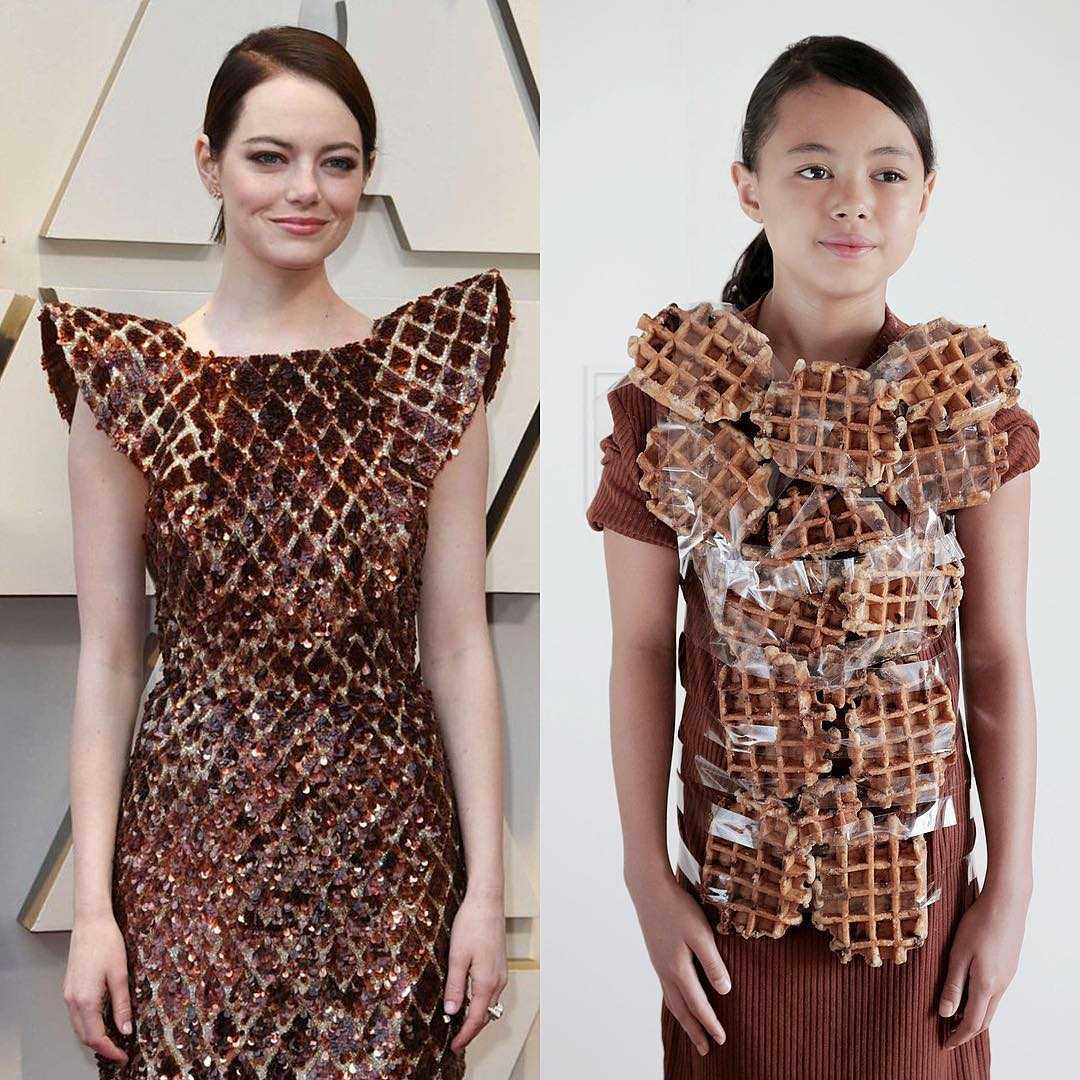 At the 2019 Oscars, Emma Stone was seen donning a Louis Vuitton outfit that resembled waffles dipped in Maple Syrup. Riley dressed up the way she felt the dress looked and taped waffles to her outfit. She even captioned the photograph as, "You are what you eat."
2. Lil Pump And His Stringy Braids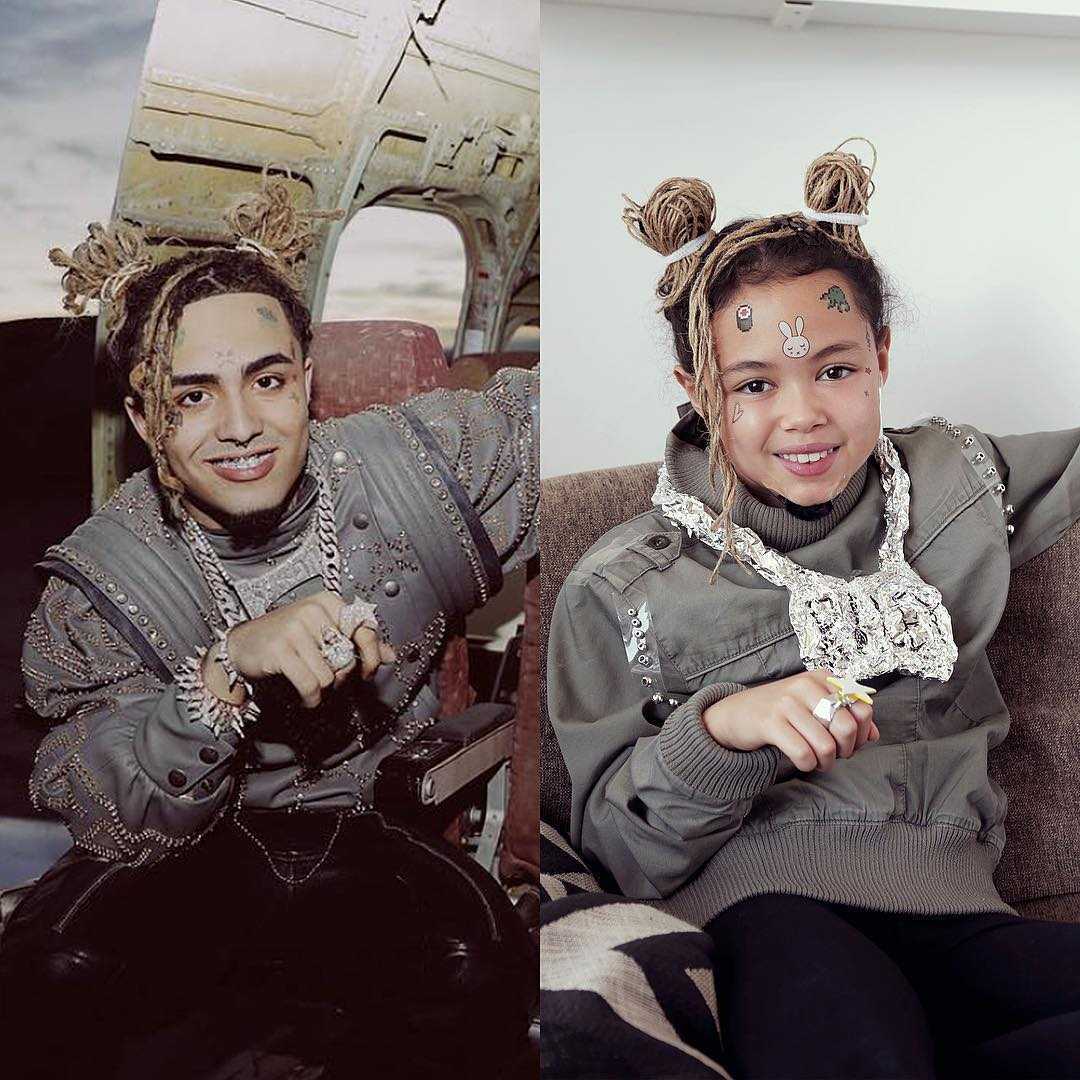 Lil Pump is a classy rapper with unorthodox looks. His appearance is quite uncommon. He has got braided hair which has highlighted streaks on them. His forehead has some miniature tattoo as well. Riley recreated the look with some material available at home.
3. Ab-Licious Julian Daigre
Riley did not spare the fitness coach-cum-cheerleader. She recreated her six-pack toned belly by placing a challah bread on her stomach and posing in the same way.
4. Rihanna And Her Saucepan Hat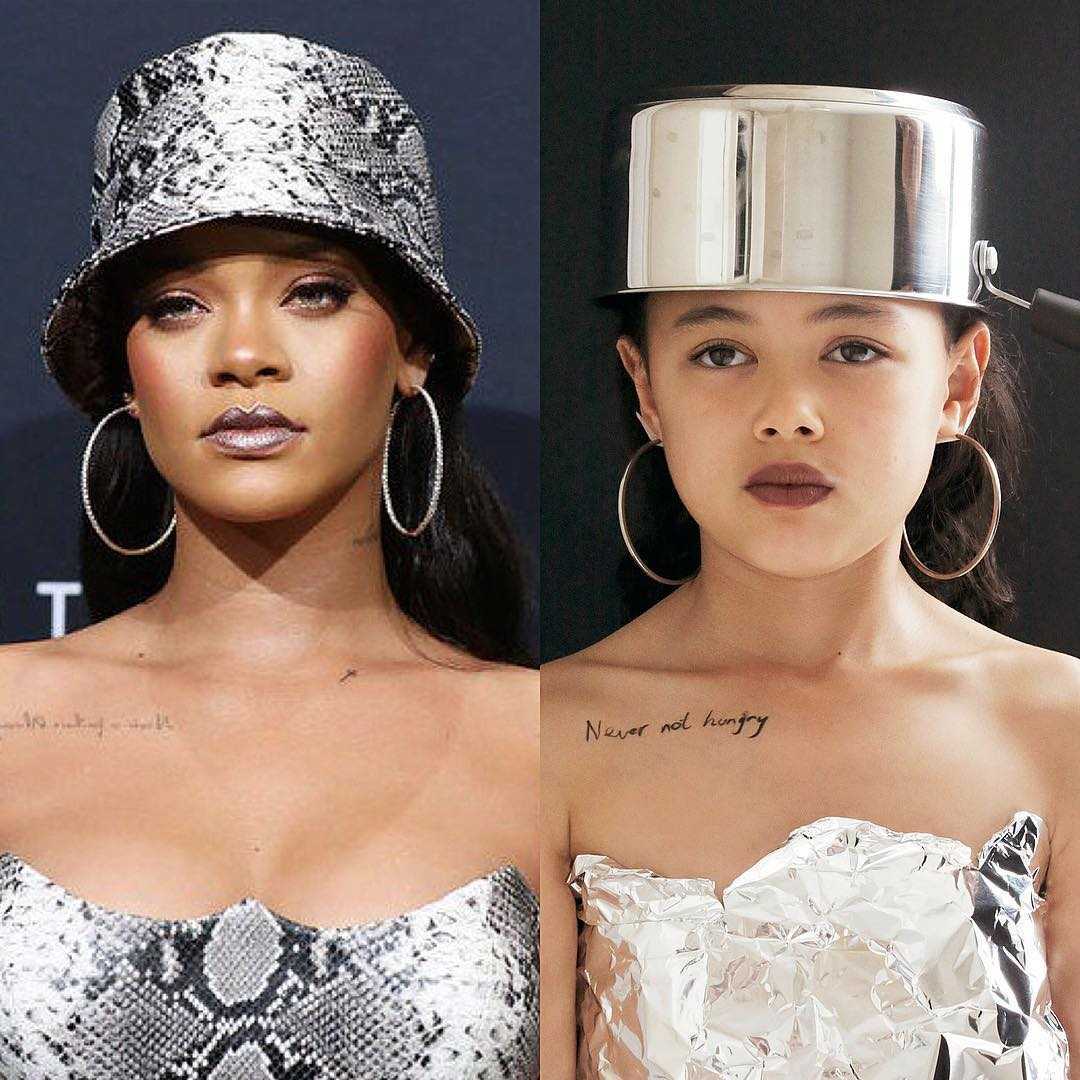 Rihanna has always been the classiest celeb around and she croons in a magical way also. But when it comes to dressing for events, she has always been involved in many a disaster. Like her glittery silvery dress was recreated by Riley with pots and pans from the kitchen.
5. Joy Villa And Her Statue Of Liberty Look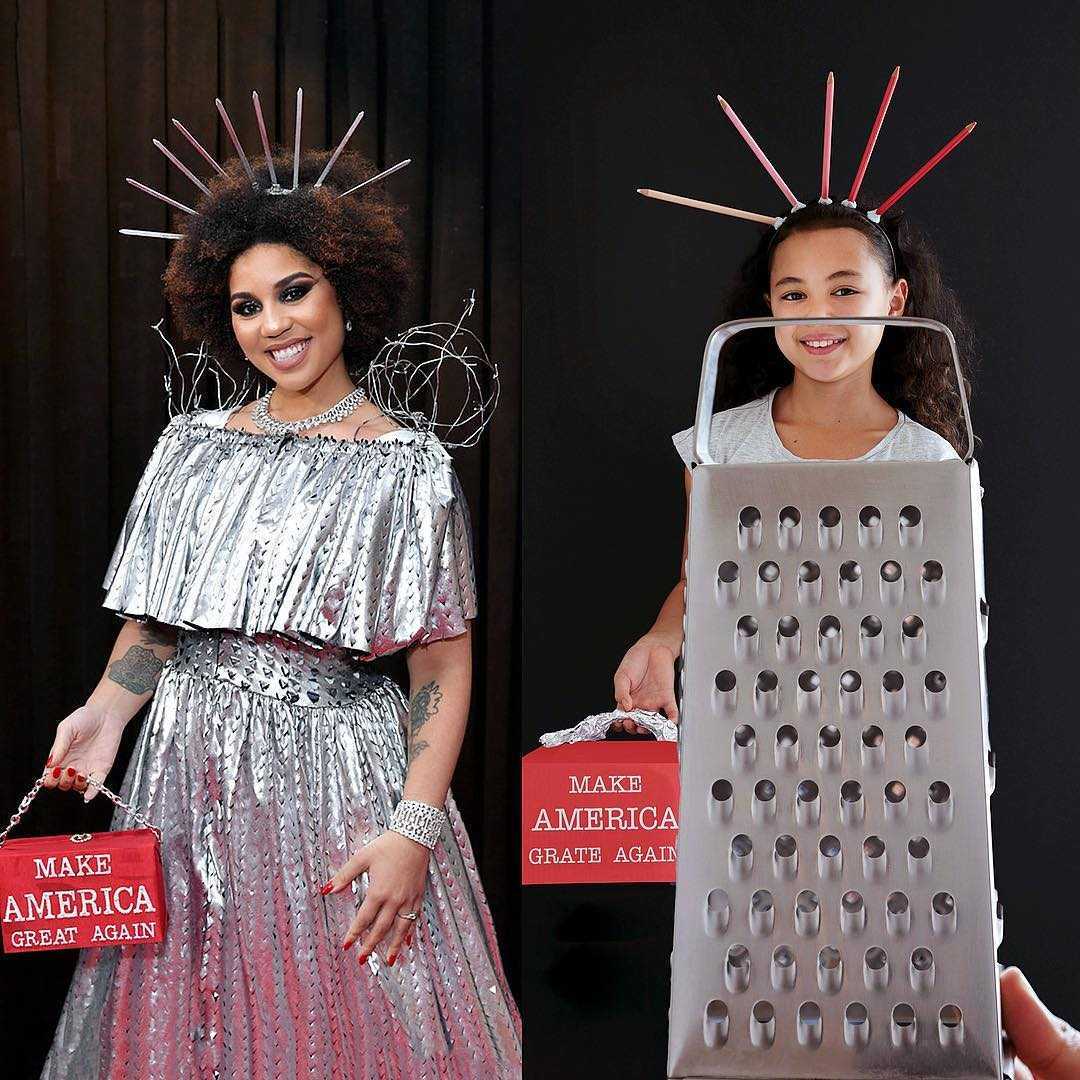 Joy Villa has been a great singer. But her dressing sense is just outrageous. She dressed up as the statue of liberty holding a box which said, "Make America Great Again." Riley changed the appearance with a pencil hairband and put a grater in front changing the caption on the box to "Make America Grate Again." Clever wordplay, that.
6. Paris Bishop's White Tragedy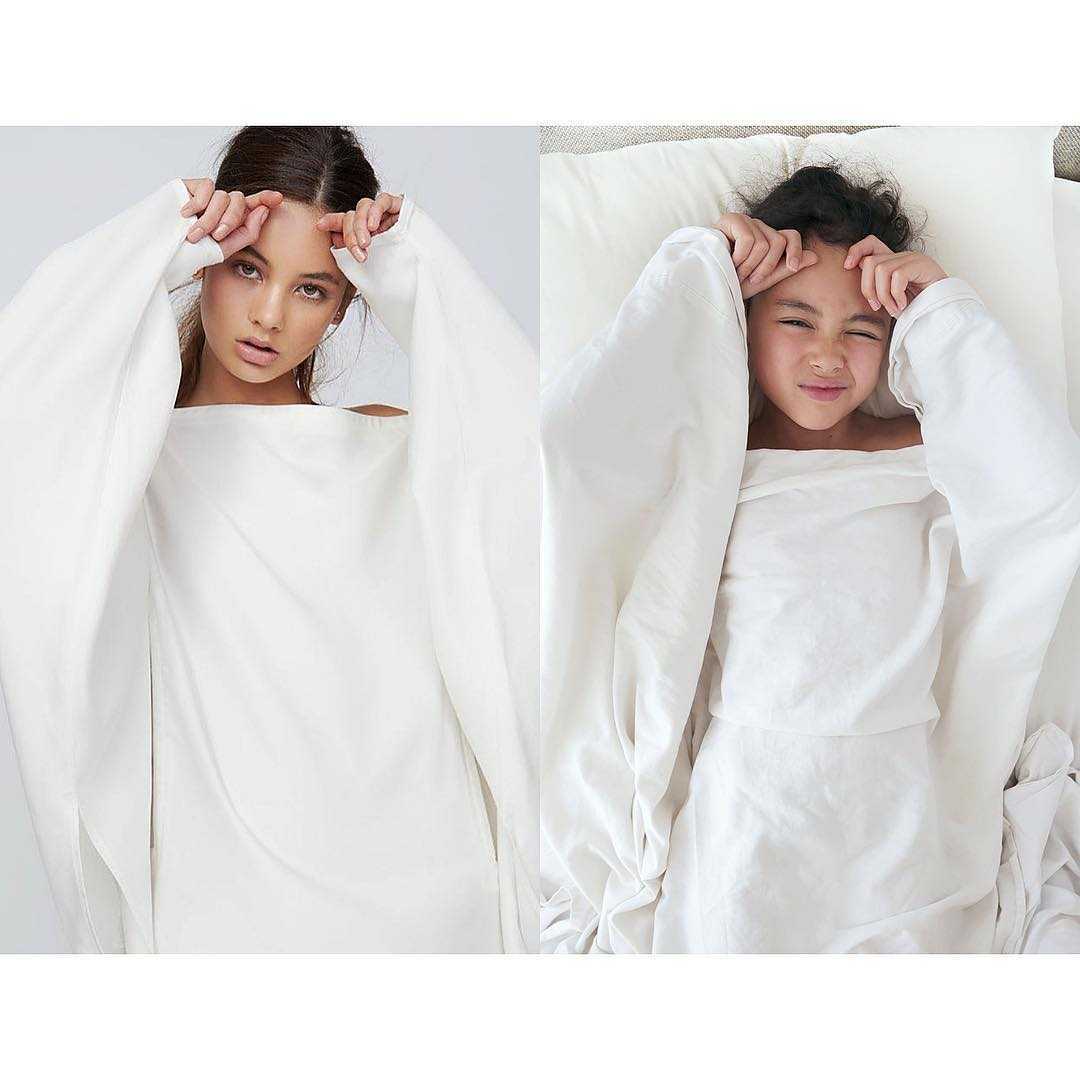 Paris Bishop is a beautiful model and athlete. But this costume which the Aussie girl is donning is highly confusing. I cannot decide who looks better, Riley in her blankets or Paris in her I don't know what it is dress.
7. Nia Sioux And Her Talking Lips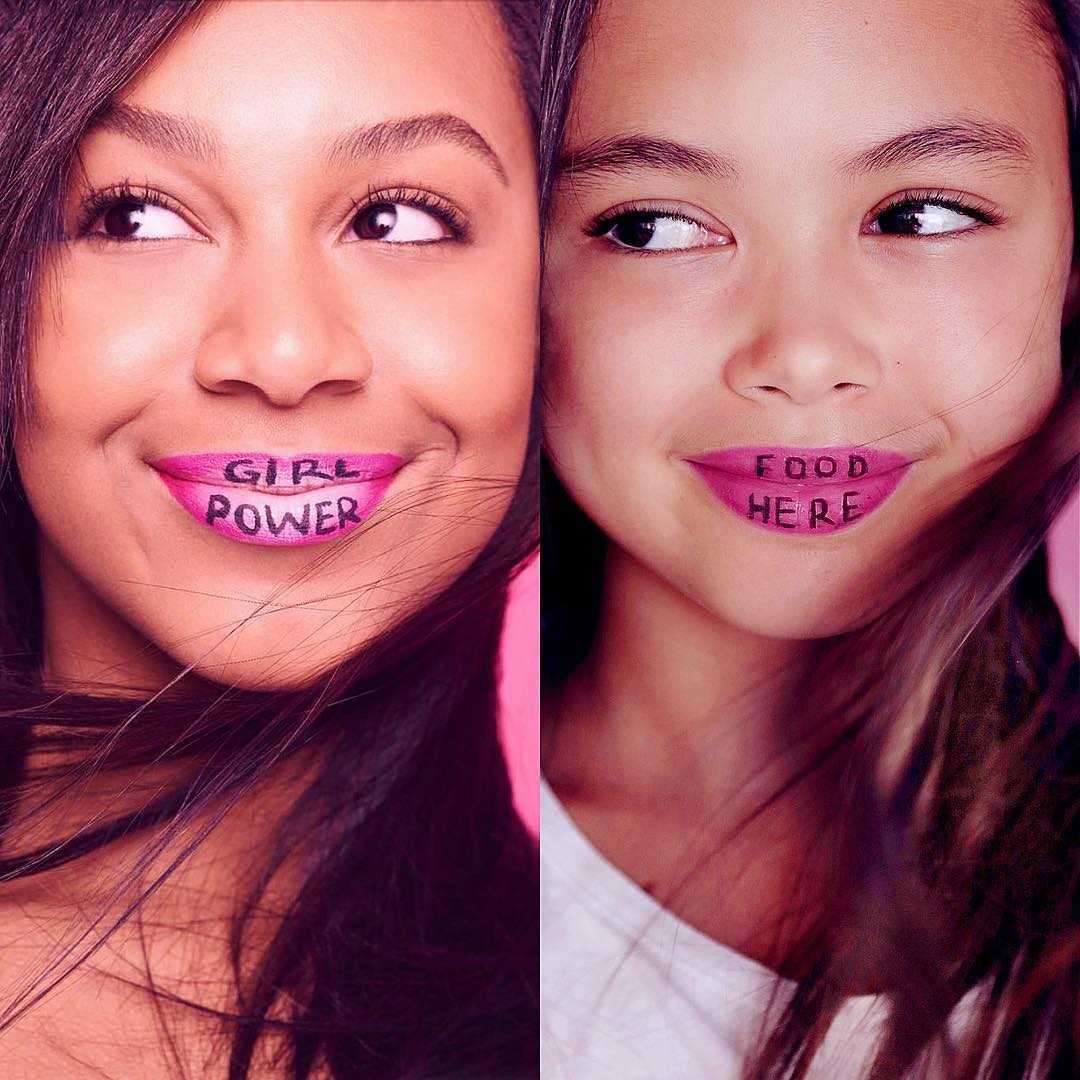 Dancer Nia Sioux is a talented and young youthful celeb. She is young so she has a wacky fashion sense. So you can guess she has gone a bit overboard with the lip color. But Riley sets things right with her version.
8. Sam Rybka And Her Splits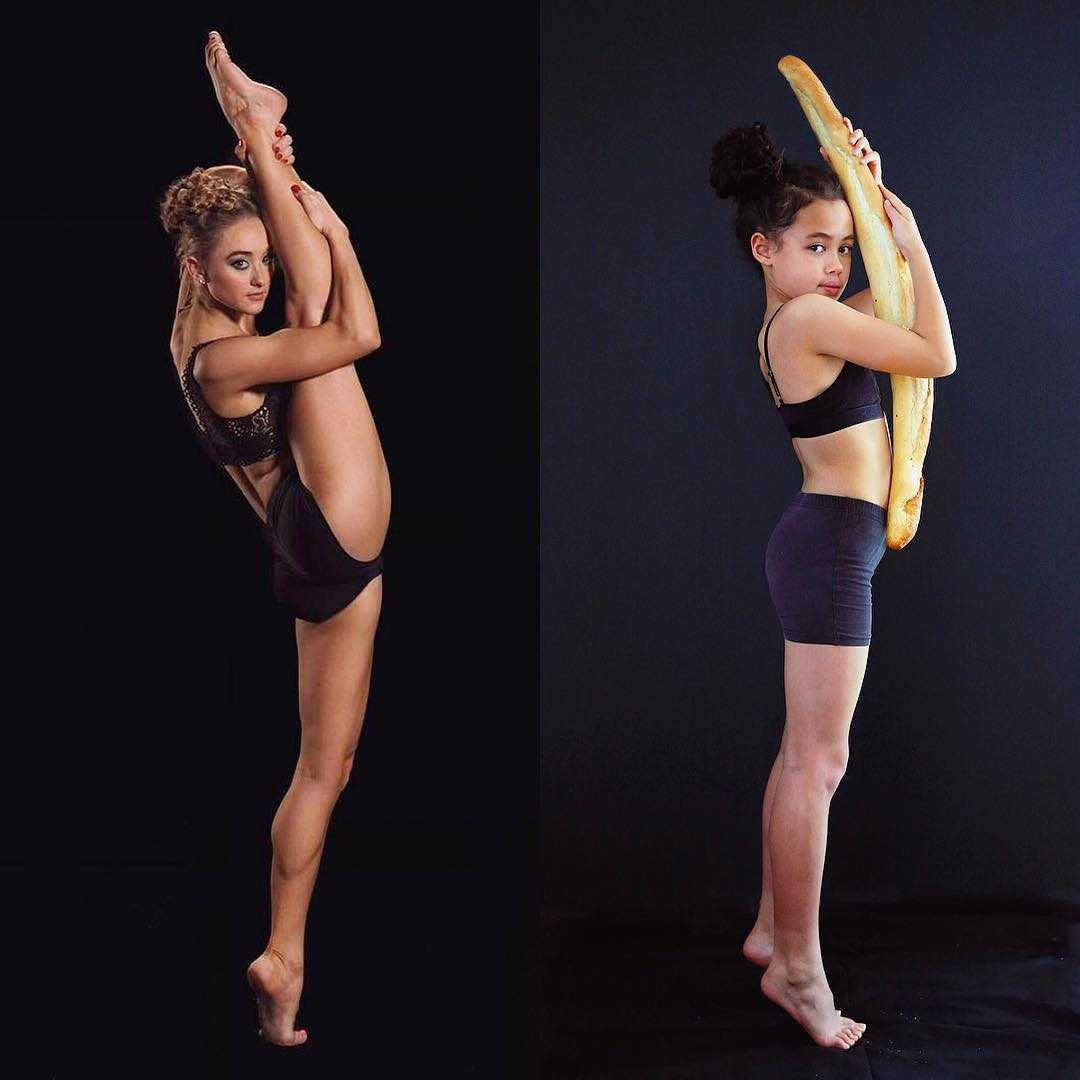 The Aussie Acrobat can do some terrific standing splits. She is intensely involved into a lot of exercising, but Riley here is young and can allow some pounds to slip in. So she is posing with food.
9. Beyonce And Her Orange Bump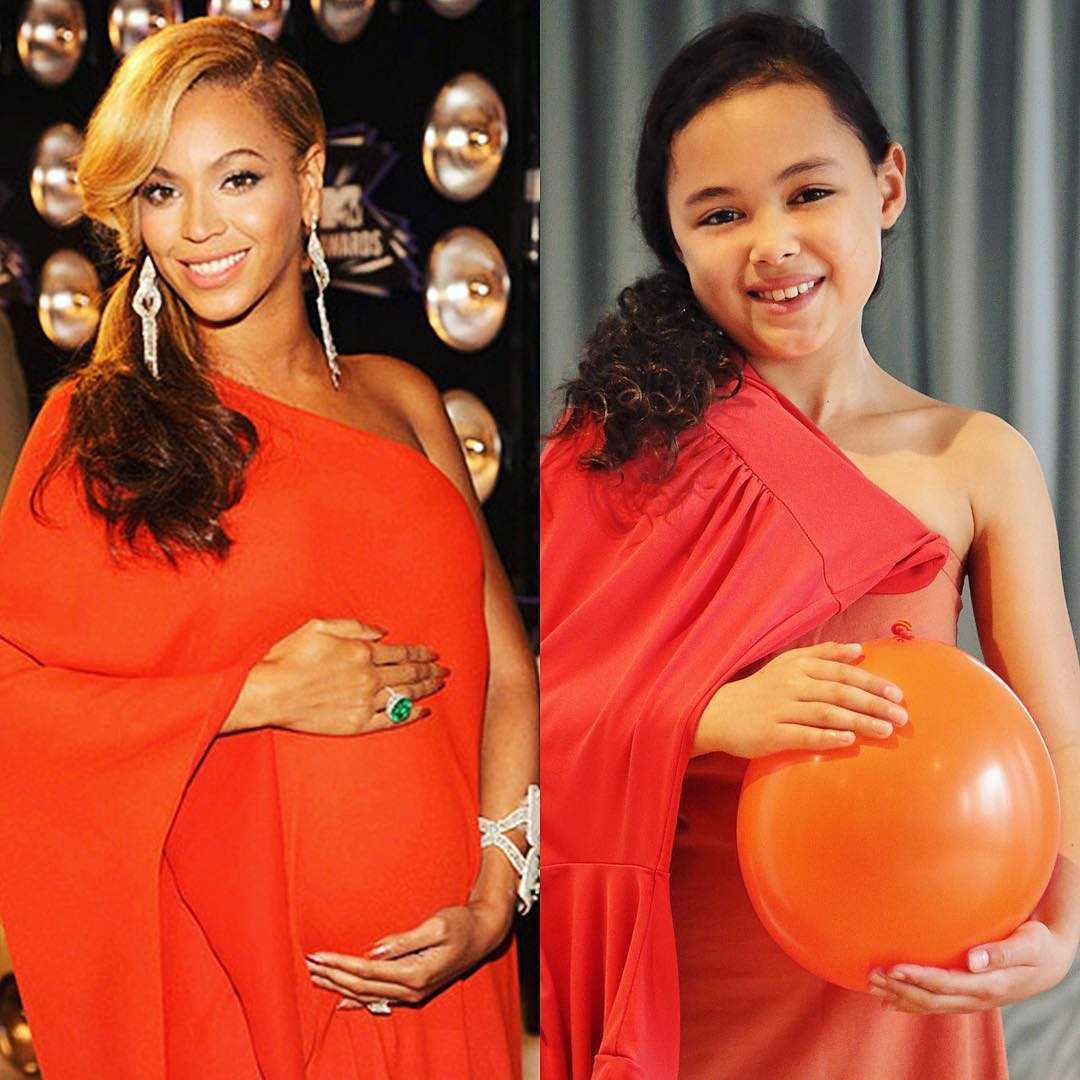 Beyonce was pregnant during the 2011 MTV awards. She looked fab in that orange gown. But Riley was in no mood to spare Queen B either. So she went in to copy her look and placed a balloon strategically.
10. Ashanti And Her Tartan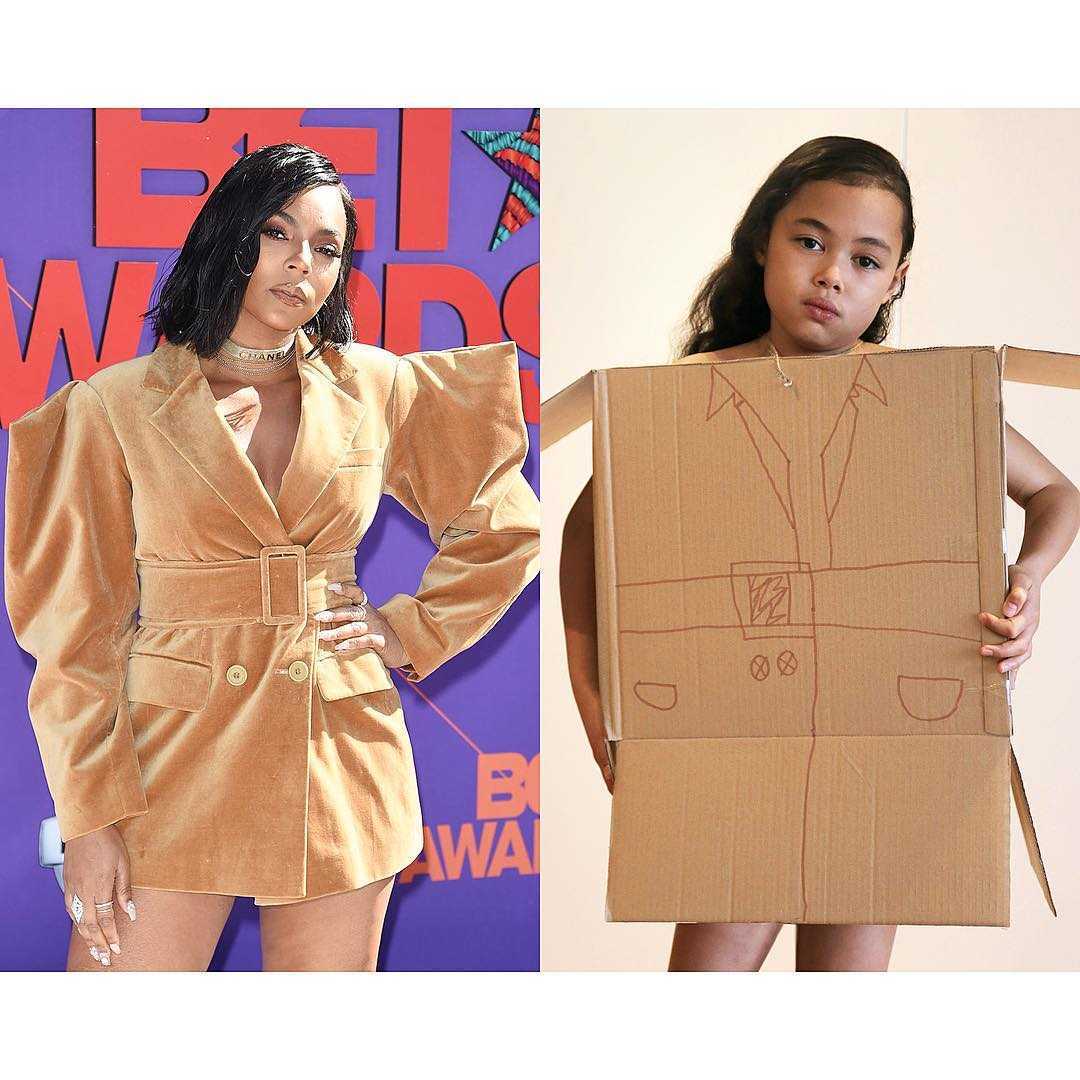 Ashanti is a yesteryears celebrity who had her classy way of dressing. Like Rihanna, she knew how to draw the oohs and the ahs from the crowd. But Riley put her in her place, by recreating the velvet coat look with a cardboard box.
11. Alexandra Verschueren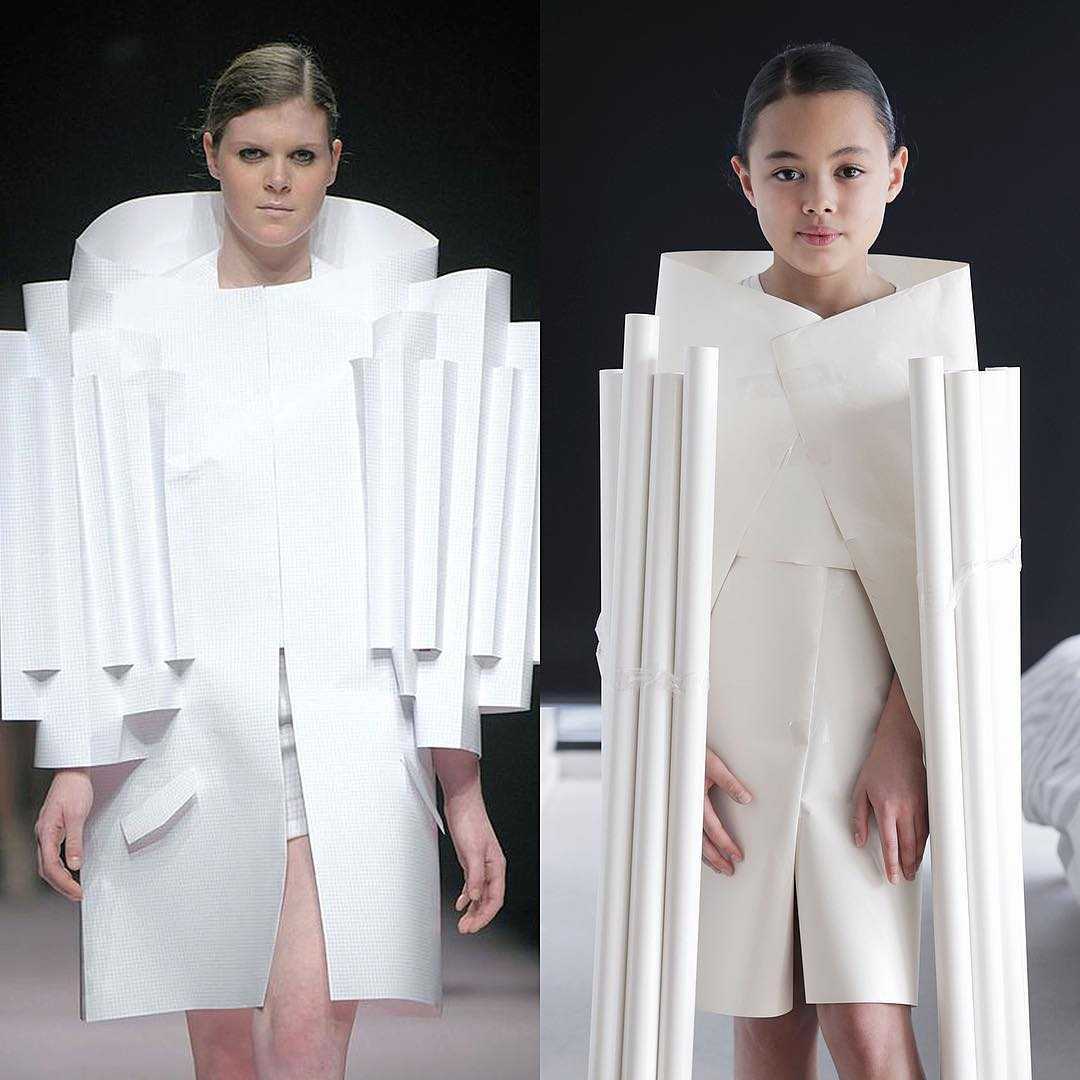 Models have to wear all sorts of silly dresses. Alexandra Verschueren, the famous model, is seen here with another quirky outfit. Riley put in a lot of paper rolls to look like her and we should say that this little girl is a genius.
12. Sabrina Carpenter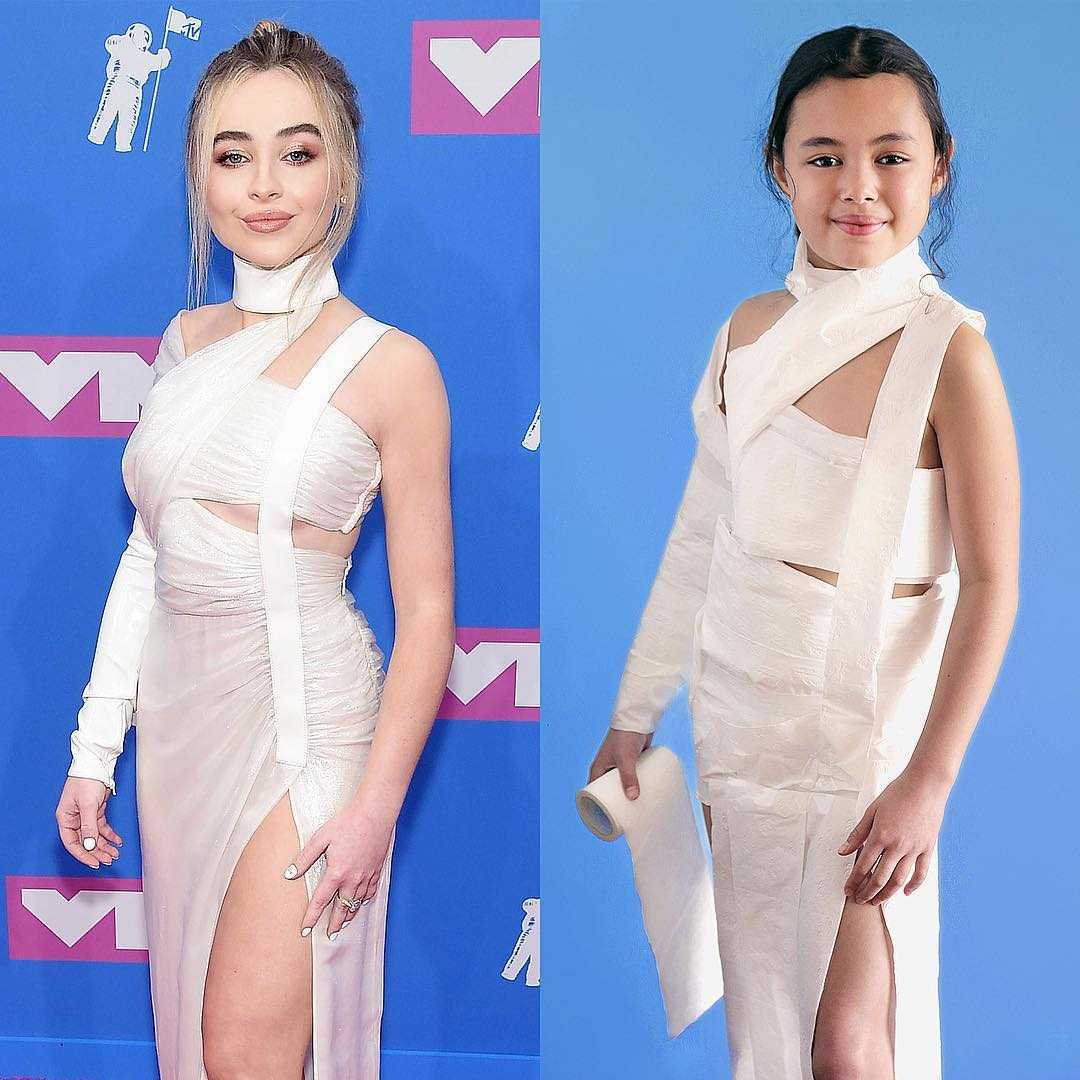 Sabrina Carpenter is another talented and young artist who has a trashy sense of fashion. Riley drew a parallel of her mummy bandage dress with toilet rolls. Way to go, Riley, you do have an awesome sense of humour.
13. Vanessa Moe And Her Story Of Woe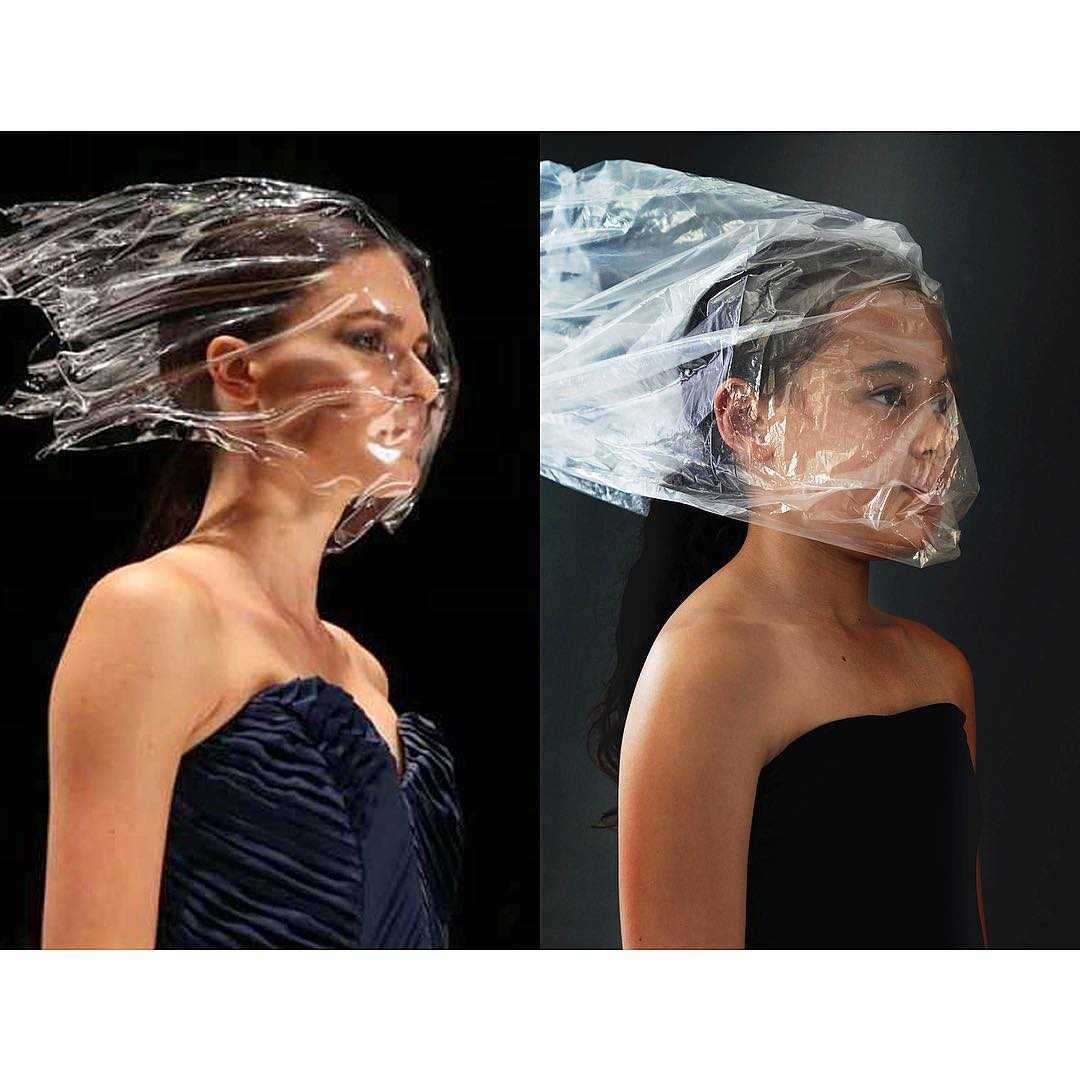 Vanessa Moe is an Instagram model and has dazzled the world with her appearance and dressing style. But this costume that she is wearing is simply illogical. Riley recreates the look and captions it appropriately, "Fashion that takes your breath away. Please don't try this at home. I am a professional idiot."
14. Haley Bennett And Her Greens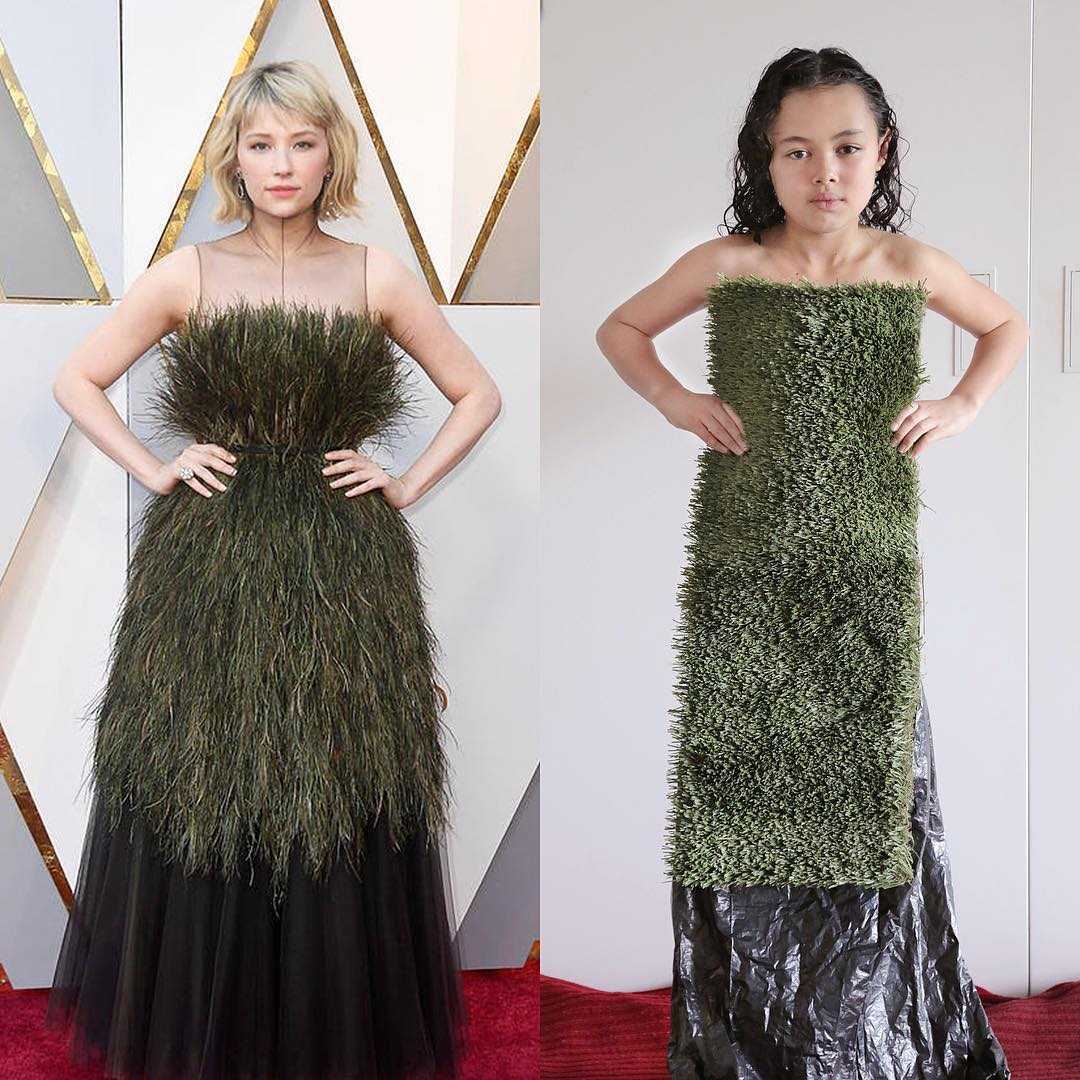 Who would wear grass over their dress? Not me. Haley Bennett tried to look cool with her awkward grass patch outfit. Riley recreated the appearance with a fake grass patch and trash bag gown.
15. Nicki Minaj And Her Salad-y Hairstyle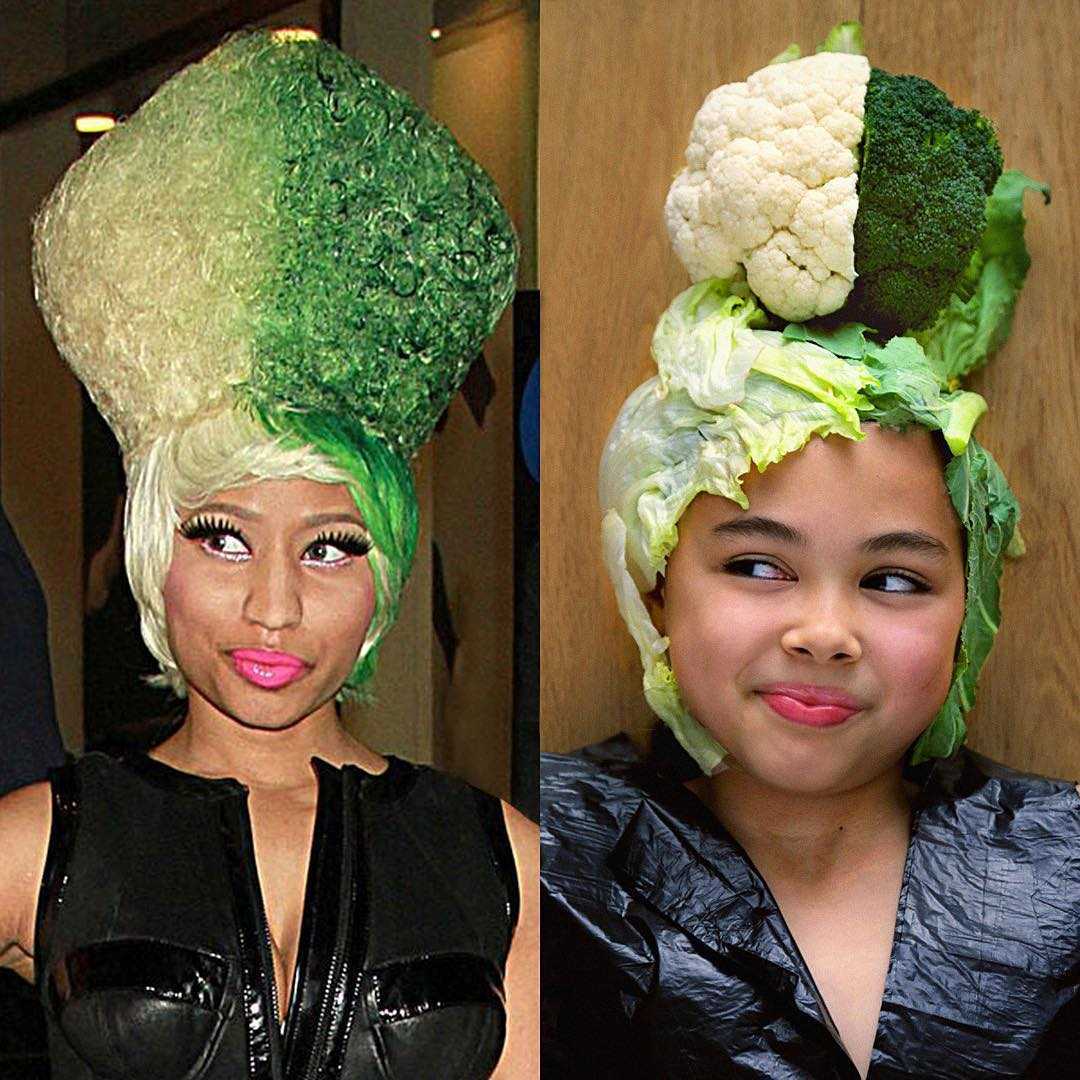 If somebody is known to have the strangest style of dressing up, then all fingers would point towards Nicki Minaj. That girl simply does not know how to look like a normal diva, does she? Riley puts her veggies on her head in a bid to resemble Nicki.
16. Kim K And Her Metal Armor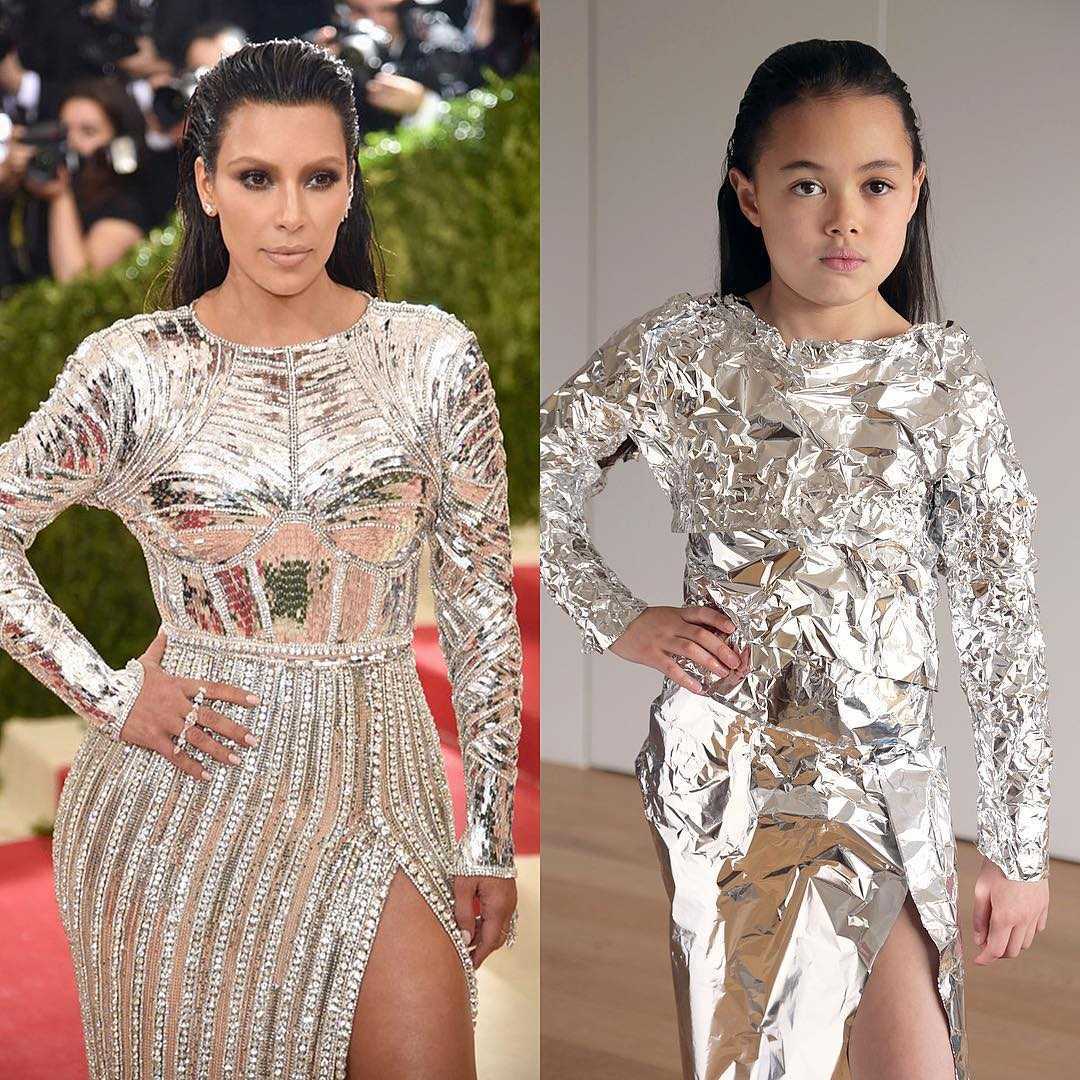 Kim K is another celebrity who has an awkward sense of style. But we cannot blame her, for she always tries something new. But hey, it is not as outrageous as Nicki Minaj's. Riley has recreated the glittery look of Kim K with silver foil.
17. Rihanna – II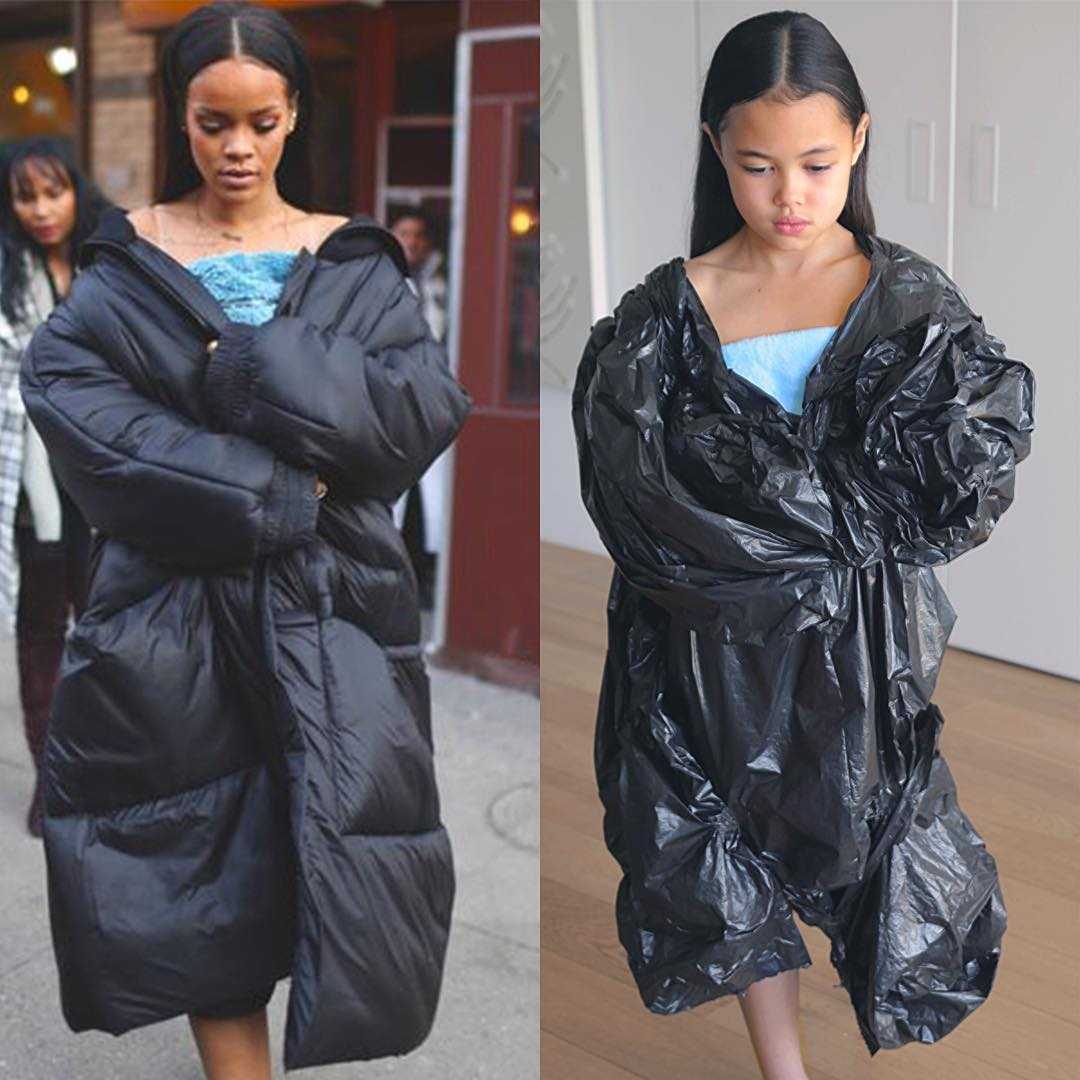 Riri can make multiple appearances on this page because she has been involved in multiple fashion disasters. Like here, it seems like she has wrapped a soft mattress around her. Riley tries to recreate the dress with a trash bag again. It's getting a little boring Riley. Pick up your game!
18. Jojo Siwa And Her Bread House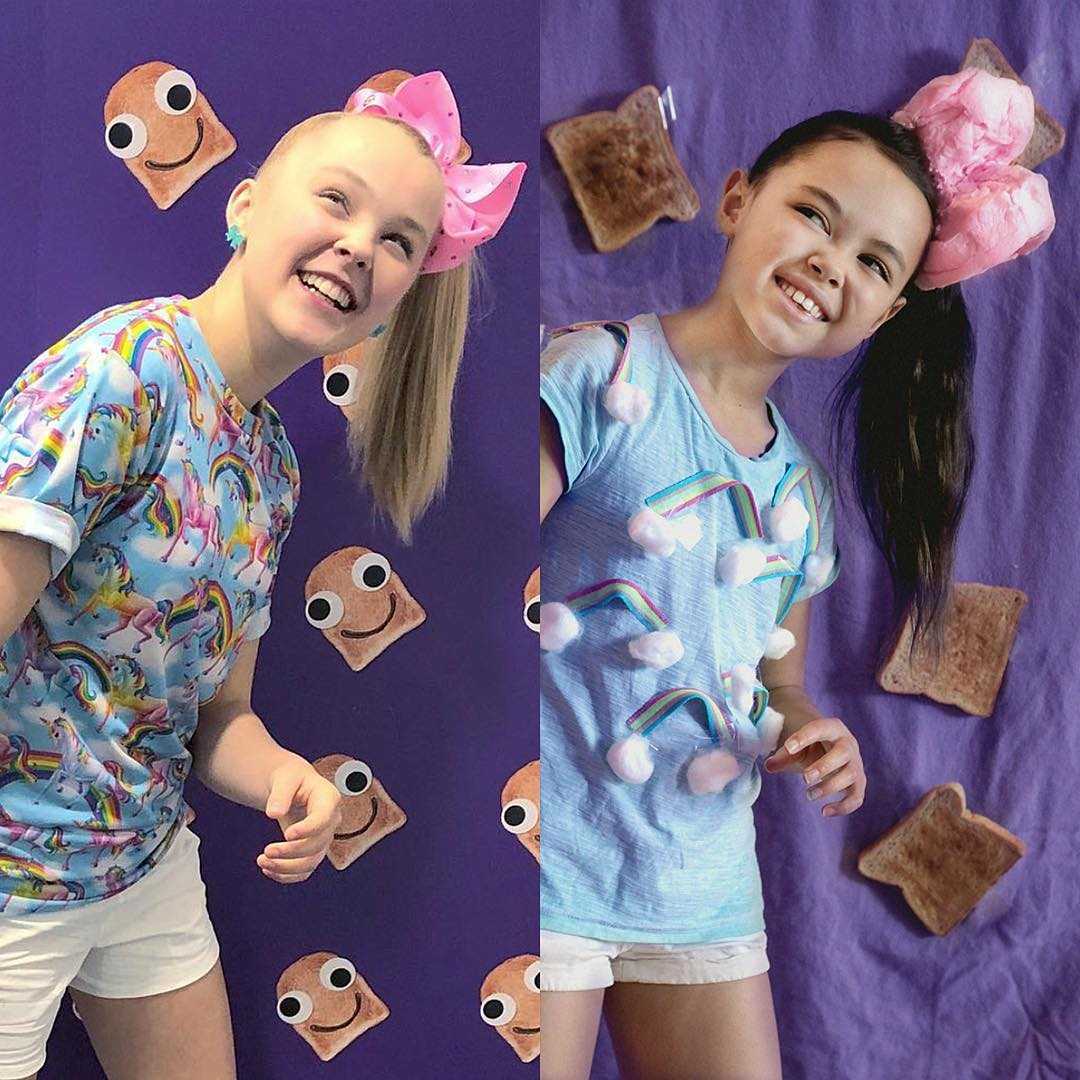 Jojo Siwa is a young multi-talented personality who has carved a niche for herself across TV and YouTube. But she is looking like a dessert in this picture and Riley has appropriately captioned, "Buy my Rye Rye Hair Tie so I can get to the dessert buffet. LOL." Must say, this one is quite silly. But these are two young girls and some silliness is expected.
19. Lil Tay And Her Greenbacks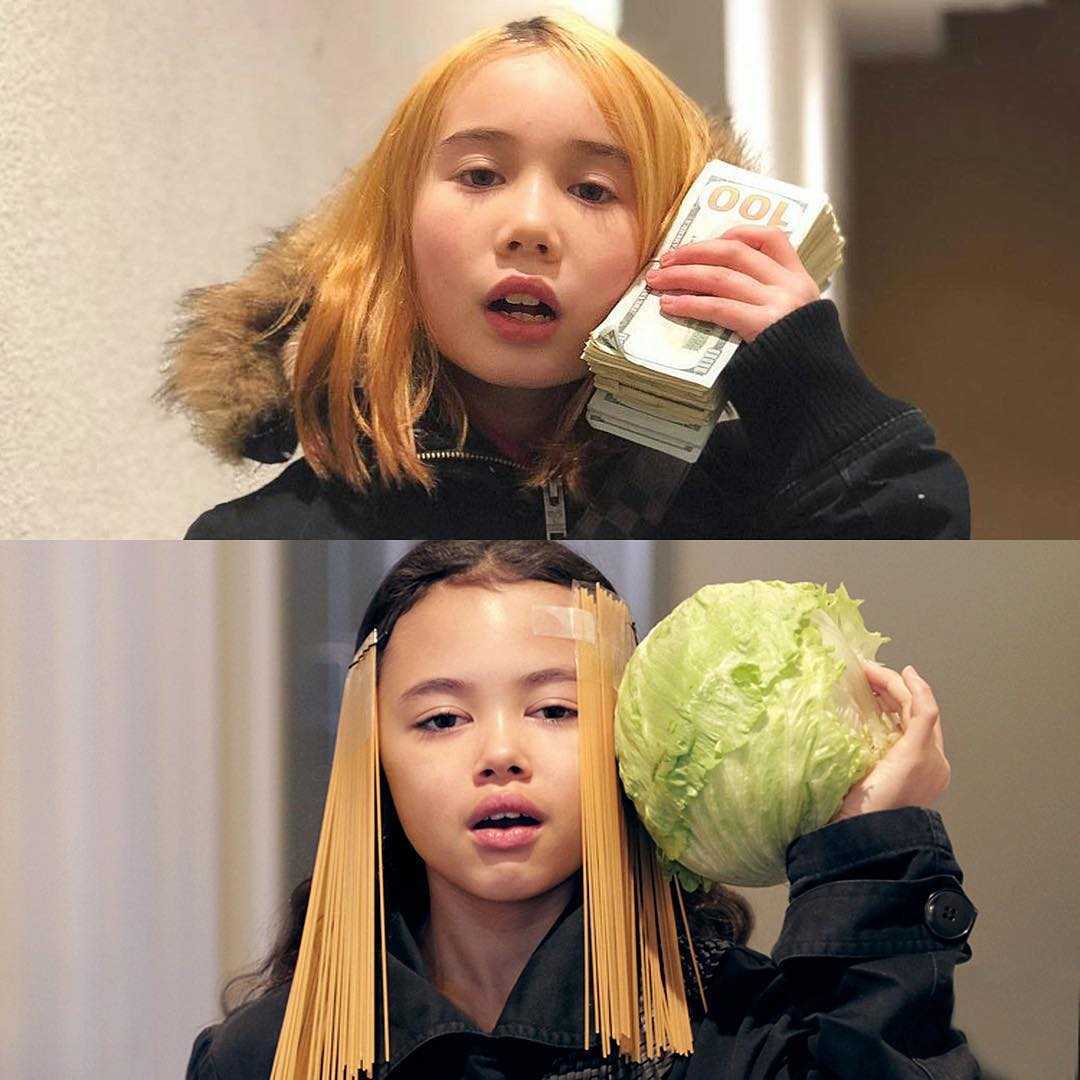 A young child star, who is minting a lot of money does have a big head. However, our Riley has just the right medicine for it. Instead of the currency that Lil Tay is holding close to her head, she holds lettuce near to hers and captions it succinctly," "Y'all goin back to school while I'm making lettuce by the HUNNIDS." Smart and spot-on, Riley!
20. Zendaya And Her Hot Dog Costume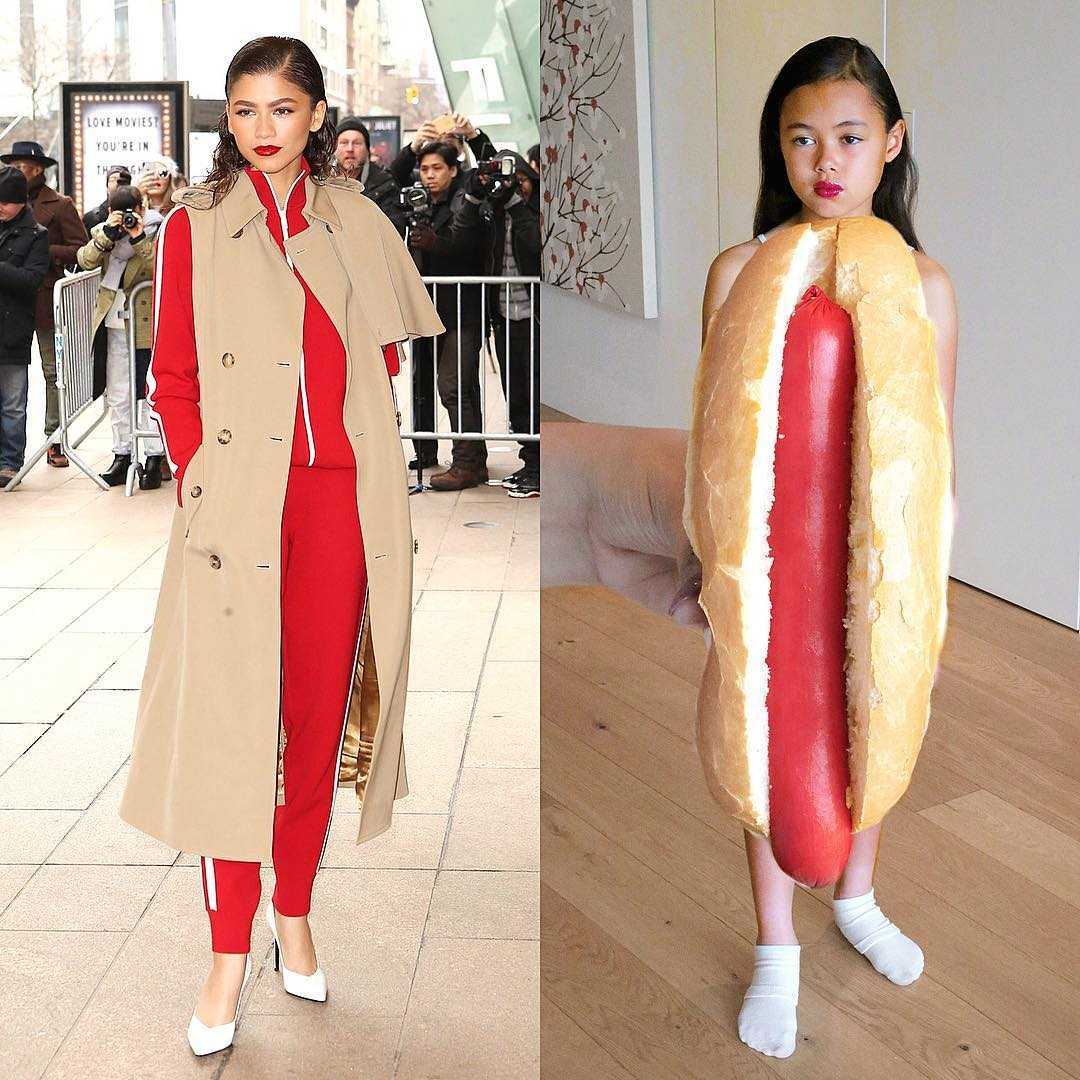 The dancer, singer and actress has rocked it across various platforms. At times, she has also been guilty of murdering fashion. Riley punishes her for crimes by dressing up as a hot dog.
21. Chiara Ferragni And Her Rainbow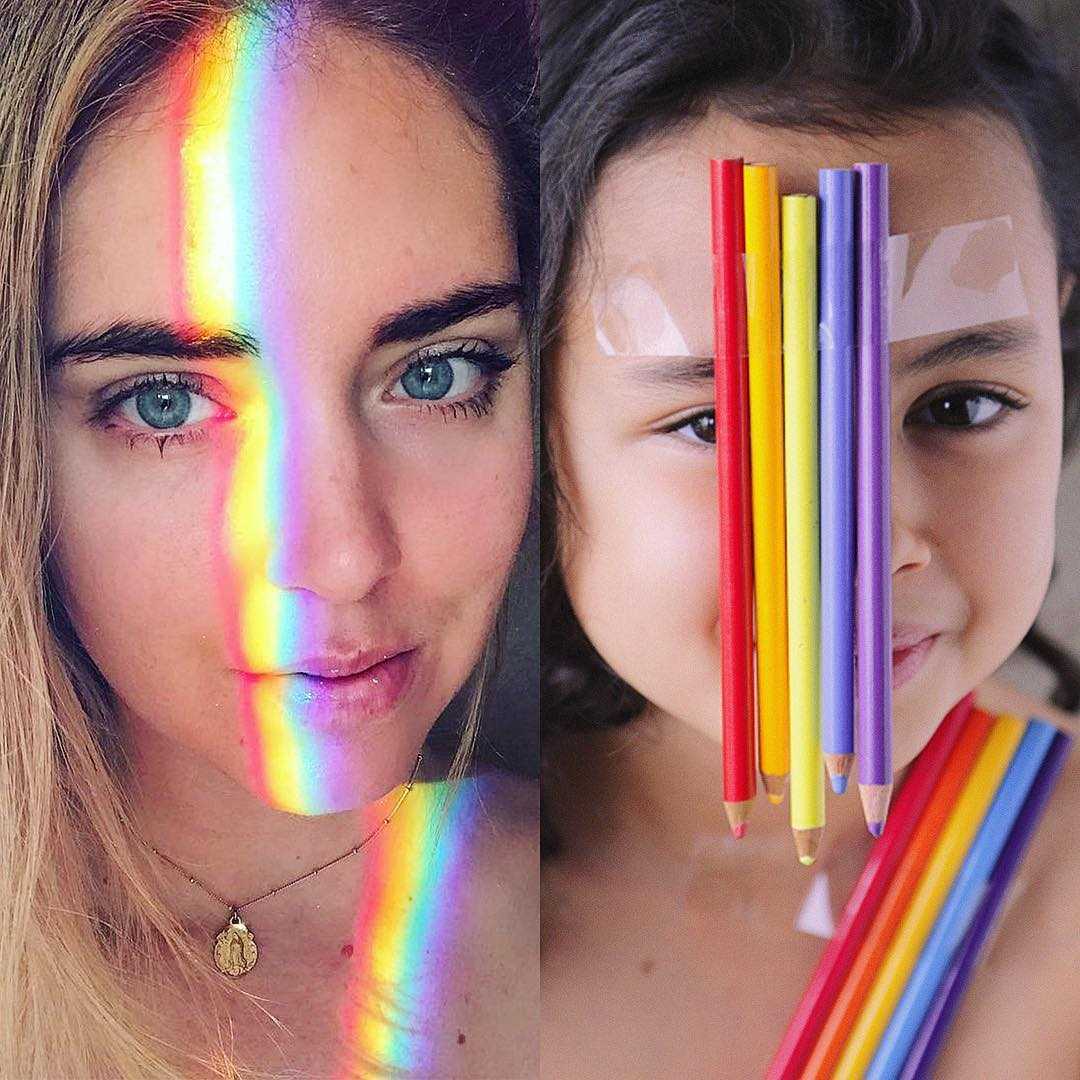 Chiara Ferragni is an entrepreneur, designer and fashion blogger. She knows a lot about fashion and style. She knows how to stand out pleasantly. But Riley being Riley, she trolled her and trolled her hard!
22. Michelle Waterson And Her Muscles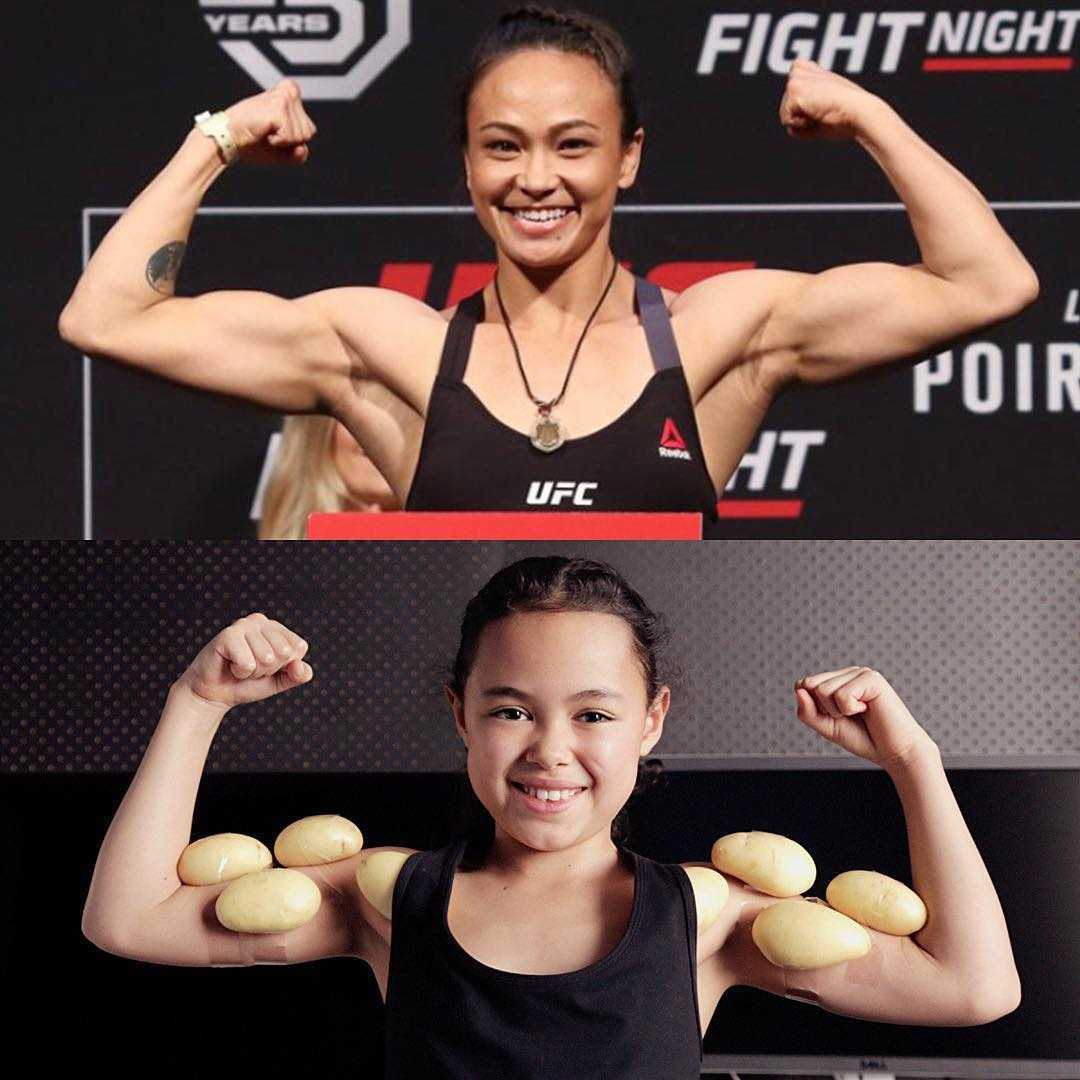 Michelle Waterson is a UFC martial artist and fighter. She does not go overboard with fashion and takes safe choices. But Riley trolled her by copying her weigh-in look. Riley could not afford to have biceps at this tender age, so she replaced it with potatoes.
23. Brooke Hogan And The Toilet Roll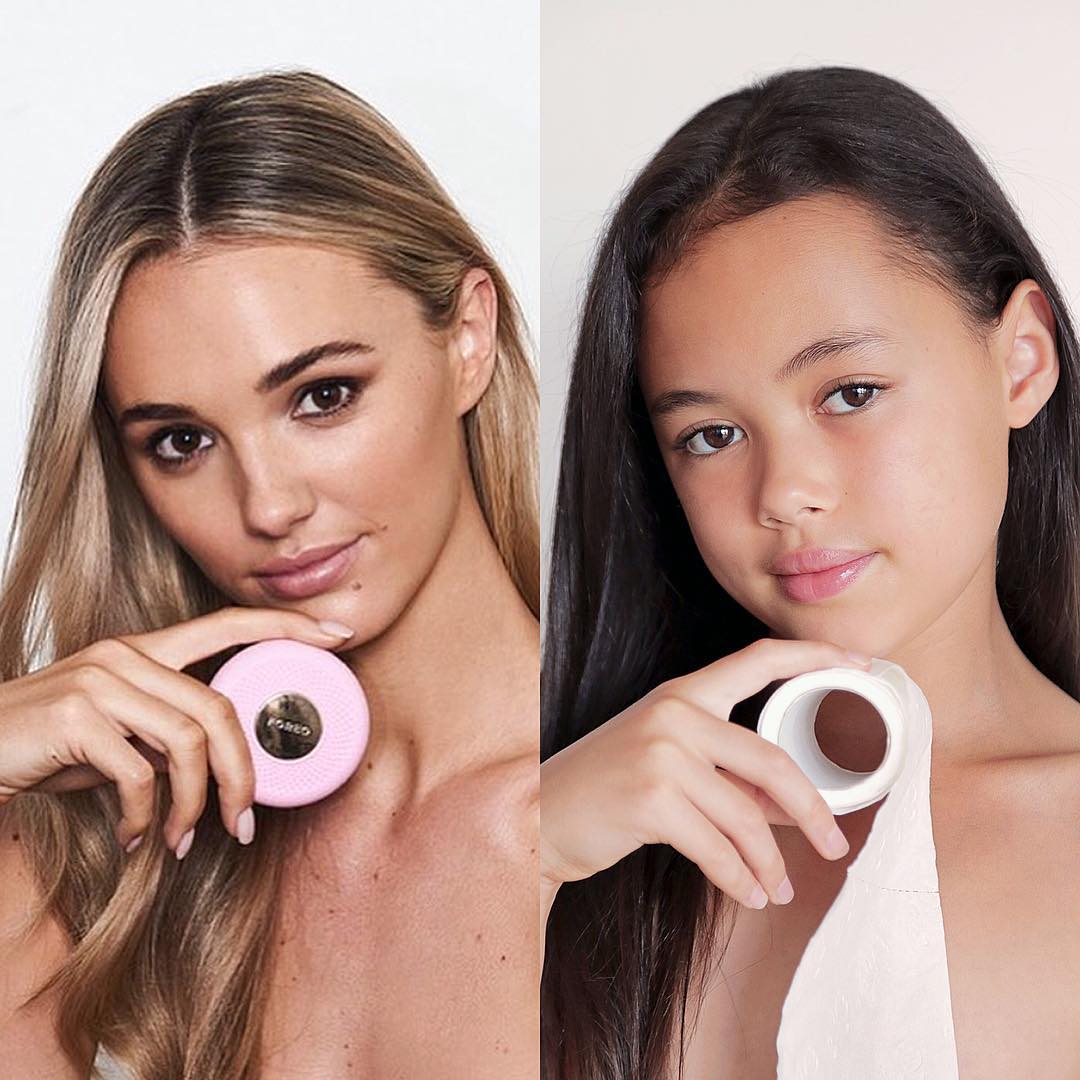 Without any product to promote, Riley has taken to promoting her toilet roll. Unlike Brooke Hogan, who is posing with a classy makeup product, Riley is doing all she can with her limited budget.
24. Malin Malle Jansson And Her Weekend Flex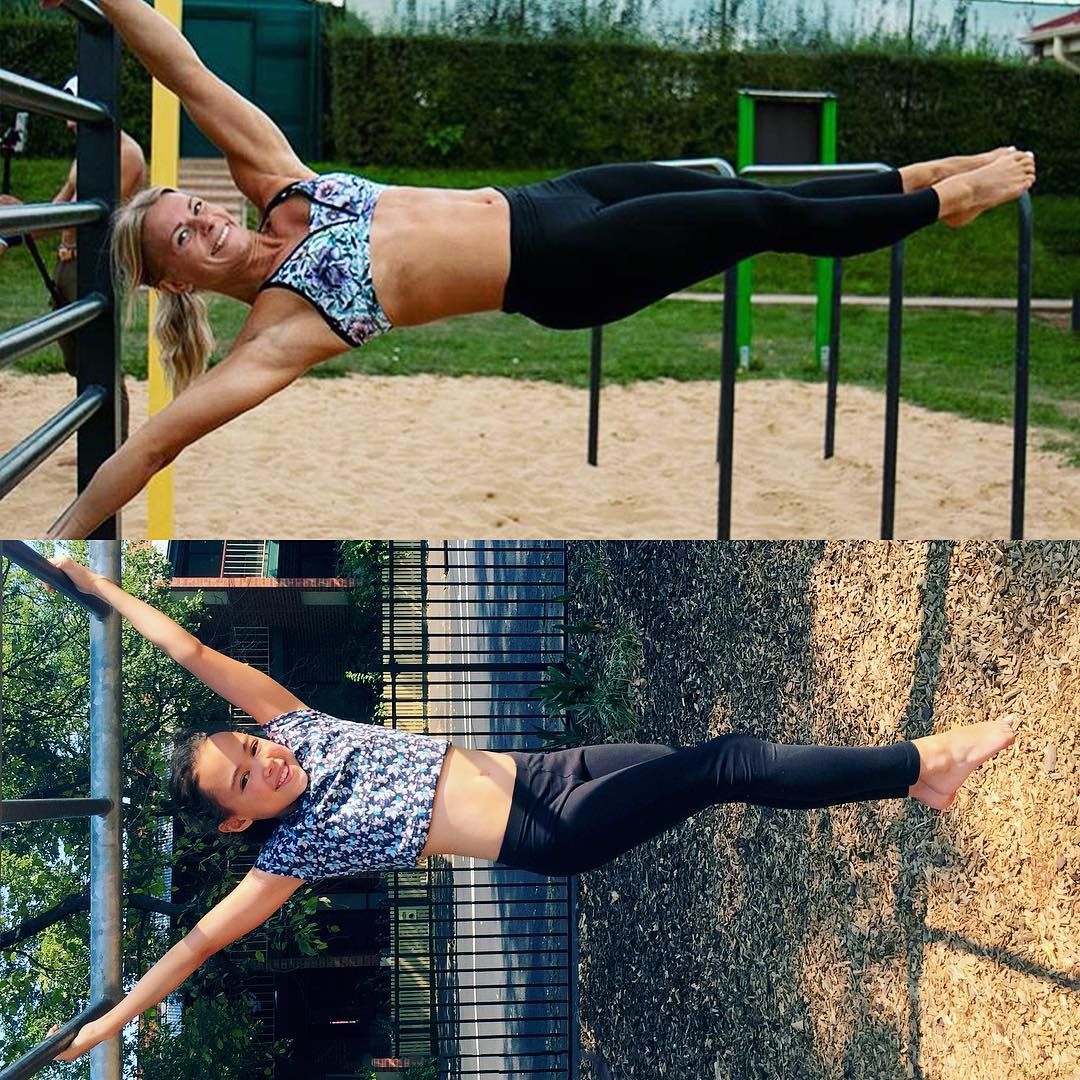 When it comes to exercising, Malin Malle Jansson is quite a worker. However, Riley isn't all grown up, so she can't do the flag pole. So she has a brilliant idea. She hands on to the monkeybars and tilts the photograph to get the same effect.
25. Miley Cyrus And Her Grammy Look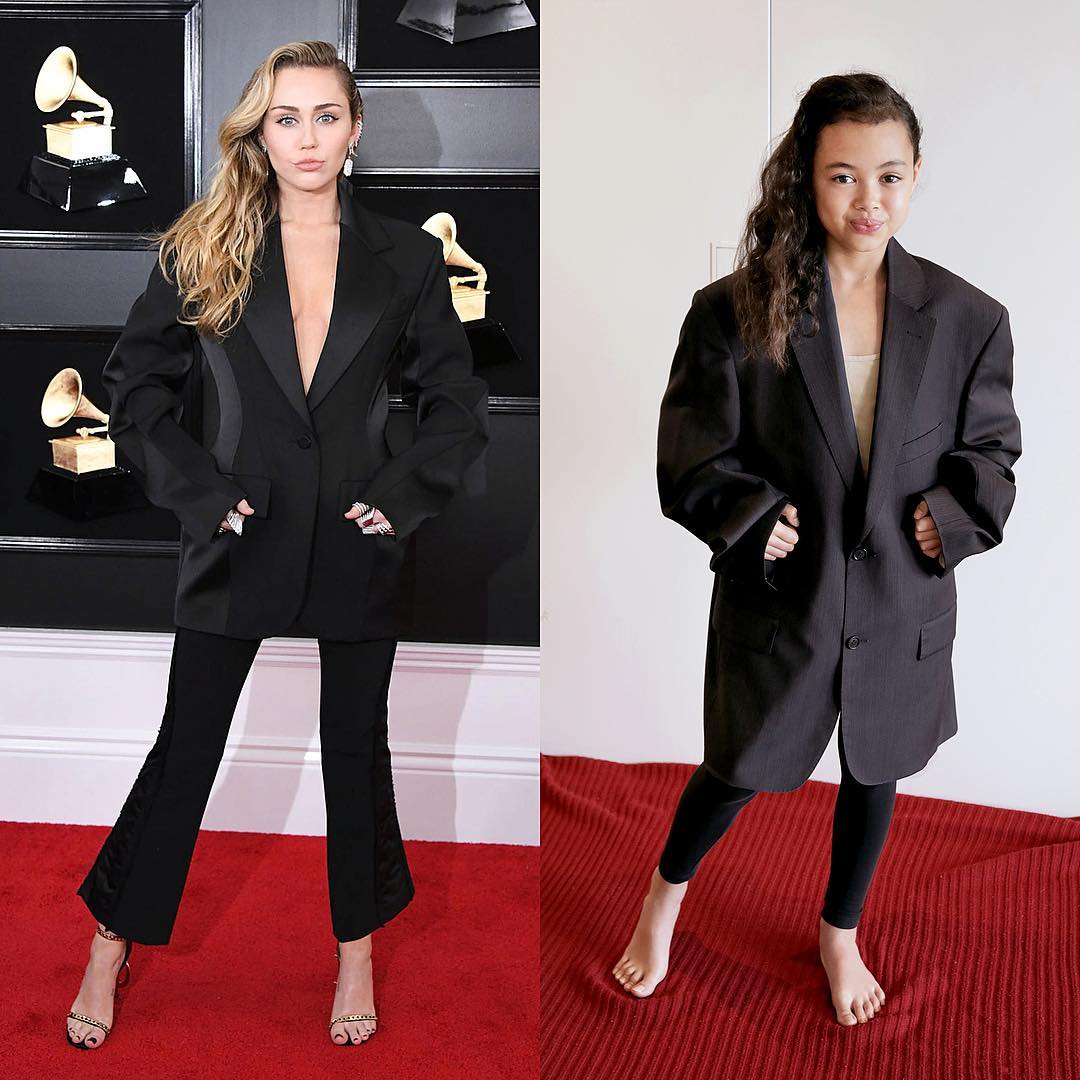 Miley Cyrus is a sensation in herself. It is quite difficult to dress up and look classy at the same time. Riley takes her Dad's jacket and tries to copy Miley's pose. Way to go, girl, you look awesome.
26. Danielle Moinet And Her Beach Look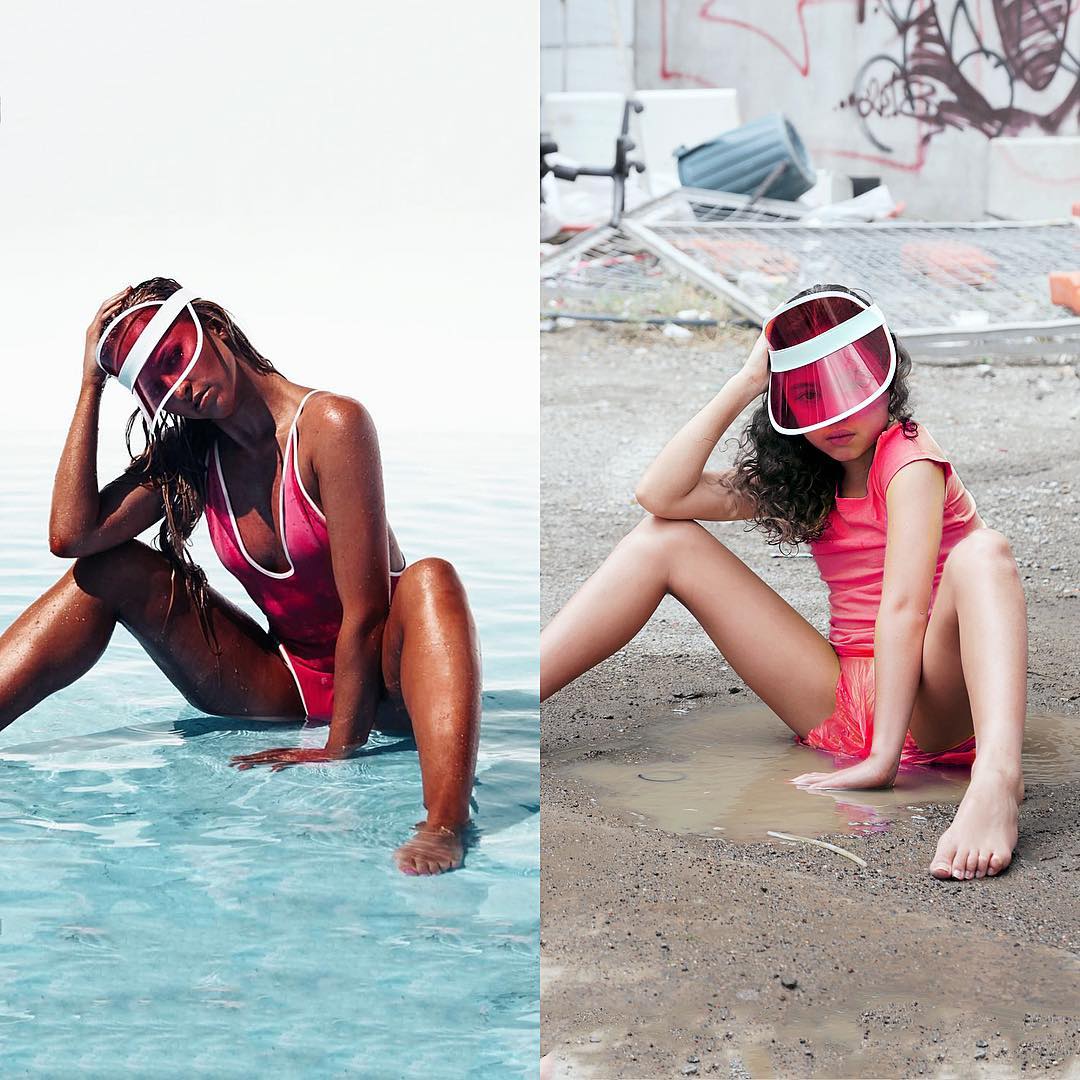 While Danielle Moinet looks all hot and sultry on the beach, Riley who is nowhere near the sand manages with a roadside puddle. Aww, we feel so bad for her.
27. Teagan Rybka And Her Handstands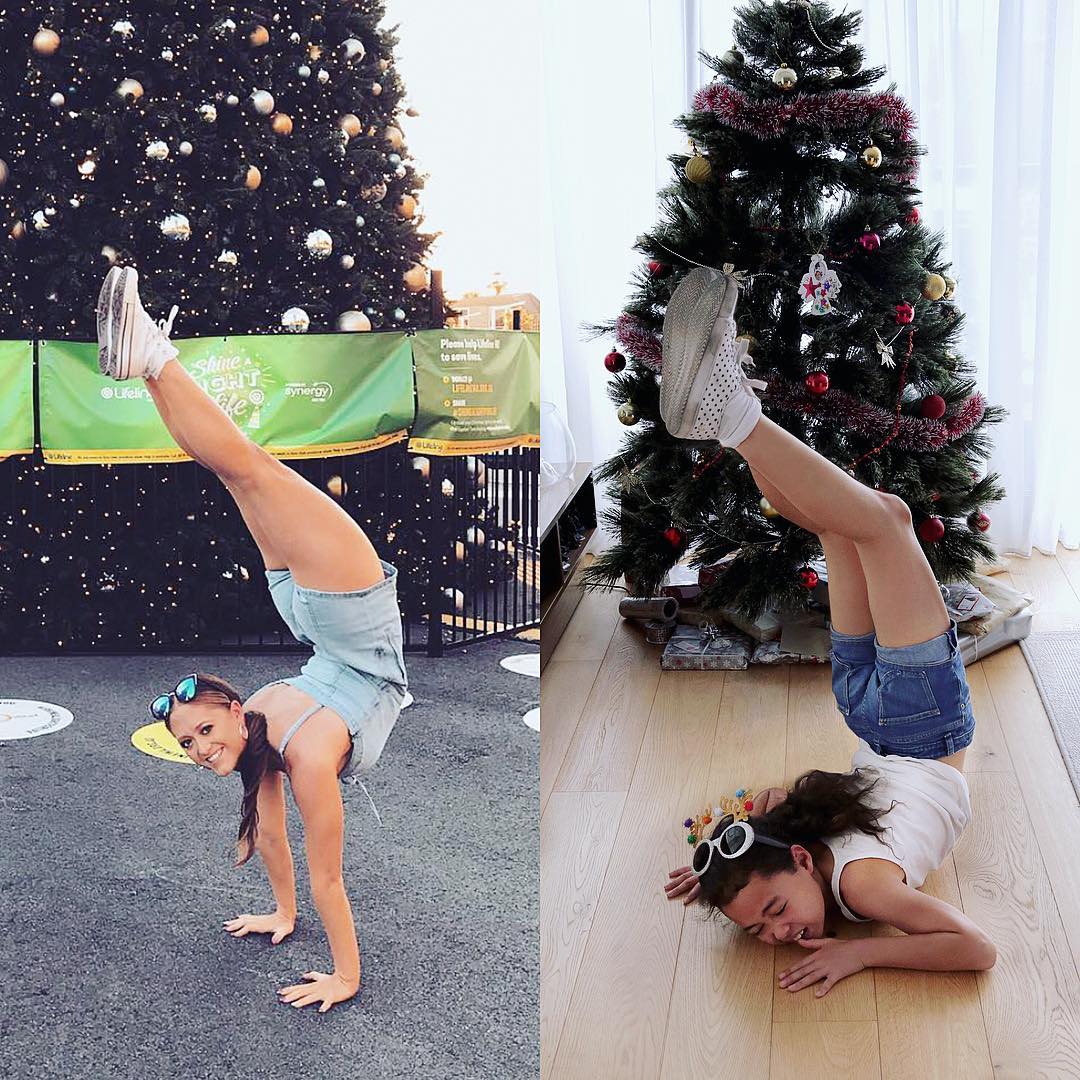 The Rybka sisters are good at the gym stuff. However, our Riley who still has a long way to go tries to emulate the look by braking and crashing. At least, that is how it seems. Yes, there's even a tree in the background. Take that, Teagan.
28. Stella Maxwell And The Omnibot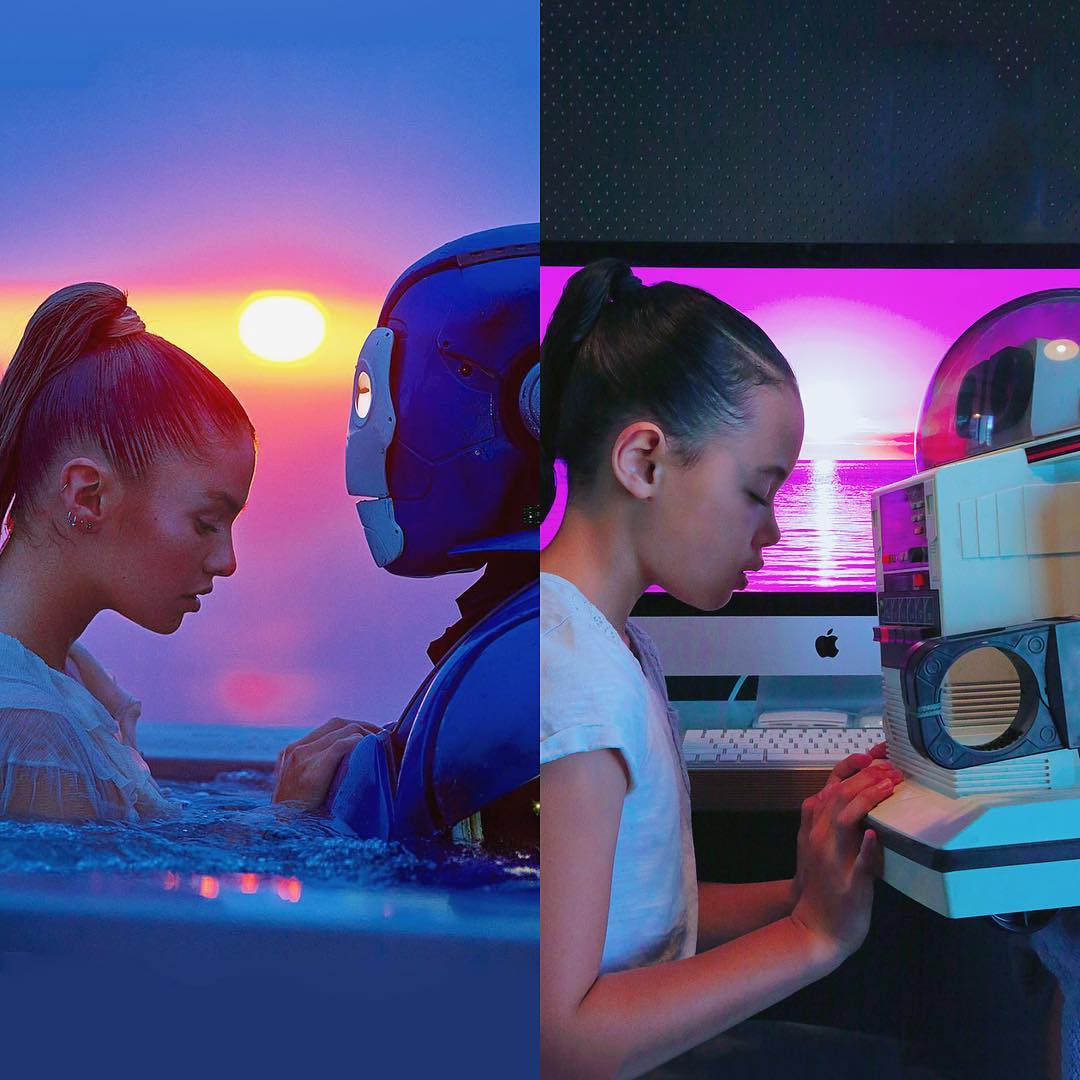 All is full of love, and Riley has her own take at Stella's picture. She has even made her own Omnibot. The look might be cheap, but technology is technology.
29. Moncler Jackets Or A Mattress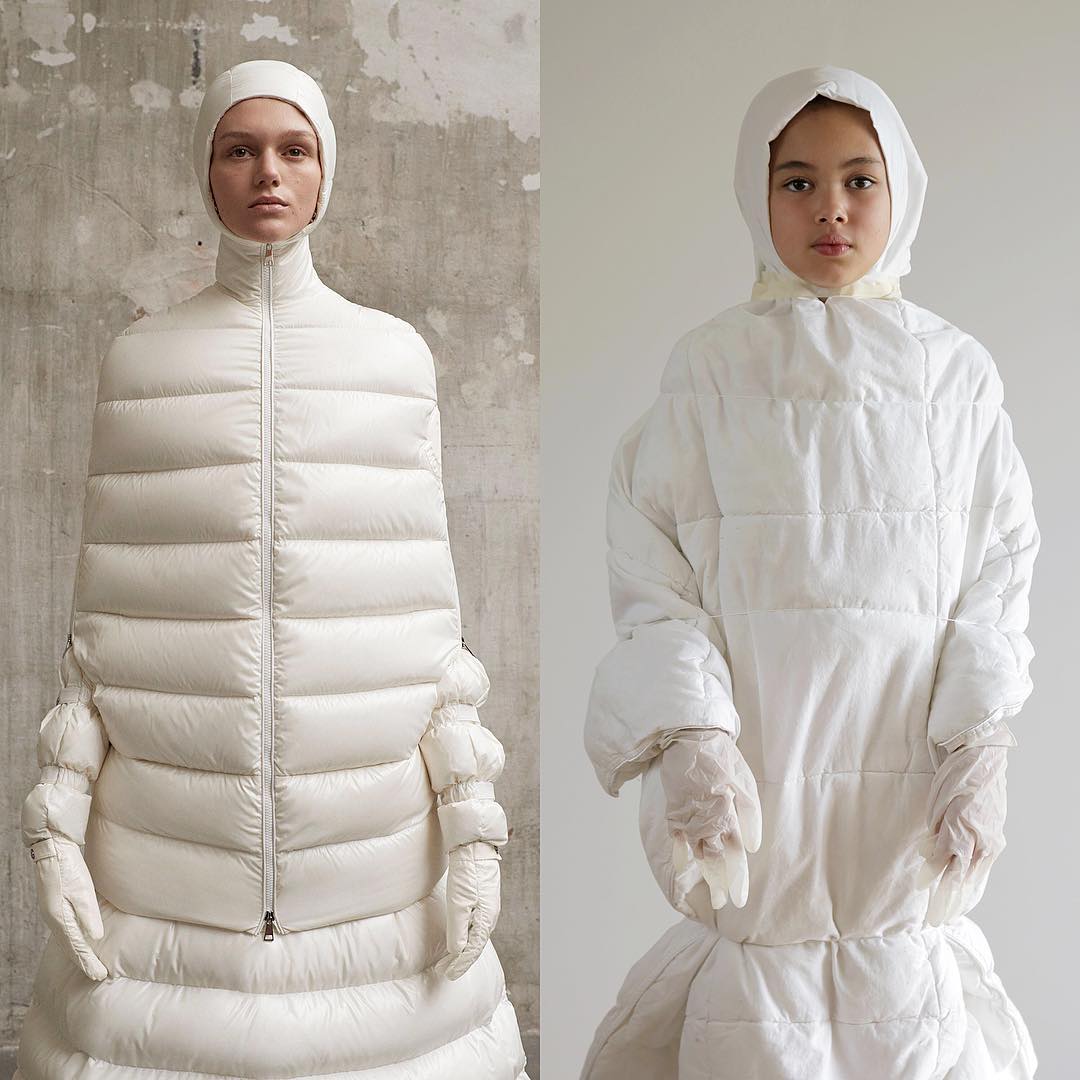 Moncler Jackets have always looked like a piece of furniture accessory. So Riley has poked fun at the luxury fashion brand. Moncler, you need to work on the look of your clothes. They are expensive as hell and don't look cool.
30. Gigi Hadid And Her Bizarre Hat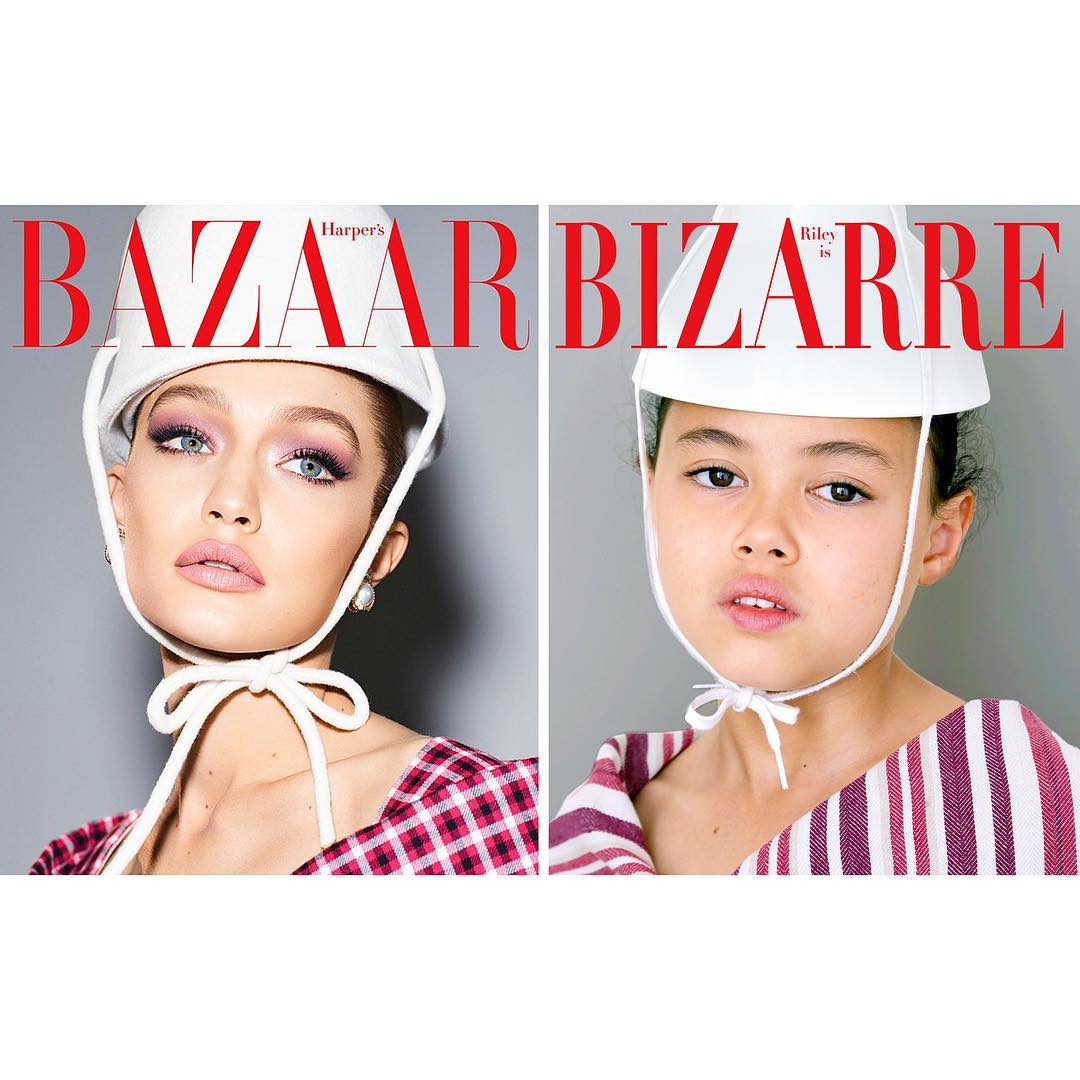 Gigi Hadid is versatile and is a top draw in the world of entertainment and fashion, both. But she will wear anything because top dollars are being offered to her. Riley points out that not everything looks classy on the beautiful lady. Gear up, Gigi, you are in for a ride.