Marc Zuckerman, better known by his artist moniker YNG Zuck, released the highly anticipated music video to his break-out single Strike A Pose, August 15th.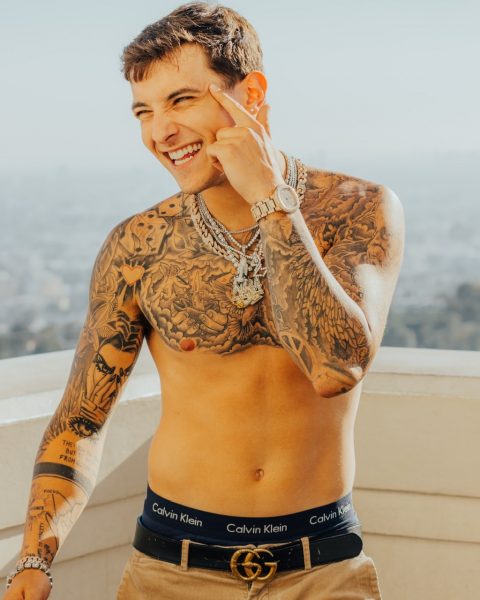 The wildly popular song, which quickly went viral on TikTok, racked up millions of plays on that platform alone, within the first month of release, thanks to Zuckerman's catchy songwriting, and the help of Billboard Award-Winning, multi-platinum selling producer DeeMarc. (Tory Lanez, Lil Tecca).
Strike A Pose was recorded and mastered at the world-famous HittSquad Studios in Orlando, Florida. The video features model Melissa Armstrong, and was shot entirely in Los Angeles, California. It was directed by Justice Webber of Marked Media, who has quickly become the Hollywood go-to for music videos, working with creators like Derek Trendz, 2KBaby, and Andy Mineo in 2021.
"I had initially planned to use Cole Bennett at Lyrical Lemonade to shoot the video for Strike A Pose but decided to hire (Justice) Webber super last-minute," Zuckerman tells PopWrapped. "I just really like the way that he captures a moment, but more than that, I feel like the world is sleeping on this kid," he continued.
"As a creative myself, nothing is more important to me than to be able to make an artists' vision come to life on the screen," says Webber.
"Zuck and I were on the phone one night brainstorming ideas for Strike A Pose when we came up with the idea for the drone goggles. Those goggles represent a pivotal moment in a person's life when they realize that their reality is exactly what they decide to make it. When Zuck puts on the goggles, he is taken to his own world where he is the star."
Flying high above the sunset skyline, palm tree-lined boulevards and famous cityscapes, Webber used brand-new, state-of-the art technology to capture the true essence and excitement of Hollywood. Flying the DJI FPV Drone gave Webber the ability to capture those immersive, and often elusive drone shots.
Since releasing his debut full length, High Off Your Love (The Lost Demos) in 2019, Zuckerman has enjoyed a consistent wave of building success, racking up millions of streams on Spotify and Apple Music in the process, and creating a die-hard fanbase that hangs on his every word.
Zuckerman's music speaks to a generation of people completely uninterested in taking "no" for an answer, and he is no different. His music focuses on chasing individual freedoms, success, and fun, but don't make the mistake of writing YNG Zuck off as just another pretty fuckboy, primed for multitudes of TikTok success. Zuckerman possesses the business sense and drive of most people twice his age. He's managed to navigate through most of an Entertainment Management degree, in the midst of releasing multiple full-length albums, and a dozen singles, maintaining a pristine G.P.A. in the process.
YNG Zuck's highly anticipated next single, Can't Talk, drops August 27th.